A news story out of China is getting some play in Western media this morning about a man climbing a wall of a school and spray 51 children and 3 teachers with caustic soda (aka lye). No deaths reported, but a couple in serious condition. Lye can cause serious burns.
This is the entire report from http://www.xinhuanet.com/english/2019-11/12/c_138548515.htm
KUNMING, Nov. 12 (Xinhua) -- Fifty-one children and three teachers were injured after a man sprayed a corrosive chemical in a kindergarten in southwest China's Yunnan Province, local authorities said Tuesday.
The incident happened in the city of Kaiyuan on Monday afternoon, when a suspect climbed into a kindergarten and sprayed caustic soda, according to the government of Kaiyuan.
Two were seriously injured, but not life-threatening.
The 23-year-old male suspect, surnamed Kong, was detained about an hour later. Police said he carried out the attack as a revenge on society.
CNN expanded on the report a bit here: https://www.cnn.com/2019/11/12/asia/china-corrosive-liquid-kindergarten-intl-hnk/index.html
When I saw the report describing the location as "southwestern China" I immediately became suspicious. People think race relations in the West are bad, but we have nothing on China's treatment of ethnic minorities in the western parts of the country. Their attitude seems to be if you aren't Han, you aren't human.
So, a little internet research later, this is the area where the attack took place: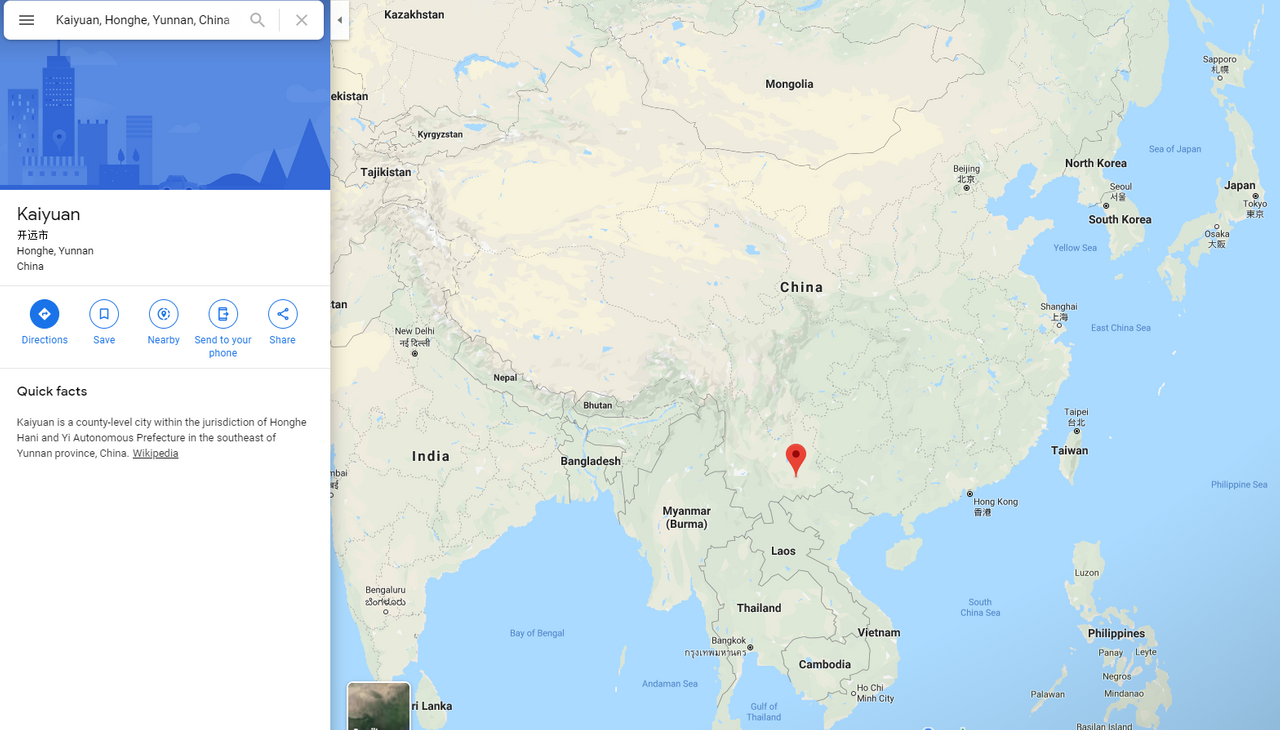 And if we look up the city on Wikipedia, we see this:
https://en.wikipedia.org/wiki/Kaiyuan,_Yunnan
Demography
It has a population of 299,000, of whom 156,000 belong to ethnic minorities, including Yi, Zhuan, Miao, and Hui.
Basically half minority population.
What do you want to bet that the attacker is Han Chinese and the victims belong to these minority groups?
If this is news to you, check out an even mainstream media report on their concentration camps: https://www.nytimes.com/2019/09/25/world/asia/china-xinjiang-muslim-camps.html