A person I know recently posted this ironically self-defeating post in favor of fat acceptance: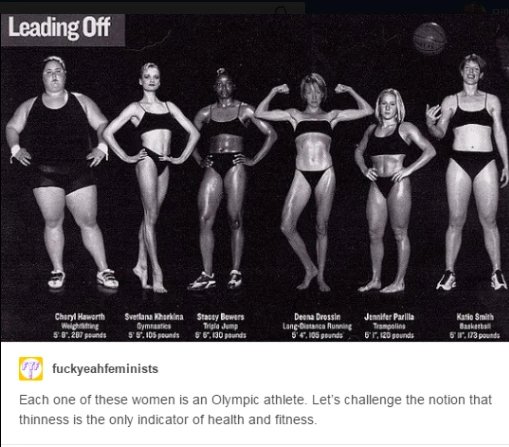 So the attempted point here is that there are larger women who are physically successful. But let's take a look at who exactly is in this picture. Out of the six women, four of them weigh 130 pounds or less. Another, who weighs 173 pounds, might sound heavy for a woman. However, she is a 5'11'' basketball player! For that height 173 pounds is totally fine.
So there is really only one out of the six women who is large, and she is a freakin' weightlifter! She may be 287 pounds, but a lot of that is muscle - not exactly the same as 300 pound Sarah who sits on her couch all day. The only point this image successfully makes is that weightlifters can be huge and successful, which everyone already knew. Other than that, you need to be a healthy weight (not over or underweight) for your height. Muscle mass should be taken into account when it comes to very athletic individuals like these. All of this means nothing for the average person.
It seems that the feminist who posted this is just looking for an excuse/helping people find an excuse not to improve. I've been very overweight myself, but instead of comparing myself to an Olympic weightlifter to make myself feel alright, I did something about it and lost a large amount of weight. You don't need to beat yourself up all the time, but you do need to keep it real.