"The group behind this corruption has reported articles on this subject everywhere they have been posted in a campaign to censor their critics. Steemit is a great pro-Free Speech website, but just in case, I ask that as many people as possible copy-and-paste the information in this article and repost it as their own blog either on this site, or preferably on other sites as well. I relinquish all rights on this peace, and give full permission to copy this piece, use any part of it, or even add your own commentary. I place no restrictions on how people may profit when reposting this piece. I just don't want it to be censored. Now the original piece:
A race decided by zero votes. A coin-flip tiebreak. Promises to share campaign information. Three reminders. Multiple emails. A series of Facebook messages. No response.
A 51-49 Republican majority.
Let me explain how all of these go together, and how the William & Mary Young Democrats almost certainly cost Virginia Democrats a crucial 50th seat in the state legislature that would have ended two decades of Republican control.
Many people on this site are probably already aware of the Shelly Simonds race in Virginia's 94th House of Delegates district — it made national news first because of the recount, and later because the recount resulted in a zero vote "margin" of victory. This was pivotal because Democrats had just won a historic wave election in the Virginia legislature and were only a single seat way from getting the crucial 50th seat to end Republican control in the House of Delegates. When the results of the recount were announced, it turned out that Simonds had won by ONE VOTE! In a miracle victory, it was once again shown that every single vote, every single volunteer, and every single door knocked matters: https://pilotonline.com/news/government/politics/virginia/article_bbb3bb17-b131-5643-afd0-a1a7aadad1e2.html
Then, on the day that the results were to be certified, Republicans found another vote. I wont get into the whole controversy around that, but see more here about this enraging decision: http://www.latimes.com/nation/la-na-virginia-house-election-20171229-story.html
Finally, Simonds lost in a random name drawing.
But perhaps the most enraging part of this story is that it was entirely avoidable. A member of Simonds' campaign staff, who must remain anonymous, repeatedly contacted the William & Mary Young Democrats, and had received repeated promises from chapter leadership, including their President, that information about a paid canvassing opportunity would be shared with the chapter's emailing list. Keep in mind, a single canvasser during GOTV could have certainly swung this election. We only needed one vote.
The exchange began on Facebook, but soon progressed to email:
=====================================================================

Note that the President of the chapter, Greg, promises the staffer that he will send out the information.
In the following email, the staffer provides all of the information about the canvassing opportunity, including that it is paid, it is for Shelly Simonds, that the Simonds race is a targeted race by the DPVA, and contact info. This email could have been essentially copy-and-pasted into an email and sent out immediately.
It should be noted that the William & Mary Young Dems are located a short drive from the 94th District. The only other race in the area, the 93rd, was not competitive and was not a targeted race. Mike Mullin (D) won the 93rd by over 20 points against the same opponent he defeated in a special election several months earlier.
The staffer soon sent out a reminder when no email was sent by the chapter. As you can see from the second of the next two screenshots, this was indeed sent to the William & Mary Young Dems account.

======================================================================

This is the first reminder.
Shortly after, a second reminder was sent from the staffer to the Young Dems President on Facebook. The President responded that the Secretary was just about to send the email out. Then, the secretary sent out an email...without even mentioning Shelly Simonds or the paid canvassing opportunity. The staffer reached out again — a third reminder — and this time there was no response.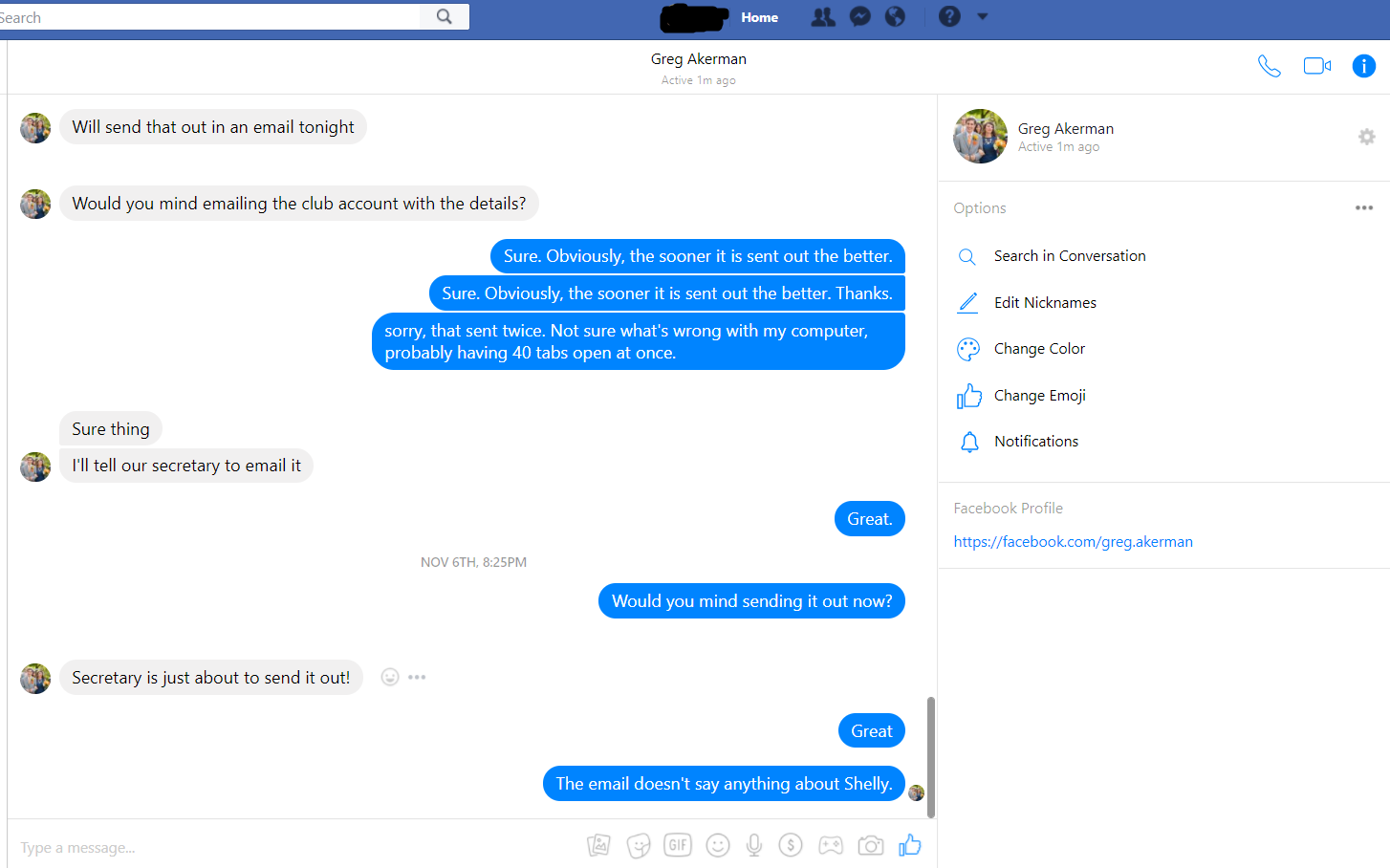 Perhaps most damning of all is that Greg, the William & Mary Young Democrats President, saw the message and never even bothered to respond.
For those who are unfamiliar with Facebook, if you look at the very bottom right of the last message sent, you will see a small picture. This is a smaller version of Greg's profile picture. This is used by Facebook to indicate that a message has not just been received, but actually read by the person it was sent to. The grey scroll bar just to the right of that little picture shows that this chain of messages is scrolled all the way to the bottom — there were no messages sent after this. Radio silence.
All of this over an email that would have taken less than a minute to copy-and-past and send out.
So why would William & Mary Young Dems not send this email out? There is no way this was an accident — not with all those reminders. So what gives?
My best guess is that the chapter holds a personal bias against Shelly Simonds. Why do I suspect this? They got in trouble previously for endorsing Monty Mason over Shelly Simonds in a primary. This endorsement took the form of posting an official endorsement on their official Facebook page. Virginia Young Democrats made them take down that endorsement, as primary endorsements violate Young Democrats rules. However, the club also sent out an email with information about how to volunteer for his campaign. In what is now eerie foreshadowing, the Simonds campaign reached out to the William & Mary Young Dems, but the chapter did not share information from the Simonds campaign. This also violates Young Dems rules. If multiple campaigns in a primary reach out to a chapter asking them to send out information, the chapter is supposed to treat both campaigns the same — ie they share either all of the campaigns' information or none. They can't just pick one campaign's information to share. Lastly, their President went on recording endorsing Monty in the primary in the school paper. The use of titles in endorsements and imagery that implies the endorsement of the club is not allowed. Both appeared in the article: http://flathatnews.com/2016/04/25/students-gather-signatures-for-mason-89/
Mason ended up winning that primary, as he had been expected to. Some people were upset that Shelly even bothered running, although she received about 40% of the vote. My best guess is that members of the William & Mary Young Democrats leadership hold a grudge against her for "daring" to run against the presumptive nominee Monty Mason. Mason had made donations to the club, and they generally had a close relationship, before the primary. Just to be clear, I do not blame Mason, since this donation was made before it was known that a primary would even occur (it was a special election) but this may have influenced the club. https://www.vpap.org/vendors/147951-young-democrats-william-mary/
No matter why the chapter lied to the campaign, there should be punishments for this. Campaigns should be able to trust Democratic groups, including the Young Dems. It is hard to believe this was an accident, and surely the William & Mary Young Dems know that it is wrong to lie to campaigns, yet they did it anyway. Given the chapter's history of endorsing in primaries, as well as a number of other issues that have impacted the club, it is clear that somebody needs to step in.
So what punishments are options? Virginia Young Dems could de-charter the group — essentially kicking them out of the Young Democrats. They could also remove leadership of the chapter, ban them from attending the yearly convention, or penalize them by giving them fewer votes at Convention.
Personally, given the chapter's history of repeatedly endorsing in primaries and lying to the Simonds campaign, as well as other issues not discussed here like passing an amendment to their Constitution that allows their exec board to choose who is allowed to vote, violating their Constitutional requirement to maintain a secret ballot, allowing people to vote in their elections who should not have been allowed to, not counting votes from certain members without cause, and not sending out emails about how to vote in internal elections to multiple members who supported a certain candidate for their President, I believe that de-chartering is necessary.
You may contact the Virginia Young Democrats at president@vayd.org,
and the William & Mary Young Democrats at youngdemocrats@email.wm.edu
Please upvote and resteem! And once again, I ask that everybody spread this piece by reuploading it whereever you see fit."
Copied from @freespeech4all