Elections in Nigeria are forms of choosing representatives to the Nigerian federal government and the various states in Nigeria.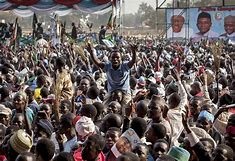 Nigeria elects on the federal level a head of state (the President of Nigeria) and a legislature (the National Assembly). The president is elected by the people. The National Assembly has two chambers. The House of Representatives has 360 members, elected for a four-year term in single-seat constituencies. The Senate has 109 members, elected for a four-year term: each of the 36 states are divided into 3 senatorial districts, each of which is represented by one senator; the Federal Capital Territory is represented by only one senator.
Nigerians will be keeping a date with history today as they troop to the polling centers to vote in a new set of leaders to run the affairs of the states for the next four years. This is the culmination of months of high-wired politicking and sustained campaigns by political parties to sell their candidates and manifestoes to the electorate.
The first election in 1959 ushered in Nigeria's first civilian government led by its first and only prime minister to date, Abubakar Tafawa Balewa of the NPC and Nnamdi Azikiwe of the NCNC as governor-general. It was the moment for the struggle for independence and Nigeria will use the ballot to elect leaders who will be charged with the mandate of setting a national agenda for the young nation and charting a course for it towards peace and prosperity. In 1963, after adopting a revised constitution, Azikiwe was sworn as Nigeria's first president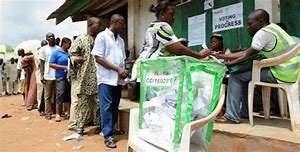 The history of democratic elections in Nigeria especially ones that would be adjudged and accepted by the electorates as free and fair had always been a problem in the country.
In 1960, shortly after Nigeria's independence there was a transition from the colonial rule to the country's first ever election process.
However it is common knowledge that Nigeria's electoral process has persistently come short the glory of what the electoral process should mean for a democratic society.
Nigerian electoral history has not been a pleasant one. Nigerians have participated in many elections, beginning with the colonial era when the concept of elections was first introduced. The electorate has also grown from about 5,000 adults with 100 pounds sterling income per annum as qualification to be eligible to vote, to over 90 million voters of 18 years of age and above.
Since its attainment of independence in 1960, Nigeria has been tormented by political instability fueled largely by an electoral process in crisis.
Nigeria has a multi-party system, with two or three strong parties and a third party that is electorally successful. However, members of the People's Democratic Party (PDP) had controlled the presidency since elections were resumed in 1999 until 2015 when Muhammadu Buhari won the presidential election on the platform of the All Progressives Congress (APC)