UPDATE [solved]: The issue was an open order to sell ETH. I had no position, but an open order. Chalk this one up to my ignorance & bad UI. 
Recently I started using Poloniex to do a bit of trading and build my Namecoin position. After the recent market-wide increase in cryptocurrency value, I believed that a handful of altcoins were overvalued and wanted to take a small amount of my Bitcoin and short LTC, XRP, DASH, and ETH versus my beloved Bitcoin. This would serve as a personal test for Poloniex as a trading platform if I ever decided to get serious and put big money behind my trading thoughts.
I like to hold all of my cryptocurrency myself. As a long term trader, I am not in and out of the latest and greatest ICO each day. I buy cryptocurrencies and hold them for years, believing in the long term vision for each one I hold.  I dislike using shared wallet systems and certainly don't want to hold any amount on an exchange unless it is being actively traded. To me, the point of cryptocurrency is so you can be your own bank and not have to trust anyone else. When you hold cryptocurrency on an exchange, you no longer have the private key - all you have is a number on a screen, essentially an IOU from an entity you trust. Before I send any large amount of cryptocurrency from my personal wallets to an exchange, I like to test the exchange with a small amount that wouldn't effect me very much if I lost it. I want to see the deposit and withdrawal system work a few times and get familiar with the process. I want to see if there are any red flags in the system. Utilizing the system in a microcosmic way has long been a part of my due diligence when seeking out a new exchange. 
Today I can report that Poloniex failed my tests. After closing all of my margin positions for a small profit, Poloniex still thinks I have open positions: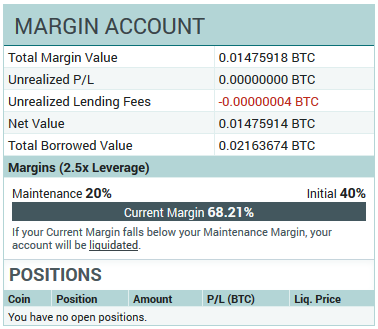 With no open positions, Poloniex reports current margin at 68.21%. The buggy system still believes I have .02163674 btc worth of open positions, and thus won't let me withdrawal the last .01475918 btc. This Margin account started with around .11 btc, following my methodology of using a small amount to test the system. I profited around .02 btc over a few days of trading, and recently decided to close all positions and test the withdrawal process. To my surprise, after closing my positions I was unable to transfer the entirety of my margin account back to my exchange balance. After looking back to the margin page, it is clear Poloniex has a bug. I withdrew all that it would let me and will likely leave this small amount in limbo as opposed to fighting the support channels, which users report to be time consuming. I'll treat that money as an inexpensive lesson learned. If Poloniex has a bug in this area of their complex system, imagine what else may be lurking. Managing dozens of wallets and doing 9 digits of daily transaction volume has me fearing the worst for this exchange and the community that uses it. I won't be using Poloniex anymore and will advise my friends to do the same.