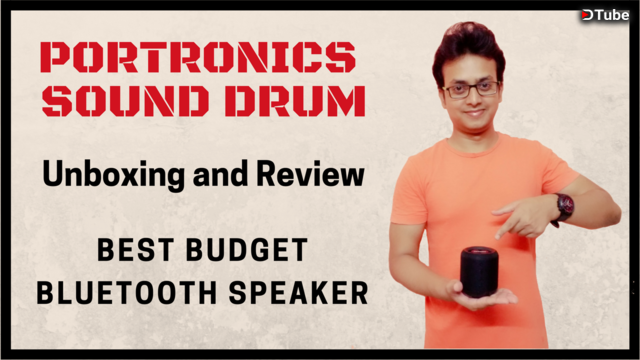 ---
Portronics Sound Drum POR 871 Unboxing and Review in Hindi
Best Budget Wireless Bluetooth Speaker 2018
I purchased it from Amazon
It cost me Rs. 1969/-
You can purchase it in lower price if available
1 Year Warranty
You can get additional 2 months Warranty
To get additional Warranty please check your Warranty Card. Details are written there.
Features:
Whopping 10 Watt Speaker
In-Built FM Radio
10 Meter Bluetooth Range
Water Resistant
In-Built Mic
Multi Connectivity: Bluetooth 4.2, USB Pen Drive, AUX
1800mAh Battery
---
Click The Link Below To Purchase it from Amazon:
https://amzn.to/2jnJoT2
---
---
RIG I Used:
Logitech HD PRO Webcam C920:
https://amzn.to/2GIGntI
Mobilegear YT-228 Mini 7 Inch Mobile Tripod With 360° Rotating Ball Head for Smartphones & Digital Camera:
https://amzn.to/2H4DrW6
Wonderford Remote Operation Selfie Stick:
https://amzn.to/2pY4Tg1
Laptop:
https://amzn.to/2uMbr7l
Dell KM117 Wireless Keyboard and Mouse:
https://amzn.to/2HGzA56
---
---
Like My Facebook Page:
https://www.facebook.com/SouravRoyBiz/
Follow Me On Instagram:
https://www.instagram.com/souravroy200/
Follow Me On Twitter:
https://twitter.com/souravroy200
---
***** CREDITS *****
Intro Template Created by: https://www.youtube.com/user/adMJ707
Music :
Music is Provided by NCS
Title: Itro & Kontinuum - Alive [NCS Release]
YouTube Channel Link: https://www.youtube.com/user/NoCopyrightSounds
Artist Details:
▽ Follow Itro
SoundCloud https://soundcloud.com/itro
Facebook https://www.facebook.com/officialitro
Twitter https://twitter.com/itromsc
YouTube http://www.youtube.com/user/officialitro
Website http://www.itromusic.com/
Instagram http://instagram.com/itromusic/
▽ Follow Kontinuum
SoundCloud https://soundcloud.com/kontinuum
Facebook https://www.facebook.com/itsKontinuum
Twitter https://twitter.com/itsKontinuum
Instagram https://instagram.com/itskontinuum
---
---
Outro Template made by Grabster - Youtube.com/GrabsterTV
---
Outro Music and Track Played in The Video:
Music is Provided by NCS
Title: DEAF KEV - Invincible [NCS Release]
YouTube Channel Link: https://www.youtube.com/user/NoCopyrightSounds
Artist Details:
▽ Follow DEAF KEV
SoundCloud https://soundcloud.com/atm-dubstep
Facebook https://www.facebook.com/ATMDubstep
YouTube https://www.youtube.com/user/ATMDubstep
---
---
Font Website: https://www.urbanfonts.com/
Font Name: Bleeding Cowboys
Designed by: Last Soundtrack
Category: Dirty, Western
File size: 87.8kb
---
portronics
bluetooth
bluetooth speaker
wireless speaker
wireless bluetooth speaker
portronics bluetooth speaker
portronics wireless bluetooth speaker
best budget speaker
best budget bluetooth speaker
best budget bluetooth speaker 2018
best budget bluetooth speaker 2018 hindi
portronics sound drum
sound drum
portronics por 871
portonics por 871 sound drum
sound drum unboxing
sound drum unboxing and review hindi
sound drum unboxing hindi
portronics sound drum unboxing hindi
portronics sound drum unboxing and review hindi
10 watt bluetooth speaker
---
▶️ DTube
▶️ IPFS