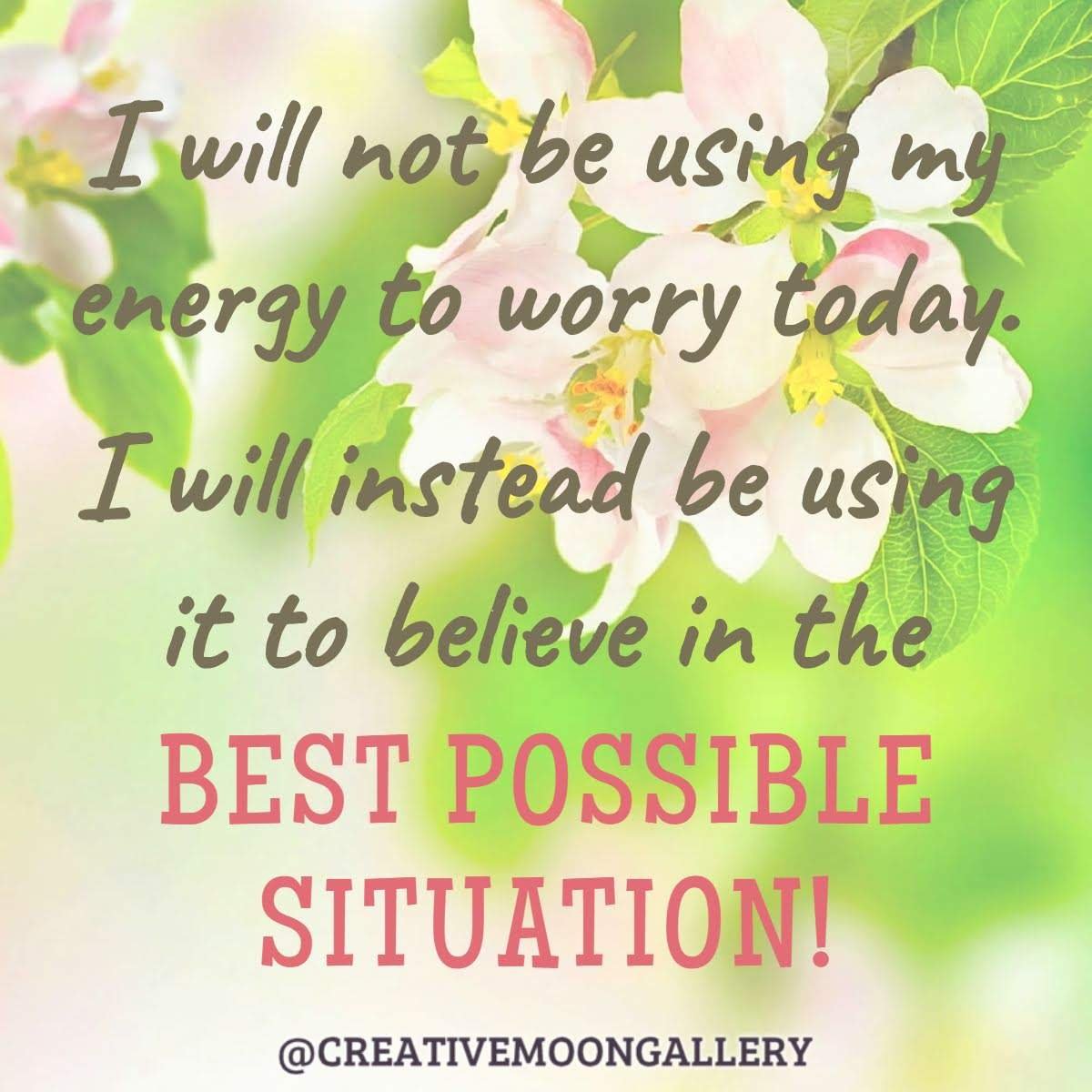 I will not be using my energy to worry today. I will instead be using it to believe in the best possible situation!
It can be hard to put into practice at times...but changing the outcome of any given situation will never occur through worrying about it. This will only cause unnecessary stress and tension. When we are able to use that same energy to believe in more favorable outcomes we are actually helping to manifest that result!
Today...the rain outside is flooding the street and I woke up feeling sad. The weather seems to have put me into this grey funk. All morning...have been trying to counteract it with filling the room with happy color and positive sound. 432HZ in particular is really resonating with me today. I am starting to feel a lot better!
This post is part of an ongoing series of graphics with various positive quotes, phrases and mantras for daily living. I did not originally come up with most of these...but enjoyed them so very much that I wanted to share them on fresh graphics of my own creation. On applicable posts feel free to message me about adding credit for the text...however in some cases no definitive source can be found or one is otherwise unnecessary. Each image is intended to serve as a loving affirmation or source of inspiration and the words have already helped me personally in some significant way. There is a sort of magic in finding the perfect dose of encouragement right when you need to see it most...and I hope these also help out anyone on their own journeys who come across them! Follow me...to see further messages of universal wisdom and guidance each morning.
You can support my daily work with a direct donation. This will give me the freedom to spend more time making creative content!
paypal.me/creativemoon
#life #positive #quotes #dailyquote #insight #wisdom #encouragement #thoughts #inspiration #motivation #spiritual #guidance #phrases #affirmation #love #light #gratefulvibes #signs #goodmorning