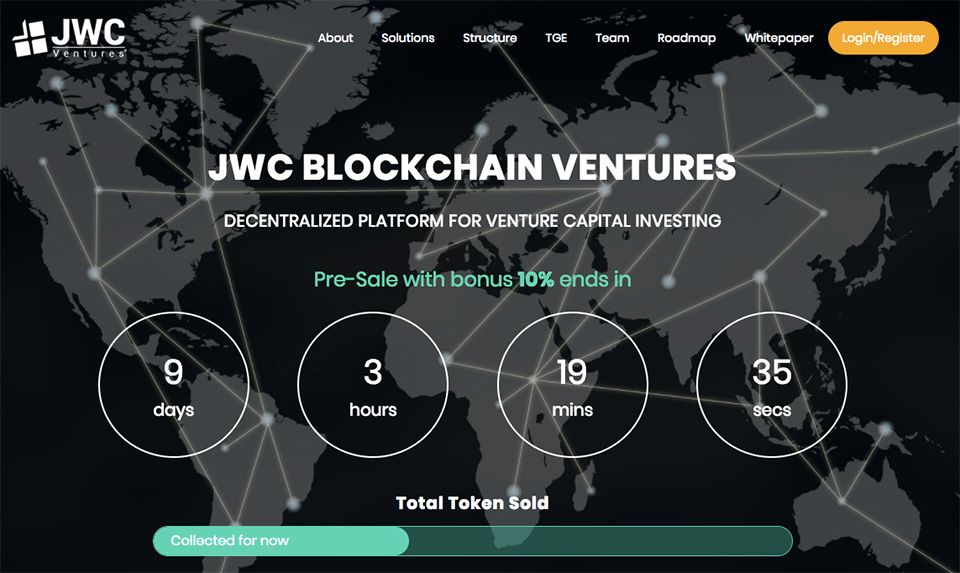 ICO JWC ( Blockchain Ventures ) is just startup recently in the coin market, people may not hear of it because JWC is more quietly than other ICO but this is very potential and worth to invest in.
JWC makes token base on the ETH platform, we can say JWC is the first coin in the Ventures Capital.Accordingly, startups with Blockchain-based operations in the future, when invested by JWC Ventures, are required to use JWC co-ordinates in all activities and apply the same
Each ICO of a startup will use JWC's JWC Ventures coil at different rates. Maybe Startup A will use 30% of JWC to buy ICO but with Startup B is 50%
The direction of the JWC Ventures fund is that they will carefully select the startup activities in the field of Blockchain and make the best startup to invest. Investing in more startups, the JWC of JWC Ventures will have an extremely attractive liquidity ecosystem and make the JWC appreciates in a very short time
Which area will be invested by JWC
1.Building applications on the Blockchain platform
2.Ecommerce
3.International shipping service
4.Artificial Intelligence AI
5.Retail
6.Bank
7.Biotechnology
Advantages of the project:
_Company information and clear, transparent team information, we can actually "test" through many tools
_ICO JWC attracts many investors from many developing countries, such as USA, UK, Australia, Korea, China, Russia ...
_Team Dev of JWC Ventures is indeed a big name in the venture capital field, and they have a lot of strength in Blockchain knowledge in general, and other areas of the technology industry. private.
_Most of the individuals in the team are senior executives of the world's top conglomerates (IBM, Goldman Sachs, Blockchain Academy, Piaggio Group, KPMG, The Global Plant Council, Microsoft ...) , this shows us their capacity to be very respectful
_Have invested in some business units and for real success results
After ICO, the only job of JWC Ventures is to find the best startups that are working on the Blockchain model to invest. They do not do anything other than this, which is very different from regular ICOs so JWC will have more time to choose the most promising startups.
In short, JWC's future ecosystems are startups funded by JWC, so that the JWC ecosystem will grow very quickly. Of course, fund-raising startups will use the JWC for ICO trading, liquidity, and so on. This is to help JWC's rapid rise in price in a very short time