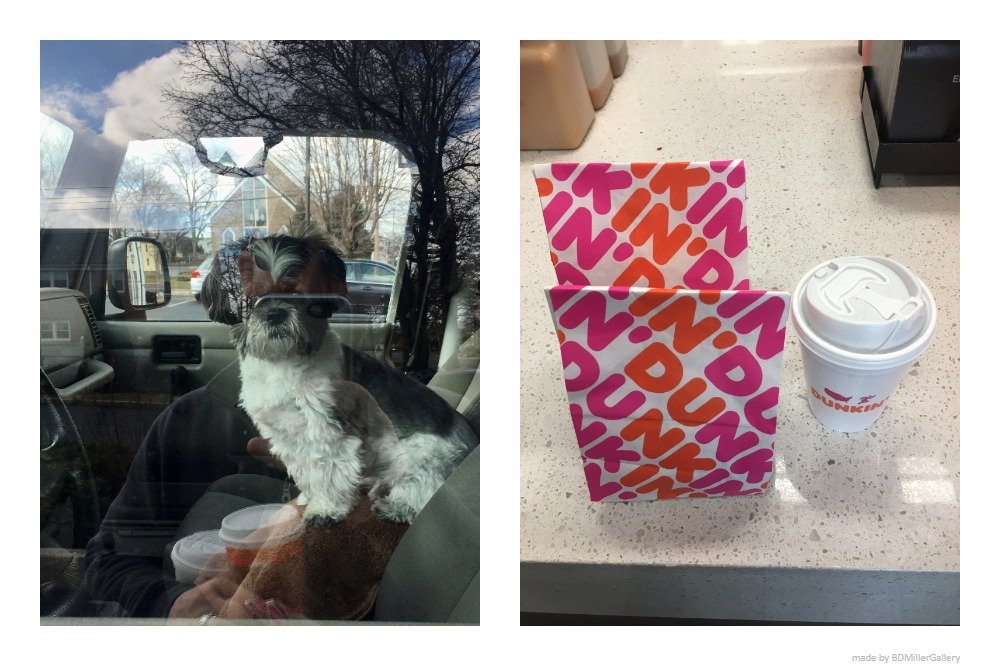 It's Sunday Morning ..
Here on the East Coast (or was a few hours ago). Every so often I head over to Dunkin to pick up coffee and sweets for my wife and I. Pepper LOVES to go for rides in the car or Jeep, so he did not hesitate to get his little legs moving when the offer was extended to "Go For A Ride"! He was a bit on the lazy day gloomy side anyhow. He needed it.
Mr Gloomy .. but with a spark of curiosity in his eye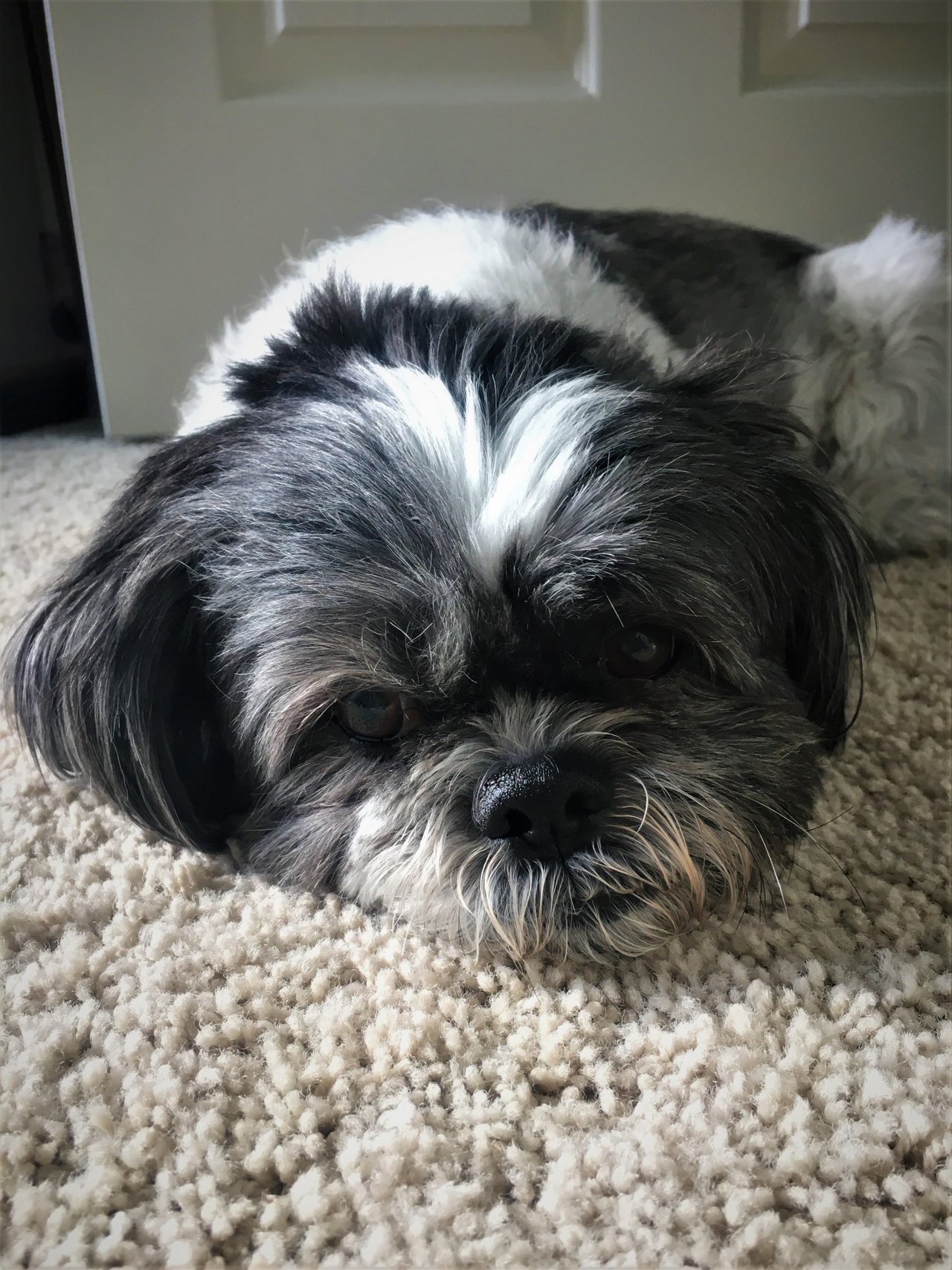 So the offer was extended to Pepper..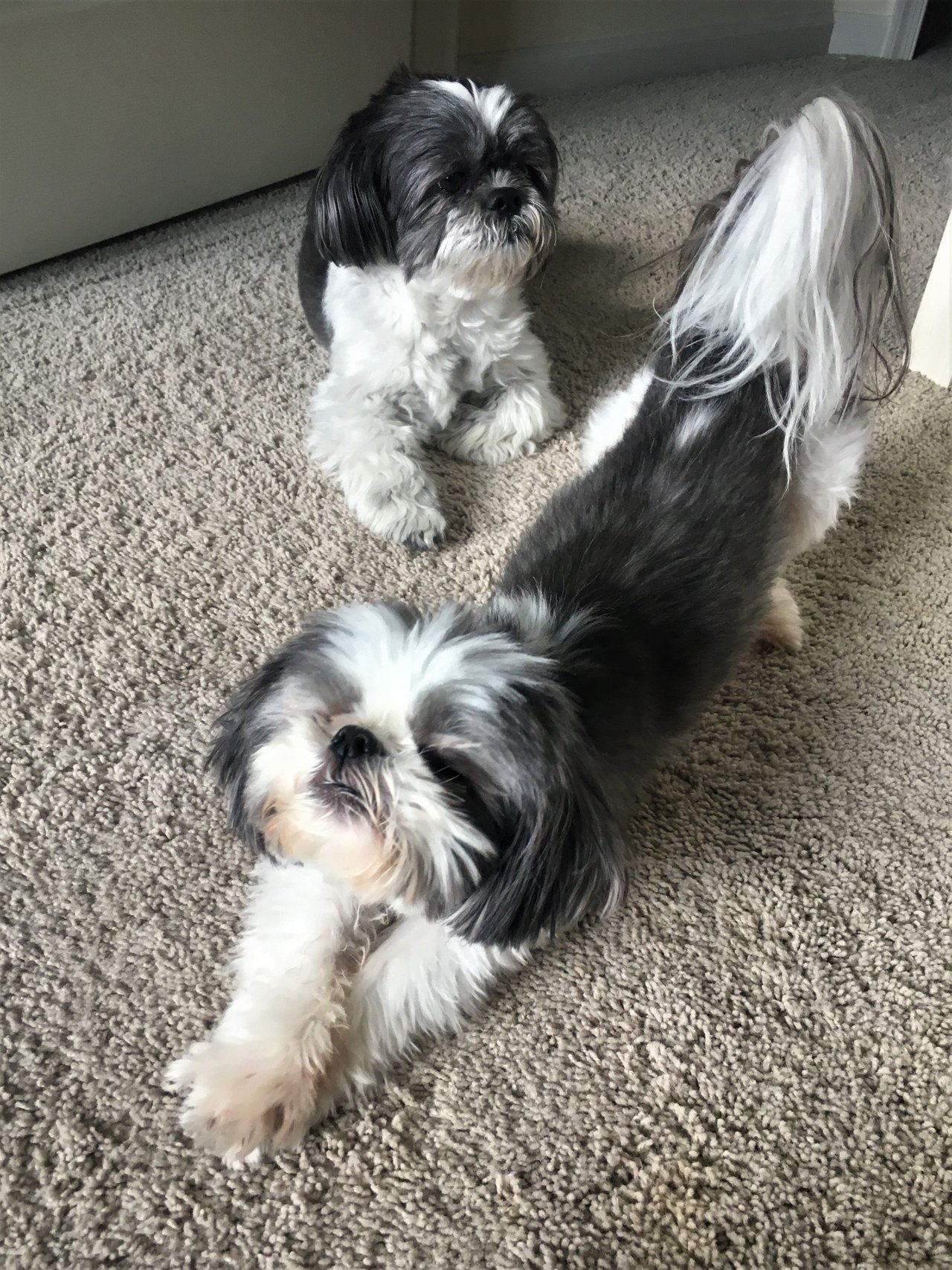 "Pepperoni, You want to go for a ride??" and of course I have to practically yell it, due to his ever so growing deafness (poor guy). When the words come out of my mouth, he perks right up wondering if he heard me correctly. Then comes Molly to find out whats going on. Now, I am not taking the both of them. Not because I am mean or dislike taking Molly, rather because she will shake uncontrollably and pant till we get back home. Where's the fun in that.. so I leave her home where she can remain calm. She wants to go but doesn't want to go, and will actually run away from me if I try to coax her to the door.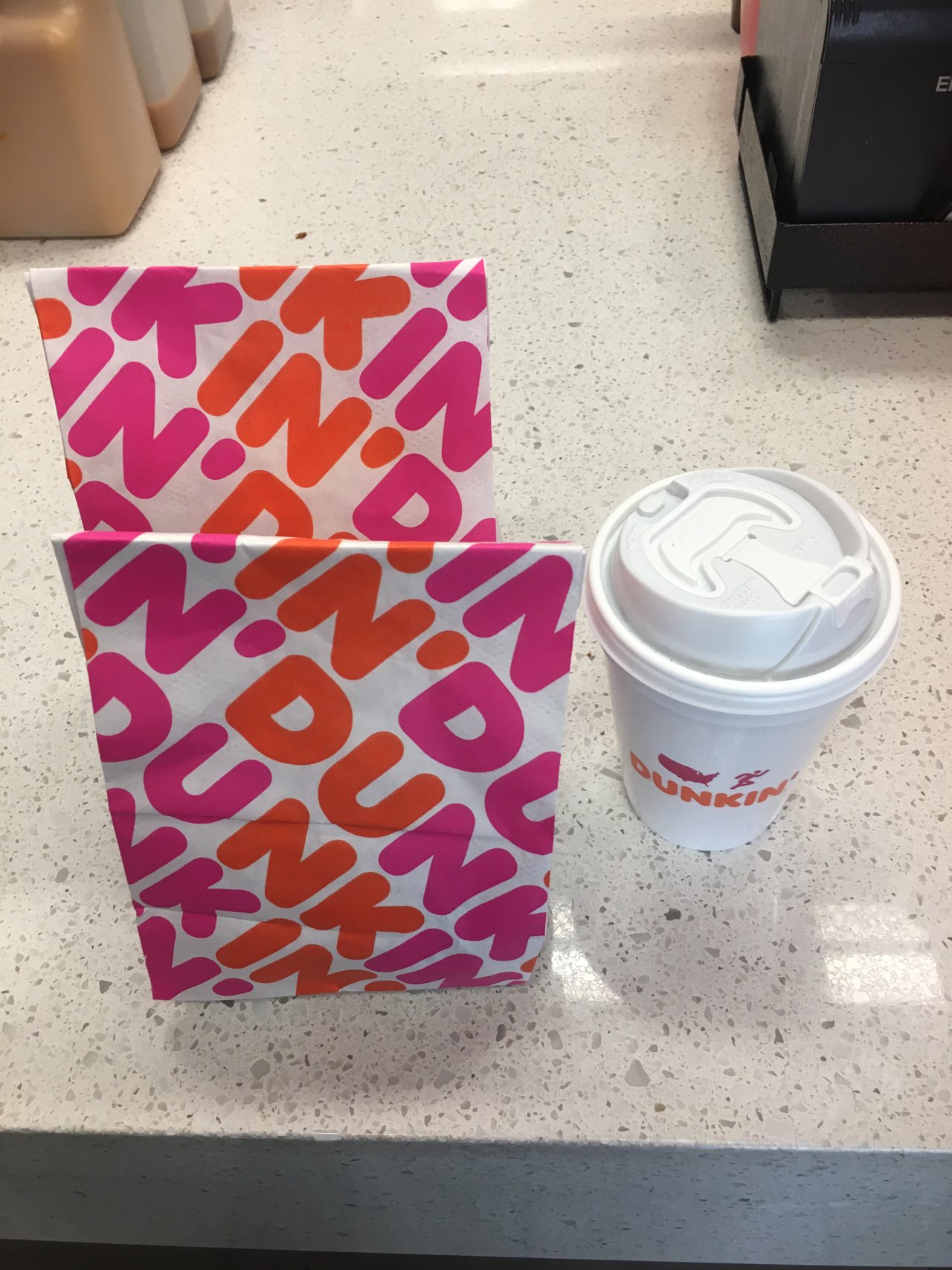 After the big stretch, Molly runs off to find mommy and take refuge in one of her beds. We hit the road, Pepper and I, which mostly consists of him riding shotgun or on the center console. He's strapped in and looking out the window. The whole way he is content looking out the window at the scenery quickly passing by. After an order screw up and two stores later, we have the goods and are ready to head home.
I Am Walking Out Of Dunkin ..
To the following scene .. Pepper quietly sitting on the center console waiting for his daddy's return. He kept his eyes fixed on the store the whole time I was in there. He used to get sort of anxious in the past, but since he has gotten used to this and knows I am coming back with goodies, he tolerates the separation. He's just so stinkin cute sitting in there!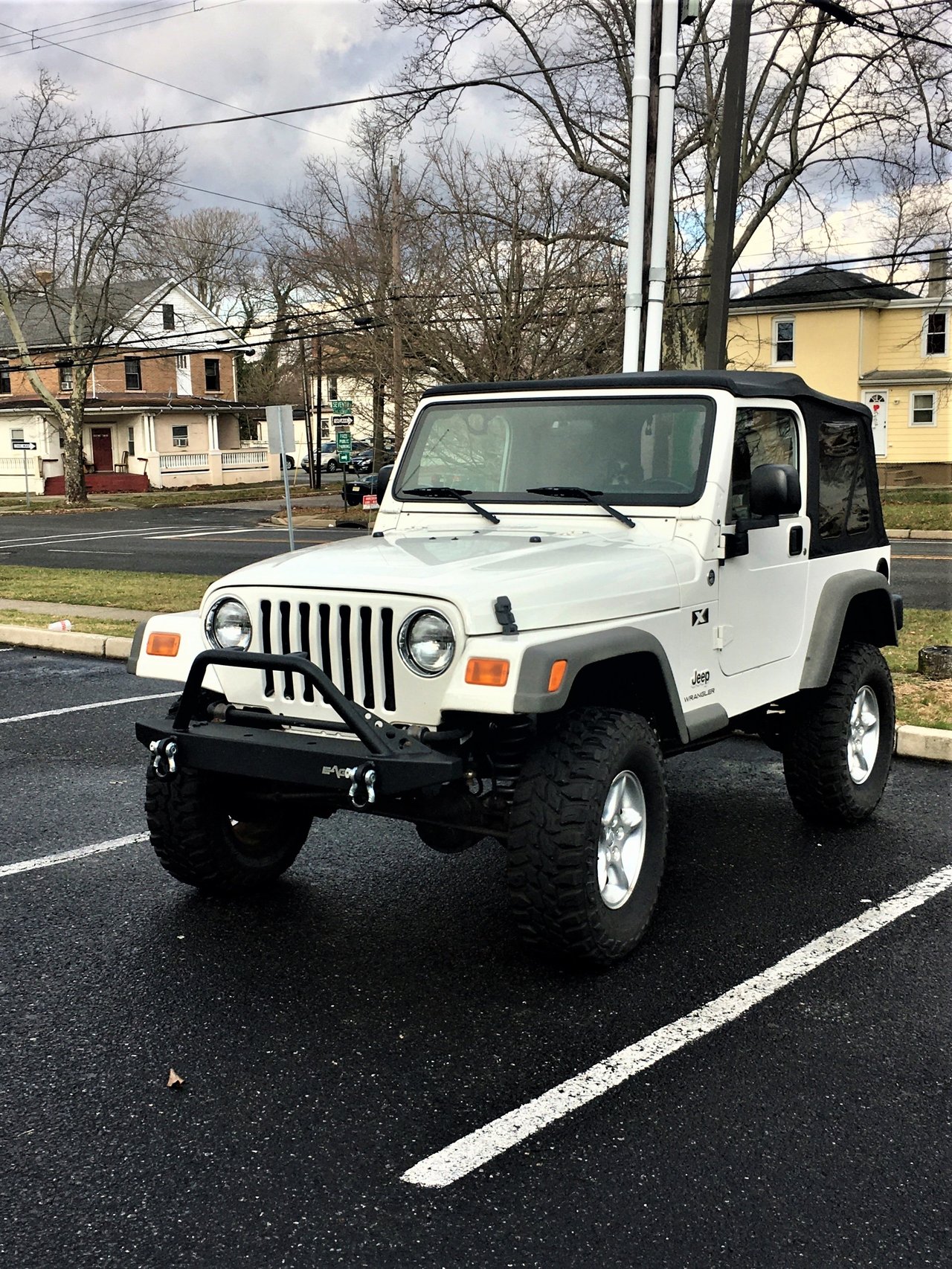 He will tend to get slightly aggressive and bark furiously if someone, other than me, would approach the Jeep.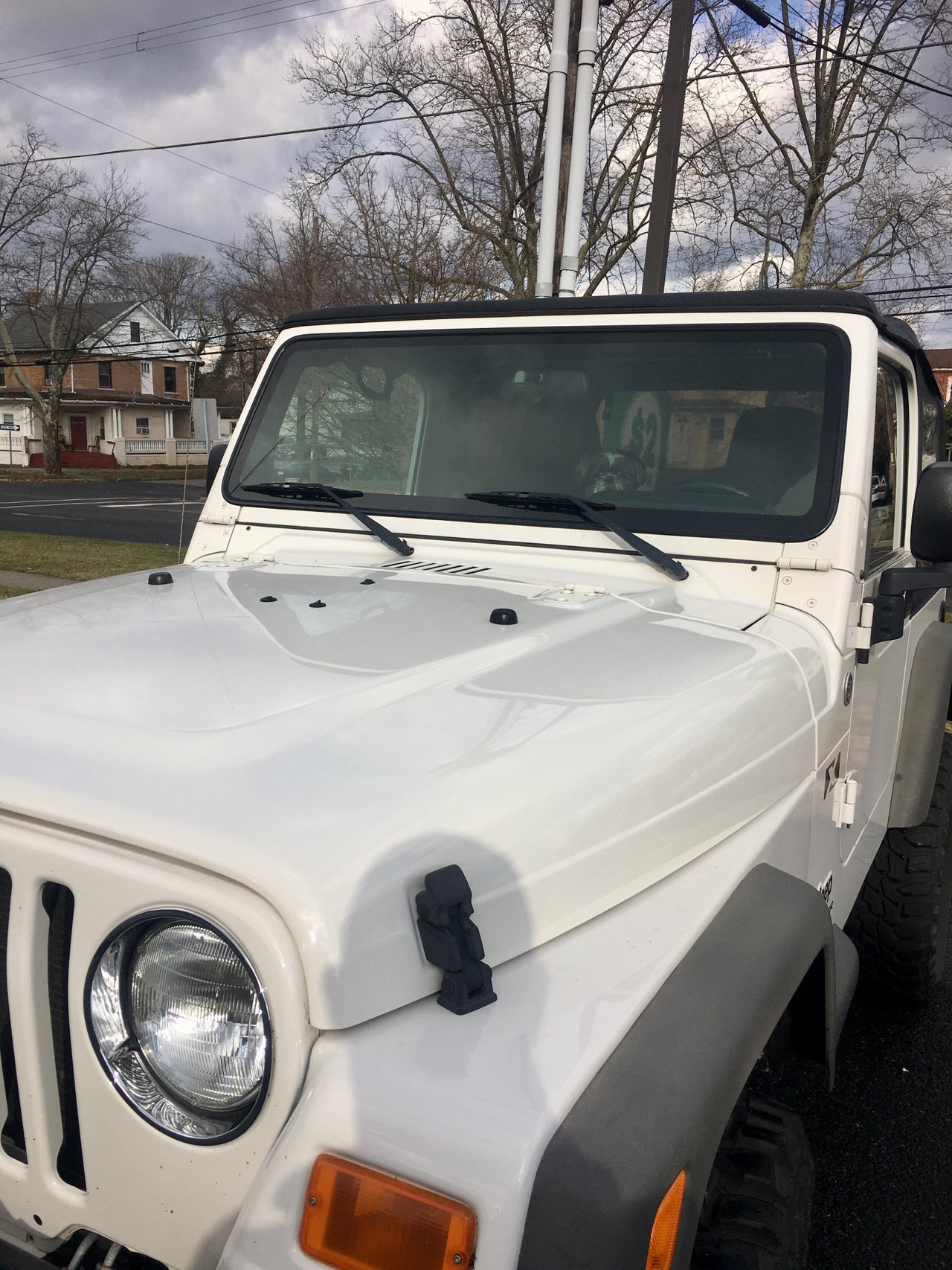 See his tiny head there in the middle?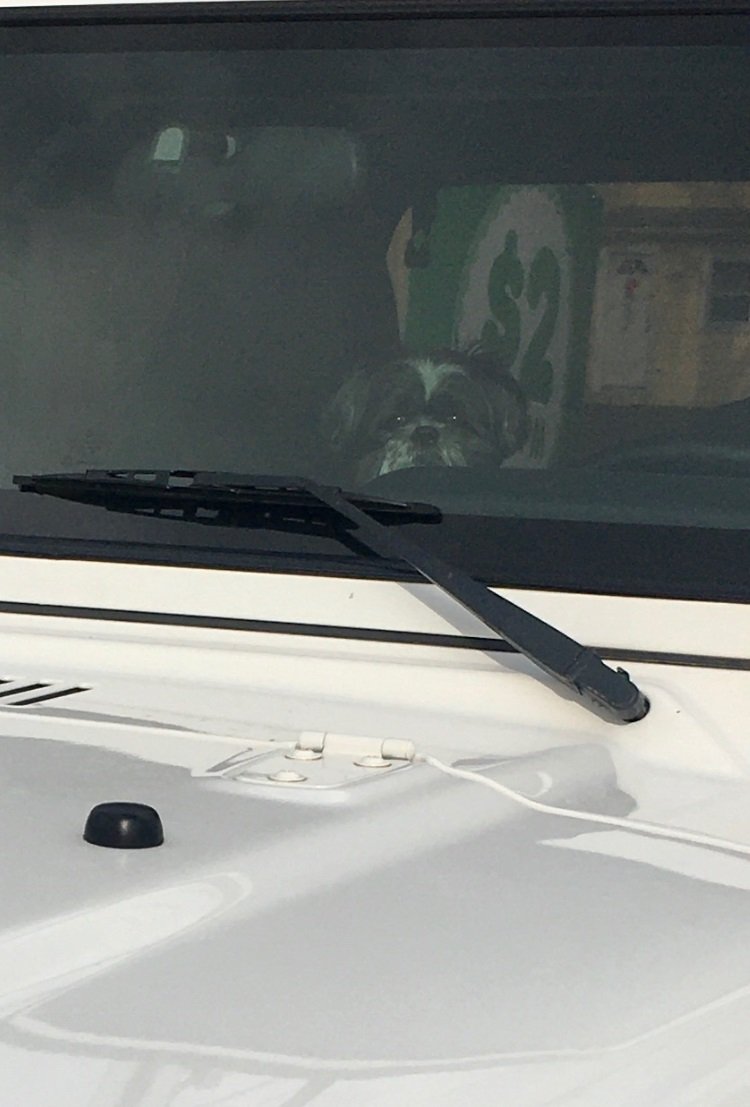 I pause for a moment to document his cuteness ..
Coffees and goodies in hand, I struggle to capture the moment before he decides to run over to the window to see why it's taking so long to open the door. Sorry for all the reflection, but its sort of cool on it's own. I think my head lines up almost perfectly with his. haha...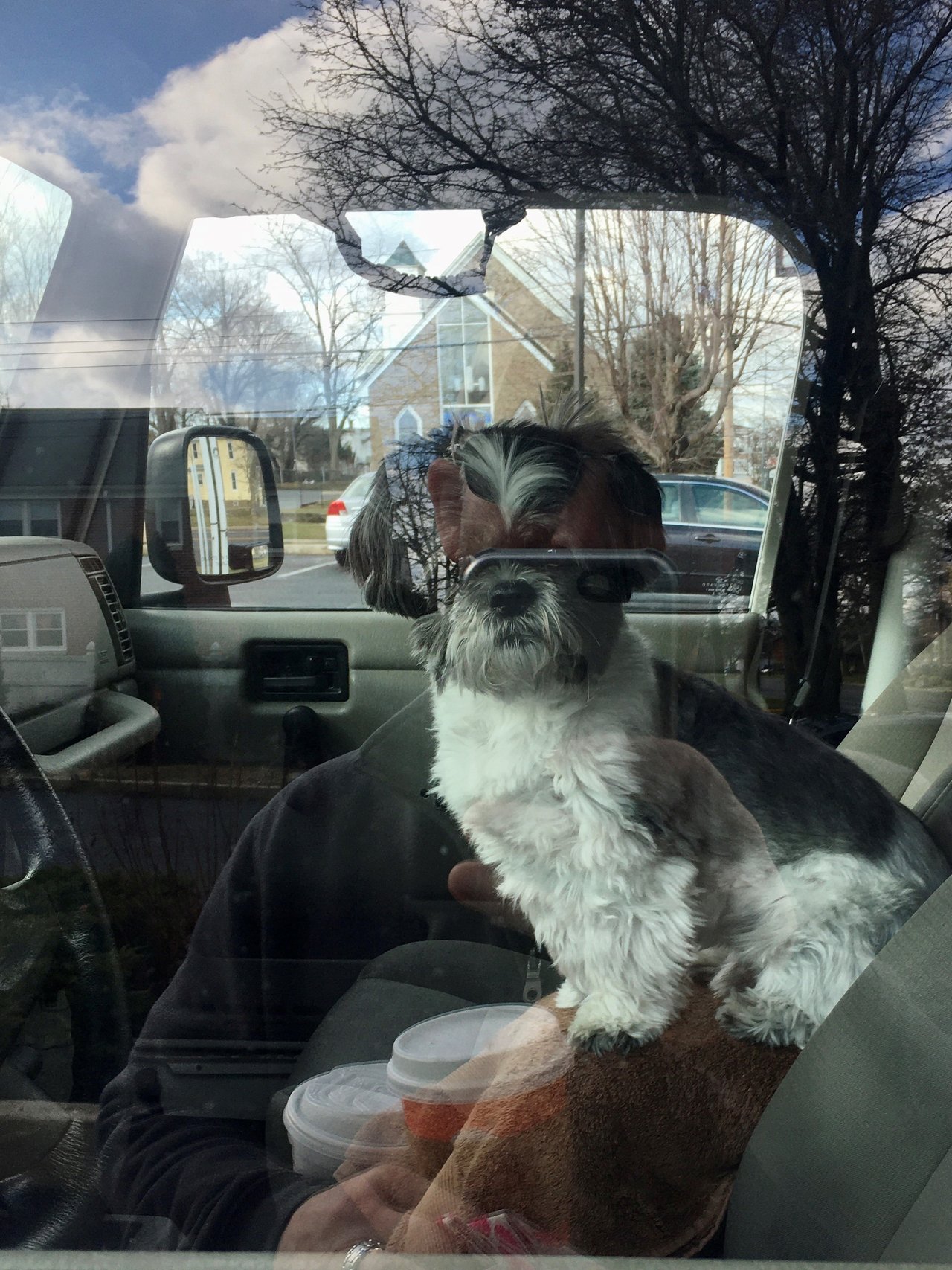 We Start Heading Home ..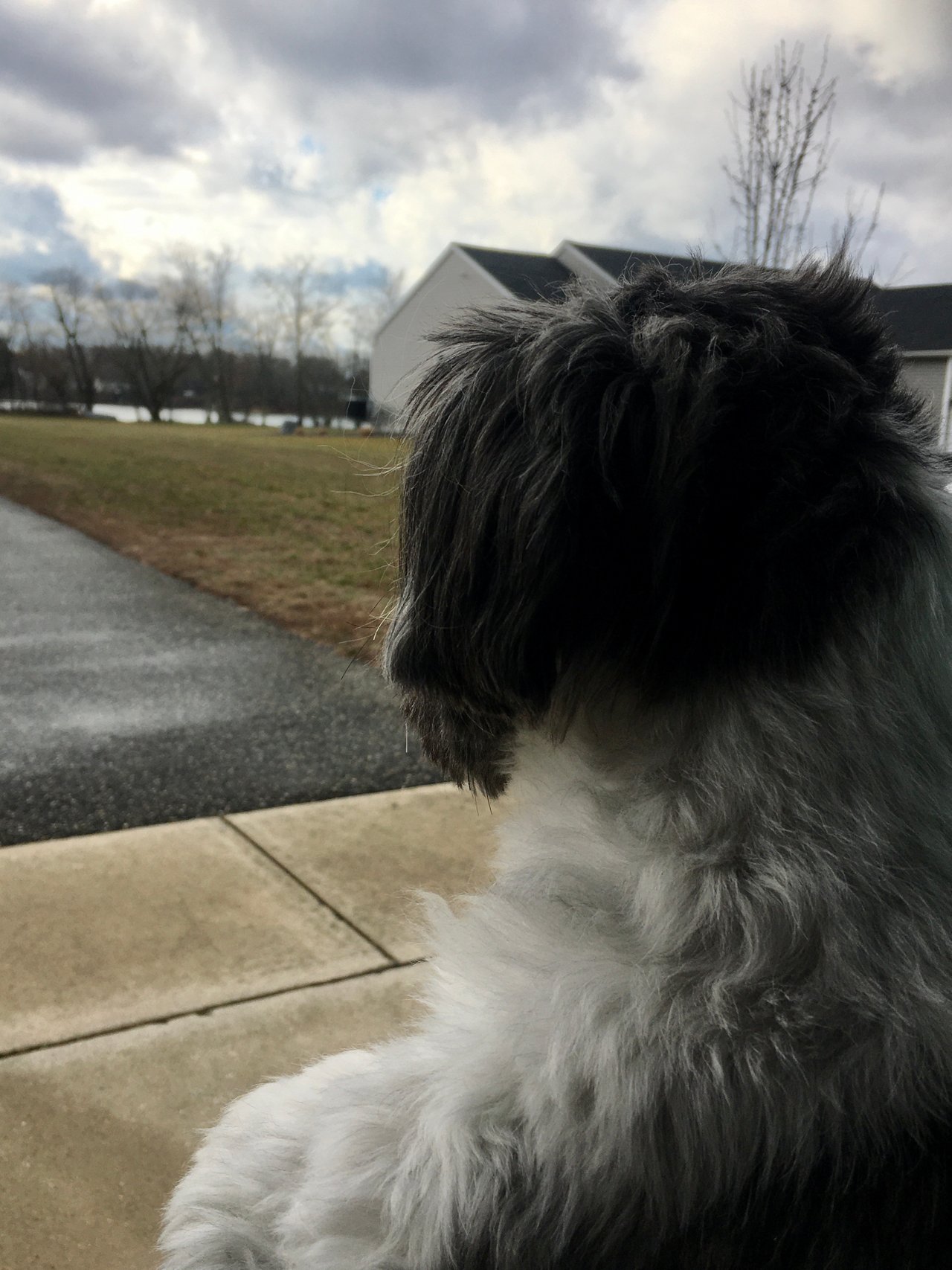 And wind our way with a series of lefts and rights, down main roads, until we are a few turns away from home. When we get into our neighborhood, and there is no traffic, I roll the window down. Pepper is unhooked from his harness and he quickly, without hesitation, jumps over to my lap. He positions himself with paws and head out the open window for some 'wind in the face' time. Man oh man does he love an open window in the car. It's a short distance before we are home, but he enjoyed every last second of the expedition, especially the last mile or so.
The Coffee Is Gone Now ..

Pepper is quite happy and Molly is happy that she didn't have to endure any trips in the Jeep. It's loud and rough in there and usually ends up with a stop at the groomer or veterinarian. Everything is right as rain and I am again perked and peppy from all of the coffee now in my belly. Your good Molly..no need to worry. No more rides until next weekend :-)
The Look Of 'I Mean Business' ..
Also know as the look of a dog that need a bath and a haircut .. Shhhhhhhh... Don't say anything or she'll just start shaking again ;-)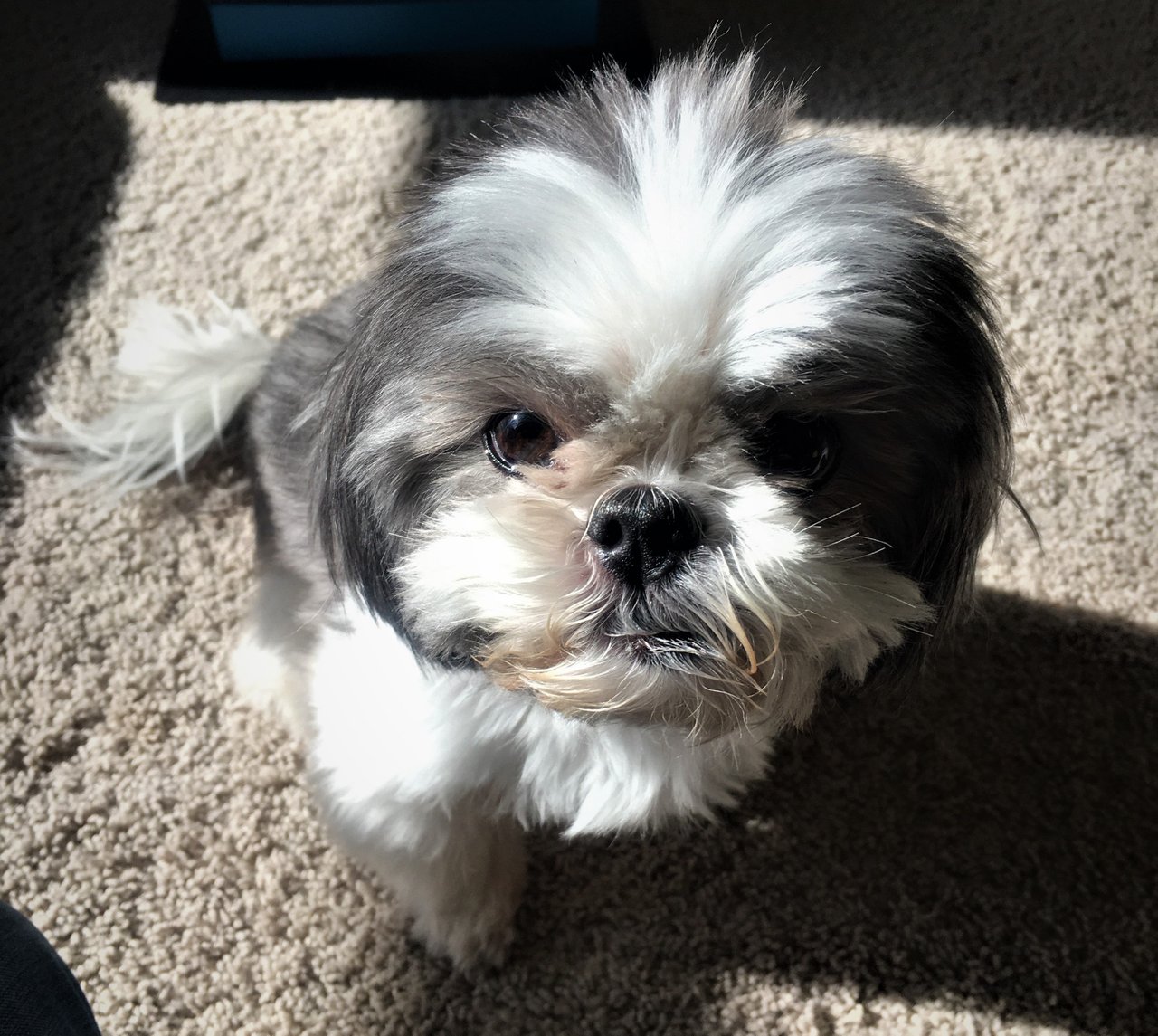 "Money can buy you a fine dog, but only love can make him wag his tail." -Kinky Friedman

Thank you for swinging by my blog and checking out the post. Have a great day!


All words, pictures and art pieces are the sole property of B D Miller Gallery, unless otherwise noted and credited, and are not to be reproduced or copied without the prior written consent of B D Miller Gallery.

About Me ~ The Artist
My art work incorporates a wide variety of subject matter, including landscape, seascape, cityscape, and still life images. My works are the product of a continuing process of exploration through which I seek to portray personal and visionary interpretations of my surroundings. My paintings are impressions of places and events from everyday life, an interpretation of my imagination, and personal responses to what I see and feel on a daily basis. More recently I have invested generous amounts of time into my landscape painting. I am surrounded by natural and man made beauty, which inherently presents itself in the tri-state area, and almost demands that I paint it.
Not everything is art. Art is not everything, but it comes close. Art is everywhere and all the time. Art makes you experience the beauty of the world, the people in it, and the places we call home. Art itself is so influential that it can tell stories, show feelings, and express passion or fury. Art exists in addition to language; expression of sensations and thoughts, revealing a way of thinking too subtle and delicate for words.
For me art requires love, honesty and perseverance. In return, it reveals some personal, non-analyzable, and creative untamed passion. For the public, art with its magnificent beauty, improves mood and health and builds better human beings and communities. It engages the intellect, softens the heart, strengthens the soul and frees the spirit.