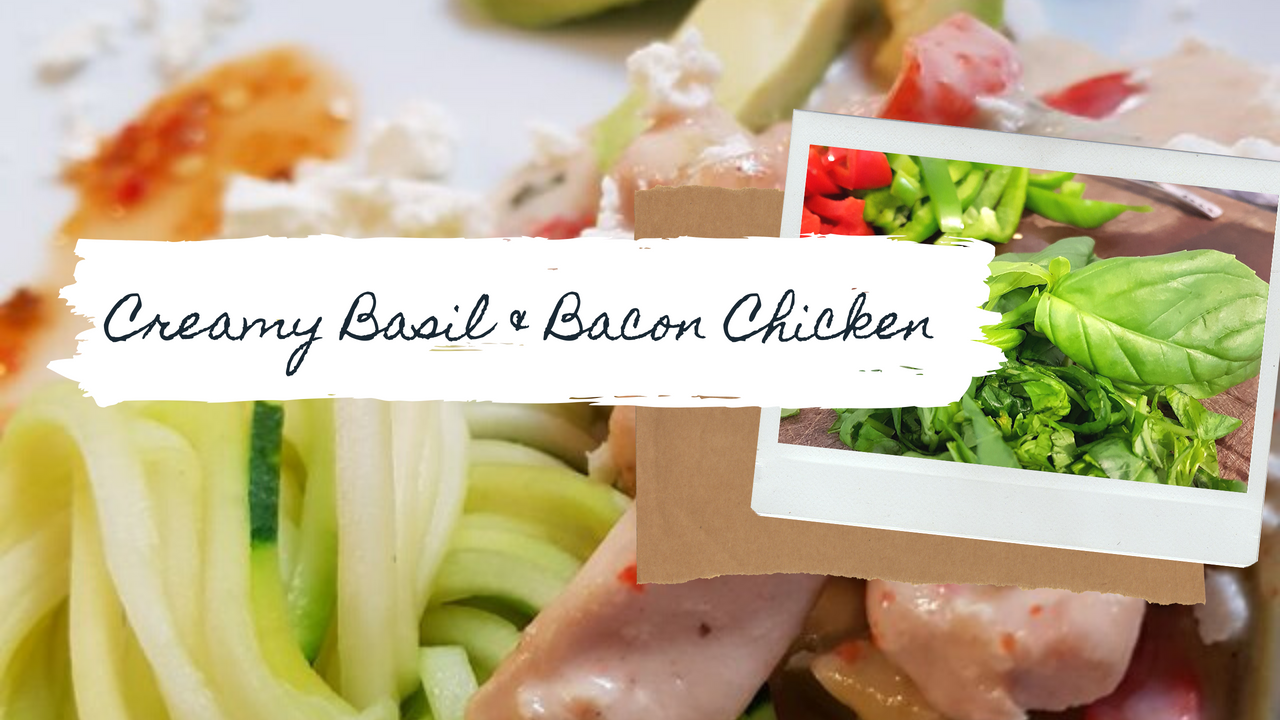 I am not big on recipes as most of you have probably gathered by now if you have had a scour through any of my foodie posts... Nope, I am very much a "wing it" kind of gal. I like to experiment with ingredients and flavours, so apart from a few select "staple dishes" in my household, I seldom make anything in precisely the same manner more than once... but this is definitely one I will make again and whether you make it with traditional pasta or with zoodles as I mostly do, it is still a deliciously comforting plate of food.
I bought one pack of filleted chicken breasts and sliced them into strips about 1cm thick. I find if you do them too thin they tend to disintegrate and if you cut them too thick they are "too much of a mouthful". and then one pack of bacon bits. Personally I like the fatty bacon, because I am a huge fat lover! lol But buy a leaner cut of bacon if your prefer... Get a deep pan (or pot if you don't have a deep pan) heated and ready with a nice healthy dollop of olive oil...
Once the pan is ready to rock 'n roll, add the chicken strips. I season them lightly with a little bit of traditional chicken spice, salt, ground black pepper and a heaped teaspoon of chopped garlic (yes, I was lazy, but fresh garlic is always better) If you prefer to use fresh garlic, then I would say about two to three cloves should do it - depending on your level of love for garlic I suppose haha!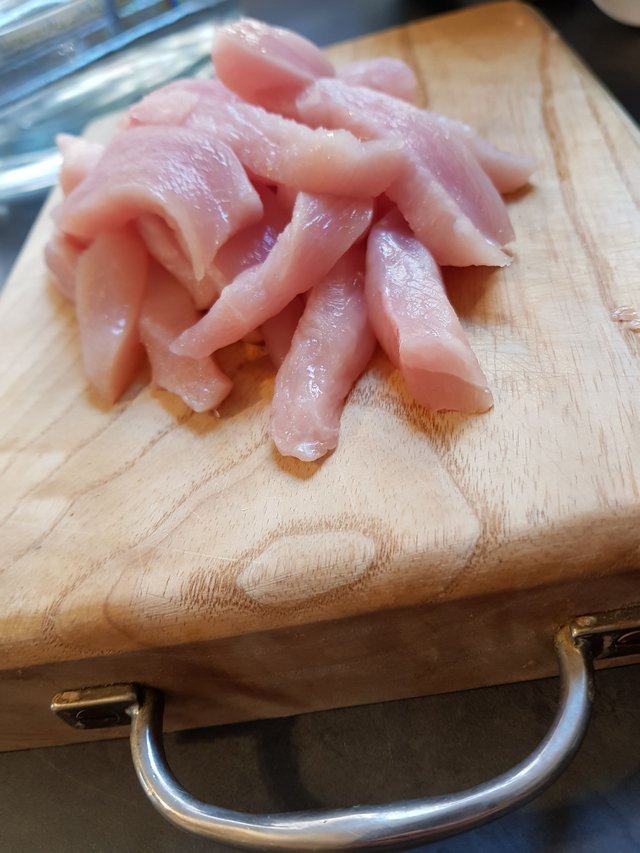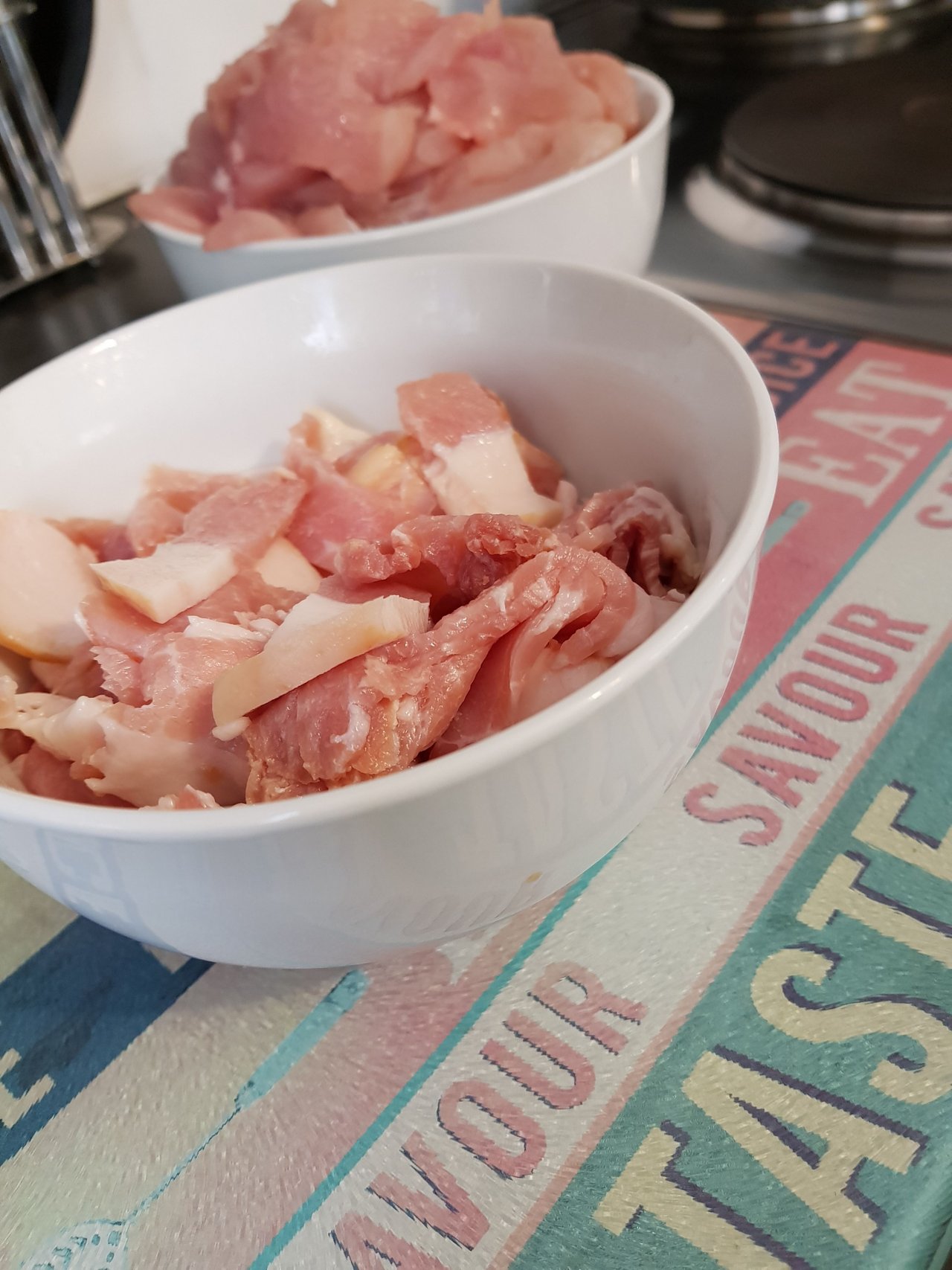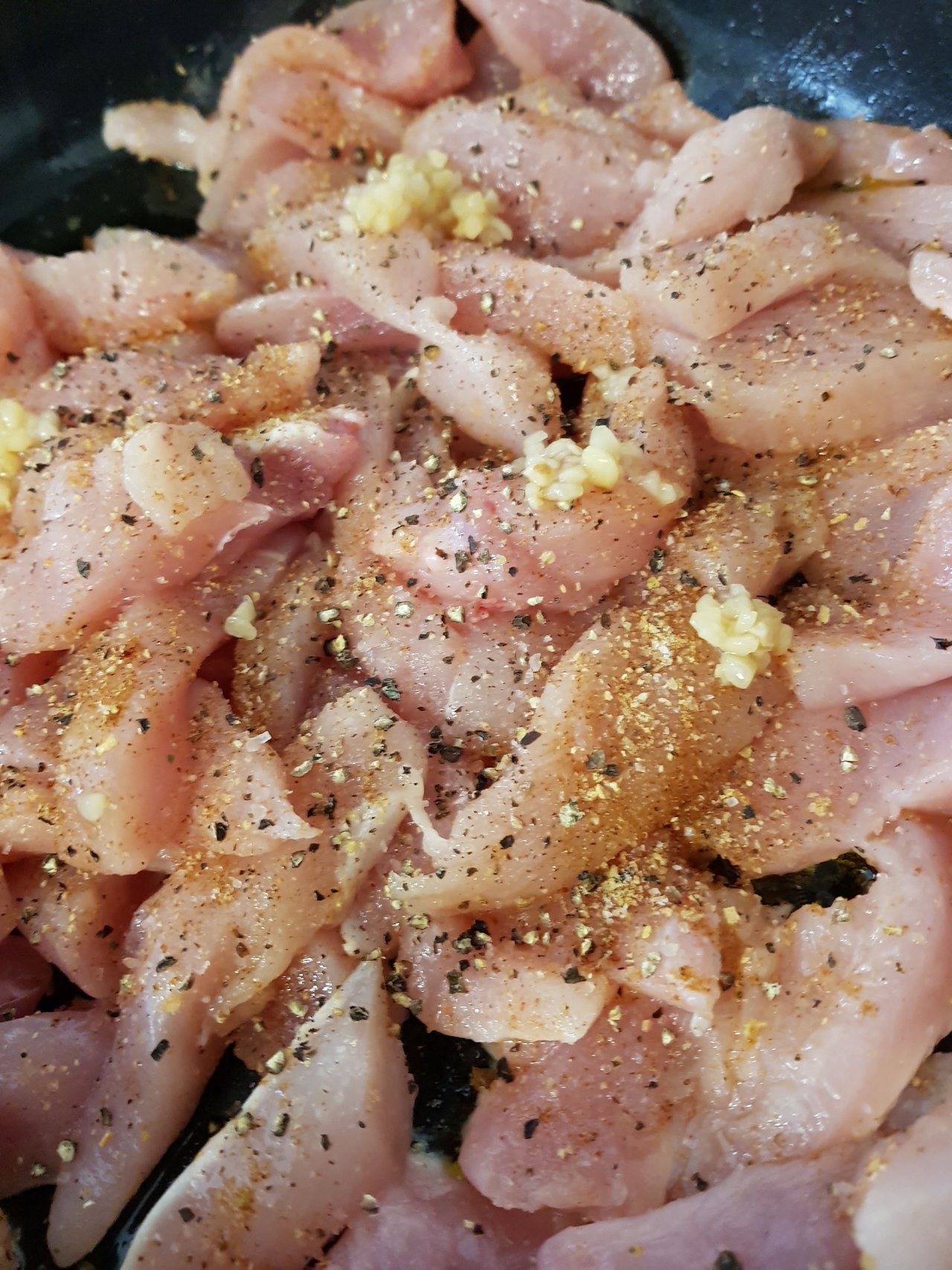 I don't know about abroad, but here in South Africa there is so much damn "water/brine" injected into the chicken these days (free range or not) that it ends up boiling rather than frying - but in this instance it doesn't really matter because the end result is a creamy dish anyway, so you don't really need any successful browning...
While the chicken is cooking I get the extras ready... those being one sweet red pepper and one green. I slice them into long strips as well. I find that colour balance on a plate of food is SO important, so I always try and create a healthy balance of colour combination with the ingredients I select... Nothing is worse than a plate of food where everything is one colour. lol Unless of course it is done intentionally that way, like an "only green salad" - those are visually "STUNNING" and I make them often. I suppose this obsessive behaviour must be the graphic designer in me... haha! Time to roughly chop up the fresh basil. There are few herbs that smell better than basil when freshly chopped. If I was to pick one it would probably be mint, or perhaps lemon thyme.... YUM!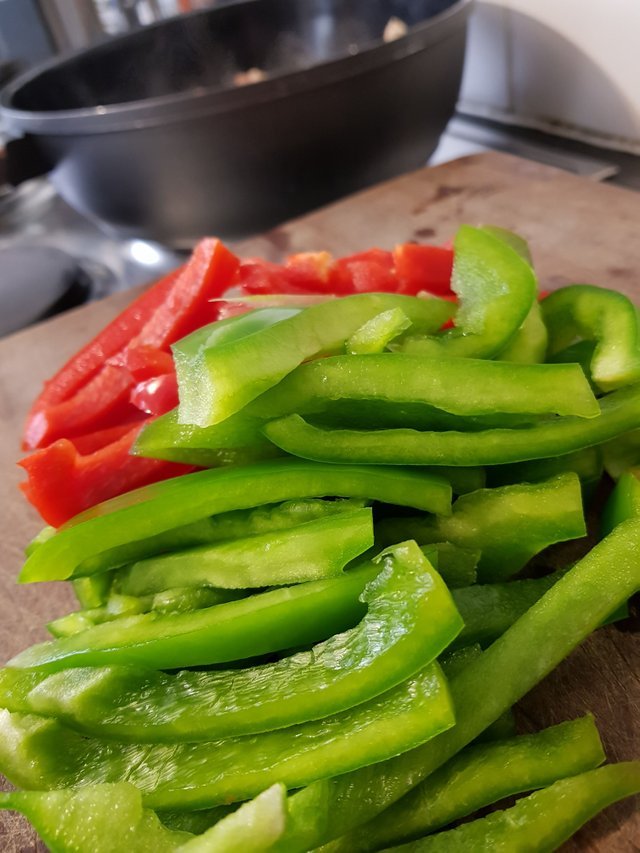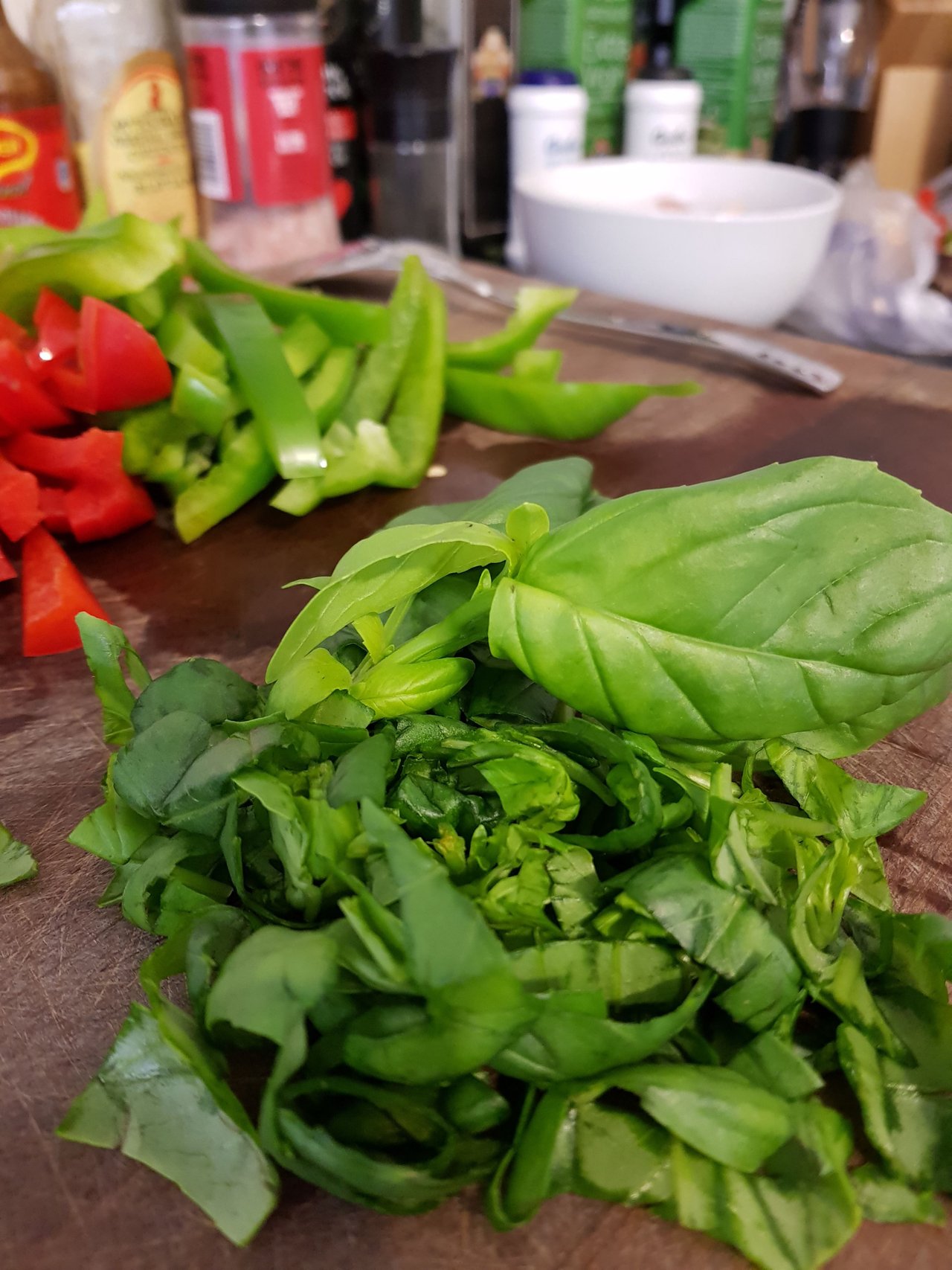 Once you have finished all the "chop chop chop", the chicken should be cooked through and you can add the chopped sweet peppers, chopped basil and the bacon... Give it all a good stir, stick on the lid and leave it on a medium heat for approx. 20 minutes.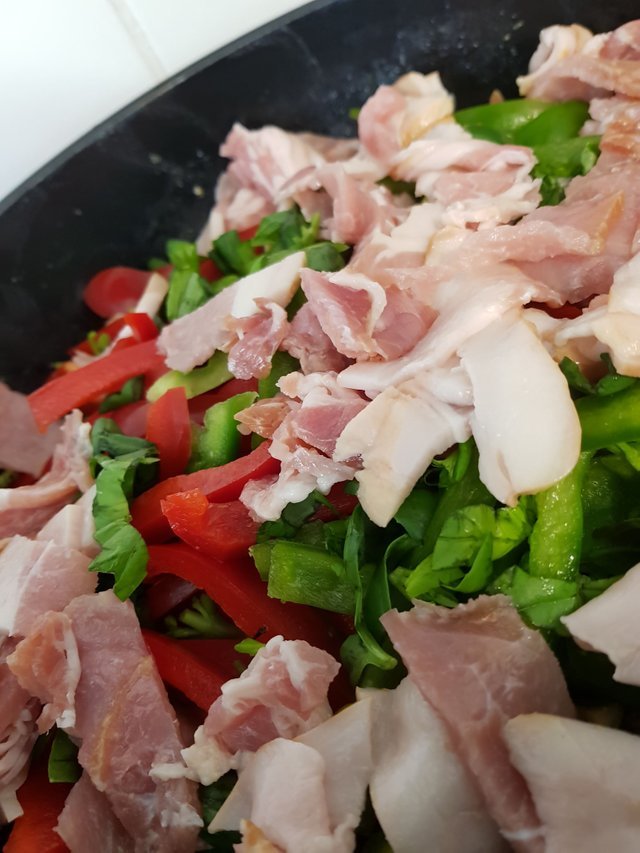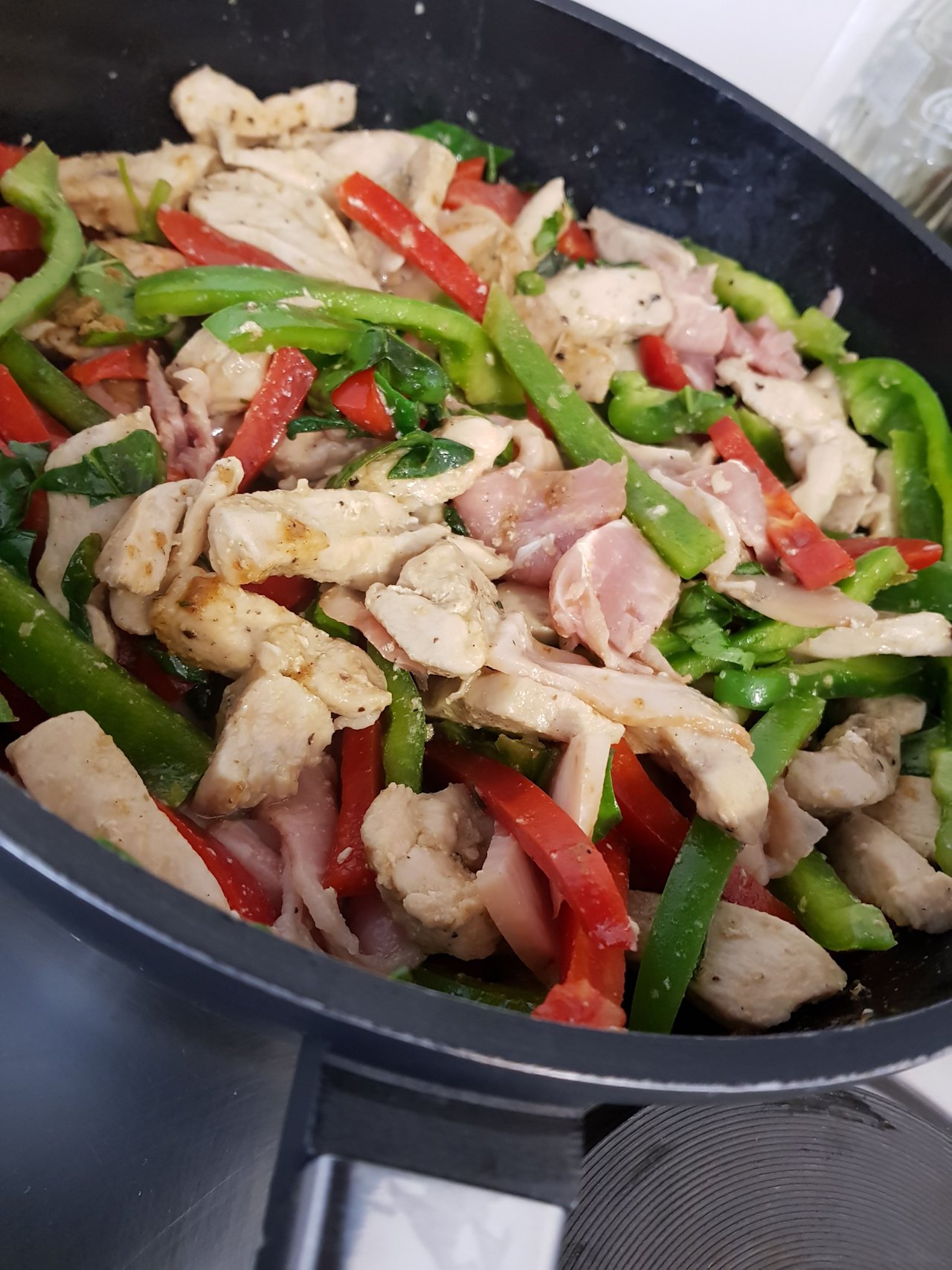 While that is busy, I generally get the creamy sauce aspects all sorted... I do this in two separate parts. First I mix two heaped dessert spoons of all purpose flour with about a cup of milk - shake it up and put it to one side. In addition (but added separately) I use a 250ml tub of fresh cream. The reason I don't shake the fresh cream with the flour into a paste is because the cream just turns to stodge instantly. (I speak from experience lol)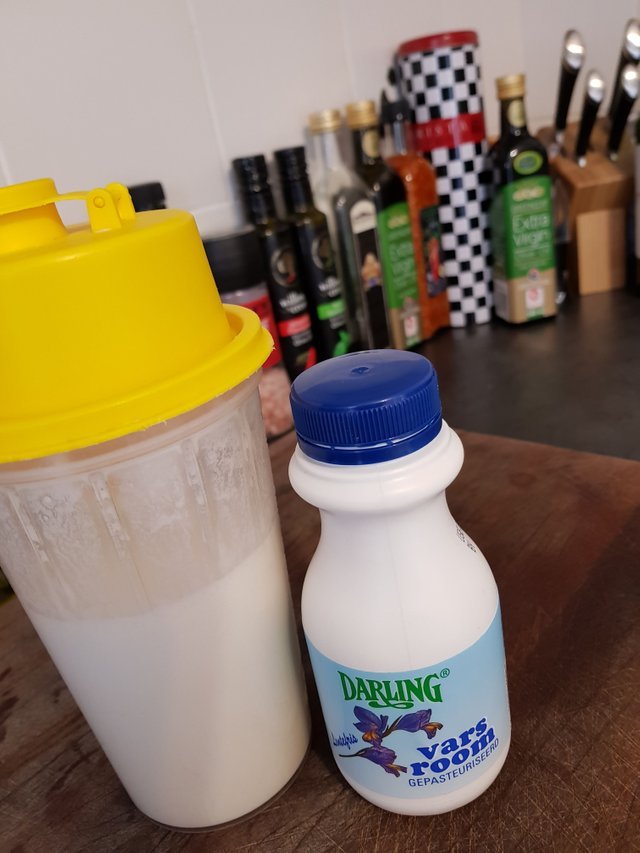 Once the chicken is ready, you can add the flour and milk mixture to the pan and then the full 250ml of cream. Leave the pan on the medium heat whilst you do this as the heat is what will get it to a nice medium thick creamy consistency. Once you have that consistency, turn the heat down to a simmer.... or lower.
give it all another good stir, pop the lid back on - remember to make sure that the heat is DOWN and bob's your uncle! You can leave that on VERY low until you are ready to serve it, and the longer the better as not only does it get the chicken wonderfully tender, but it allows time for all the flavours to develop.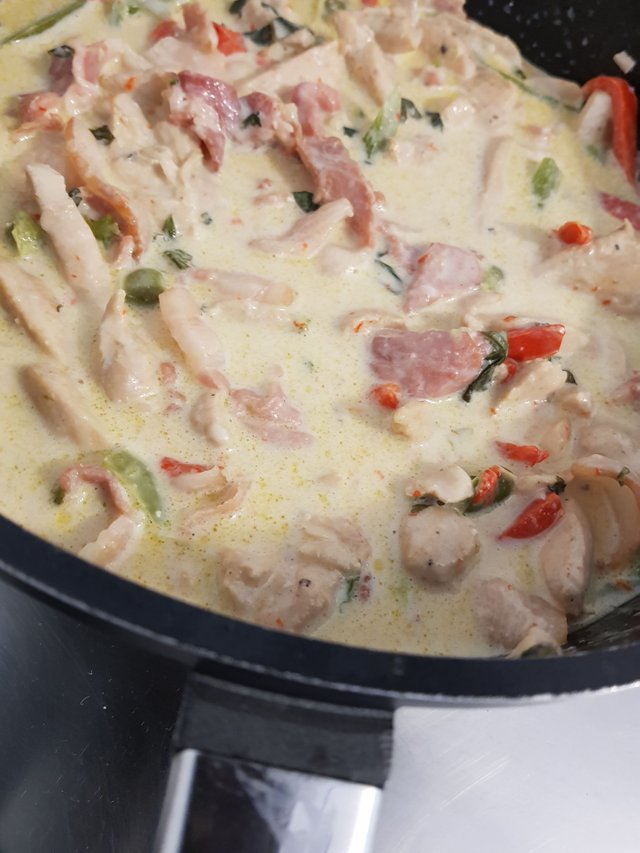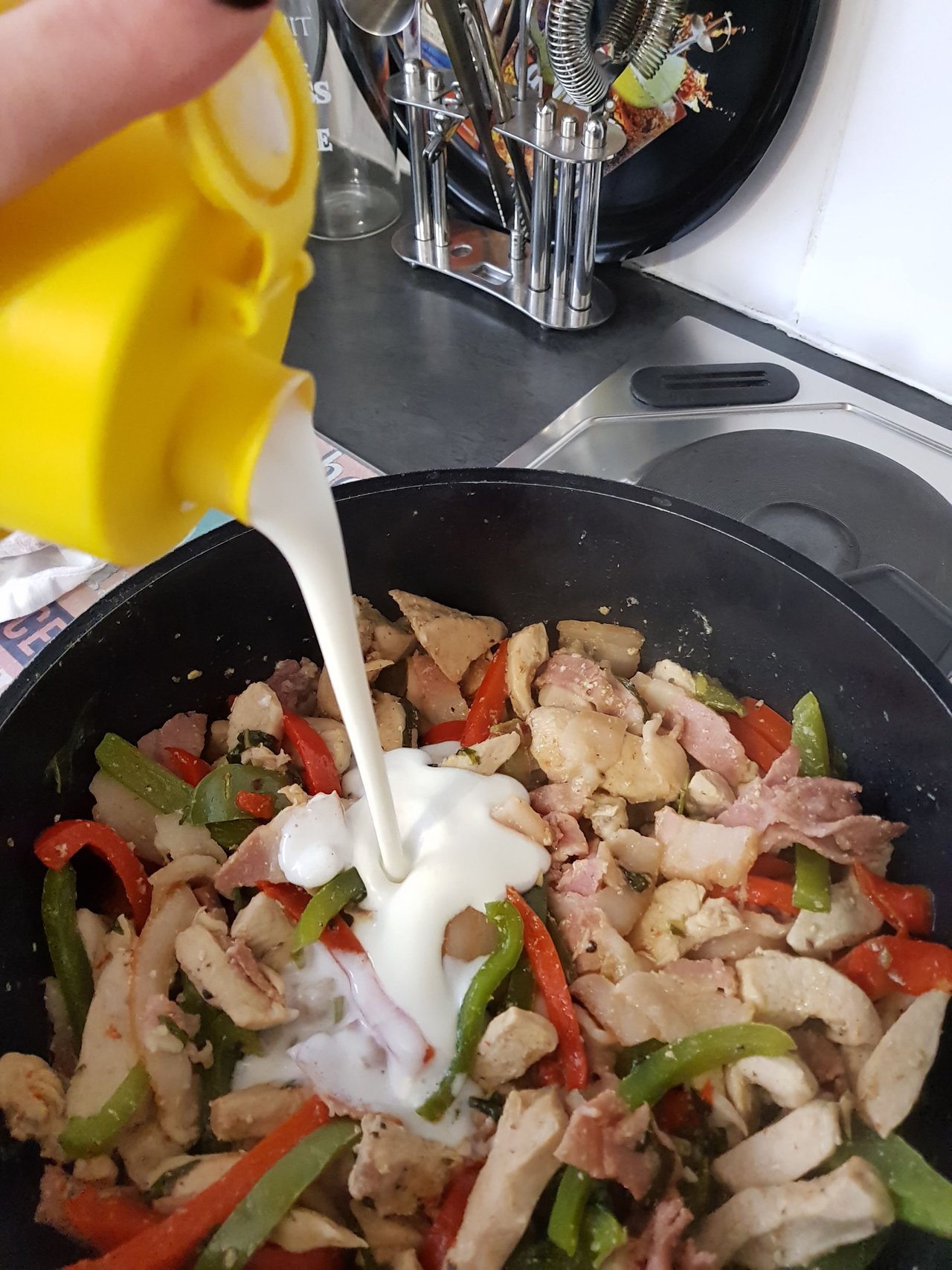 Now you can get your base ready - whether it is traditional pasta, rice, or the zucchini pasta which I will be using. Served with a little bit of avocado pear, a few feta cheese crumbs and a bit of chilli sauce for good measure :) Enjoy!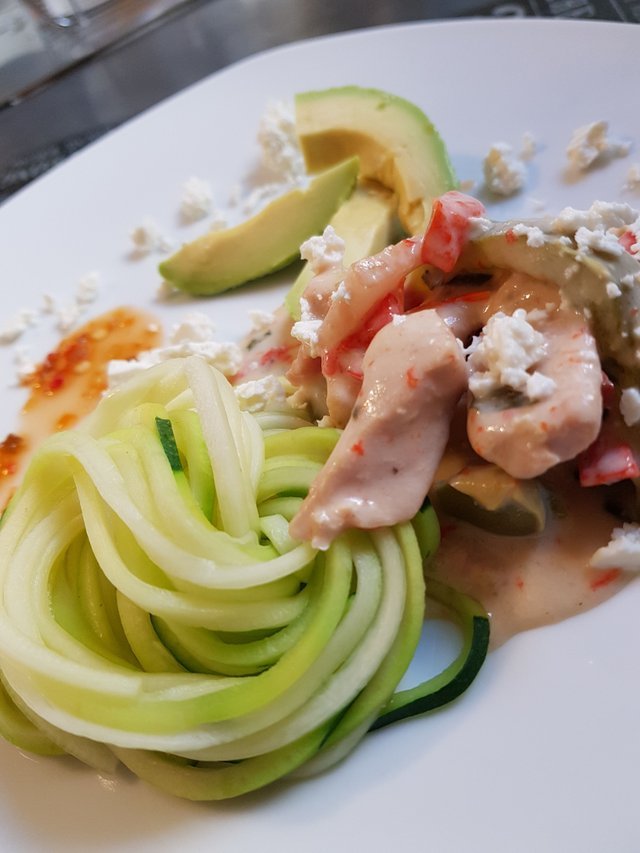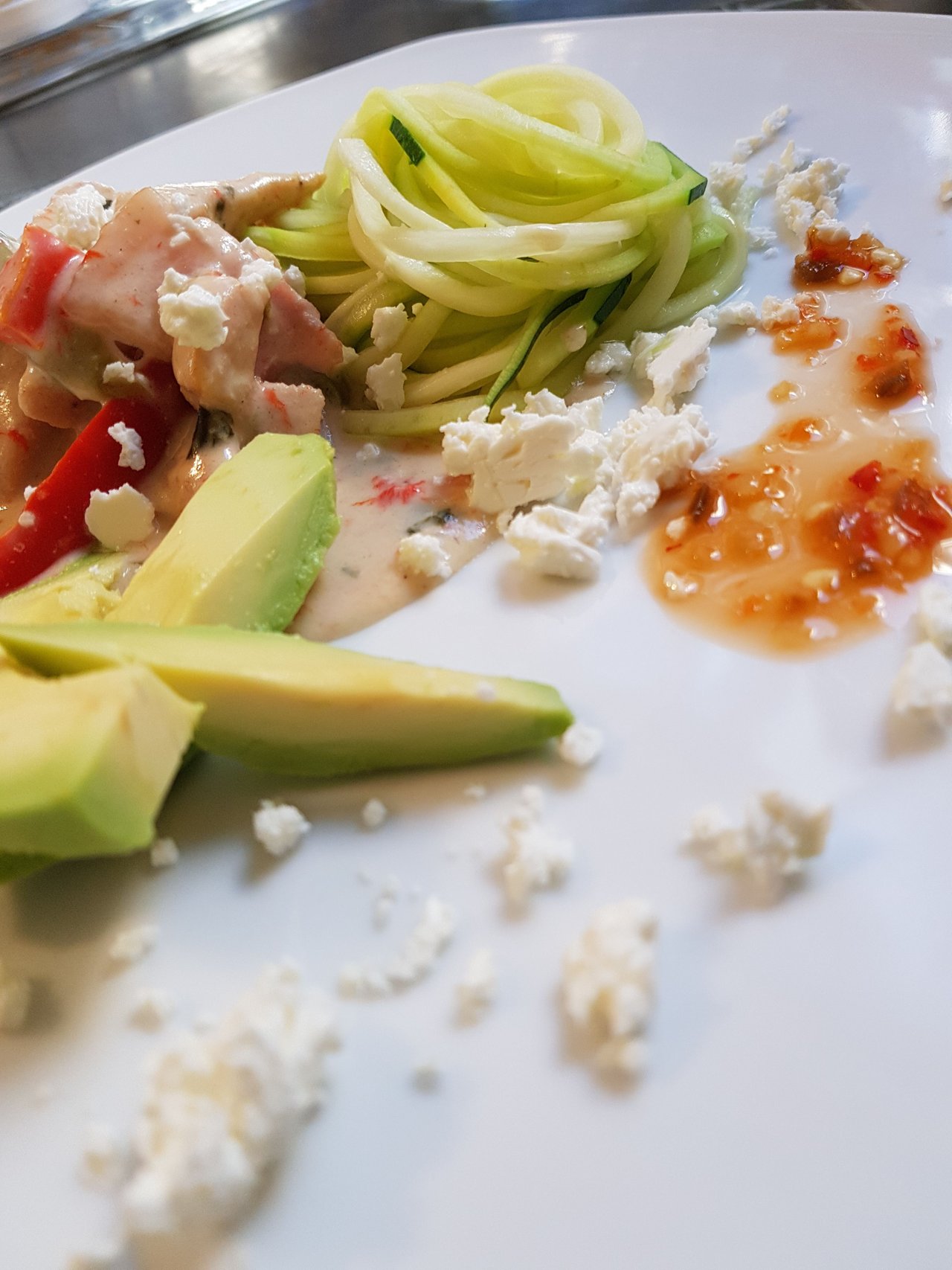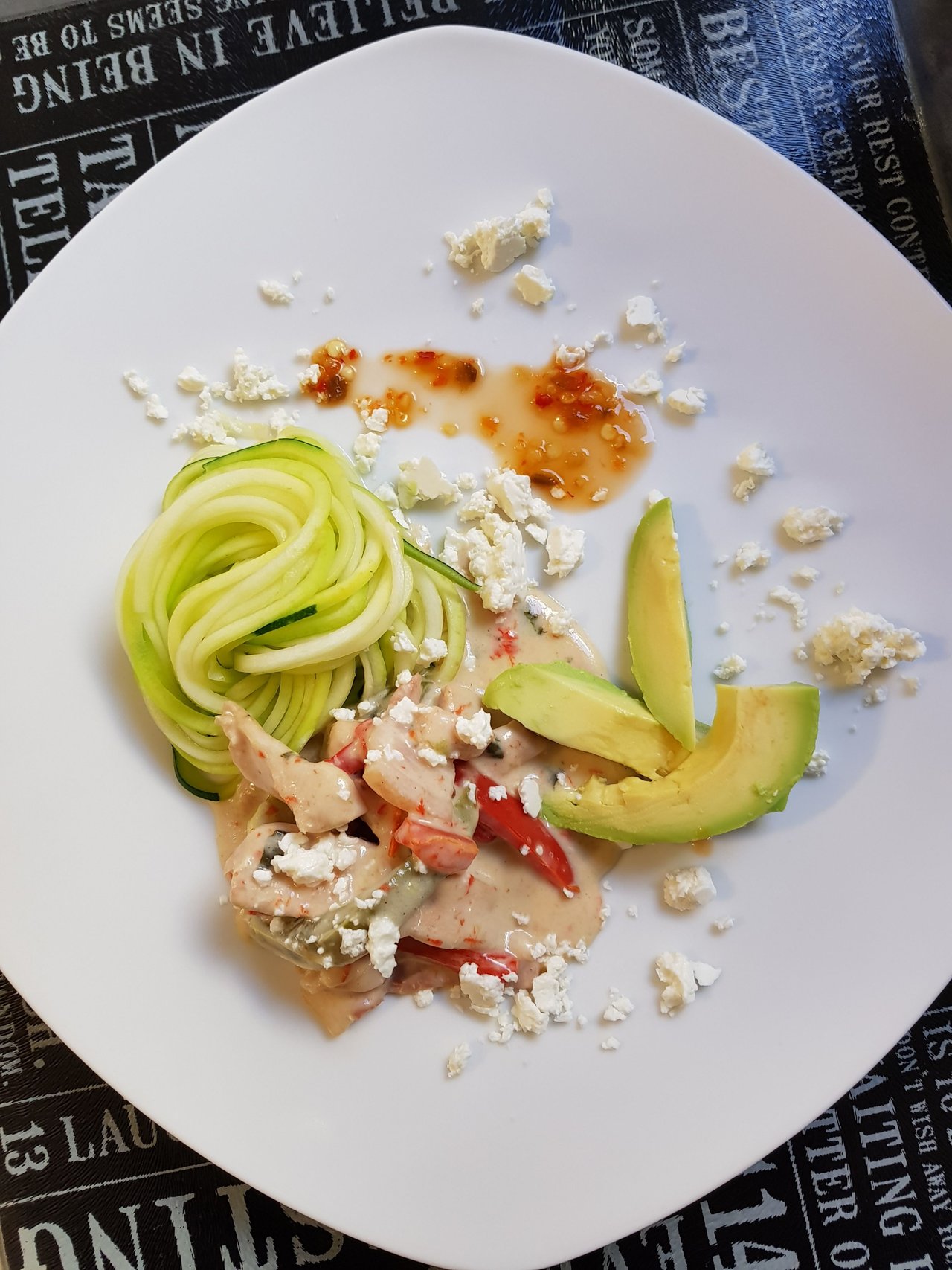 ❤❤❤
Until next time...
Much Love from Cape Town, South Africa xxx
Jaynielea
FOUNDER OF THE POWERHOUSE CREATIVES & STEEM SOUTH AFRICA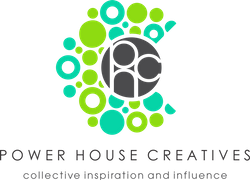 A community of individuals who are dedicated to producing quality content
which adds value to the Steem network and beyond.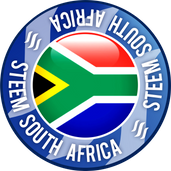 Connecting the people of #STEEM across South Africa. #steemsa

ALL IMAGES ARE MY PROPERTY UNLESS OTHERWISE CREDITED