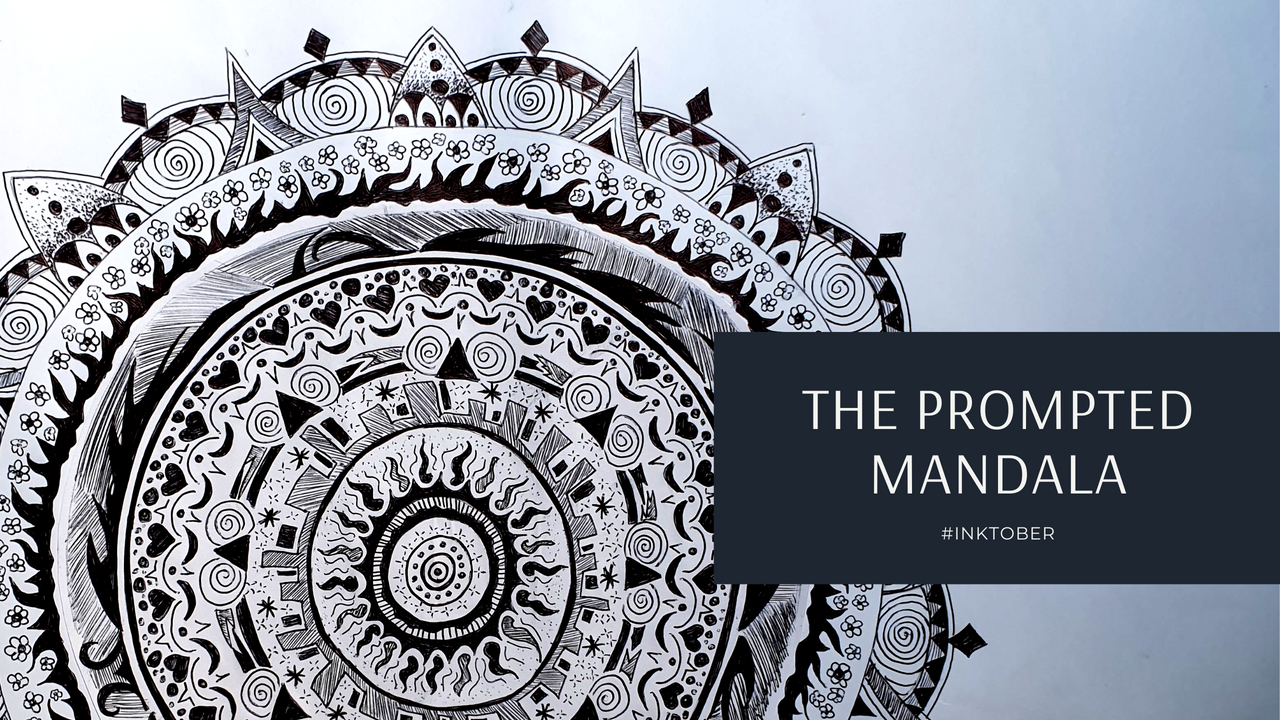 The more this creative project develops, the more I am falling in love with it (be it bold to say that myself haha) Having to refer back each week to the very start of it, I re-realise just how much time and energy has gone into it, but as the swirls of symbolism grow, it puts a smile on my face because more than anything, I am thoroughly enjoying the process!
So, to get those of you seeing this for the first time "up to speed" - I quote from the previous weeks additions:
I have been having so much fun creating this mandala for INKtober. When I started it, I really didn't take much time to consider just how big it would be at the end of the day lol - I was just like oh, I am going to do a mandala - awesome! and grabbed one of Jude's old school nature study books, a ball point pen and started drawing. haha For those that missed my first post (Days 1 - 8)... here is a little bit of background as to the what and why...
I love symbolism, always have - always will! I also love mandalas and the enormous energy which they hold - not only because of the illustrative symbolism, but also because of the sheer time and energy that goes into creating one. From the time I could hold a pen in my hand, I have doodled and although this is not done with a professional ink pen, I have always had a passion for scribbling with a ball point pen - and that is technically ink isn't it :)
I don't jump into many of the contests or challenges in the Steem space, purely because of time - but this one really appealed to me and so I thought I would get on board. Initially, I had a completely different angle and approach as I sat in bed last night and although I changed my mind... I will nonetheless share what I "started" in playing catch up with the daily prompts...
I was going to get back to that today but then the wind changed direction and so did my mind lol (Gemini problems) - and so, I headed in the mandala direction instead. Each addition to the mandala will represent - in symbolism (from my perspective) the daily prompts.
When doing days 1-8 it became very apparent that the little school book sized piece of paper I had selected was definitely not going to be sufficient - and after continuing on from day 9, I officially ran out of space - so I went and nabbed a piece of white project paper from Jude's cupboard, cut the existing mandala out and glued it to the centre of the new sheet.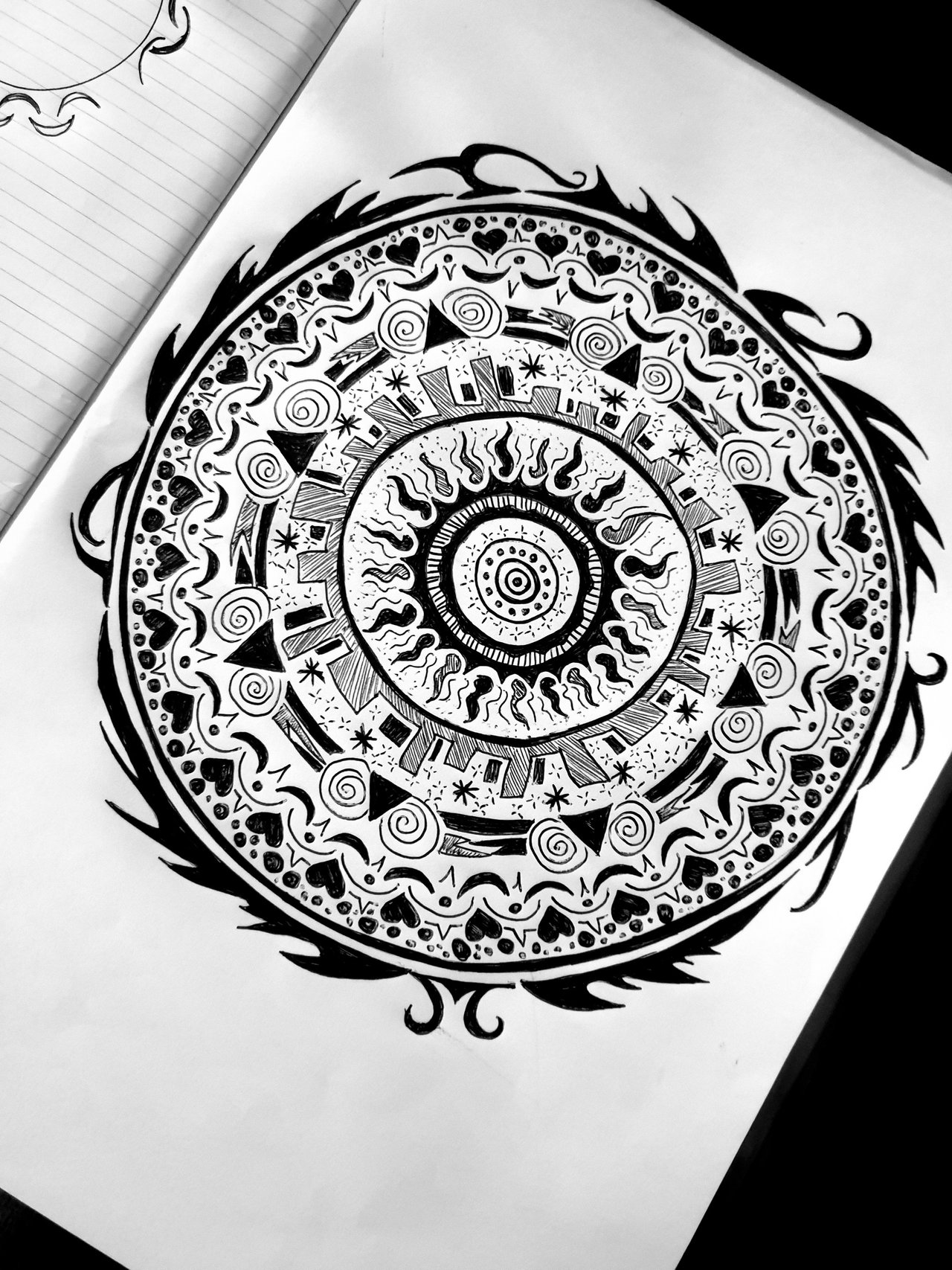 Whilst it seems right to show the latest pic first - it also just feels completely chronologically WRONG! And anybody who knows me well, knows just how OCD I am lol, so for those of you that have already seen days 1 to 8 - I do apologise, but doing it this way makes my heart happy mkay! haha :)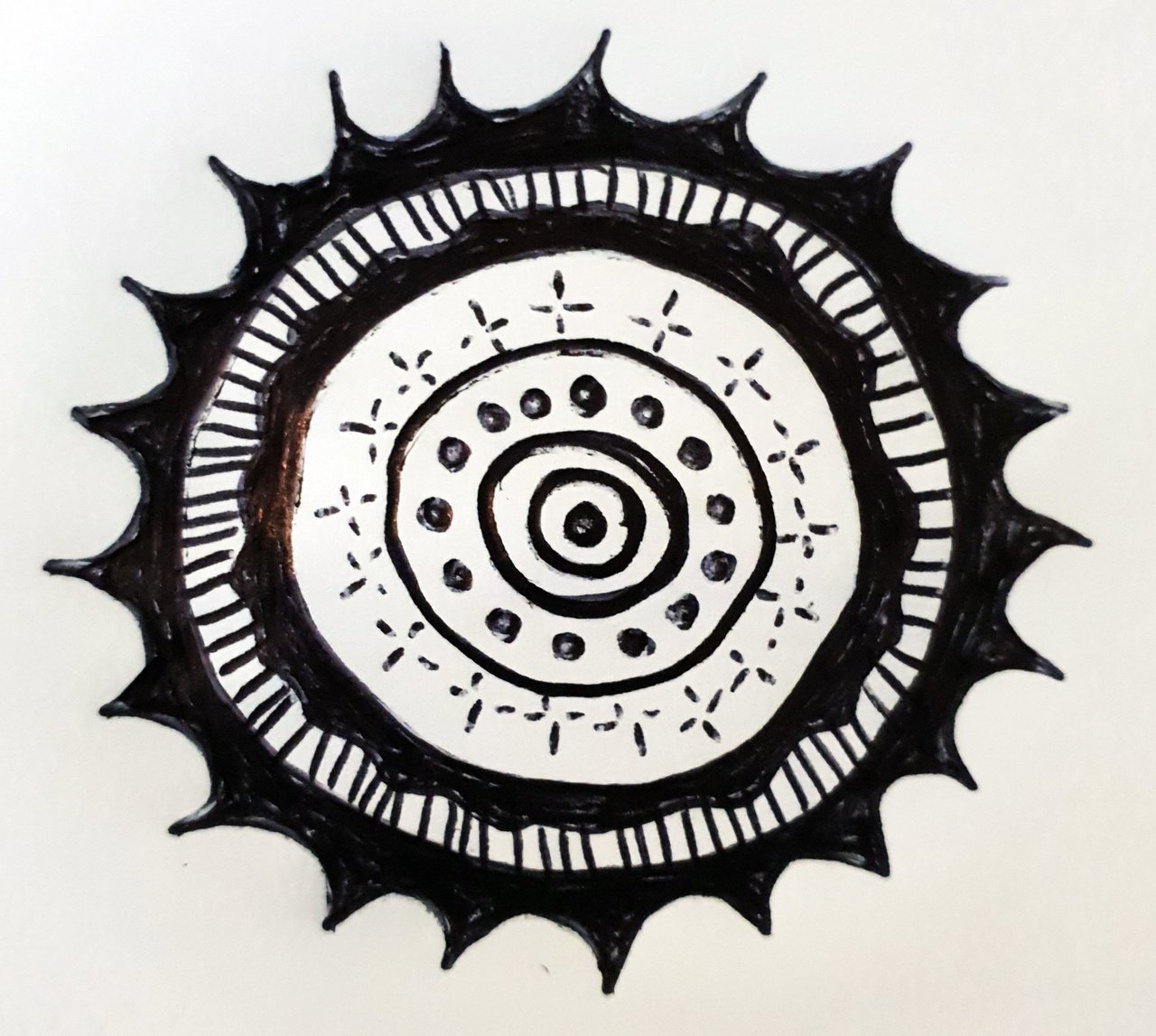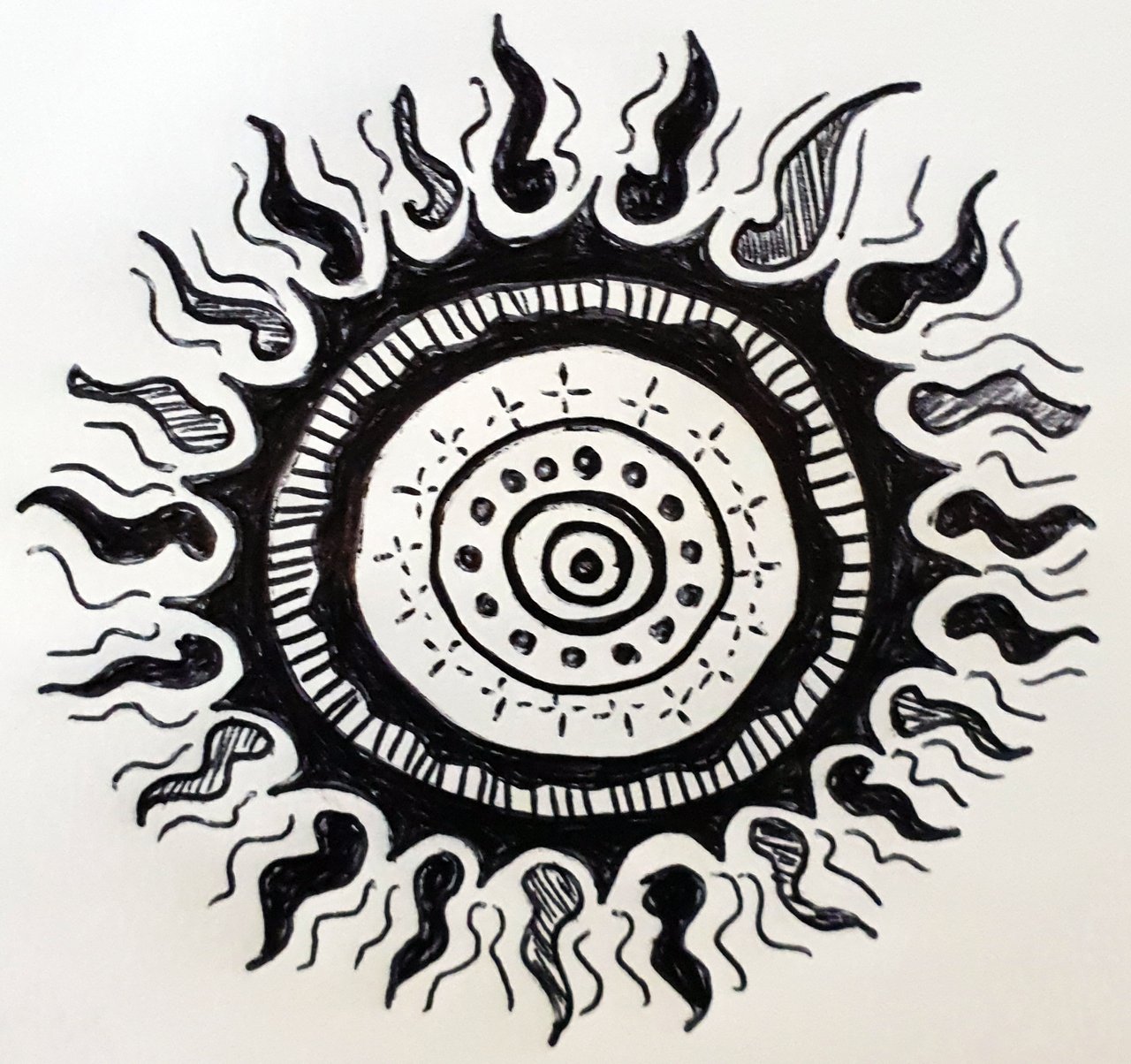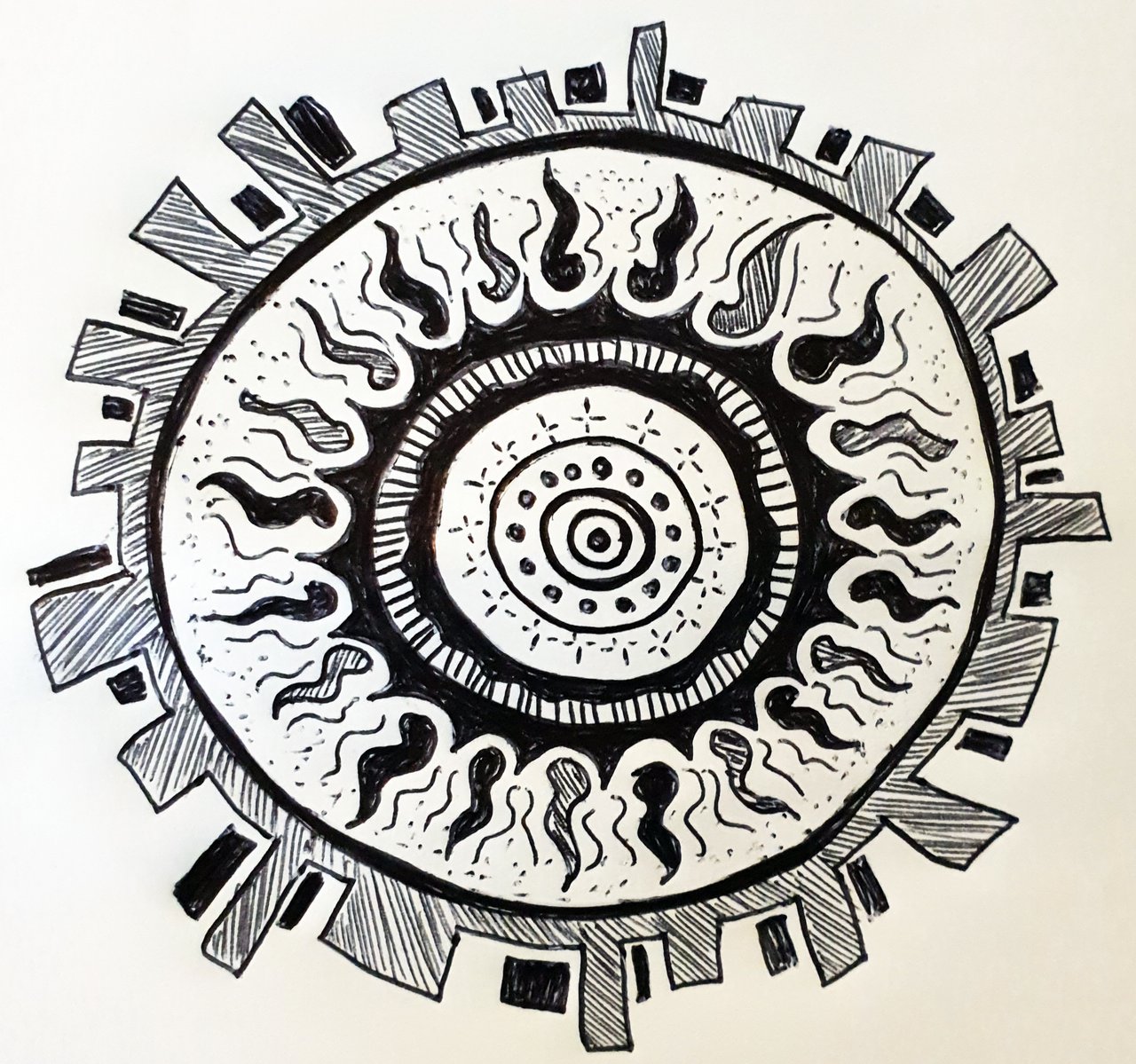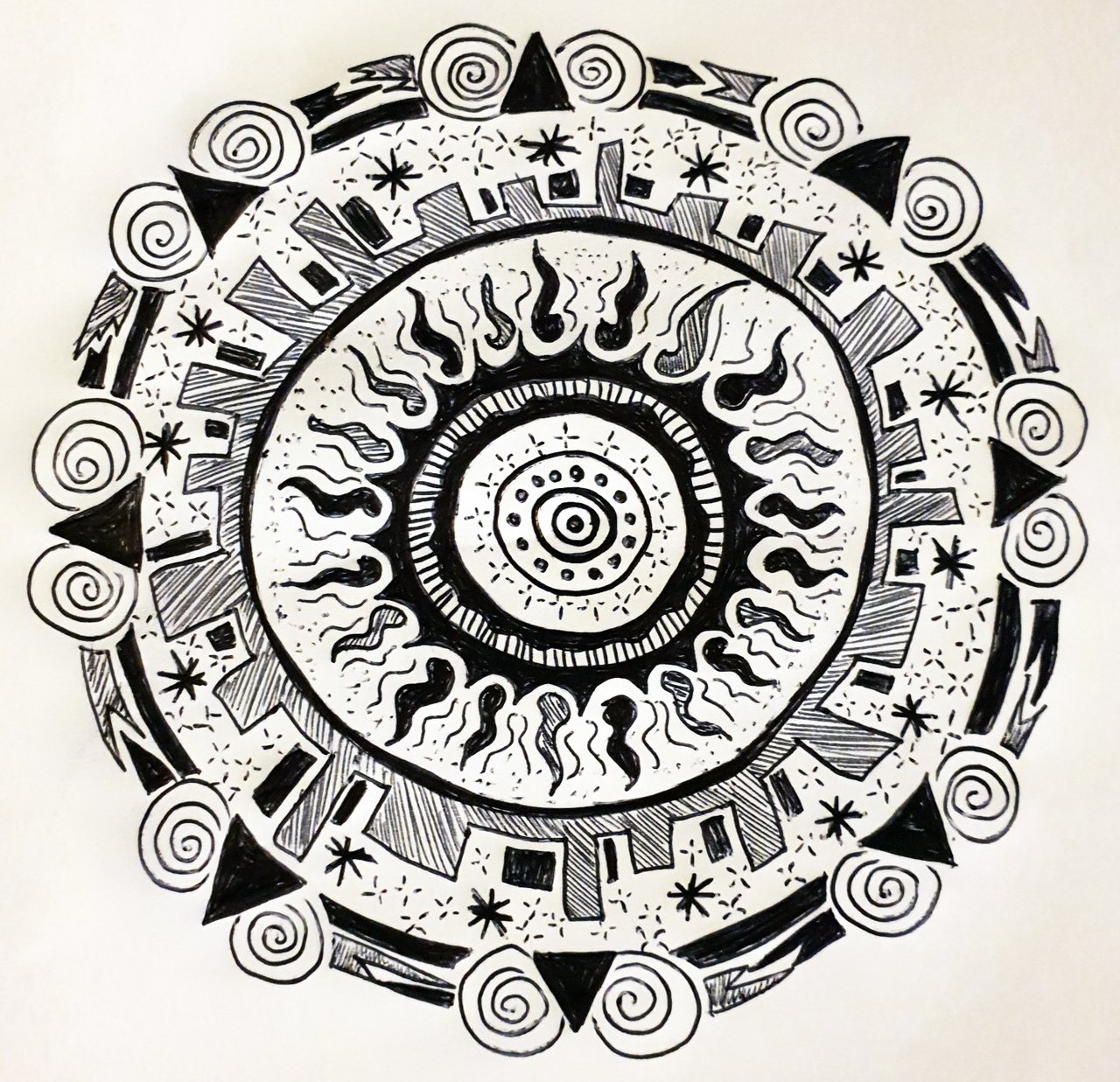 Right! So, that was the first 8 days. After transferring to the new piece of paper and doing days 9 to 15 I am again realising that I will need to actually go and buy a VERRRRY large piece of paper because I am already not that far away from the edges of the new piece haha! I don't really mind, because if this mandala turns out nicely then I think I am going to have it scanned, enlarged slightly and then printed on a block mounted piece of artists canvas. I have been itching to change the theme colour in our bedroom and I was considering black and white. This would go magnificently above the bed me thinks :) Ok, enough waffle... here are days 9 to 15.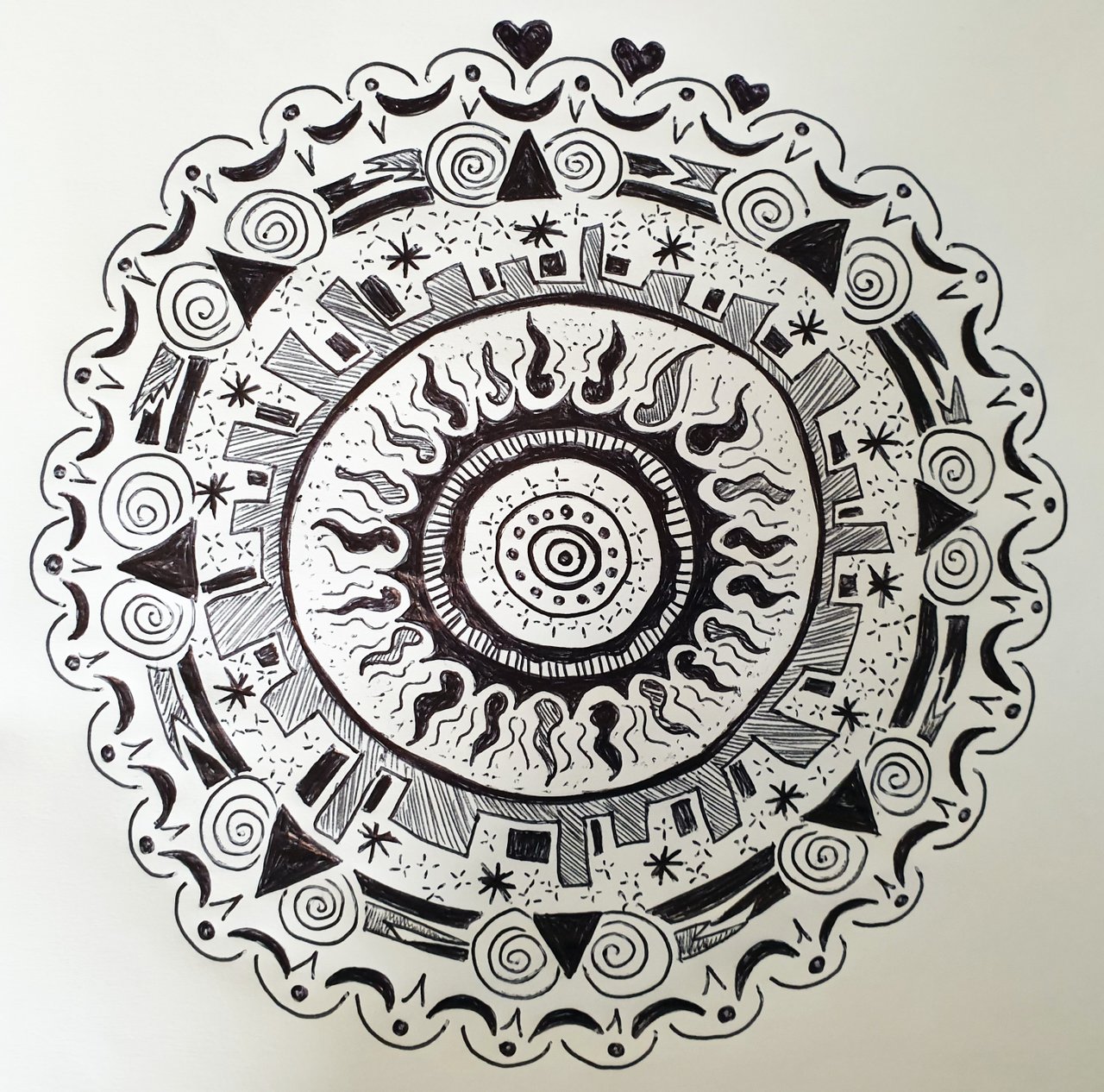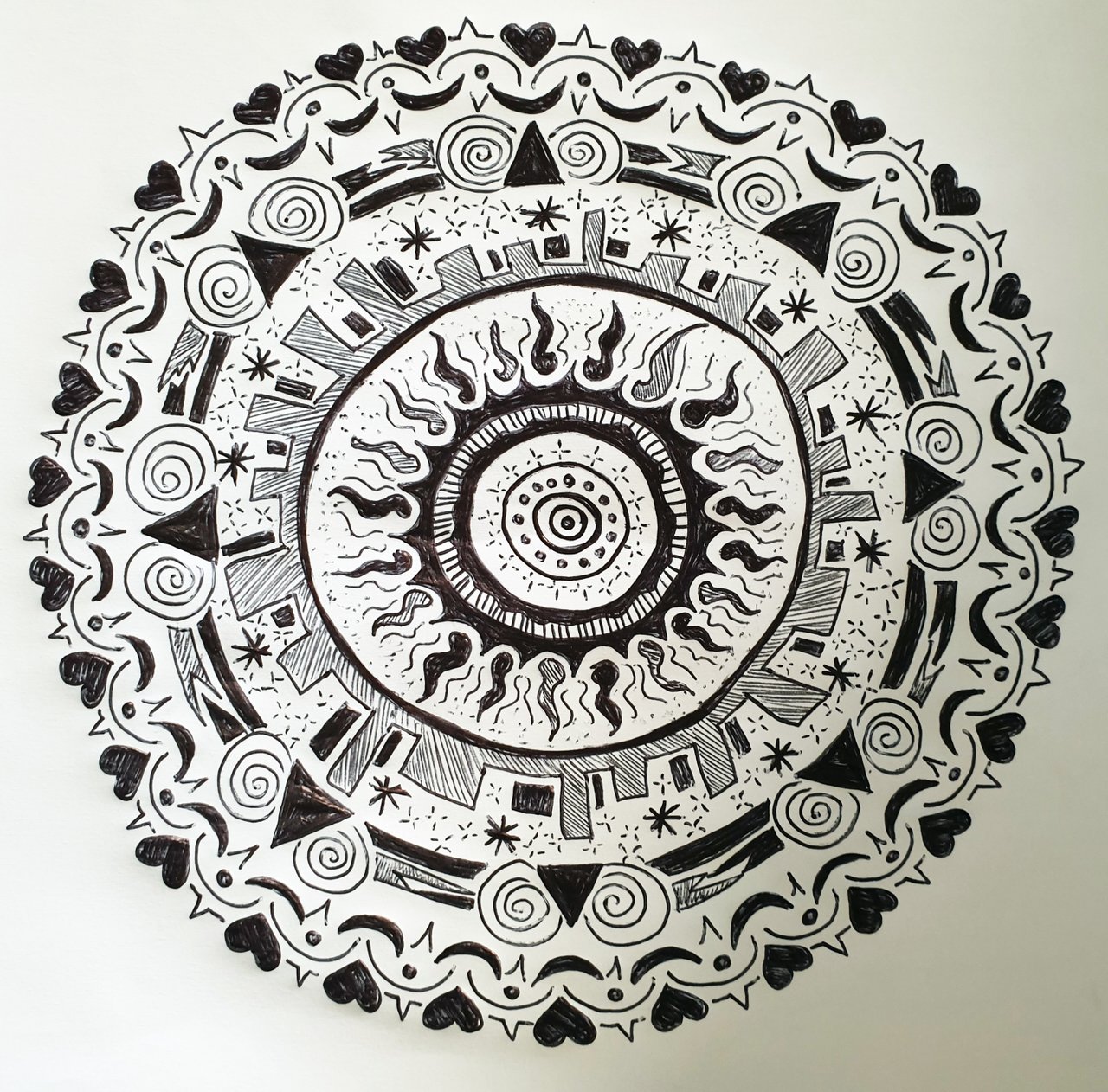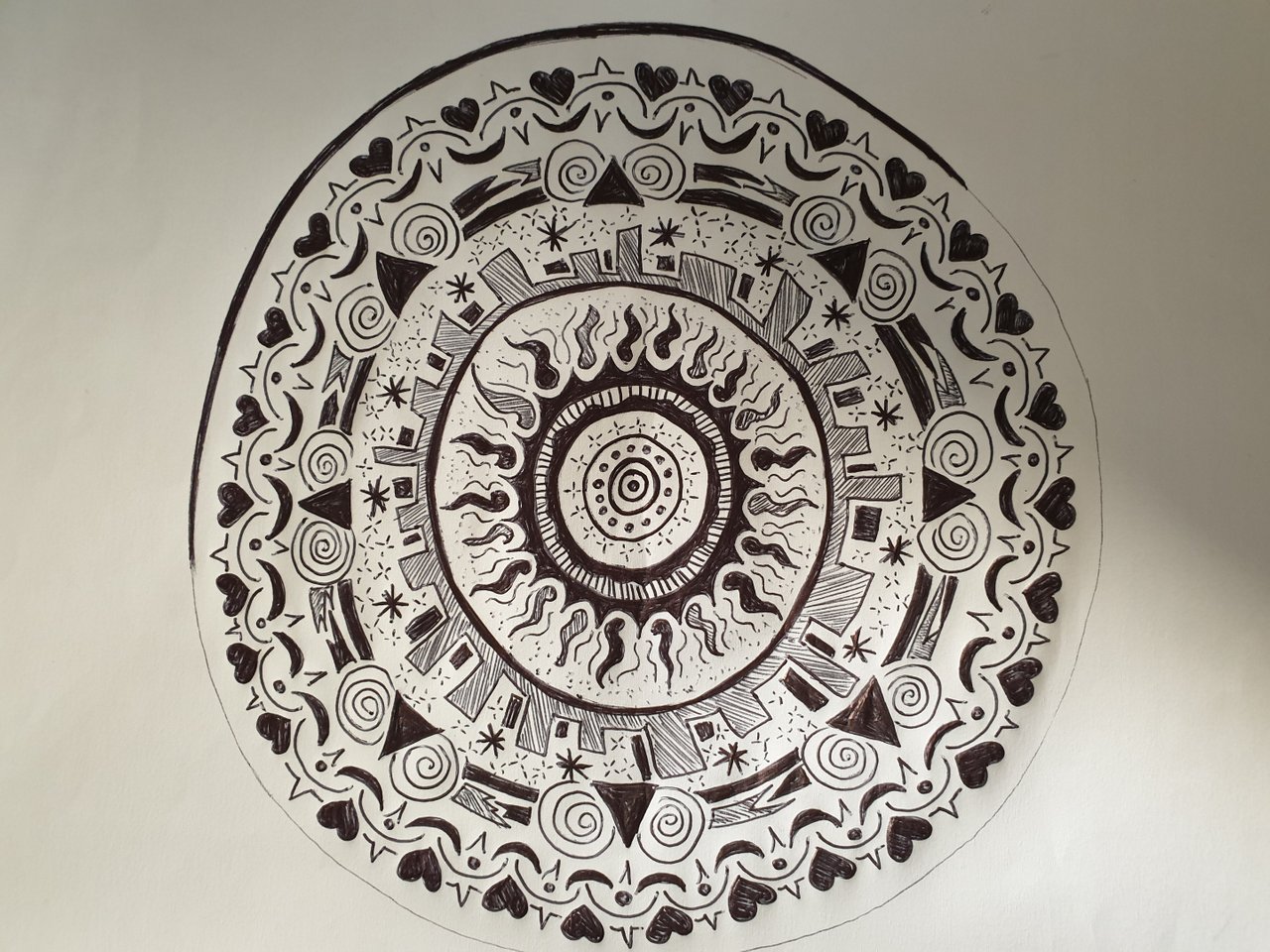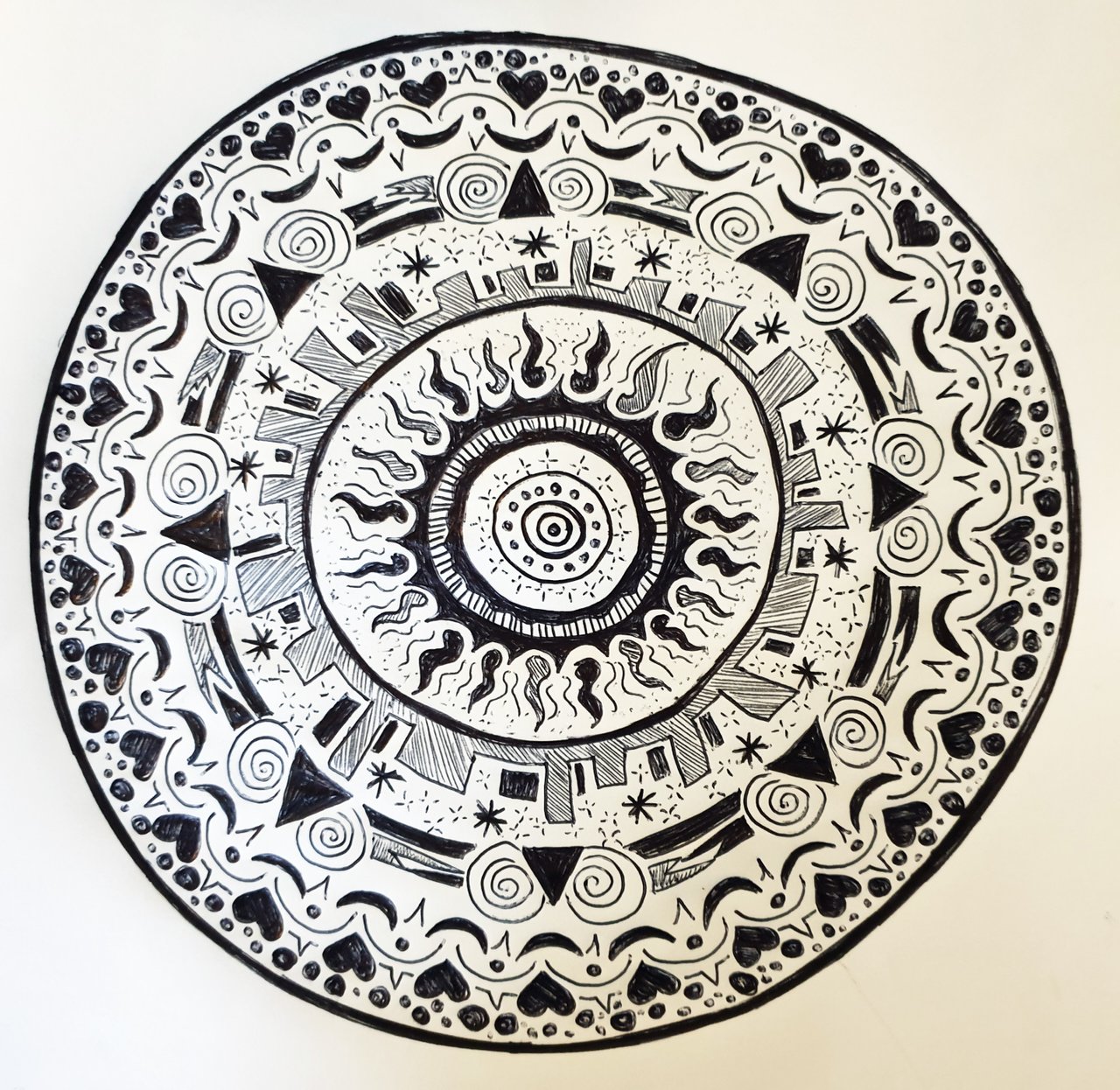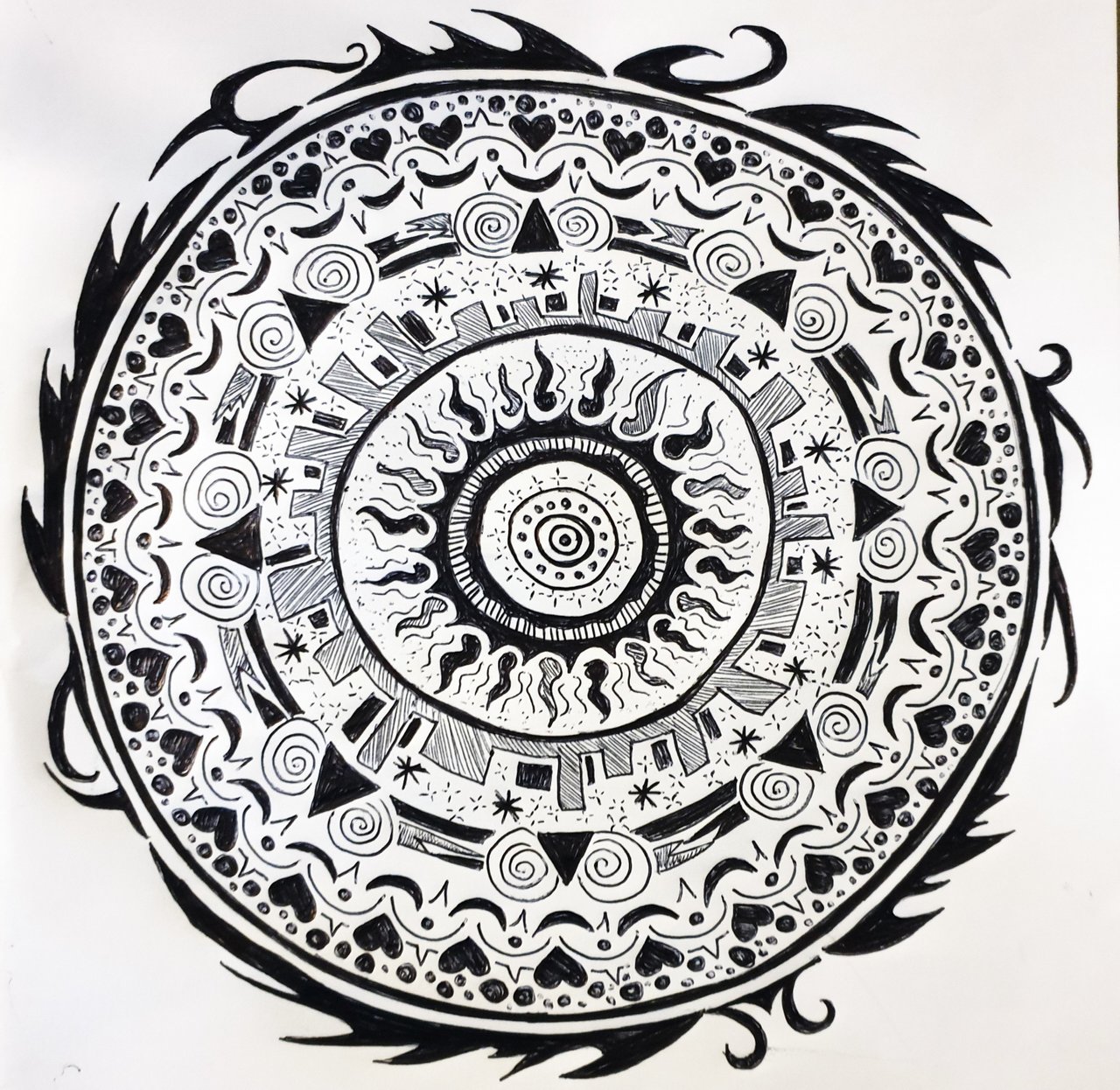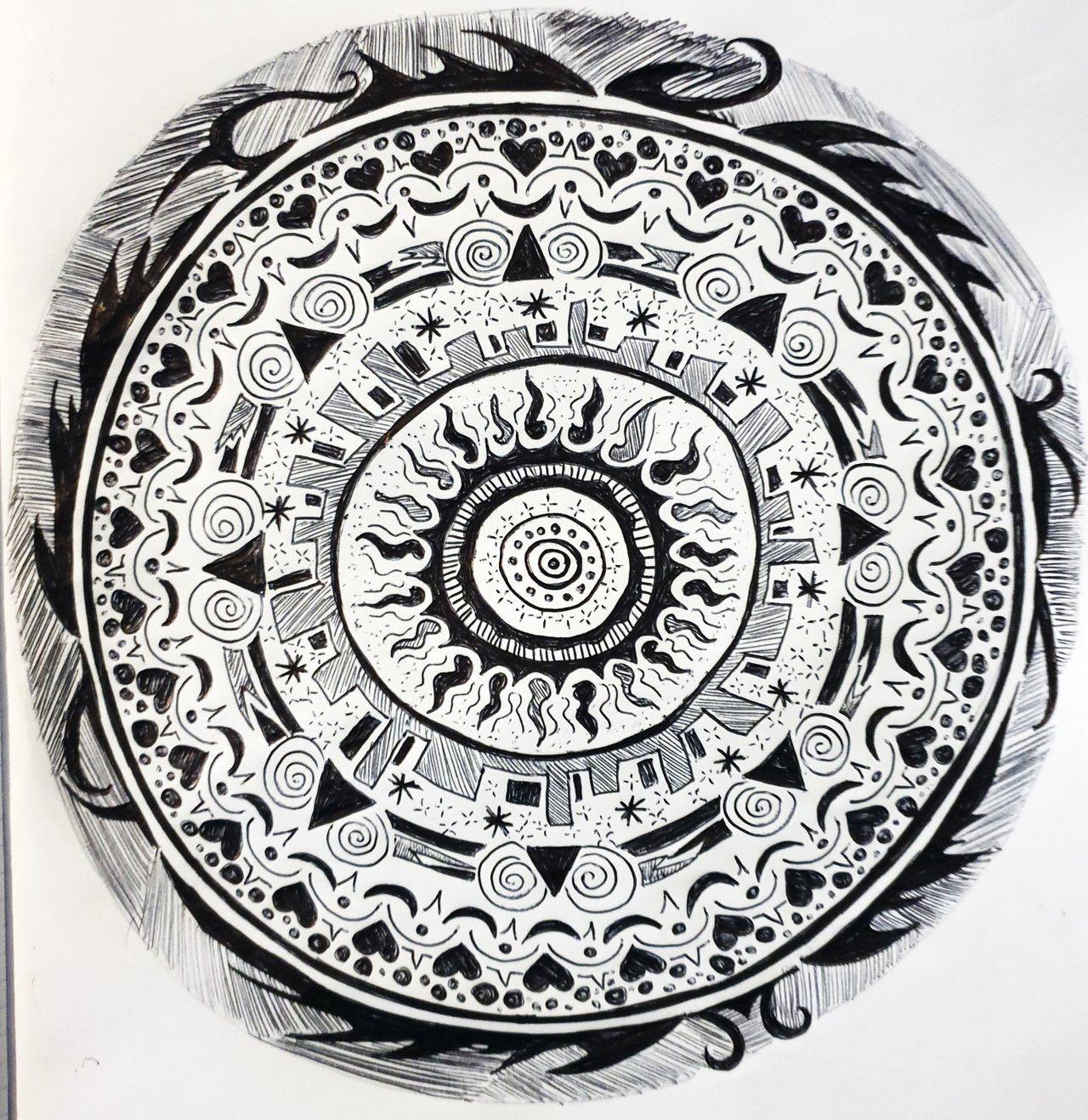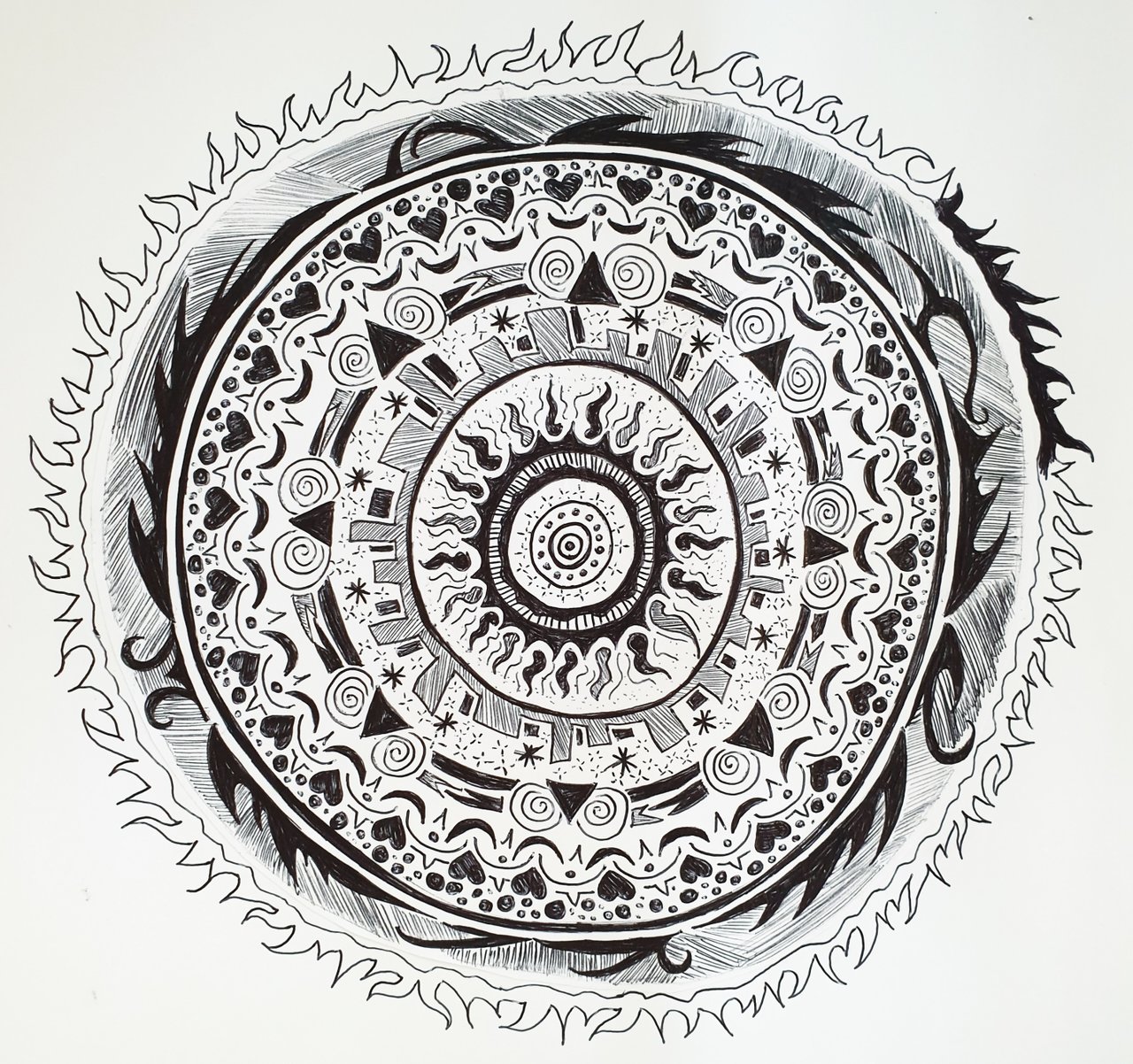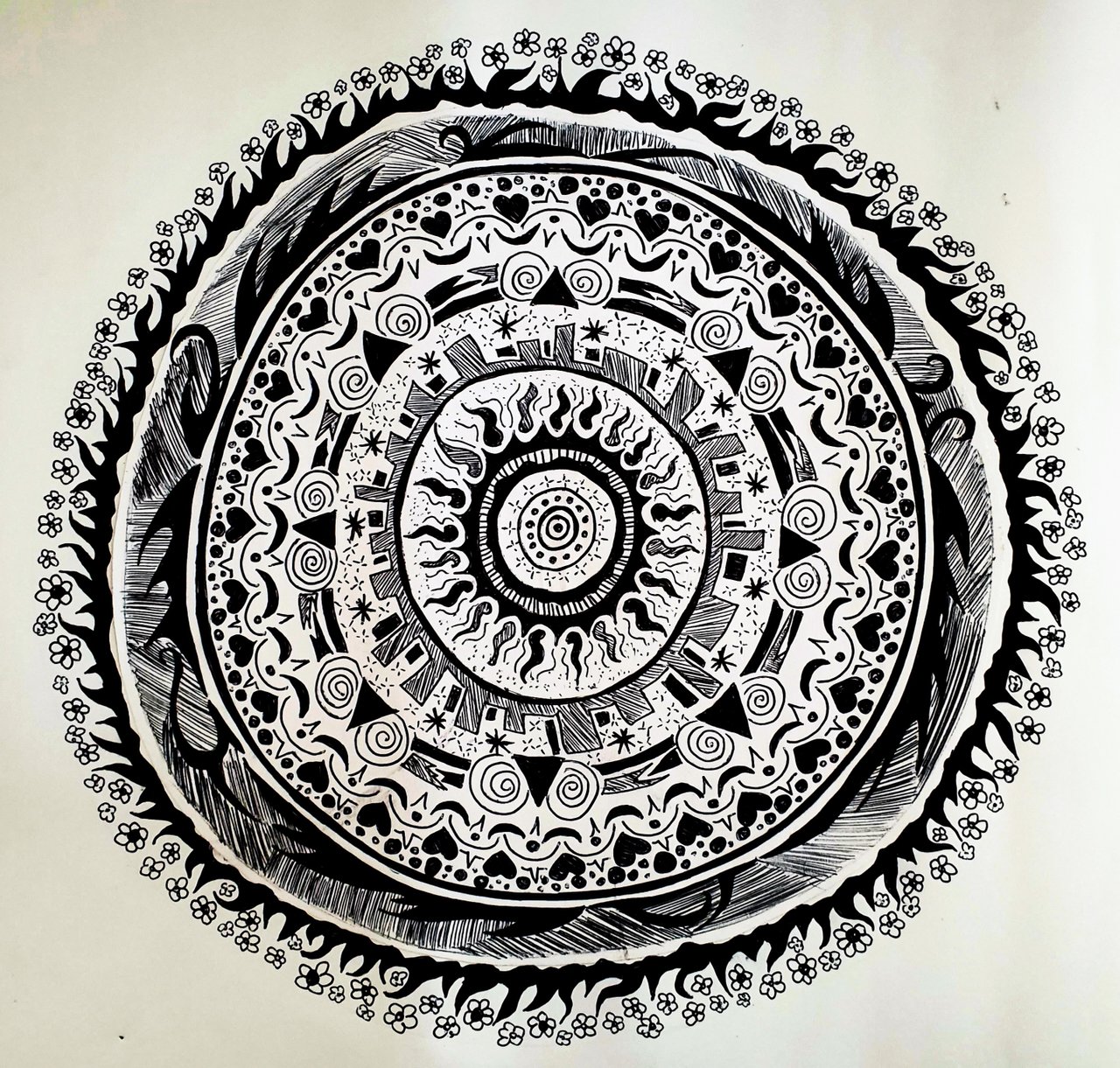 So that's it - up to date for today as the 15th of INKtober! When the mandala is complete, I will do a post sharing my thoughts behind each prompt and the symbolism which I chose to represent that prompt - but seeing as we are on day 15 and it is pretty clear which ring around the mandala that would be, I thought I would entertain the probably confused minds at the little daisies haha. Well, the prompt was "legend" and my mom @lizziesworld is the most amazing "green fingers" individual I have ever known! She is a walking encyclopedia of plant and gardening knowledge and because of her personal and professional involvement in this sphere of things, her passion became one of mine too and her legend is and always will be how she scattered her love for nature wherever she went and onto whoever she crossed paths with. Love you mom! Well, that's it for now! I am definitely looking forward to the second half of the month! Am loving this!!!
Right, so... on to days 16 to 22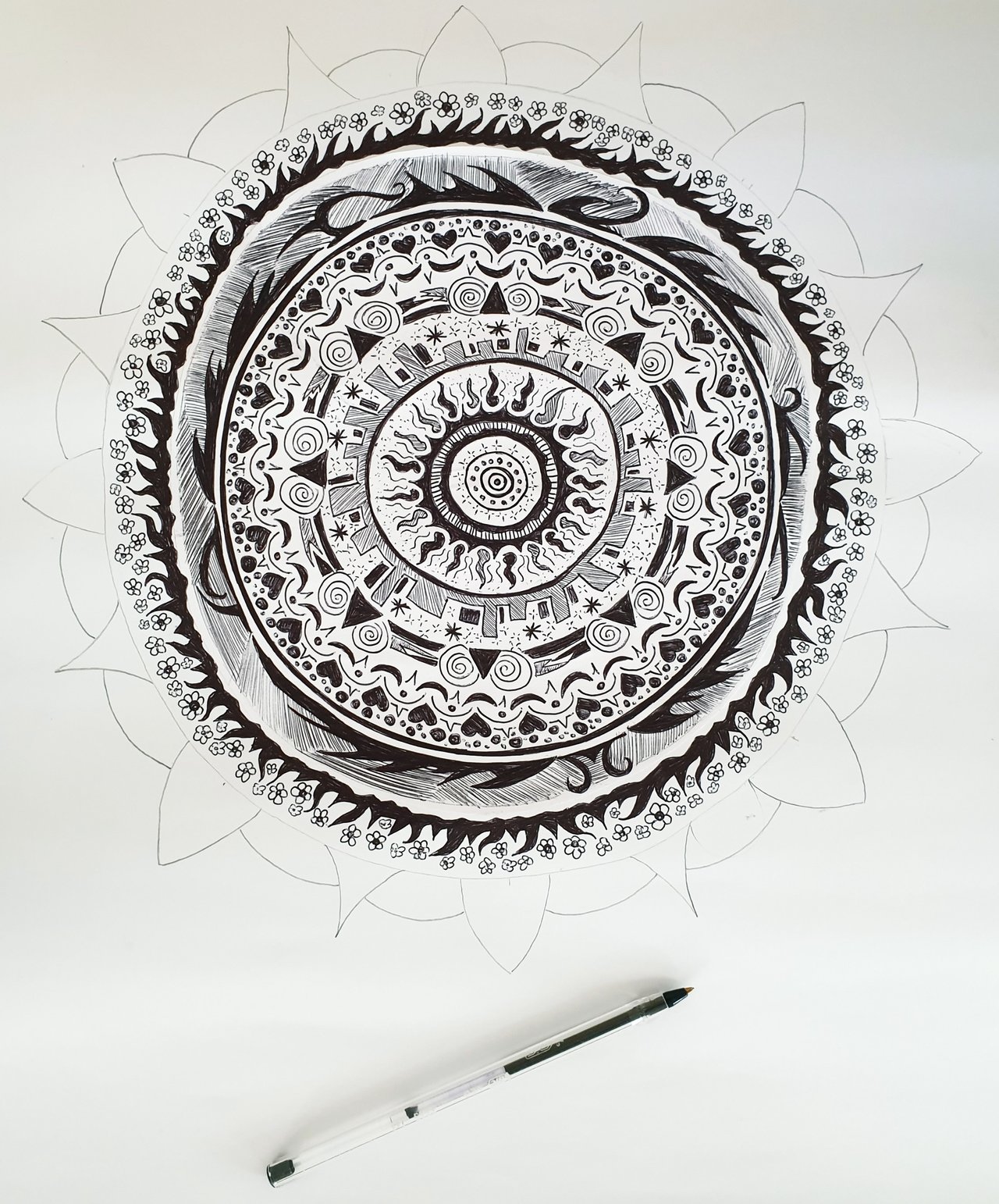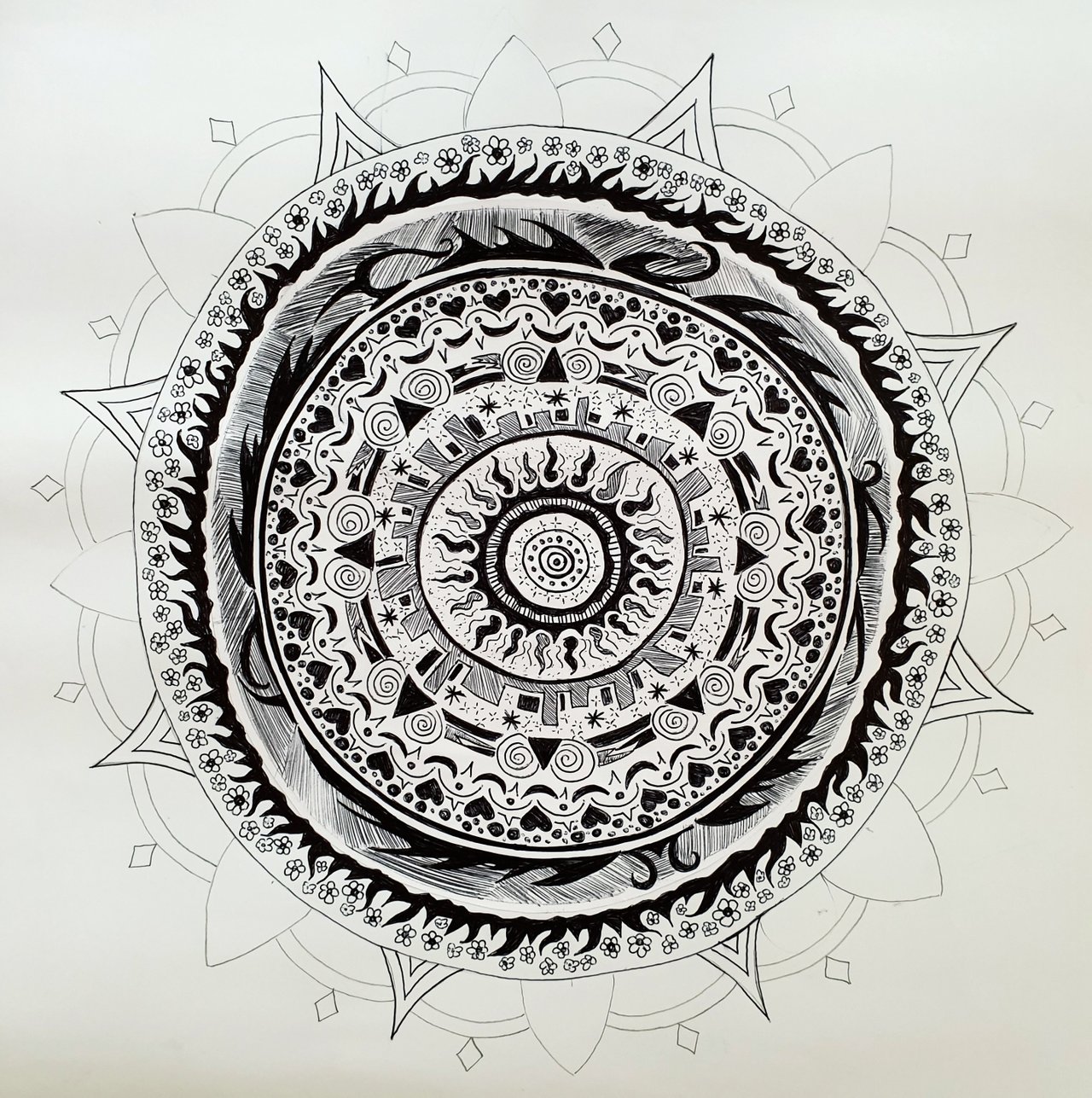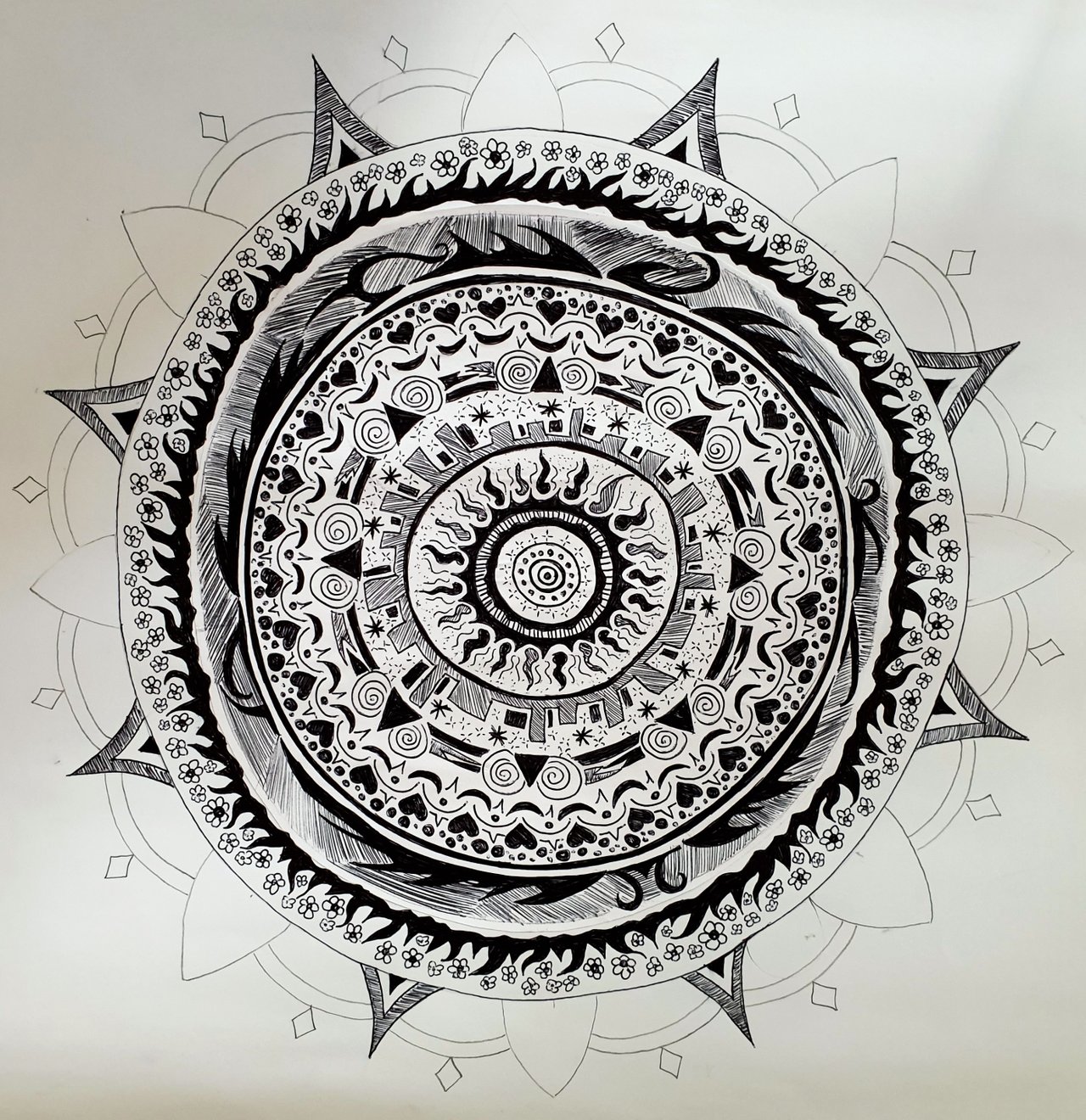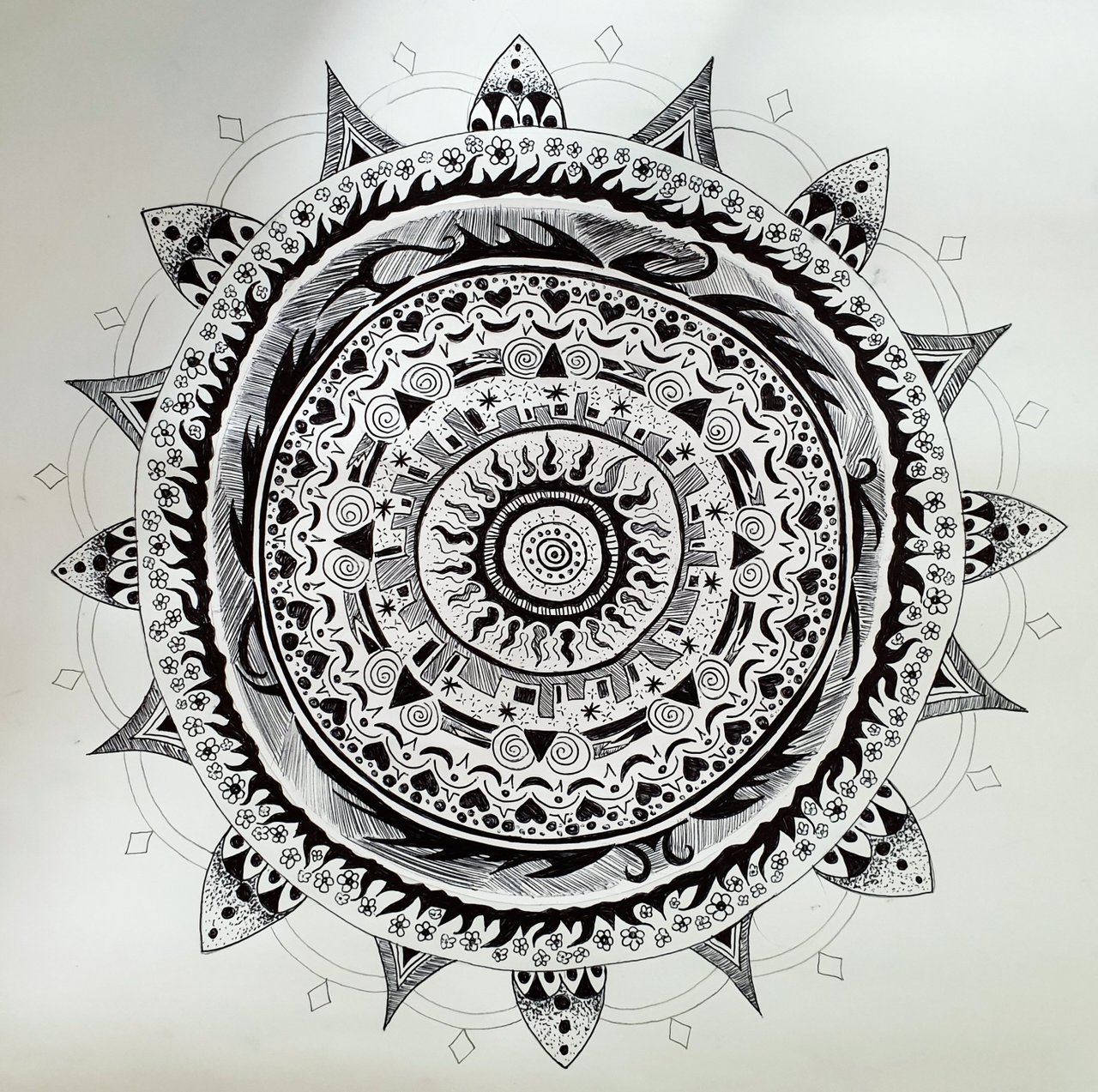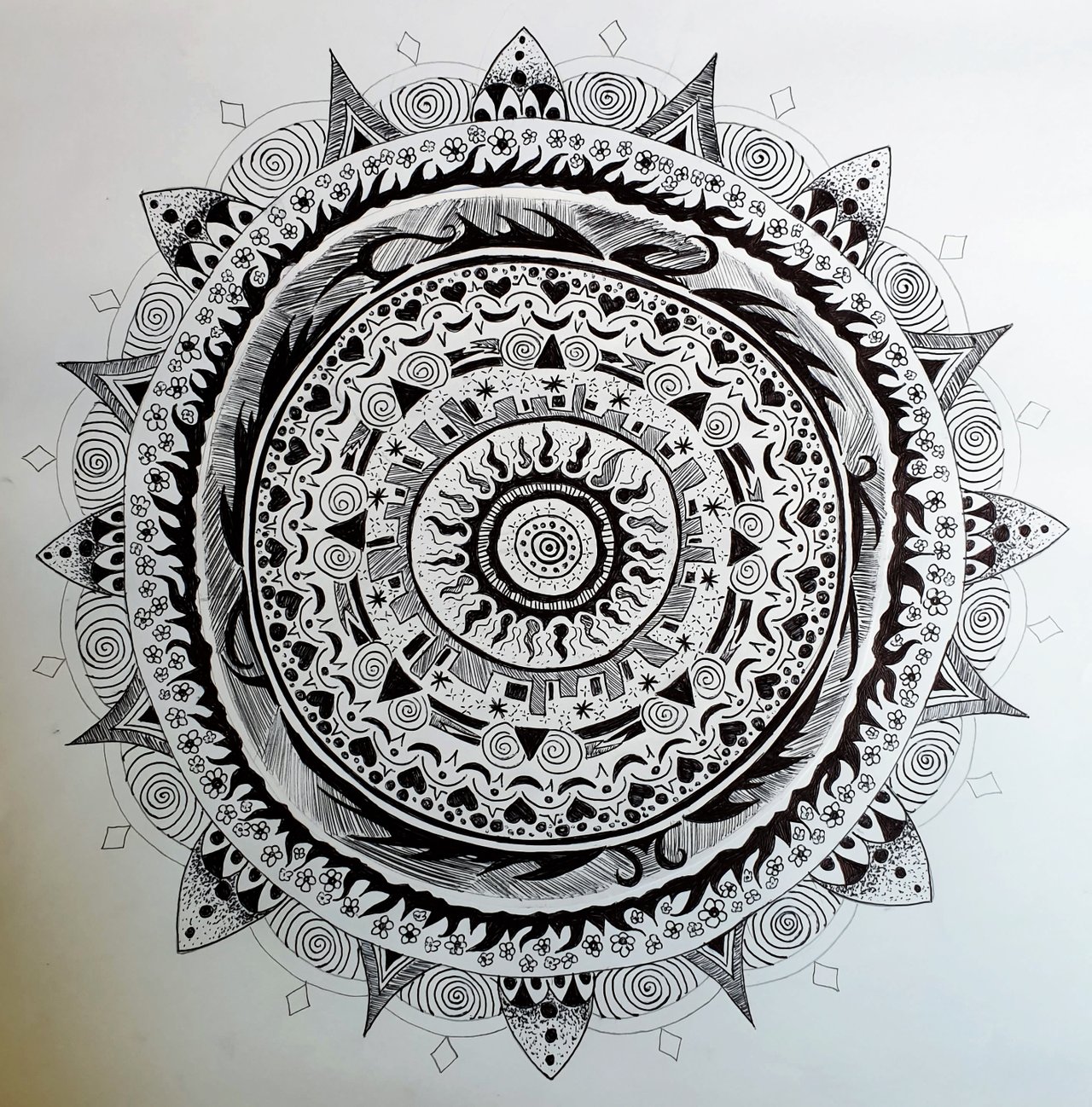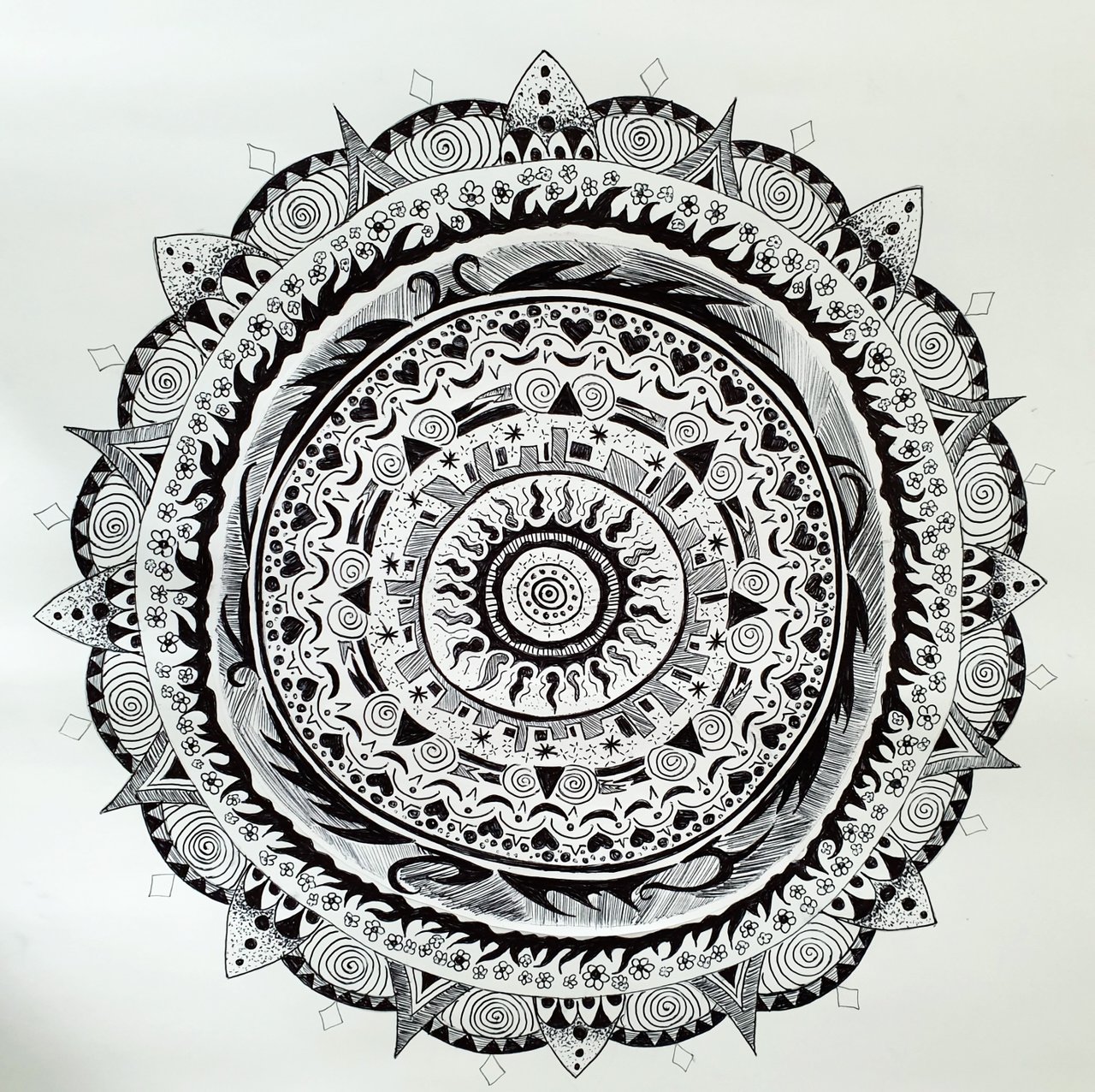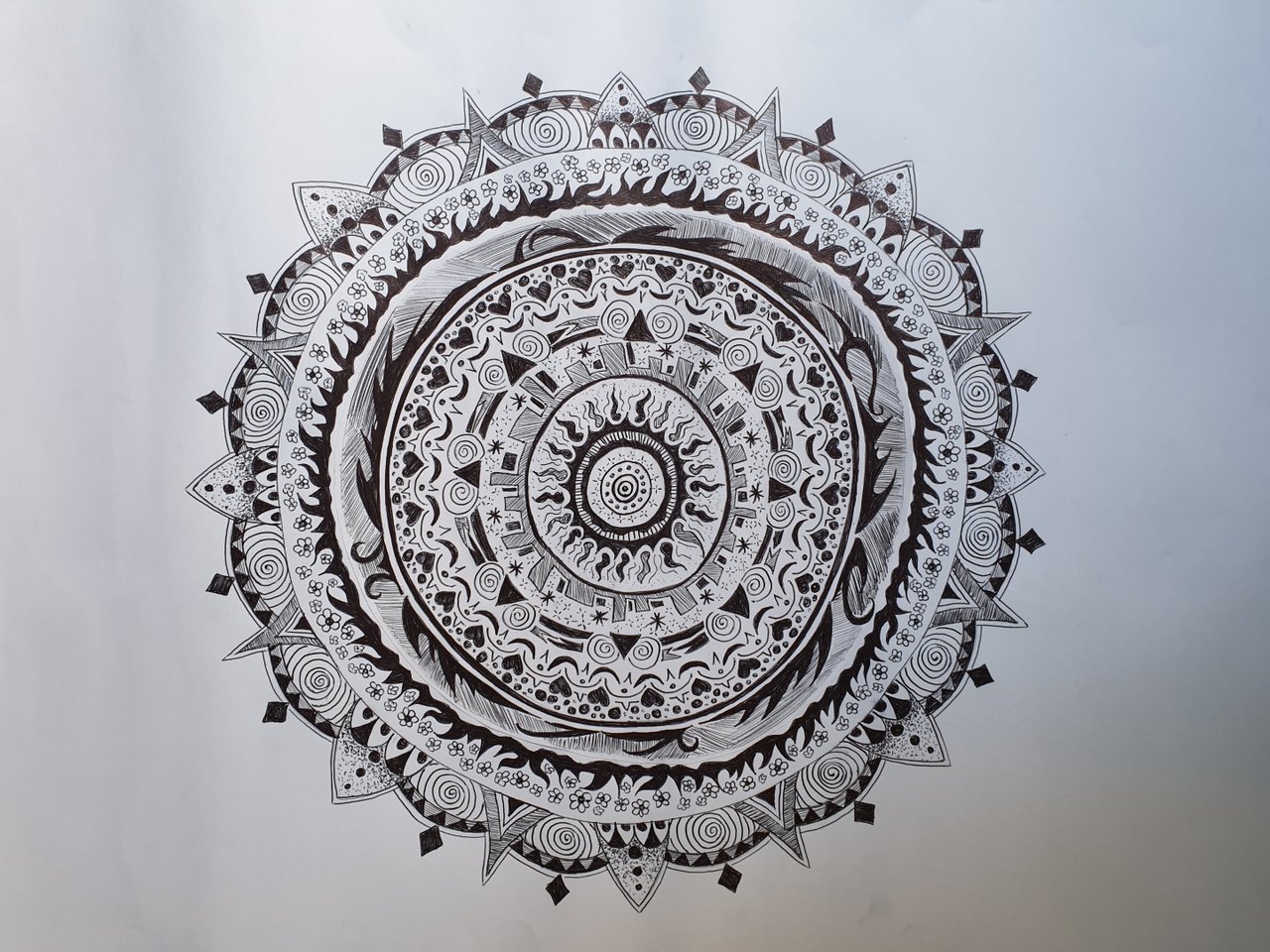 I decided to get a little more elaborate with this set of prompts because I wanted to start adding a little more depth and structure to the whole thing - so yes, I did use a pencil for the "foundation" of some of these prompts because unless they were going to appear relatively well balanced, they would just have looked wrong and well, I don't have any tippex in the house HAHA!!
I have not done this sort of thing in years and am enjoying every second. It makes me wonder why I don't do this sort of thing more often these days because it is really therapeutic!
❤❤❤
Until next time...
Much Love from Cape Town, South Africa xxx
Jaynielea
FOUNDER OF THE POWERHOUSE CREATIVES]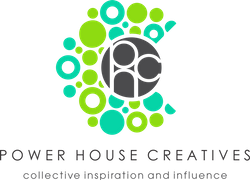 A community of individuals who are dedicated to producing quality content
which adds value to the Steem network and beyond.

ALL IMAGES ARE MY PROPERTY UNLESS OTHERWISE CREDITED