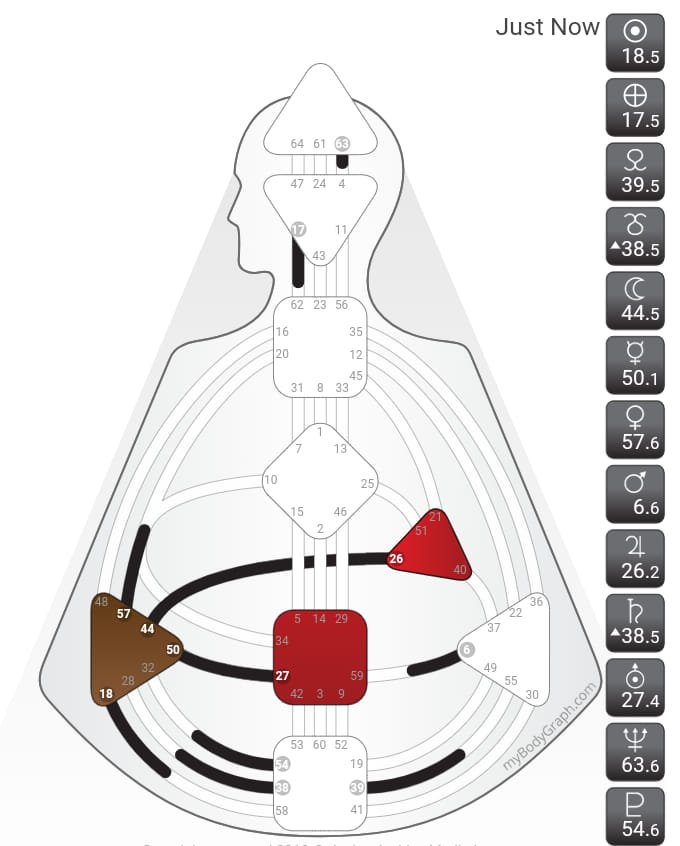 The Bodygraph is a copyright of Jovian Archive Media Inc.
This was written few days ago in my Facebook page. Just feel like sharing it here. Transit in Human Design changes daily, so everyday you will experience different kind of effects on us.

I want to share something about transit and how it affect us without we know it.
Look at the transit chart that I screen shot an hour earlier. Do you see the red triangle with no 26 in it? That is the Heart Center (also known as Ego Center). It gives us the Willpower energy.
The #26 in the triangle is called Gate 26, the Egoist. This is part of our genetic that give us the energy To Be The Best. Basically we would feel the need to prove that we can be the best.
Now look at the brown triangle on the left side of the Bodygraph that connects Gate 44 (Alertness, instinct through sense of smell) to Gate 26. What we experience is the energy of Transmitter. This is where we are driven to survive materially and also health (immune system Gate 26).
Do you know what I did today? I woke up and do yoga! In my mind, I need to get back on my health track so lets start with Yoga. Without the Willpower energy, I don't have the consistency in doing exercise. But today, the instinct (Gate 44) kicks in to stay healthy.
On my way out, I have a thought to get a new phone. Then I asked myself "What's in the transit because needing the sense of material is not part of my design?".
So here we go; the Heart Center is also a center of Materialism. I don't have energy to the throat, therefore, buying a new phone is not happening today, haha...
I also feel the need to support my tribal today but my Splenic Authority says "not today".
Follow your Strategy and Authority in making decision. Transit can be beneficial and it can also be disastrous as a not self.

What is Human Design?
Human Design system is Self-Knowledge that shows your unique blueprint through a Rave chart called the Bodygraph. It also explains everything about you in a logical way. It shows the conscious and unconscious side of you, your characteristics, your roles in this life and much more.

Human Design shows your Genetic Code and WHO YOU ARE through Definition. With this knowledge, you are able to tap into your own power and begin to heal through alignment of your soul, mind and body.

More details here: https://www.roselifecoach.com/human-design
Follow me here:
www.Instagram.com/yourpersonalmotivator
https://www.facebook.com/humandesignmalaysia/


Thank you for reading, I hope this can shed some lights on your journey!
Blessing to you all.
Comment and share your thoughts with me if you like.
#differentkindofmotivation