I am by no means good at predicting prices, but I have managed to get it right a couple times on chain (There's also a post somewhere saying 7 cents was the bottom in 2017 with some proof of buying that dip at the time but couldn't find it right now). Unfortunately I was not as good at selling the top, maybe I'm too invested in the currency and biased in the platform or just really didn't expect it to have this big of a downturn. Of course there are also other powers that lead to this steep decline, Steem's progression of development due to Steemit being a bit slower than many imagined, probably due to the layoffs, mismanagement of funds but part of it was also due to the refocus on the scalability of the chain (MIRA) which I hear is so much better for future. In hindsight I should have sold a lot more if only to buy back more (and if Steemit had done the same we would probably be in a better position as well, although many would instead have picked up pitchforks as to why Steemit dumped more at the top and are now buying more stake again which goes against the distribution - i.e. there's always two sides to everything, people just don't think about the other outcome and like to blame things as they are right now), so with me not calling the top right nor the bottom once when I bought back and powered up about 20k Steem in march-april 2018 at 10-15x the current price, keep that in mind when reading the rest of this post.
Also sorry for the long sentences, rereading it I realize how annoying it is, english is my 4th language and I think the german in me likes to keep sentences going forever.
So what happens now?
I don't know how many are on Steem now that were not pre-ATH but those who were may remember that many alts were in the same position before BTC started rallying in late 2017 and many of you may also remember that things get moving rather quickly once they do. Anyway, without further ado and based off of a few things I'll mention real quick here is how I can see Steem performing in the not so distant future. The basis of this is considering what happened in 2017, once Bitcoin gets higher or back to ATH we will either start seeing successful alts (successful in their developments/growth/scalability (not price)) rally with it and potentially outperform it. People say "there is no guarantee the same thing will happen cause people are "smarter now", no, don't forget about the human greed, no matter how much they make off of BTC, once it starts going back down they will most likely gamble back on alts, Steem having one of the latest pumps than any other alts at the time could mean it might behave the same way this time around. "But there are stablecoins now which they rather trade their BTC off to during a downward correction", yes but you're forgetting greed again, stablecoins can't go up, FOMO from others choosing good alts instead of stablecoins will also fuel the altseason. Bitcoin's LN has gone nowhere in 3-4 years, there is a big chance of many alts outperforming Bitcoins potential growth and ATH, but not the marketcap (maybe Eth if they get their shit together but seems as though their time is starting to run out at current speed).
Here are some graphs predicting if altseason were to occur based on past performances:
This one is almost 2 months old so it can give some more perspective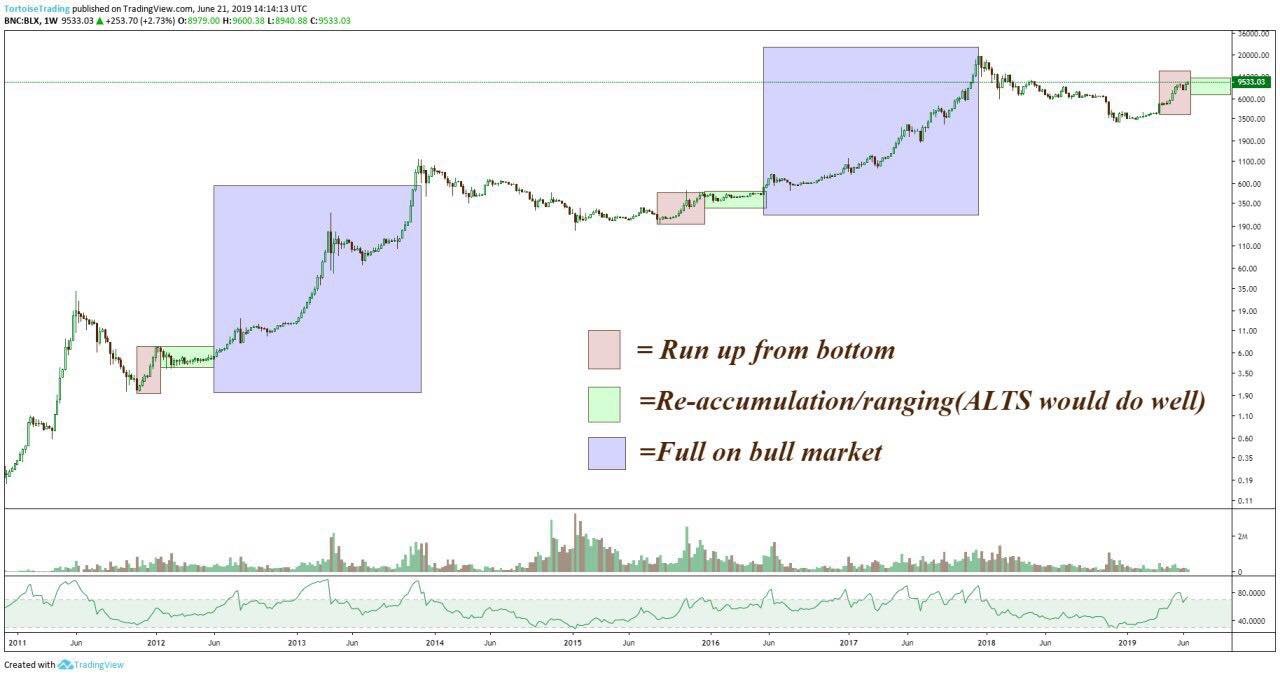 This is a recent one showing altcoins market dominance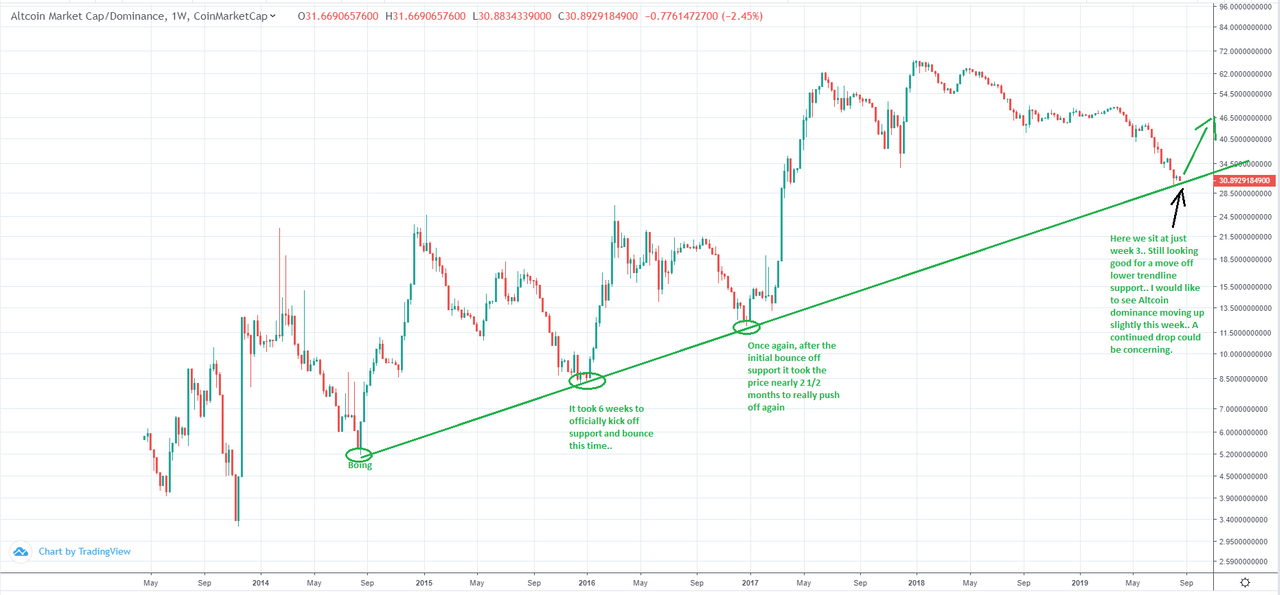 No sources to who originally posted these, sorry, had to dig them up by scrolling through discord chats for longer than I'd like to admit.
Now here's the best case scenario for Steem and what were to/could happen for it to come true:
Communities are released
"light" or temporary accounts are created for easier onboarding
HF21 is effective on fighting abusers/leechers and bringing back content discovery more
SMT's get released
Traffic increases on Steemit.com and Steemit reduces the selloffs
New "investment era" starts similar to the one in 2017 on ETH and through BTC but here it's mainly done with delegation and locking up SP
People join for all the other advantages the blockchain brings them and not only for the rewards
People start to see the value in SP, many not needing to sell as they are making daily rewards in dozens of other tokens, affilitions, adrevenue, etc
Bigger names start to join, bring money, investments, start-ups
More devs get interested in working on Steem through the SPS and all other things they can work on all around the chain
We can afford marketing
Million other possibilities and opportunities
Think of Steem as a waterfall on an unending mountain and it's giving drinkable water to countless towns, cities and powering up their people who in turn can use that power to create more things and their own waterfall and reach places where the original waterfall did not even know existed but they still learn later that that's what made this possible.
Here's Steem's chart from 2017 and before that:

Now the chart from today:

Not doing so great in satoshis, eh? Good news is that even if we do worse in Satoshis next Bull run we will still do pretty good as long as development, growth and potential is still there and no other similar chain surpasses us (then again there are many popular social media platforms today too so not the biggest woop).
If we manage the best case scenario mentioned above though, if all the puzzles fall into place just right, then 2020 and forward could look like this (my traditional prediction like in the post linked to in the beginning of this post, might do one of these each "end of the bear market") PS! Drawing the lines on a laptop touchpad so chill your OCD.

Obviously time is relative in the drawn part of the chart but hopefully we get to start seeing it in 2020 and forward. And of course this is not financial advice, do your own research, don't blame me if you get it wrong, I haven't been doing all that great myself, etc, etc.
If you wanna draw your own predicitions in the comments on MSPaint like I did, then here is the chart above but empty with the future part
Let's see what the future brings, get yo popcorn ready!
---