Saturday morning and some time at last to write a bit of sports content. How is your Premier League team doing, and more importantly, how about your #sfpl team?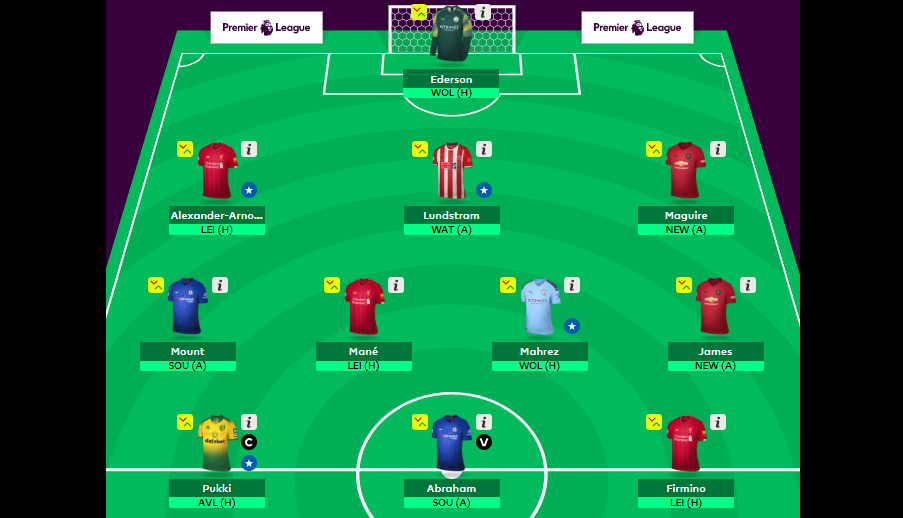 ---
The above is this week's line-up for me. Liverpool at at fortress Anfield and even against high-flying Leicester, I think they'll come away with all the points and a clean sheet. For my #sfpl teams sake, I hope this is the case but there have been a few cracks starting to show in the Scousers armor - they are still 7 wins from 7 though. Mane has been a bit quiet of late, but Firmino and Alex-Arnold are looking really good. Vardy could spoil the party, but even Man Utd kept him out recently and the champions elect can do the same.
Norwich's star man Pukki has also slowed down on the goals - not long I drafted him in to my team which doesn't surprise me. He' keeps his place as The Canaries are at home to a weak looking Aston Villa and I think he can get a goal or two today against them. My final forward is Chelsea's front man, Abraham - still looking like a bargain buy as their main man up front this year. Hopefully he can pick something up away at Southampton, and an assist from Mount, who's done really well since breaking into the first team this year, would be the cherry on top.
The top points scorer in the midfield, Kevin De Bruyne, looks set to miss Man City's game this weekend and I've subbed him out to take a risk on Mahrez. I've not been a big fan of this guy in recent years but he has been growing on me with consistent performances providing both goals and assists for the champions. Fair enough though, he won a title with Leicester and was a major part of that team, and I guess to stand out at the Etihad you have to be a real player.
There are still two Manchester United Players in my team. I wonder if this has been hindering me of late! James has looked good though, which has been sorely needed for the Reds. He and McTominay have been putting in some solid performances and without them the side would look really poor at times. United V United in Newcastle this weekend. This game used to be a highlight, not any more though.
Edison keeps his place at the back, in goal for Man City and my #sfpl team. It's actually really tight with regards to goalkeeper points so far this season, and I'm wondering if a cheaper option might be a better plan.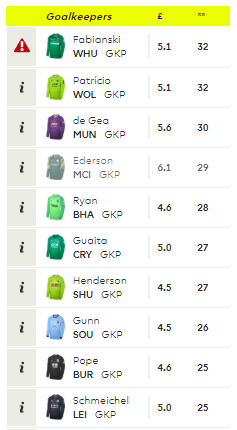 Edison costs a million more than the top 2 keepers - seems like there is value to be had. Plus that would free up another outfield position for a City player. hmmm.
As far as the #sfpl goes, I would say I'm too far behind the top teams already. So many of the players overlap within each team, that unless you pick the right captain, you tend to slip a little further behind each week.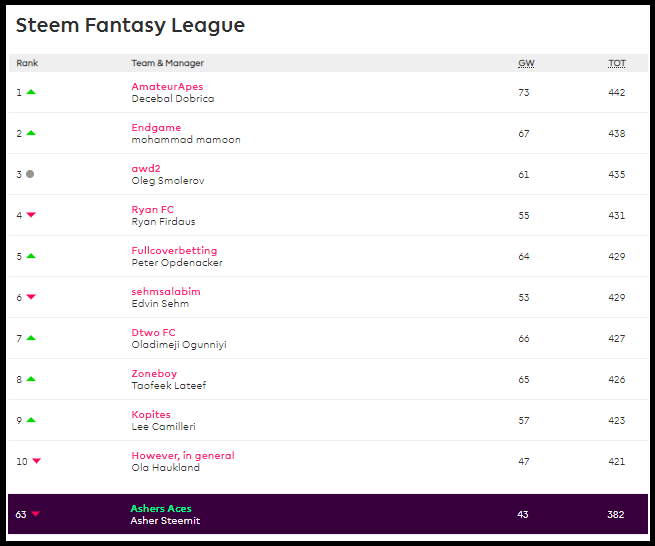 Sixty points behind top, damn. I know top of the league had three Liverpool defenders in the side last week, and so I'm secretly hoping that Vardy bags one this weekend. The team also had the now injured Fabianski and KDB (captain) in their line-up - I wonder who the manager will side with this week.
Alright, good luck with your selections this week. And come on Pukki for the hattrick :)
Cheers
Asher