Week 6 of the 2019/20 Fantasy Premier League is complete and this week there were 31 goals scored, with Manchester City providing almost a quarter of that total with a great eight. Liverpool maintained their perfect record, Arsenal also won, Man United and Chelsea performed poorly and both lost, and relegation contenders Sheffield United collected a vital 3 points at Goodison park.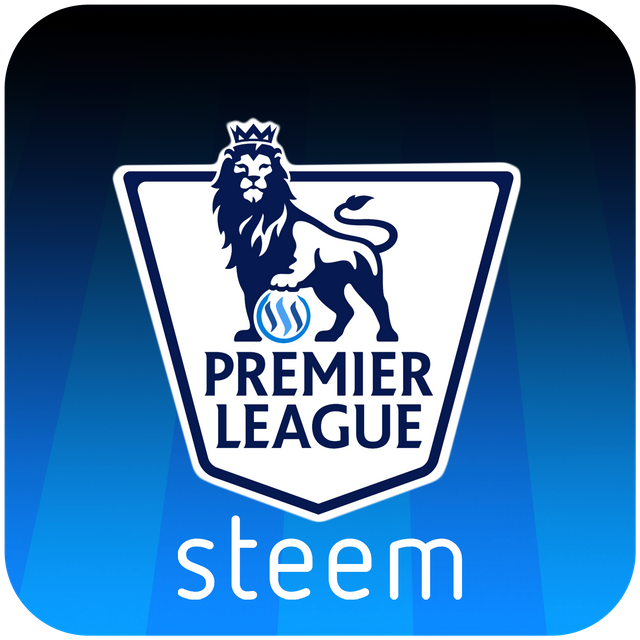 ---
Results
Friday 20th September

Bournemouth 3 - 1 Southampton

Saturday 21st September

Leicester City 2 - 1 Spurs
Burnley 2 - 0 Norwich City
Sheffield United 2 - 0 Everton
Manchester City 8 - 0 Watford
Newcastle United 0 - 0 Brighton

Sunday 22nd September

Crystal Palace 1 - 1 Wolves
West Ham 2 - 0 Manchester United
Arsenal 3 - 2 Aston Villa
Liverpool 2 - 1 Chelsea

Key Games
Liverpool marched on after facing a big test at Stamford Bridge against Chelsea, which they duly passed. Two early goals from The Reds knocked the stuffing out of a Chelsea side that had been picking up some decent results of late. Alexander-Arnold's goal was a cracker.
After scraping a one-nil win from the spot last week, Manchester United were convincingly beaten away to West Ham and had very few strikes at goal. Pogba and Martial were missing and Rashford went off injured, but take nothing away from The Hammers who were stronger in all departments. Ole seems closer than ever to departure and needs to change fortunes at Old Trafford sharpish.
Arsenal and Aston Villa entertained in a five goal thriller in which The Gunners edged thanks to a superb late goal from Pierre-Emerick Aubameyang. The home side fell behind twice, and played the 2nd half with ten men but still had enough about them to overcome a Villa side seemingly fighting for survival in the top flight already.
Man City always have the potential to give out a good hiding and unfortunately for Watford, they were on the receiving end of 8. Five of those goals were scored in the first 18 minutes which is record for the Premier league. Kevin De Bruyne was instrumental, affirming his place in the starting eleven after only being a sub in the defeat last week.
Tottenham looked set to pick up a long overdue win on the road at Leicester after scoring a second mid-way through the 2nd half, which was subsequently disallowed for offside. The game completely changed following this decision and Leicester fought back to take all three points.
Everton's poor form continued as they lost two nil at home to Sheffield United - a win for The Blades which could well be vital in their bid for survival in the top flight. Interestingly, Sheffield United only had one shot on target - it's not how you win, as long as you win I guess.
---
Steem Fantasy Premier League Standings - Week 6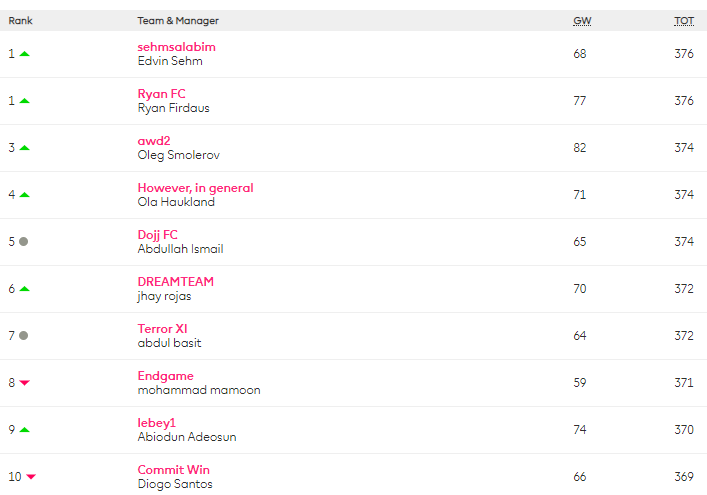 At the top of the #sfpl we have a tie - sehmsalabim and Ryan FC share the honour with 376 points. It's very tight and there are many teams still within touching distance of the leaders. The average score this week was 52 points and as you would expect, the top teams fared considerably better.
The top three managers must have had inside information as they all picked the out of favour Bernardo Silva, who picked up a hattrick for them in the 8-0 demolishing of Watford. In 3rd place awd2 had a slice of luck as his captain (Sterling) didn't play, and his vice captain happened to KDB who picked up 34 points with the armband.
Dream Team - Week 6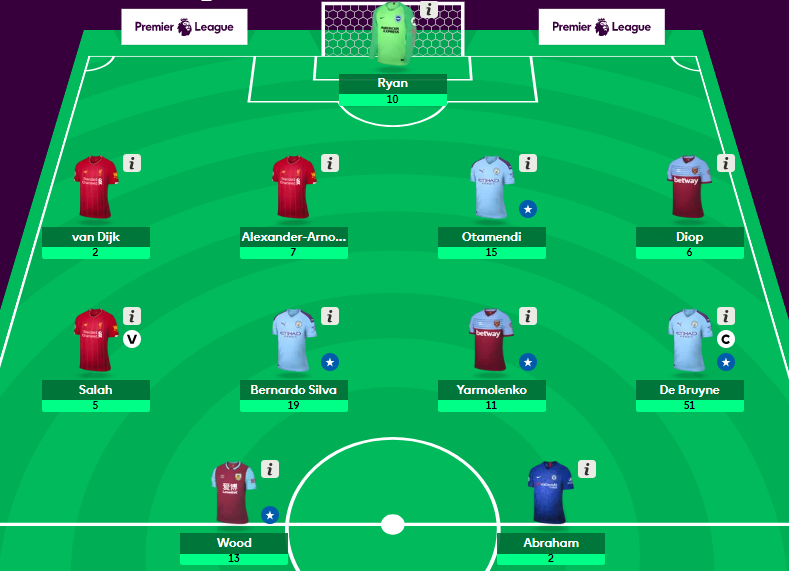 Week 6's Dream Team scored an astronomical 141 points and this team just happened to play Bernardo Silva, Otamendi, and KDB, who they cunningly/luckily triple captained - nice!
Abraham was the most transferred in player of week 6, and managed a paltry 2 points for managers that sided with him. The most captained was Sterling, who didn't even play and some managers will be unhappy about those decisions this week!
Bernando Silva picked up the most points (19) for a single player this week by scoring a hattrick and keeping a clean sheet.
---
On we go to week 7, selections close on Saturday 28th September at 10:30 am UTC.
---
This Review was written by @abh12345, follow him for more Football, Sports (@abh12345.sports), and other Steem content!
---


---