INTRODUCTION

Before I continue, I need to say one thing: I may be the driving force, but together with @juanmolina we're both quite relentless to push this project forward. However, it is also obvious that we wouldn't achieve anything on our own. We wouldn't be here today if not for effort of our entire community. Our work, active support towards each other and relentless efforts to not give up on Steemit is already paying back.
FEW GREAT NEWS

So today I would like to share some of those great news and I would also like to hear your feedback, your suggestions and thoughts. I do consider myself a leader, and one thing I've learned is that leaders need to listen and learn from people they work closely with. Interested in a little quiz? If you are then scroll below to find out more :)
1) WEBSITE
I'm not a web designer and surely I could (and perhaps should) do better. But we all need to start somewhere, so right now this site is only working fine on desktops and it's more of a draft at this stage.
So again, all feedbacks will be appreciated. I will implement some of your remarks and suggestions right away. Others will be taken into consideration while the second version of the website (more professional) will be released.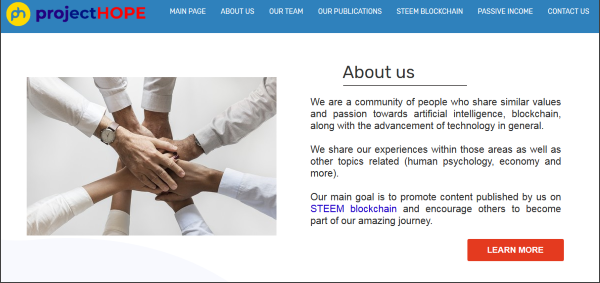 2) LOGO
I'm sure some of you already noticed that we've our logo ready. It's quite simple and we hope you will find it visually appealing and you can see it on left-top corner of our website.
QUIZZ: What those 3 colours represent? (yellow, blue, red).
First 3 correct replies will receive an upvote worth 160k SP on their comment.
@juanmolina, @fucho80, @lanzjoseg, jadams2k18 - Since you're part of project's core team, you're not allowed to give the answer ;) No cheating :)
3) DELEGATIONS
We've already managed to encourage a few generous stakeholders to support our growth of @project.hope with their delegations.
I would like to take this opportunity to thank @gcalex, @mariusfebruary, @crypto.piotr, @solarwarrior, @majes.tytyty, @honarparvar, @tysler, @forykw, @lanhange, @lazyman and @creativeblue
Right now we've already reached 140K SP.
On top of that several other users (with total SP exceeding 100k) are already auto-upvoting tech related publications resteemed on @project.hope.

That kind of support is the best prove, that as a community we're moving forward.
Important note:
I found it very important to underline, that we're not trying to create an auto-upvoting group. Main goal is to build a few media channels (telegram, discord, twitter etc) which we will use to promote tech-releated content published by all team members. So it's all about visibility and building engagement with others. It's all about building healthy relationship between those who participate in this project.
Looking towards the future:

I'm working with a friend of mine on creating a new tool on Steem blockchain.

Kind of "steemit analytics".

We've faced some real challenges with the latest changes in API, which took place after the latest fork HF21. I'm still hoping that some beta version would be ready by the end of this year.
Initially this software usage will be only limited to our team and those who support us with delegations. I want to ensure that people I collaborate with are going to be equiped with proper tools. Better than the ones I can find right now online. I want it to be an extra asset for those who participate in "project hope".
SUMMARY

| | Let me wrap it all up and say BIG THANKS to everyone who read through this post :) |
| --- | --- |
I know that it's becoming very challenging to continue writing on steemit and many users gave up recently (after hf21). My only hope is that you will all stick around and we will all find ways to work together. I know we can.
I'm seriously being honoured to become a part of our group. I love that feeling, that sense of BELONGING. Being part of something great.
Yours,
@crypto.piotr
www.projecthope.pl