Ideally, this post and the video prepared to participate in the Steem Challenge initiated by @promo-mentors and the @fundition.
Video ini sebenarnya aku persiapkan untuk mengikuti tantangan Steem Challenge yang diselenggarakan oleh Promo-Mentors dan disponsori oleh Fundition.
The title "What Can You Do with 5 Steem" is very challenging and interesting, and I promised myself to participate, as I also promised to @futurethinker to make a video for this.
Menurutku, judulnya "What Can You Do with 5 Steem?" itu memang menarik banget! Ditambah pula dengan janjiku pada futurethinker, untuk mengikuti tantangan ini, maka jadilah aku menggarap videonya.
---
# Unfortunately, The Contest was Expired - but I continue to make it well done.
---
Sayangnya, si Kontes malah sudah berakhir, bo'! Ampun deh! Etapi aku mau lanjut aja deh, bikinnya.
Why?
It is because I want to change the use of my 5 Steem, from the plan to buy some food to be a donation.
Lho, ngapain? Kan udah berakhir?
Biarin lah, lagi pula, aku pengen merubah rencana penggunaan 5 Steem-ku nih. Tadinya kan mau beli makanan senilai 5 Steem, namun....
I feel very despondent for the tragedy in Palu, Donggala and Sigi. My heart went out to the people affected by the earthquake and tsunami there. It' so sad to see the update news day by day. As an Acehnese whose experienced in this situation when the tsunami hit Aceh in 2004, I do understand and know exactly how does it feel. Terrible, desperates, lost of hope!
Akut tuh sedih banget, pediiiiih...., ngebayangin tragedi musibah Palu, Donggala dan Sigi. Rasanya hati ini sudah tak di sini, melainkan terbang ke sana, bersama dengan mereka yang tertimpa bencana ini. Iya, bukannya lebay, tapi rasanya memang begitu, loh!
Mungkin karena aku adalah anak Aceh, yang sempat merasakan musibah yang sama, di tahun 2004 dulu itu kali, ya? Tsunami yang menerjang tanah kelahiranku, luar biasa tenaga pembunuh dan penghancurnya. Makanya, menyaksikan sodara-sodaraku yang di sana, kerasa banget gimana pedihnya. Hiks...
The survivor are struggling for a help, logistic, and other support, but the volunteers are not able to do much more since they are lack of access. Damaged bridge, broken roads, and other bad situation put things getting worst.
Para penyintas (korban yang selamat) berjuang untuk mendapatkan bantuan, logistic dan dukungan lainnya, namun gimanaa? Para relawan juga kesulitan dalam membantu karena akses kesananya yang terbatas. Kerusakan jembatan, jalanan, reruntuhan, dan berbagai situasi buruk lainnya, sungguh menyumbang andil besar dalam menghambat bala bantuan tersampaikan. Miris...
---
5 Steem Donation Project
---
Anyway, I won't talk more about this sad news, but would like to reach your attention and care in order to provide our contribution (even a very small one) to our brothers and sisters affected by this disaster.
Btw, aku ga ingin ngebahas lebih dalam tentang kepedihan, bukannya tak peduli, namun alangkah baiknya jika kita mencoba untuk memberikan bantuan sebisa kita, daripada membahas hal-hal yang diluar kuasa kita. Ya enggak, sih?
---
Let's call this as a 5 Steem Donation Project. And let me start it, by sending my 5 Steem to @eu-id account.
Nah, bantuan ini kita sebut saja sebagai project donasi 5 steem, yuk!
---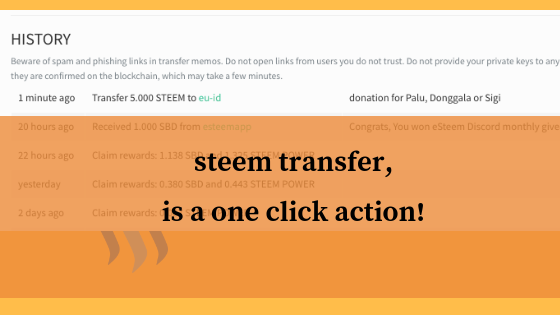 ---
---
What is 5 Steem Donation Project?
---
It is an action to collect 5 steem each from steemians, transfer to the wallet of eSteem University Indonesia account, @eu-id, with the MEMO: "donation for Palu, Donggala or Sigi". The collective Steem from this wallet will be sent to the target beneficiaries by a good coordination with the PIC in Palu, Donggala or Sigi.
Emang apa sih project 5 Steem ini?
Ini adalah sebuah aksi transfer 5 Steem (senilai 63,400 rupiah) yang kita miliki ke akun eSteem University Indonesia (@eu-id). Nanti, nanti kalo sudah terkumpul, maka akan kita kirimkan ke yang membutuhkan, tentunya dengan berkoordinasi yang baik dengan PIC di sana.
---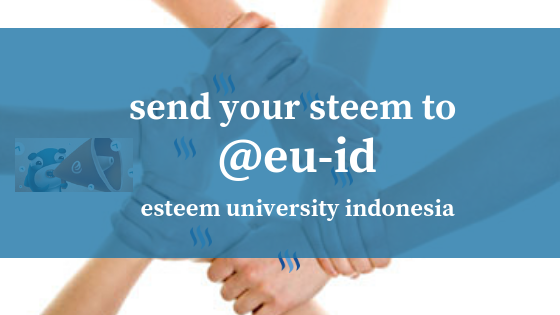 use these words in your MEMO: "donation for Palu, Donggala or Sigi".
I don't have a big amount of money to send, neither the logistic they need. But, I do believe that my 5 Steem, your 5 Steem, collectively with others 5 Steem, will become a bigger amount to support them. Don't you think so, steemians?
Aku sendiri ga punya banyak uang, ga pula punya logistik yang bisa aku kirimkan. Tapi, menurutku nih, 5 Steem ini, jika bergabung dengan 5 Steem yang lainnya, akan menjadi satu kesatuan yang semakin besar, loh! Yang tentunya akan memiliki arti bagi yang menerimanya. Sepakat?
---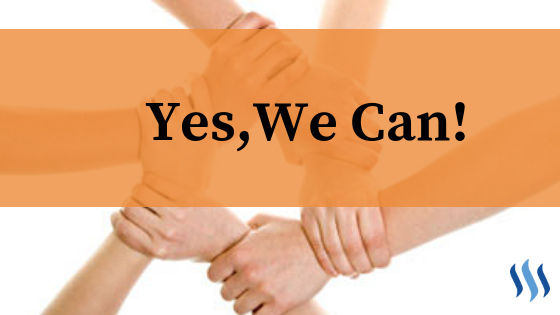 ---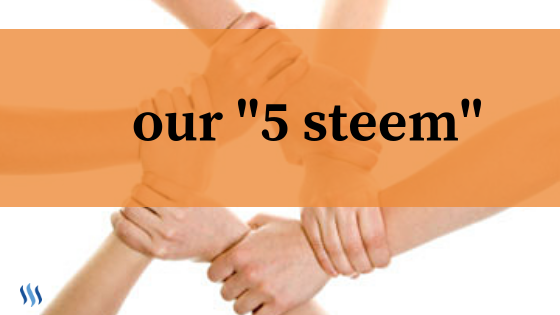 ---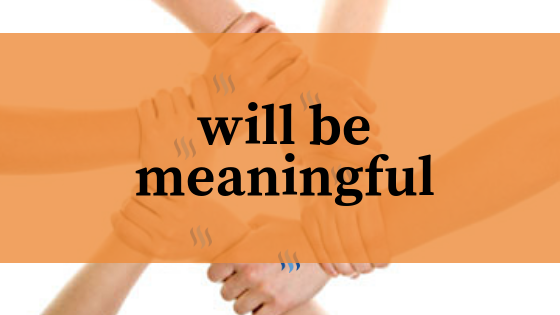 ---
Hey, I don't Have any Steem to Send
---
Iya, sih. Tapi aku ga punya Steem!
No worries! Let's do this way! It will help a lots!
Ga pa-apa, tenang ajaaa. Kalian masih bisa melakukan hal-hal di bawah ini, deh! Pasti akan ngebantu banget, loh!
---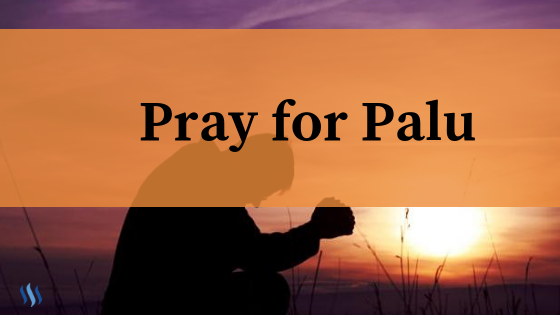 ---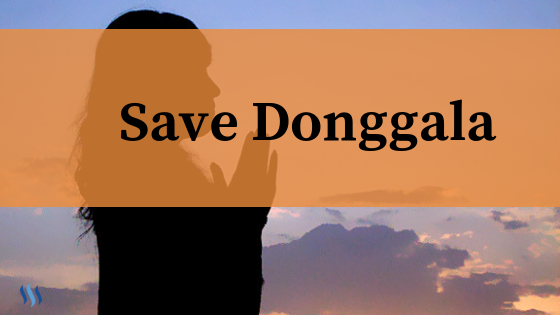 ---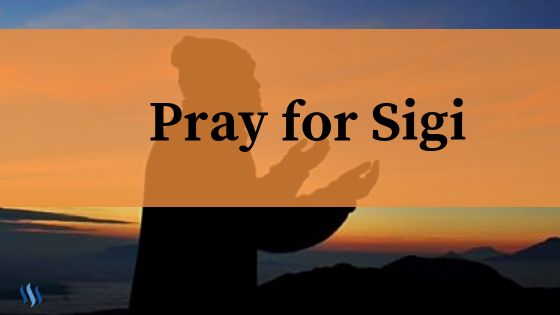 ---
Al, Bandung, 4 October 2018
This article prepared to fulfill my promise to @futurethinker, it is very OK to not count this video in the contest, since the contest was expired. Lol.
---
All pictures created using Canva Application
Pictures source: from https://pixabay.com