Hello again, Steemit! Marhaba, UAE!
Time really passes by swiftly. It's been a month since my last post announcement and now we are just a few days away from the event!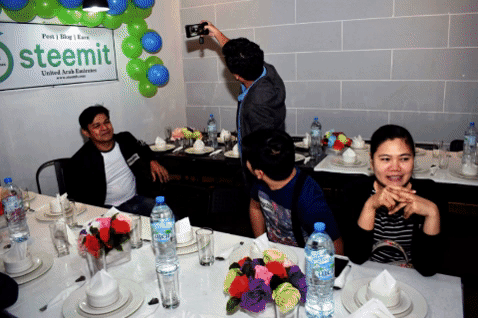 Above, what you can see are just but some of the pictures from the last meet up. We are just as excited this time and we have a lot of interesting topics in store for you.
SteemPH UAE Meet & Greet 2 Agenda
| When: | Saturday, April 28 |
| --- | --- |
| Time: | 5:00pm to 7:00pm |
| Where: | Juancho's Billiards & Asian Cuisine, Abu Dhabi, UAE |
| Agenda: | SteemPH UAE Updates |
| | Newbies Welcome |
| | Protect Your Account From Scam and Phishing Attempts |
| | Plagiarism & Copyright |
| | Community Engagement |
| Registration Fee: | Dhs 25 per person |
Must as we would like to bring you the event free of charge just like last time, we have limited funds right now and so we need to charge a minimal fee of AED 25. You can give this at the venue itself or you can transfer SBD3.5 to the @steemph.uae account,
Memo: Meet & Greet
As we have limited time at the venue, we highly encourage everyone to come on time. Let us maximize this opportunity to get to know our fellow steemians and put a personal touch to our interactions!
@pingcess has been busy getting confirmations from the @steemph.uae family and she shared the list of those who confirmed on her last post. If you are coming and have not yet confirmed, please contact any of your community leads - myself, @pingcess, @appleskie or @lifediaries2nd to block a seat for you.
Dubai Meet Up Update
We are coming to you, Dubai and Northern Emirates! We know it is a bit far to travel all the way to Abu Dhabi and we are so, so eager to meet all of you too! So save the date: MAY 11, 2018. We are coming to meet you! We are still finalizing the venue, but it will be in the afternoon from 1:00pm to 3:00pm.
Liquid payout generated from this post is dedicated to our Meet Up initiatives. Please also support these posts:
UPDATE | Second SteemPH UAE Meet And Greet | Sat, 28 April 2018 by @pingcess
Yay! 2 More Days and it's Steemph UAE 2nd Meet & Greet! by @appleskie
See you on Saturday!
---
Have you voted your witness?
Consider casting your witness votes for @steemgigs (@surpassinggoogle), @precise, @cloh76.witness, @ausbitbank and @curie who have been adding invaluable contribution to the community.
To cast your votes, just go to
https://steemit.com/~witnesses