Hello guys here is the big and exciting news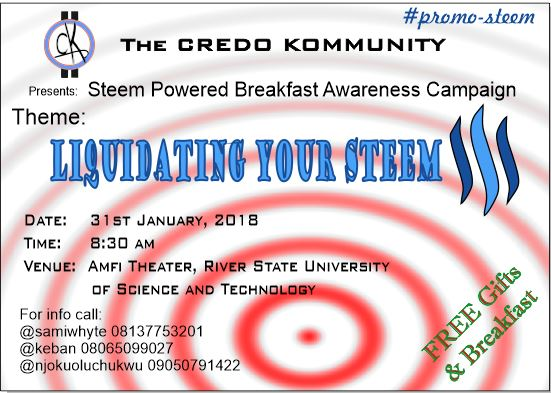 This is coming as a result of our drive to create more awareness of steem blockchain to both potential bloggers and investors, we are hosting our first offline steemit awareness campaign at the prestigious Rivers State University of Science and Technology. The university management has approve a one day Steem Power breakfast and Awareness session with Credo Kommunity, on the 31st of January 2018 at the University Amfi Theater. Thanks to @keban for making this possible.
This will be our first major outing as we plan on having an attendance of over 200 people with expected sign up off 100 accounts.
Why Rivers State University of Science and Technology
According towikipedia;
Rivers State University of Science and Technology is a university located in the Diobu area of Port Harcourt City (PHC), Rivers State, Nigeria. It's current staff strength is about 3,000 and the population of students is over 22,400 as of 2017. It is the first technological university in Nigeria and also the first university to be situated within the Niger Delta Region. In 2014, it was rated as Nigeria's best E-learning institution and was ranked as the 15th best institution of learning in Nigeria. It is the only university in Nigeria accredited by The Council for the Regulation of Engineering in Nigeria, (COREN) to offer degree programs in Marine Engineering.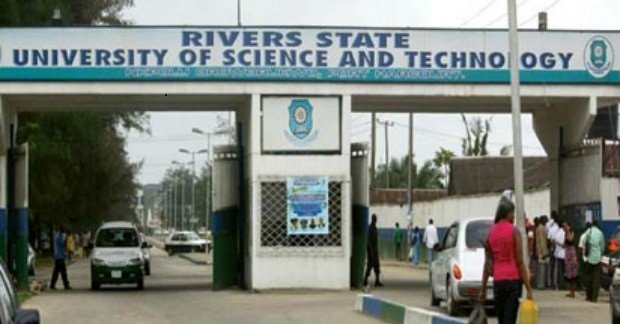 Source
From the records above and many more information about the school, we can tell that the school is a fruitful field for steemit. We are looking forward to raising a #steemstem sub-community here amongst other steemit communities.
The event will kick-off by 8:30am with different sessions by different steemian (@keban, @njokuoluchukwu @samiwhyte and others). This will expose the staff and students to the wonderful potentials present in the steem blockchain. There will also be gifts to some special and outstanding attendee while breakfast will be available for all and breakfast for all. Internet access will be available to register all interested attendee on the steem block chain.
Stay Tuned for more updates ....