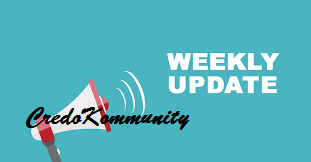 The growth that the Credo Kommunity is experiencing is beyond what words can describe. This can not be achieved without the help of it's members and Supporter, promoting the Community using different means possible.
About Credo.
Lest you forget what Credo Kommunity is all about.
Credo Kommunity is a non profit community on steemit. Its a group of people with an agenda to promote steemit to both potential steemians and investors in every city all over the world. Bringing these investors and steemians into one platform, promote and rewarding quality and original content of our member.
Its founding "father's" include; @samiwhyte, @njokuoluchukwu, @keban, @tekadii
Progress
The Credo Kommunity channel is 💯% active on Discord with @anarcotech and @futurethinkers as the community current supporter, @credo; as curator , @samiwhyte; as admin and @njokuoluchukwu; as Moderator.
The Credo Kommunity now have a Total of 37 Active Members on it's Discord Channel.
Appreciation
The Credo Kommunity with its Member greatly appreciate the effort of @starkerz and the entire #promo-steem community for their Support to the Community.
The Credo Kommunity appreciate the 200 STEEM Loan gotten from @starkerz through @samiwhyte; and we promise to use it for the progress of the community.
We have also placed a bid for 10k delegation @minnowbooster at 200 STEEM. The delegation if successful will be credited to @gtan, which is the curating account for the community.
Next week Activity
The Steemit Campaign plans have been concluded and ready to Kick OFF on 31/01/2018. See HERE for more details.
The customised T-shirt bearing the Credo Kommunity, Steemit Logo and Members of the Community usernames will be available before the Campaign date. Watch out!
We wouldn't forget to recognize the Support from @abh12345 @credo @anomadsoul @hr1 @futurethinker @starkerz @infovore and @gtan; you guys are a blessing to the Credo Kommunity. GOD BLESS YOU!!!
we humbly request for SUPPORTER, INVESTORS AND DELEGATION; see video in the LINK
All earnings gotten from the @credo account will be used to POWER UP to support Newbies.
Below are the introduceyourself post made by some of the he Credo Newbies;
https://steemit.com/introduceyourself/@peace92/introduce-myself-peace92
https://steemit.com/introduceyourself/@chidinma98/introducing-myself-chidinma98-the-extrovert-sanguine
The Credo Kommunity update is brought to you by @njokuoluchukwu, the Community MODERATOR.