Introduction:
So @timcliff came up with the very best initiative so far in the Steem blockchain, Promoting the Steem blockchain to the moon, "Steemblast". After noticing this, I immediately concluded to take part in this great initiative, which will definitely benefit every investor, especially those who are are just getting to know about Steem and those who have not heard about it at all. This post will help you learn basically all you need to know about the Steem blockchain.
---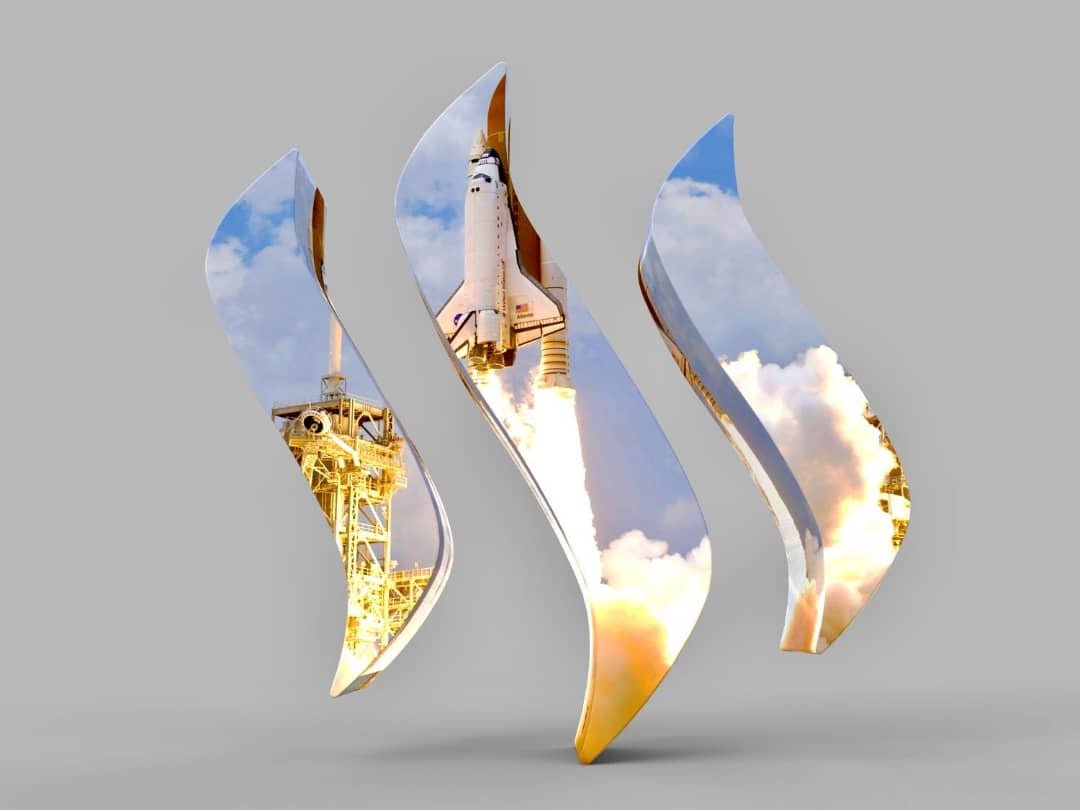 ---
Disclaimer:
This article is not from a governmental source and it's not in anyway giving you investment advice. Every single piece in this article is based on the Author's observation. This should not be considered a future prediction as it has no guarantee of coming true. It is possible that an information in this article may be wrong or incomplete. So I'll advice you make your own research before concluding on the investment to make. The author of this article also holds STEEM tokens and several other Cryptocurrency.
Back to business
Steem Incorporation
Steem blockchain was officially launched in March 24, 2016. It is the present most respected blockchain project with several of the most heavily used decentralized applications in the blockchain industry. Steem is also nicknamed "The gateway to Cryptocurrency" because it is specifically designed to attract and retain on board everyday regular users. Steem is presently one of the top 50 Cryptocurrency on the coin market capitalization and will hopefully soon boost up to perhaps the top 5-10 Cryptocurrency projects after the Smart Media Tokens(SMTs) launch in Q1 of 2019.
Source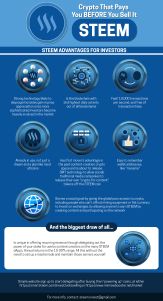 Some crypto investor who did not believe in Steem when it first got established should see reasons now. There's more than enough evidence to proof that Steem blockchain is not/never a pump-and-dump scheme.
The project Steem has come a long way over the years, and several great new features continue to be developed, Thus, more work/projects are still behind the scene - silently developing under the Steem blockchain to make it favorable for stakeholders. Steem blockchain does not only support Crypto investments, it's also something you should think of when considering a great social media platform for the future...
To quote @timcliff;

Steem is still a work in progress project. What you see today is a preview of what it will likely become over the next 1 - 2 years.
Another great advantage if you hodl a very large stake in the Steem blockchain which may serve as an incentive is that you can be voted as a witness by working hard and proving your worth to the community... Trust me, you don't want to miss an opportunity like this, as it's very beneficiary and will take you to the next milestone of your life.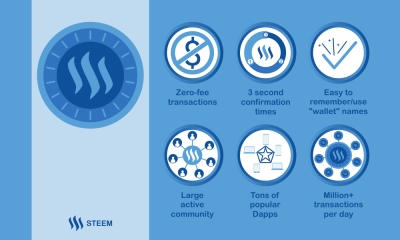 ---
The Core Development team [Steemit, Inc.] Respects the wishes of other stakeholders. Over the past months now, unlike before, [Steemit, Inc.] has created a communication medium whereby they can communicate regularly with the community. They created an account under the Steem blockchain "@steemitblog" for making/dropping posts for the visibility of everyone, in other to keep them on track about what they are working on and what they should expect to see happen. They even bridge the space of communication between the Core Dev team and the witnesses, community developers and several of the largest stakeholders.
I hope you're seeing reasons why you should invest in Steem right now, it's presently in a state of Dip, most Crypto investor understands that. The best time to invest in any Cryptocurrency blockchain is when there's a plunge; "Dip" - This means the reduction of therate/valueof the token given. Presently, Steem is experiencing a "Dip" which is why every Steem investors are happy because they can utilize the opportunity to purchase more coins and lock it down into a smart contract called SP while the rate is still low.... This is also the best time for you to invest in Steem if you've not done so before, as it will help you grow to that point you've been strongly desiring to get to when it rises...
Steem is one of the most heavily transacted blockchains in the world with over One million transactions per day, believe me or not, the only other blockchain that produces more than Steem presently is EOS..
Further Benefits
You're also opportune to blog in the platform in other to increase the network effect and aid in distributing the currency to a wider reach - set of users. Additional benefits for you as a user is that you can decide to power-up your Steem token.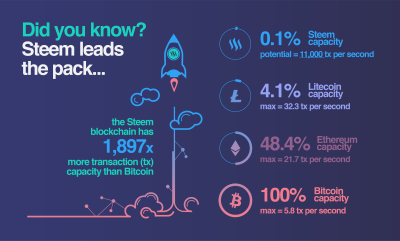 Powering up (Hodl your token)
The processing of powering up takes only 13weeks to vest, which is a great advantage for you, because your Steem will be locked in a smart contract and you cannot transfer or trade with it for as long as it's powered up.... Your powered up Steem is called Steempower... This also helps you get additional reward, you'll get Curation reward by curating content creators, the amount of Steempower you hodl will determine the amount you can give to support other less stockholders/content creators, and it also determines the amount you get back in turn.....
It's a simple process; You get back what you give and the one which you give don't get to return to you what he/she collected... It generates itself - Both parties get to be rewarded, the giver and the receiver. You can also decide to power down your Steempower if the need be, but be aware that it will take another 13weeks processing for your Steempower (SP) to turn into liquid Steem again...
As an SP holder, you can decide to borrow out your Steempower to greater stakeholders who run a project or business on the platform... This process is called Steem DELEGATION. It's an act of delegating your influence to communities that favours that add value to the blockchain and you still get to be rewarded for that.
STEEM ACCOUNT CREATION
There are only two means by which you can get an account created on Steem; either by signing up for a free account and be patient for it to process or buy an instant account. The most common way to create a free account on Steem is by signing up; [https://signup.steemit.com/].
It is a must to verify your email and phone number to apply for a free account as it will be reviewed... Although this method of signing up is free but you may have to wait for 1 - 2 weeks to get your account ready... And make sure you check your email regularly so you don't miss it when it comes. Meanwhile, there are third-party services which may serve as an alternative to create a Steem account. This are services which can allow you to pay some little amount to create an instant account on the Steem blockchain, if you don't want to waste your time waiting for the free account.
SECURITY ACCESS AND PASSWORD
You will be given a key after your account has been reviewed and activated, and you will be instructed to properly save you key as they come in hierarchy and in varieties... These keys serves as your password, and they have limit to which they can allow you operate. Your master key is the major key and it can allow you access everything you need and can operate in any form in your account, no restrictions whatsoever in trying to access your account... But the other keys implement different levels of security.
You can decide to share any of your key with a fellow trusted user if you want to Grant him/her authorization to your account based on the extent that you want them to reach. You can as well change your master key again, if they later serve as a threat to your account. There are so many other positive things happening with Steem that you don't want to miss.... Trust me.
TRANSACTION MADE EASY
Unlike other blockchains, Steem made its means of transacting with other users very fast and less complicated. For example, users of Bitcoins and Etherereum occasionally experience the stress of having to wait for minutes, or possibly hours, trying to transact, sending token to other users.
The Steem blockchain is very different and exceptional if I'll say, because you can make your transactions in nothing less than five seconds.
Take it or leave it, your token will deliver to anywhere in the world in less than five seconds. Transactions can be made everyday, anytime, by any user, as long as you have enough of what you're transacting with.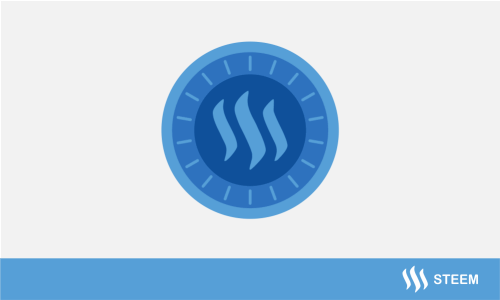 ---
Conclusion:
LESS COMPLICATED USER ADDRESS
I'm sure you must have seen other blockchain's user address, they usually consist of complicated combined Digits and Alphabets. On the Steem blockchain, your wallet address is the same as your account name, it can simply be "Joseph24" if that's what you will to use. This makes it more easier for users to send tokens to friends and families and business dealers across the world. I know how impossible this may sound but it's the simple truth, you can make your findings else where. [Steemit, inc.] has put a lot of work to this project to make it success...
ZERO CHARGES FOR EVERY TRANSACTIONS MADE
When you transact on other blockchains, you'll obviously be charged a small fee to process the completion of your transaction, but on the Steem blockchain, what you get is zero fee for all your transactions. All you just need to do as a user is vest some Steem - make sure you have Steempower in other to freely transact. As long as you have some amount of steem vested (SP).
The blockchain allows you to transact for free. The more Steempower you hodl, the more you can transact. This allows businesses and users focus on what really matters not how every action taken will result in fees.
PARTNERSHIP WITH D'APPS
There are so many functioning Dapps built on top of the blockchain, and are regularly used....
The likes are;
Utopian.io
Fundition
Steampeak
Steempress
Dtube
Dlive
Dsound
Steemgigs etc.
This are also some of the exchanges where Steem can be purchased;
Binance
Bithumb
Bitshares
Bittrex
BlockTrades
GOPAX
HitBTC
Huobi
Poloniex
UpBit etc.