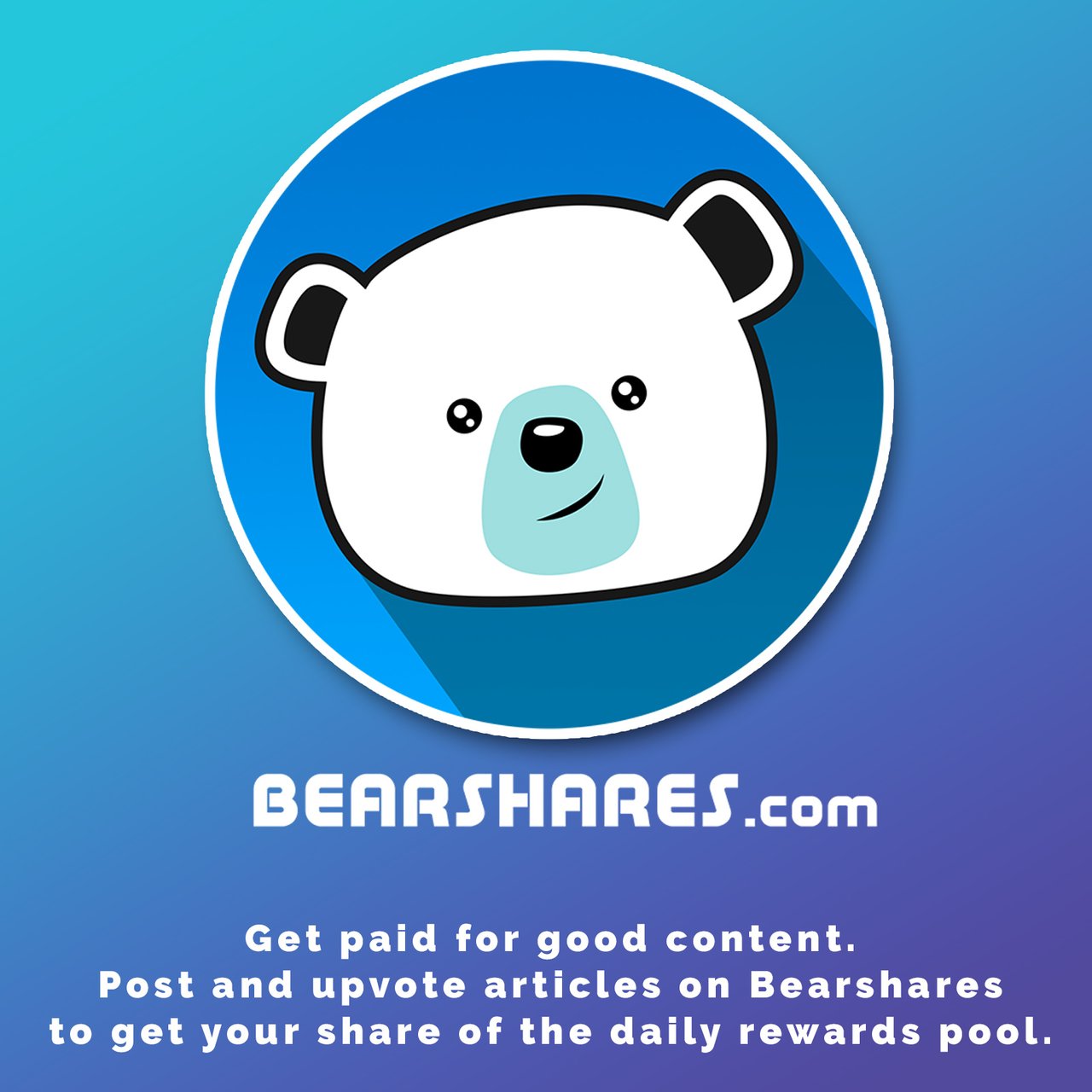 Are you a Cryptocurrency enthusiast? Are you tired of posting tirelessly on various social media platforms but getting nothing in return yet wasting plenty data?? I don't know about you, but I sure am. The crypto world have been faced with different problems and limitations forcing traders to undergo stress in executing simple transactions which becomes time and energy consuming.
Well, let me introduce you to bearshares.com.
Bearshares, unlike many social media platforms is a blockchain powered platform that combines interaction and crypto. It for short is like Facebook that pays you for your articles..... I know a lot of people look for websites to explore, to getaway from the regular chatsites. Well bearshares.com is perfect. Bearshares.com give the bears currency as rewards for exceptional articles.
Also, as proof that bearshares is real and not a scam, bears currency have already been listed on bitshares dex (decentralized bitshares platform). Here, you can purchase tokens.
About bearshares.com....
You get rewards for your articles.
You meet and interact with people from various countries.
Unlike other media platform, community unity is high on bearshares.com.
But most people are scared of Cryptocurrencies and their trading factors. But bearshares.com, whose CEO is bilalhaider has been able to solve these problems....
Problems faced by crypto traders include:
-UNRELIABLE TRADE EXECUTION: There's smooth transition of coins to and from bearshares to any other crypto platform. Bitshares, a fork of Bitcoin has recently listed bears on its trading platform.
-LACK OF SECURITY:
There is no adequate security due to the vulnerability of exchanges to hackers. Traders are posed with high risks when purchasing digital assets. In some cases, there is absence of a trusted escrow service as traders may lose their tokens before trade is completed. Exchanges also lack contingency plans/strategies and compensational packages in the event of theft, security breach or network hack. There is also the matter of ineffective customer support and risk management system.
In a bid to attain perfection in trade execution and erase all these problems, idealists and developers came up with bearshares.com. Bearshares.com uses a randomly generated alphanumeric 52-character password which would take forever to hack. So security of coins is guaranteed.
SMOOTH TRANSITION TO THE COMMUNITY:
Newbies get a war welcome to the community and there are also groups/channels on other platforms like discord to teach newbies about bearshares.
I am @msytiqueblinkx on bearshares.com and I implore you to join. Come and witness something new.
To know more about bearshares.com, join me this whatsapp group link https://chat.whatsapp.com/GQbgmFsfWyABhnUgrTwM0i
Or join us here on discord https://discord.gg/UXyvVbQ
DISCLAIMER:
ALL INFORMATION PROVIDED HERE IS BASED ON PERSONAL RESEARCH AND READING. @msytiqueblinkx THEREFORE TAKE NO RESPONSIBILITY OF THE CHOICES MADE BY READERS OF THIS ARTICLE IN A TRADING TRANSACTION. USE WISELY AND AT YOUR OWN WILL.
#bearshares #easy-dex #crypto #blockchain.
link to the original on my Facebook account
bearshares.com ©2018