The Chinese yuan has been sinking against the dollar. In 2014 $1 could buy you 6 yuan - now it buys nearly 7 yuan - the yuan has weakened by 14%. In addition the "anti-corruption" crackdown by Chinese President Xi Jinping, has prompted many wealthy Chinese people to get their money out of the country, to keep it safe.
This has created property bubbles in the rest of the world as Chinese money floods in, making life hard for ordinary citizens who have to live and work in cities like London and Vancourver.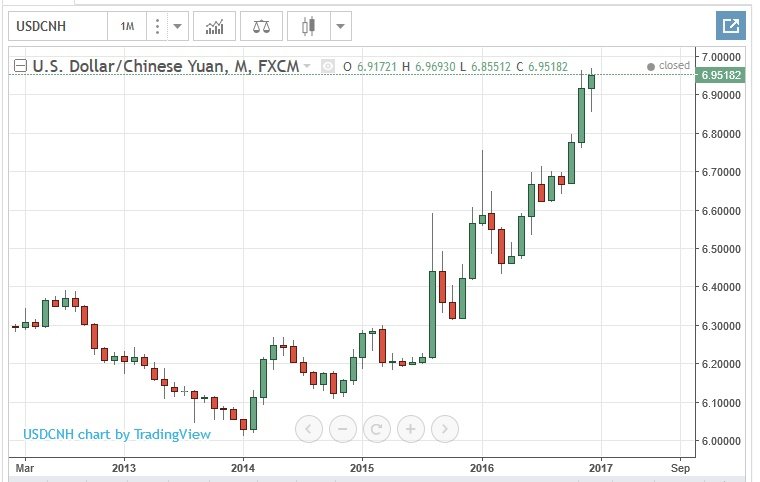 image source
The first to act was the UK.
Since the 2008 crash, London property has been used as "gold bricks" to park money, and pay no tax on it. Britain taxes non-domiciled people very lightly. Typically they would create an off-shore company, buy a prime London house with it, and the house would be exempt from the stamp duty that is usually levied when a house is purchased.
In 2012, George Osborne, the Chancellor of the Exchequer started to act. He introduced an "annual tax on enveloped properties" (ATED) to encourage people to remove the property from the off-shore company and pay regular stamp duty. He also raised stamp duty at the higher levels. He also imposed capital gains tax on non-residents and off-shore companies for the first time from April 2015 (the capital gains tax is now levied when they sell property regardless of whether it is enveloped in an off-shore company).
To his surprise the property market kept rising, and the tax receipts from these new taxes were five times what the Treasury expected: it turns out that lots of foreigners thought it was worth paying the ATED because keeping their house in an off-shore company meant they were exempt from inheritance tax.
So he cracked down again. In the summer of 2015 he announced he was removing the inheritance tax exemption for off-shore companies. If you now own property in the UK and it is not your primary residence, then you pay inheritance tax on it when you pass away, regardless of whether it is held in a company.
He then jacked up stamp duty starting in April 2016 for homes over £1 million, and then whacked an extra 3% stamp duty if the house is not going to be your primary residence. Stamp duty in the UK is on a sliding scale. See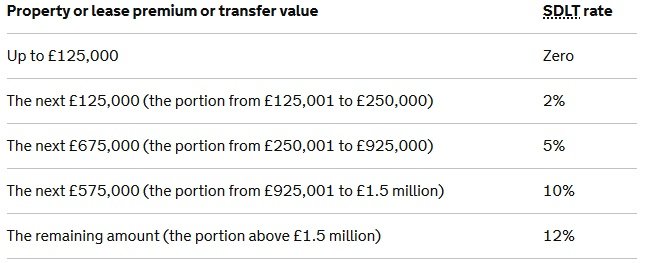 image source
Remember that a non-resident will pay 3% extra on top of that at every point on the scale, so at the very top they are paying an eye-watering 15%.
Combined with Britain voting to Brexit, the London property market has finally started to fall at the top end. Many developers who had built flats with £1 million + price tags, are hastily converting them into smaller units to sell to people who actually want to live in London as opposed to parking wealth in "gold bricks".
But it took the government a strenuous four years to achieve, and the public helped by voting for Brexit.
Singapore acts to block foreign purchases
In 2012 Singapore raised stamp duty for foreign purchases to 10%, and because it appeared to make no difference to the property market, they jacked it up to 15% in 2013.
Because some foreign investors started buying industrial and commercial property to get round the taxes on residential property, they have added a sellers stamp duty on industrial property, that ranges from 5% to 15% depending on how much is raised in the sale.
Singapore is a small low-tax city-state, and the measures have caused property prices to level off since 2013.
States in Australia take action
Foreign buyer taxes were introduced in three Australian states: Queensland, Victoria and New South Wales.
In July 2016, a 3% stamp duty surcharge was introduced In Victoria on foreign purchases. Adding this on top of the stardard property stamp duty, took the stamp duty to 7% for foreign buyers. In addition, Victoria (which is where Melbourne is located) increased the absentee land tax surcharge from 0.5% to 1.5%.
In June 1016, New South Wales introduced a 4% property surcharge on foreign buyers, and increased absentee land tax surcharge to 0.75% from 2017 onwards.
Queensland followed with a 3% stamp duty surcharge on foreign buyers effective from October 2016.
As yet these measures haven't made any difference to Australia's super-hot property market. They might need to follow the British path and keep ratcheting the taxes upwards to encourage the Chinese to look elsewhere.
Vancouver acts in Canada
The British Columbia provincial government imposed a 15% surcharge on foreign buyers effective from August 2016. Vancouver council also approved an empty property charge of 1% on homes that are left empty for more than six months a year. It turned out they had 20,000 vacant properties even though the rental market is tight and people can't find somewhere to let. They plan to enforce it by random audits with fines of C$10,000 a day for false declarations.
So far it looks like the property market has cooled at the top end of Vancouver - but real estate experts think this is because the wall of money has diverted to Toronto.
Hong Kong takes action
Hong Kong is a Chinese special administration region - it is really a city state with limited room. They raised stamp duty for foreign buyers to 15% in November 2015 and this now applied to Hong Kong citizens buying second homes from 2016. Previously they had charged a second home tax of 1.5% above normal stamp duty, but it was ineffective, hence the recent tax hike.
Hong Kong is one of the most expensive places in the world already, and Hong Kong citizens are starting to get upset at being priced out.
American cities have taken no action at all
Property prices are red hot in places like San Francisco and Seattle due to a combination of Chinese money flowing in and highly paid tech staff needing to live close to where they work.
In contrast to the rest of the world, Americans have taken no action to stop the inflow of Chinese money. However, with the election of Trump, and his pungent comments about the Chinese, it remains to be seen whether they still want to buy there. Though with the rest of the world closing their doors, Chinese people who wish to hide their money from their govt and protect themselves from the falling yuan, have no choice but to buy in the USA.