Proximax has a mission to create a complete platform, with blockchain as a value anchor among the builders, funders, and consumers of its new technological paradigm.
Proximax is a next-generation Integrated and Distributed Ledger Technology ("IaDLT") infrastructure platform solution powered by blockchain technology
roximaX is a new blockchain where you can build just about anything, meaning it's meant for a very big group of people, the user base can contain bloggers, vloggers, but also enterprises or small businesses. You name it, and it's possible. We are talking about a huge amount of data that is recorded on the blockchain. Actually the possibilities are so endless, that writing ten posts about ProximaX would be enough to explain all the possibilities it can be used for. Just imagine that you have this idea, and you don't really know how to get it done in the "normal world of internet" because of lack of possibilities or lack of transparency, probably you can build it with ProximaX.


Technology
ProximaX will rely on the robust NEM's Catapult Technology, this will allow users to enjoy the benefits of the successful Proof of Importance (PoI) Consensus Algorithm and the harvesting incentives already present in the NEM ecosystem. Furthermore, PoI will be expanded with a second layer that enables measuring and rewarding of storage and bandwidth contributions by nodes on the ProximaX ecosystem. This flexible developing environment allows Dapp developers to create the monetization model they think fits best with their business models.
Architecture
ProximaX will use a multilayerd architecture to build an ecosystem for voting, decentralised governance, harvesting, rewarding storage and bandwidth contributions. The native token of ProximaX is called XPX, it will be used to reward ProximaX nodes, Dap developers, and content creators.
Storage
Since the storage is done in a fully distributed way, without the participation of third parties in the process, since the files are replicated between nodes of the network.
Storage will be increasing and efficient, depending on the number of nodes participating in the network. The more nodes participating, the better performance it will have, since the physical storage resources of each node will be available, as well as part of the bandwidth of the connection.
Streaming
In the ProximaX transmission layer, the nodes will have a reputation in relation to their bandwidth. The statistics collected will be weighted as part of the reputation score, which in turn will affect the probability that each node will be selected to serve a client / client.
From a more global point of view, the ProximaX Sirius platform uses the PeerStream Protocol ("PSP"), for high security, high performance, real-time messaging and streaming service, users will be able to use totally anonymous, end-encrypted video streaming Extreme, messaging and anonymous video streaming.
SIRIUS Database System
The database with blockchain technology runs in a decentralized manner, storing records in a ledger (MongoDB), encrypted by a hash. The database is located in a layer with its own asset management and metadata storage.
"In this way the developers would feel familiar with the work environment and potential of the database based on the traditional blockchain model, enjoying the work and the development of new applications."
Consensus
ProximaX blockchain Sirius which is the backbone of the ProximaX network prefers the Proof of Stake (PoS) over the PoW consensus mechanism due to its high throughput.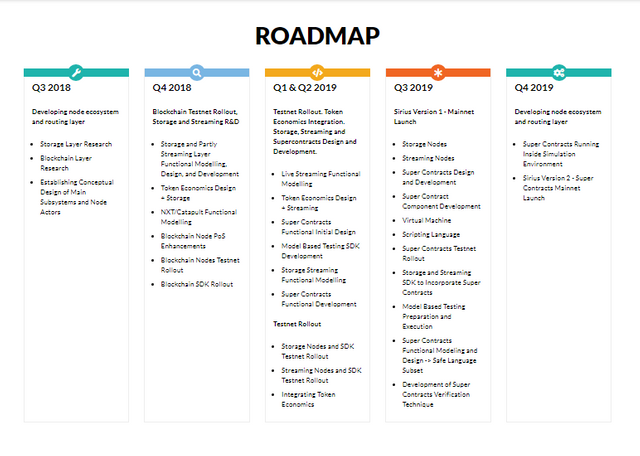 ProximaX Apps
-ProximaX File It !: Application to store and share files across multiple nodes on the ProximaX Sirius platform.
-ProximaX Notes: To take notes and embed images, use encryption to ensure privacy.
-Forensic ProximaX: Designed for researchers and scientists, it allows you to access and store digital evidence easily, quickly and safely.
-ProximaX KYC: Allows you to use the KYC security protocol (know your customer) to quickly and easily establish agreements between equal parties, for negotiation purposes.
-ProximaX Suite: Allows to share in blockchain calculation documents, applications for word processing, with total security and privacy. Ideal for companies that handle sending data and information through the Web.
As you can see ProximaX is a quite complete platform, it contains all the indispensable tools for companies, developers and common users like us, this is a great innovation that is not found elsewhere within the blockchain also has a fairly airtight security and all this in an easy to use interface, if you have innovative ideas for a new game, a social platform that offers options that do not have the existing ones, if you want to improve the logistics and management of your company ProximaX is your ideal platform.
#Team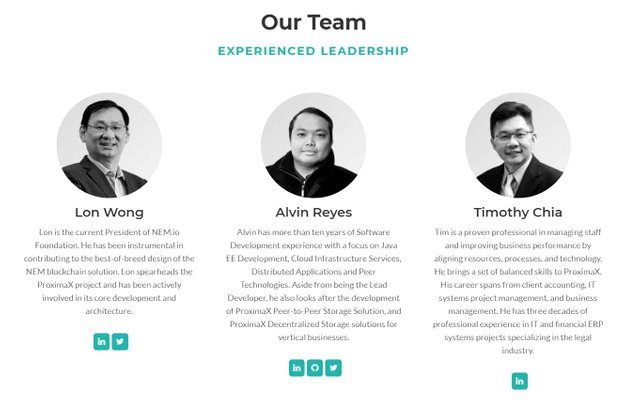 More Information & Resources