In this modern world, organizations are becoming more reliant on the internet for interconnectivity, communication and productivity.
The Internet has since inception, functioned as an invaluable bridge between various sectors and continents. From business to social media to entertainment to gaming, even medical help, and recipes for your favourite dishes.
Sadly with so much adoption, many flaws have been discovered. A lot of networks can easily be hacked, many servers are slow and redundant, sensitive data has been compromised, and let's not forget interference/spying from central parties such as the government or big corporations.
This prompted the invention of the blockchain to decentralize the internet and give users more privacy over their data and finances.
The earlier versions of the blockchain such as Bitcoin and Ethereum were groundbreaking but as adoption increased their lack of scalability soon became obvious. Scalability refers to the ability to handle increasingly larger requests.
Bitcoin, for example, can only handle 7 transactions per second, Ethereum (15) and Ripple is currently at 1,500 per second. "Not bad" you might say till you discover Visa does 24,000 transactions per second.
The need for improvement is clear, and so once again a new generation of blockchain has risen.
INTRODUCING PROXIMAX
ProximaX is a next generation platform solution based on the NEM blockchain. NEM is a popular peer-to-peer cryptocurrency and blockchain platform. It has shown great utility in maintaining database, inventories, or as an open, secure, end-to-end supply chain logistics management system.
ProximaX is based on the latest version of NEM called NEM Catapult. ProximaX Sirius offers Integrated and Distributed Ledger Technology (IaDLT). This IaDLT is an integrated assembly of proven technologies which is a combination of Blockchain-Storage-Streaming-Database System-Consensus.
ProximaX core features include peer-to-peer internet protocols, decentralized storage layer, off-chain transactions, streaming and messaging delivery network and an advanced consensus and reward algorithm.

PROXIMAX ARCHITECTURE
ProximaX offers an API driven architecture that will enable DApp developers and businesses to easily deploy and manage their digital solutions. The Content delivery networks and cloud services allow a wide range of applications.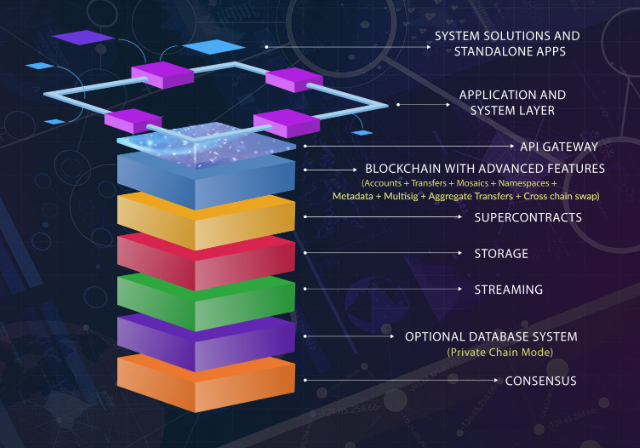 One of it best attributes is that you can use
ProximaX
without advanced programming knowledge. You only need to
download the right SDK
(Go, C#, Typescript, etc) to start using the ProximaX platform.
ProximaX has 4 main layers.
Advanced Blockchain. ProximaX utilizes the NEM Catapult to offer an API-driven asset environment that allows you to easily integrate the blockchain into your company. You can now create a secure and transparent Enterprise environment.
Streaming. Using its custom PeerStream Protocol (PSP), users will be able to enjoy fully anonymous and encrypted messaging and video streaming services.
Storage. ProximaX uses a Distributed File Management System (DFMS) that integrates directly with the blockchain. This allows truly secure p2p transactions/transfers, private asset management and metadata storage.
Consensus. ProximaX uses a multi-layer consensus protocol. This sets the conditions and procedures for voting, governance and issuing rewards to nodes in the network. Nodes(users) are rewarded in the native token XPX.
ProximaX Consensus algorithm uses three forms of validation.
Proof-of-Importance (PoI), Proof-of-Storage (PoSt), and Proof-of-Bandwidth (PoB).
These 3 help to validate the input from nodes(users), as well as preserve their right to ownership and privacy.

ADVANTAGES OF USING ProximaX
Lower Cost - Blockchain storage is cheaper than conventional methods and cloud services and hard disk space will be optimised. Users have the option to upload files as Plain(public) or Secured(encrypted).
Privacy - To combat piracy and copyright infringement, ProximaX is currently working on a "deny list" that will refer to DMCA takedown notices and reject any data hash listed.
High Scalability - ProximaX Sirius combines high speed storage with blockchain immutability. This allows Users to store and stream data of large sizes in the distributed layers whilst transactions are conducted speedily on the blockchain.
Highly Configurable - ProximaX allows users to operate in permissioned(private) or permissionless(public) environments. This comes in handy when dealing with personal or private company data.
Security & Transparency - ProximaX utilizes the features of the blockchain to ensure secure peer to peer transactions and encrypted data transfers while the digital ledger notes all activities to ensure transparency.
Guaranteed Availability - Since all activities take place on the blockchain and are recorded on multiple nodes there is no downtime or server maintenance required.
User Friendly - Integrating ProximaX Sirius is very easy. All one has to do is download the appropriate APIs and SDKs and deploy.
Financial Flexibility - Unlike most blockchains that only accept/handle one currency, the ProximaX token ecosystem is designed to work in 2 layers. The first layer (Internal) handles the native currency XPX, "service units" and custom tokens created by dapp builders. The External layer supports end-user payements which may be crypto or fiat. It is converted using the automated exchange.
Ability To Earn - In the ProximaX network, Quality apps can earn XPX tokens as can Content providers. ProximaX's blockchain Sirius also uses a Proof of Stake (PoS) algorithm so you can earn by supporting the network with your stake.

WHICH BUSINESSES CAN USE ProximaX?
Pretty much every sector of business. The robust ProximaX platform is ideal for use in Media, decentralized marketplaces, big-data, measurement/analytics, IoT, record keeping and Know Your Customer ("KYC") among many other applications.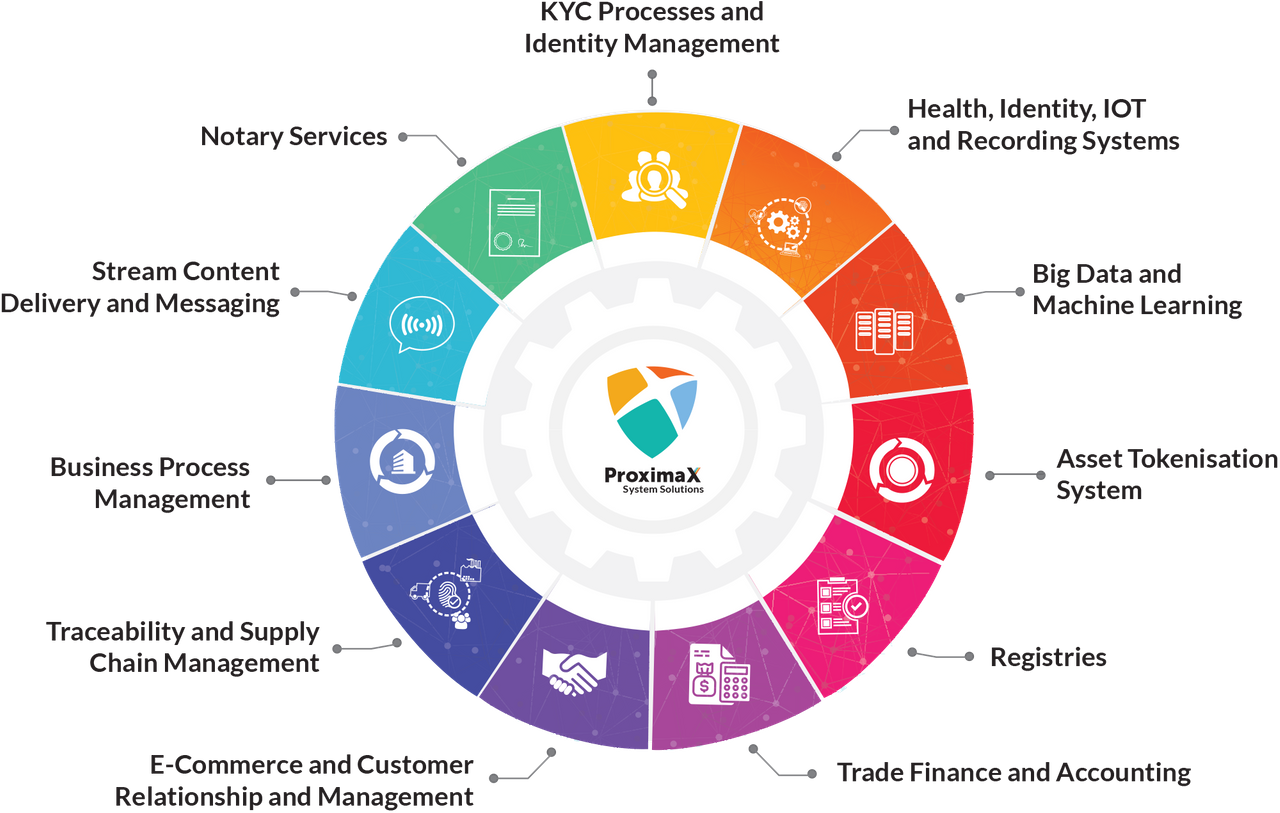 ProximaX is ideal for File Hosting Services, File Sharing, Content Creation and Monetisation, Content Control, Secure Multimedia and Messaging Streaming, and Know Your Customer (KYC).
ProximaX has already developed many applications which include
• ProximaX File it! (Similar to Dropbox)
• ProximaX Vault (Similar to Keepass)
• ProximaX Notes
• ProximaX Forms
• ProximaX KYC
• ProximaX Forensics (Toolset to help investigators and scientists to access digital evidence easily, quickly and also store digital evidence securely).
• ProximaX Identity (highly secure verification system for personal information that can be used as a central data source across public and private sectors).
• ProximaX Suite (Complete end-to-end office application hosted on the cloud, backed by secured infrastructure service of Catapult and DFMS) source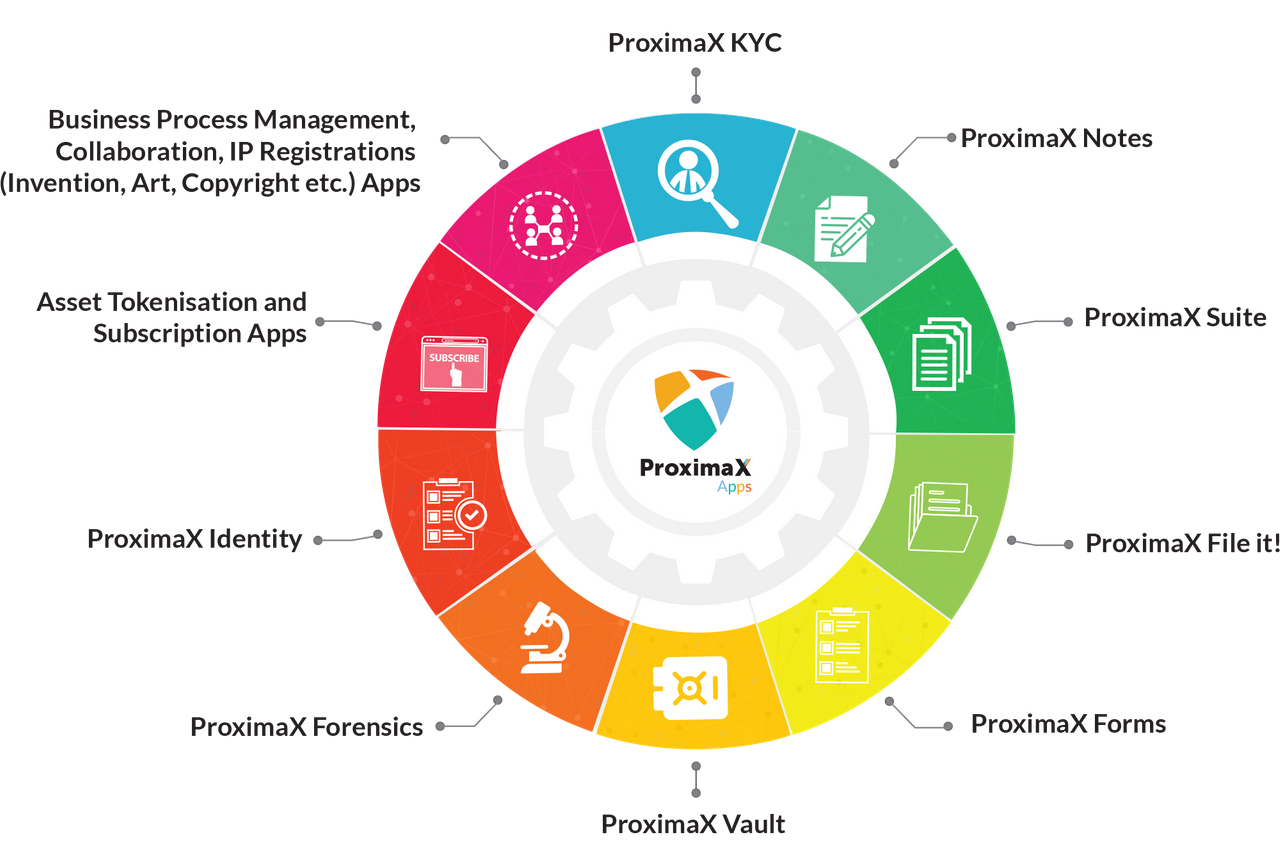 USE CASE SCENARIO
Andrew is the CEO of company ABC. ABC is a sportswear company that encourages people to exercise and keep fit. ABC launches a campaign with a prize for those who take regular workouts and complete milestones.
ABC allowed users to upload their workouts on YouTube but as many people joined, some simply stole the videos of others and posted it as their own.
Andrew decides to integrate ProximaX into the company framework. Now users no longer need an unsecured platform to upload their workouts but can stream it live using ProximaX Multimedia and Streaming network.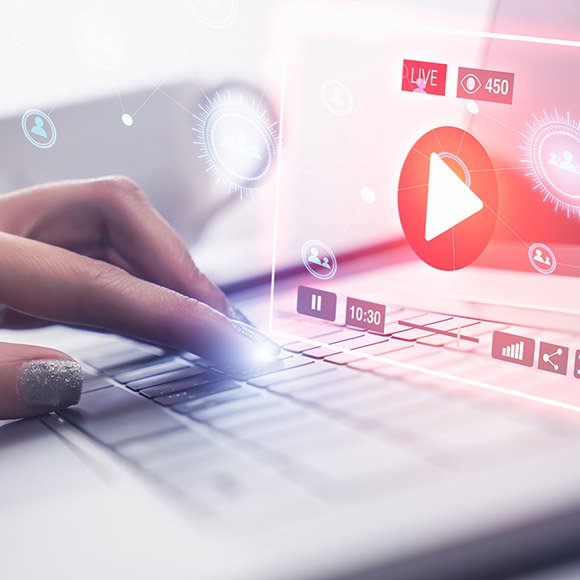 The ProximaX storage layer takes a record of the metadata of the video and any attempt to duplicate or copy it by a 3rd party is easily flagged and disregarded.
ProximaX allows the fitness campaign to be successfully implemented.

ProximaX Token XPX
XPX is the native token of the ProximaX ecosystem. It is a utility token that will power activities on the blockchain. XPX will be used to reward app developers and Content Creators based on a Quality of Service protocol. ProximaX has a Total Token Supply of 9,000,000,000 XPX
XPX is now listed and available on Kryptono


ProximaX In Action
The UAE Ministry of Community Development (MOCD) has Adopted Proof of Concept by ProximaX.
According to the Minister's Advisor at MOCD, Mr. Saeed Abdulla, the POC was completed in 2 weeks, and they were excited that with this PoC they can continue to develop and deploy solutions on the ProximaX Sirius platform.
Bankorus is one of the world's first AI-based private wealth management protocol built on the NEM blockchain and is looking at integrating ProximaX KYC Solution for onboarding their clientele.
Bluenumber is a Global Database project that is focused on Digital Identity. Data Analytics. Traceability. They aim to use ProximaX instant Streaming network in conjunction with a high-speed database to quickly identify people, organizations, places and things anywhere on Earth.
ProximaX recently launched their Mainnet on September 25th, 2019.
You can now view transactions on the Sirius Explorer.
ProximaX has released a very nifty Mobile Wallet.

ProximaX Mobile Wallet

To learn more about this innovative project you can visit the ProximaX website.
Feel free to read the ProximaX whitepaper here.
There are also versions in other languages such as Spanish. Russian. Chinese, Japanese, Korean and Ukranian.
Get familiar with the ProximaX Team here.
You can also follow and contact the ProximaX Team on their social media channels.

ProximaX Facebook | ProximaX GitHub | ProximaX Instagram | ProximaX LinkedIn | ProximaX Medium | ProximaX Reddit | ProximaX Telegram | ProximaX Twitter | ProximaX Youtube

DISCLAIMER
The information provided here is for informational and entertainment purposes only. It should NOT be considered as financial and/or investment advice. No person should make any kind of financial decision without first consulting their own financial adviser and/or conducting their own research and due diligence.