In our technological world, many people view time spent on smart phones, computers, and social media as a possible addiction. We live in a highly connected world thanks to the Internet, where we can communicate with people across vast distances. Our use of new technology taps into the human desire to connect, and may be less of a dysfunction that many assume it to be.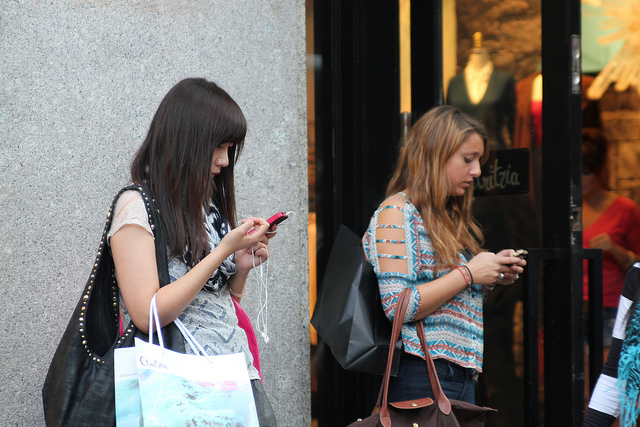 Source
Considering smartphone and social media use as being anti-social is being turned on its head according to a new study published in Frontiers in Psychology. Rather than being antisocial, these addictions could demonstrate someone who is hyper-social.
Instead of viewing these addictions being related to new technology and hampering human interaction, it's instead human interaction that's the addictive component that draws people to these new technologies.
Many of us probably know someone who apparently "can't live" without their smartphone. It's with them all the time, and they're check it every few minutes. From notifications, to applying to text messages, or just checking up on the activity of their friends. Rather than looking at this as anti-social behavior, we can change the way were looking at it and recognize it as hyper-social, where even in the presence of direct human interaction in front of them, they are still drawn to greater degrees of socialization through human interaction online.
We have a desire for attention from others, and to pay attention to others. We want to watch and see what is going on others lives, but we also want to be seen and monitored for others to pay attention to our own lives. But the hyper-connectivity of being able to connect with people at any time through our smartphones can turn these healthy urges into unhealthy addictions.

Source
We get likes and messages from people, which means they're paying attention to us in some way. People paying attention to us makes us feel important, and our reward system is engaged. We can then become addicted to that reward mechanism as it runs on overdrive. The need for pro-social interaction, and the rewards activation from using technology to connect to others, can "produce a manic theatre of hyper-social monitoring".
The media has been talking about smart phone addiction, where investors and consumers alike begin to demand tech companies address this problem through restrictive methods of external control. But rather than force regulation onto companies, we should learn how to regulate and control our own behavior for more appropriate use of smartphones.
What can be done to control smartphone addiction if you or someone you know seems to fit this scenario? Turn off your notifications that alert you about every little thing. You can also set a limit to how much you check your phone, or do it only at specific times in the day.
Even if it's an addiction to social interaction as opposed to a smartphone, that doesn't mean the addiction is good when it affects others around us who we are supposed to be interacting with. We need to put down the phone, put away the social media, and interact with those who are there for us to interact with in "the real".
When steemit.com first introduced push notifications, I had them on. But after a while, I got annoyed of always having notifications because 1) they were annoying to always see, but also because 2) I was being constantly drawn to open the site and check out the activity that I was being notified about. I found this to be taking up a lot of my time, unnecessarily. So I eventually turned them off.
---
What do you think? Have your say.
Are you addicted to your smartphone because of the increased social interaction?
Are you addicted to social media, like Facebook or Steem?
Do you have notifications on and enjoy being notified about some activity?
Is your social media time interfering with 'real life' time with others?
---
Thank you for your time and attention. Peace.
---
References:
Samuel P. L. Veissière et al, Hypernatural Monitoring: A Social Rehearsal Account of Smartphone Addiction, Frontiers in Psychology (2018). DOI: 10.3389/fpsyg.2018.00141
---
If you appreciate and value the content, please consider: Upvoting, Sharing or Reblogging below.


me for more content to come!
---
My goal is to share knowledge, truth and moral understanding in order to help change the world for the better. If you appreciate and value what I do, please consider supporting me as a Steem Witness by voting for me at the bottom of the Witness page; or just click on the upvote button if I am in the top 50.