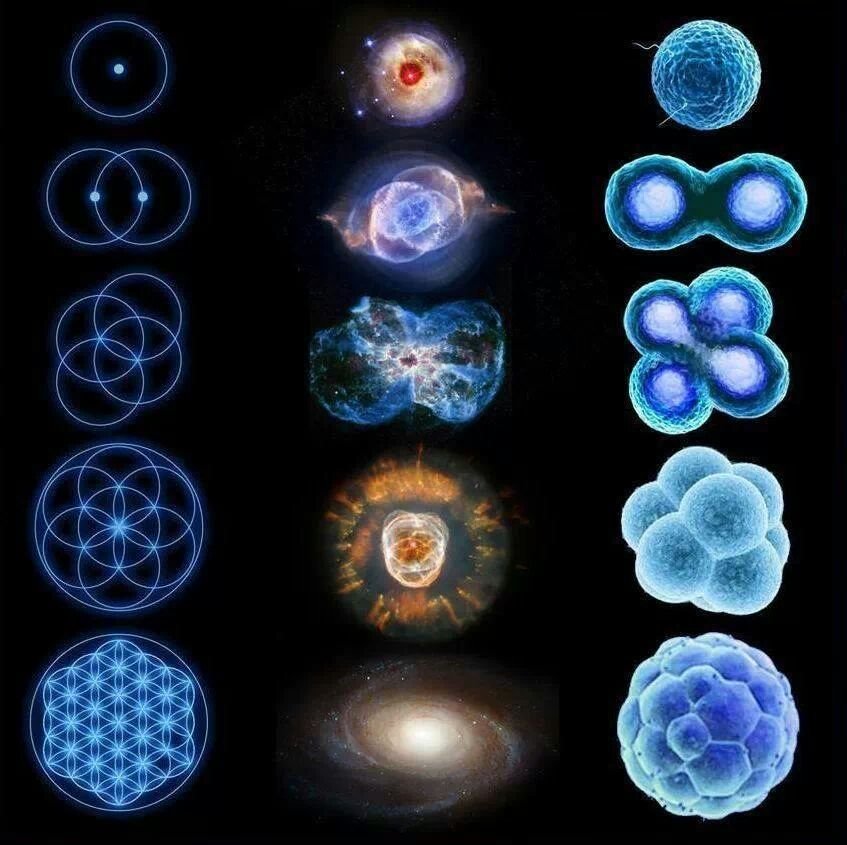 English Version Below – Roll Down to ENG
---
PT
Hoje vamos abordar um assunto intrigante: existe algum tipo de evolução coletiva? Estaria a humanidade percorrendo um caminho evolutivo em sua coletividade? Muitos pesquisadores dizem que sim, e a chave para começar a se compreender isto, pode estar na teoria fractal. Fractal, para quem não conhece, é um objeto geométrico que pode ser dividido em partes, onde cada uma delas é semelhante ao objeto original. Semelhante também ao processo de produção de um holograma, onde a lente especial usada para produzir uma imagem em 3D real, quanto recortada ou partida, esta pequena parte tem dentro de si o objeto inteiro. Algo como o todo está nas partes e as partes estão no todo. Mais filosoficamente, e adentrando também nas grandes tradições místicas e esotéricas, encontramos o dizer famoso e notório da tradição hermética na Tábua de Esmeralda, onde é dito: "Assim como é em cima, também é em baixo". Muitas são as confirmações tanto em literatura, quanto no senso comum, e até na vivência, de que todo o Universo está conectado e inter-relacionado de alguma forma.
Neste sentido, como seria esta conexão na humanidade, nas sociedades e nas civilizações? Bem, seria possível a humanidade ser um organismo maior, formado por indivíduos humanos fazendo o papel análogo ao que as células fazem no corpo humano? Segundo o biólogo celular Bruce Lipton a resposta é sim. E muitas outras teorias e ideias parecem apontar para esta direção: como o cérebro global de Peter Russell, a teoria de Gaia de John E. Lovelock e até mesmo os Campos Mórficos.
No seguinte vídeo, Bruce Lipton explica mais detalhadamente como a humanidade pode ser um corpo maior no nível seguinte ao humano numa estrutura fractal. Segundo ele, a própria evolução dos organismos unicelulares para os pluricelulares, também ocorreu de forma similar: as células obtiveram vantagens evolutivas muito superiores ao se unirem e se integrarem em organismos maiores e coerentes. E a própria humanidade estaria bem no meio desse processo trilhando um caminho muito similar só que ainda não chegamos no próximo nível do fractal(ativem as legendas):

Conclusão e Implicações:
Ao considerar estas ideias e noções, chegamos a conclusão que apesar de usarmos o termo humanidade e humano, talvez ainda não tenhamos chegado até as verdadeiras potencialidades e propriedades de um organismo coerente e integrado que possa realmente ser chamado humano e de humanidade. Ao analisarmos os nossos comportamentos e formas de viver em sociedade, vemos ainda que há muita desconexão e isolamento, e quase nada de verdadeira colaboração e integração. Ao se estimular, por exemplo, a livre competição, sabotamos a verdadeira integração entre as nossas diversas "células". Aliás, se fizermos o exercício inverso, e perguntarmos se pode haver uma livre competição entre as diversas células do nosso corpo, e aplicarmos os preceitos econômicos atuais vigentes de acumulação de capital e de prioridade de crescimento econômico, chegaremos a conclusão que este modus operandi se equivale perfeitamente ao câncer, que cresce de forma independente e insensível ao meio a sua volta. Imaginem se apenas 5% das células de nosso corpo tivessem mais de 50% dos recursos de todo o nosso corpo, que é muito parecido com o que ocorre com a nossa distribuição de riqueza mundial, como o nosso corpo poderia funcionar desta forma?
Boas reflexões!
---
ENG
Today we are going to address an intriguing subject: is there any kind of collective evolution? Was humanity traveling an evolutionary path in its collectivity? Many researchers say yes, and the key to beginning to understand this may lie in fractal theory. Fractal, for those who do not know, is a geometric object that can be divided into parts, where each one is similar to the original object. Similar to the process of producing a hologram, where the special lens used to produce a real 3D image, how much cut out or starting, this small part has inside of itself the whole object. Something like the whole is in the parts and the parts are in the whole. More philosophically, and also entering the great mystical and esoteric traditions, we find the famous and notorious saying of the hermetic tradition in the Emerald Tablet, where it is said: **"As it is above, so it is also below." ** There are many confirmations in literature, in common sense, and even in life, that the whole Universe is connected and interrelated in some way.
In this sense, what would this connection be like in humanity, in societies and civilizations? Well, would it be possible for humankind to be a larger organism composed of human individuals playing the role analogous to what cells do in the human body? According to cell biologist Bruce Lipton the answer is yes. And many other theories and ideas seem to point in this direction: like Russell's Global Brain, Gaia theory by John E. Lovelock and even the Morphic Fields Theory.
In the following video, Bruce Lipton explains in more detail how mankind can be a larger body at the next level to the human in a fractal structure. According to him, the evolution of unicellular organisms into multicellular organisms has also occurred in a similar way: the cells obtained much greater evolutionary advantages when they joined and integrated into larger and coherent organisms. And humanity itself would be right in the middle of this process walking a very similar path but we have not yet reached the next level of the fractal:

Conclusion and Implications:
In considering these ideas and notions, we come to the conclusion that although we use the term humanity and human, we may not yet have reached the true potentialities and properties of a coherent and integrated organism that can truly be called human and humanity. When we analyze our behaviors and ways of living in society, we also see that there is a lot of disconnection and isolation, and almost nothing of true collaboration and integration. By stimulating, for example, free competition, we sabotage the true integration between our various "cells." In fact, if we do the opposite exercise, and ask whether there can be free competition between the various cells of our body, and apply the current economic precepts of capital accumulation and economic growth priority, we will conclude that this modus operandi is equates perfectly with cancer, which grows independently and insensible to the environment around it. Imagine if only 5% of the cells in our body had more than 50% of the resources of our whole body, which is very similar to what happens with our distribution of world wealth, how could our body work in this way?
Good reflections!