This will be the last installment of "What's so funny?" for a while. The goal of this project was to try and bring some much needed humor to the Steem blockchain (A.K.A. The Social Network for the Anti-Social). More importantly, it was an attempt to encourage people to create the kind of content that would draw in an outside audience. Oddly enough, people don't seem to have time to read long posts pontificating on the importance of
Sorry I put myself to sleep there.
Kind of like this platform in general, this project was successful and a lot of fun when steem price was high. The combination of the low price, my inability to attract whales to the project, the loss of the cheap delegation, and the fact that the holidays are coming up, I will be taking a break. I hope all of you who have stuck around continue to have fun an engage with one another.
During the 14 moons that this project has existed, I have voted by hand 5329 times on 129 unique punchliners. I can only recall being too drunk to vote on two occasions (or perhaps it was not drunk enough).
During that same time, 16 of you posted and earned rewards on at least 100 jokes. It has been so much fun to read all of your jokes every day. All of the members of the punchline community are incredibly talented.
Some people think it is so easy to look at a gif, meme or blank screen and to create something that will make others laugh. They think it takes no talent, creativity, effort, or humor to do it. Then they try it, get frustrated, say "This is just stupid anyway" and throw their computers at their mom who only came downstairs to give them some delicious Hot Pockets.
All of you are incredibly talented. If a content site is going to take off, a big part of it will be because of the type of high quality humor you guys pumped out every day. You make this platform better and my pants slightly tighter.
Thank you all for making me laugh so hard that I needed to cover my office chair with plastic in order to avoid it becoming comprised of 92% urine.
A special thanks to the people who supported this project including @donkeypong, @trafalgar, @sweetsssj, @steemwizards, @lordvader, @demotruk, @robert-call, and many others who I will remember the second I hit "post".
The biggest thank you needs to go to @surfyogi who is the only reason the project ever existed. He allowed me to get this project off the ground. When it was able to stand on its own, he moved on to helping other projects. This platform owes him a lot.
It has been a tremendous amount of fun finding the answer to "What's so funny?" every night for almost a year.
The ultimate answer to the question, "What's so funny?"
Is all of you!
Damn it!
My Hot Pockets are done.
Got to go.

Giphy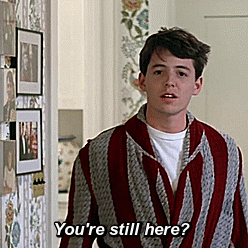 Giphy


Oh yeah. I forgot. While I yell at my mom for burning my Hot Pockets, why don't you check out these funny posts?
https://steemit.com/funny/@traf/turn-around
https://steemit.com/punchline/@steemmatt/daily-joke-i-d-love-a-helping-hand
https://steemit.com/punchline/@thejokester/thanks-a-lot-amazon
https://steemit.com/punchline/@theabsolute/recovery
https://steemit.com/funny/@b00m/not-in-my-back-yard
https://steemit.com/punchline/@acolucky/this-is-unnerving
https://steemit.com/art/@nonameslefttouse/i-don-t-know-what-this-is-but-it-is-what-it-is-and-that-s-why-it-s-there