Ratatouille with Pan Fried Seabass.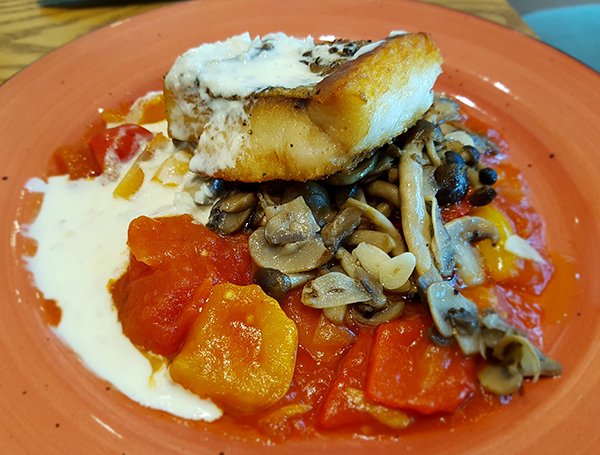 I've always curious how Ratatouille taste like even since I watch that special rat, Remy who dreamed to become the French chef in that animated movie that can cook the best Ratatouille in town.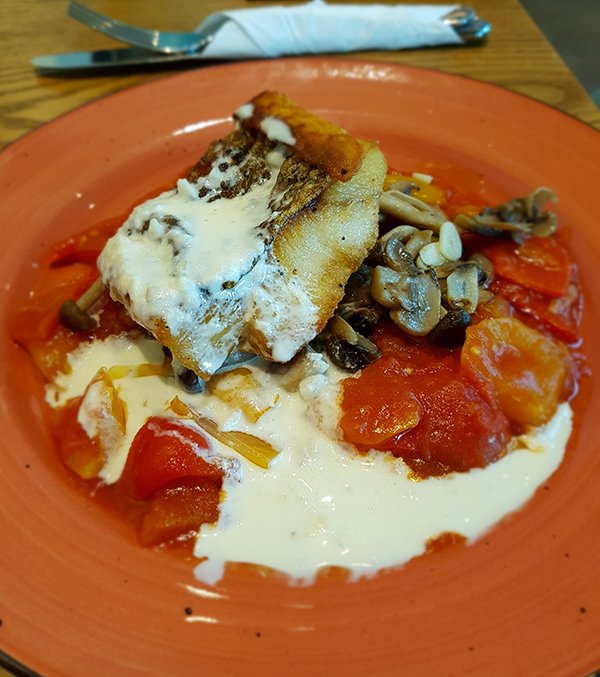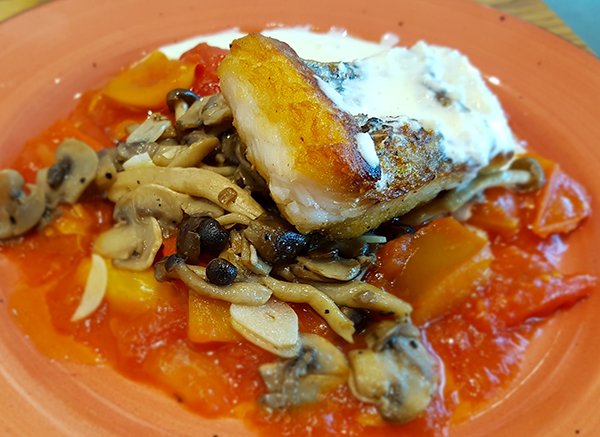 When I saw the menu with this word Ratatouille, it immediately attracted my attention, since the menu doesn't have a photo of the dish, I have no idea how it's going to look like when they serve it. Well, I just tell myself, wait for a surprise then!
Well, the first surprised was the plate they serve the dish, I wish they use another colour for this dish. It looks, well... weird...
Secondly, the portion and the vegetables they used, there's only tomatoes, mushrooms and yellow bell pepper. Let's just say I expected more...
Lastly, the fish. Thank goodness the seabass was nicely fried, with the sauce on top of it, it tasted really nice, mixed it together with ratatouille, it's actually not bad.
All in all, I enjoy my first ratatouille with seabass, not sure if there is any other way to eat ratatouille, if there is, do share it with me in the comment, thank you in advance!
I hope you like the food photo presented. See you all in my next post!

This is my entry for @qurator's Tasty Tuesday #104. Check out the details here for more of this amazing contest.

All photos were taken with my Samsung Galaxy S7 Edge.

Thank you for stopping by, this is a place where I can share the things I enjoy in life, art, gardening, nature, foods. This is why my divider above are filled with all the different kind of icons that I love doing. I hope you enjoy my post so far, leave me a comment if you like.
谢谢您的到访,这里是个我可以分享关于我所喜爱的生活,包括艺术,园艺,大自然,食物等等的地方。 这就是为什么我上面的页脚全都是我喜欢做的不同类型的图标。 我希望您喜欢我的帖子,如果您喜欢,不妨留下您的评语。
Proud Member of:

Proud Member of @qurator.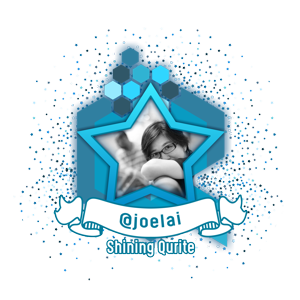 Proud curator and editor of @cn-malaysia