In 1969 Daniel Moynihan then a President Nixon advisor proposed a policy to deal with African American who they said, benefited from a tramendous amount of progress as a result of the civil rights movement.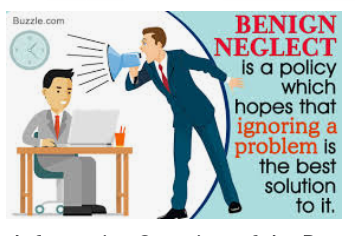 The policy stated that the government would make an effort not to talk about racism, downpay it, not talk about race related issues and divert the conversation to talk about puertoricans, latinos, and other disadvantaged groups to ease racial tension.
This is the exact policy we see reflected in government and in the media today. If a republican congressman, or senator is confronted about racial comments that they have made against black people, the response from that person would sound like this. "I am in no way a racist or antisemetic I totally respect Israel and what the people of Israel jave gone through historicaly. Politicians will divert their response to bring latinos, women, or Jewish people into the discussion to take the focus away from black people.
If your black you have been exposed to benign neglect going on your whole life. In schools in America benign neglect is present everyday by the school systems not teaching black or white student black history. Its the ultimate disrespect to black students.