Welcome to the 100th edition of CloudCoin Weekly Bulletin! Congratulations to Theresa Sharp , Ron Bissett , Ace Fogerson and everyone who has contributed to the bulletin during 100 uninterrupted weeks of providing a digest of news and information of interest to CloudCoin stakeholders.
CloudCoin Weekly Bulletin has greatly expanded since it debuted on October 31, 2017. The first issue contained just four snippets with one or two sentences about each news item.
The CloudCoin Weekly Bulletin looks forward to continuing to provide subscribers with timely and informative updates about CloudCoin for another 100 editions! Let friends know they can subscribe using the form at the bottom of the cloudcoin.global home page.
CloudCoin Weekly Bulletin Issue #1
from October 2017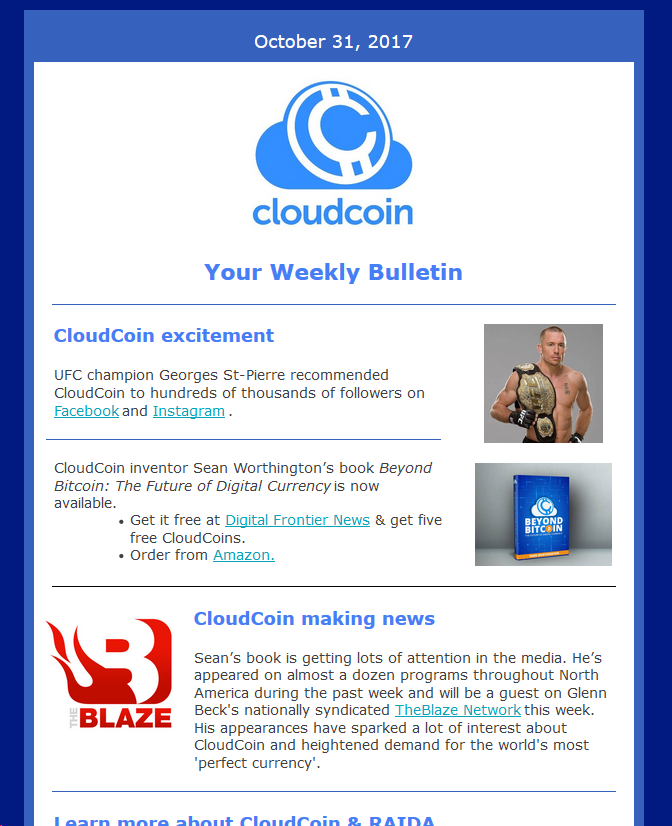 CloudCoin powning window increased to five years
The amount of time before a CloudCoin must be re-authenticated (to not be considered lost) has been increased from two years to five years, which is great news for anyone planning to hold coins long-term.
CloudCoin has a fixed number of coins that never changes and an important feature is that CloudCoins, unlike most digital currencies, can never be permanently lost. No coins will need to be re-password owned ("powned") until March 2022.
The change was made because many CloudCoin holders wanted a longer window and because RAIDA has proven to be thousands of times more efficient than expected, reducing the need for administrators to recover lost coins to fund operations.
This change also extends the time until coins already considered "lost" can be recovered by their owners, but Consortium developers have been working on a protocol to instantly recover lost coins by mail and expect to implement that feature before the new deadline.
RAIDA Guardians proxy program launched
"RAIDA Guardians," a new program to make RAIDA more reliable and robust, was announced this week. Guardian hosts can receive 100,000 CloudCoins for participating.
Guardians will create more ways CloudCoin software can reach RAIDA servers by protecting RAIDA's backup Domain Name System (DNS) and Content Delivery Network (CDN). It will also make DNS/CDN services more resistant, following the recent blocking of cloudcoin.global by the communist Chinese government.
What are Guardians?
Each Guardian will operate a small, inexpensive server in their home or business. These servers will act as reverse-proxy servers and DNS servers that hold critical web pages that should not be taken down.
Why be a Guardian?
Guardians will be a vital part of CloudCoin's global effort to create a perfect monetary system that will increase the freedom and prosperity of everyone, while helping combat authoritarian governments who rely on currency manipulation for their existence.
Guardians will receive voting membership in the CloudCoin Consortium for as long as their server remains online and a one-time payment of 100,000 CloudCoins.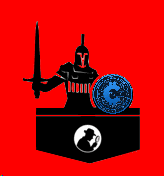 What are the requirements?
Guardians must:
love liberty and be willing to participate in a project that authoritarians will want to destroy
agree to the Guardian rules and pass a philosophical exam
have a reliable internet connection and electricity, the faster and more reliable the better
have basic technological knowledge and skills to be able to operate the server (be able to connect components, type and follow configuration instructions)
be willing to purchase a basic computing device (under $100) such as the one pictured below
purchase and maintain a domain name in your country, such as raidaguardian.jp in Japan or raidaguardian.ru in Russia
be willing to spend a few hours each month updating the server in the event of any problems (the servers will, however, most likely be able to update themselves)
If you are interested in becoming a Guardian, please email here for more information and an invitation to a members-only Telegram group.
"Onion Pi" $74.95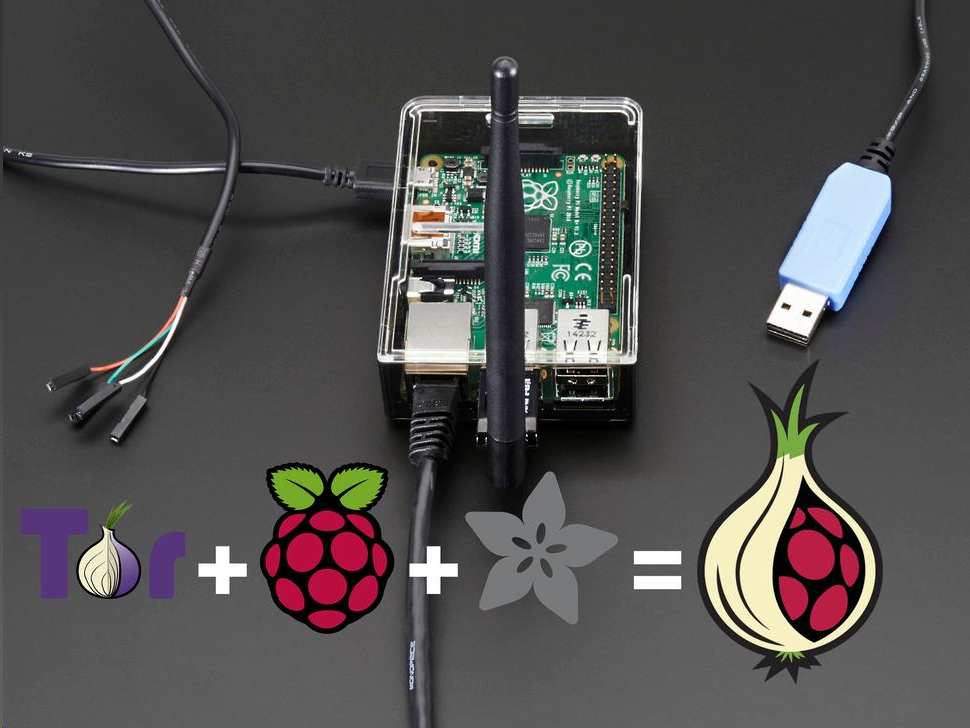 truCrowd asks RAIDAtech to extend funding round
The deadline to participate in the second funding round has been extended by 30 days for RAIDAtech , the private company that develops new applications for RAIDA technology.
truCrowd's Vincent Petrescu requested RAIDAtech CEO Sean Worthington extend the crowdfund just hours before the midnight Sept. 30 deadline because there had been a flurry of last minute investors who needed more time or more information. The new deadline is Oct. 31 and will not be extended again.
The crowdfund has $140,000 in commitments, nearly $40,000 of which came in during what would have been the final days. RAIDAtech has also received another $160,000 in pledged funding outside of the crowdfund.
The crowdfunding offering page has information about the company, applications and its potential, including the $1 trillion-plus market for RAIDAtech applications.
The offering page also features a video invitation from Shark Tank's Kevin Harrington extolling the value of investing in RAIDAtech.
RAIDAtech is now valued at $11 million and any investor anywhere can take part in this funding round with a minimum investment of $200. The earlier round was limited to only a small number of investors. This second funding round is managed by crowdfunding platform truCrowd.
RAIDAtech was founded last year by Sean Worthington and is a separate entity from the CloudCoin Consortium, although RAIDAtech's success will also benefit CloudCoin by expanding utility and value of the RAIDA network's native currency.


Updated, improved CloudCoin White Paper available
Sean Worthington's 2016 academic "White Paper Introducing Cloud Currencies and the Redundant Array of Independent Detection Agents" has been updated, re-formatted and re-issued. You can review it here .
The abstract outlines "A novel electronic currency with superior characteristics to cryptocurrencies" that we now know as CloudCoin.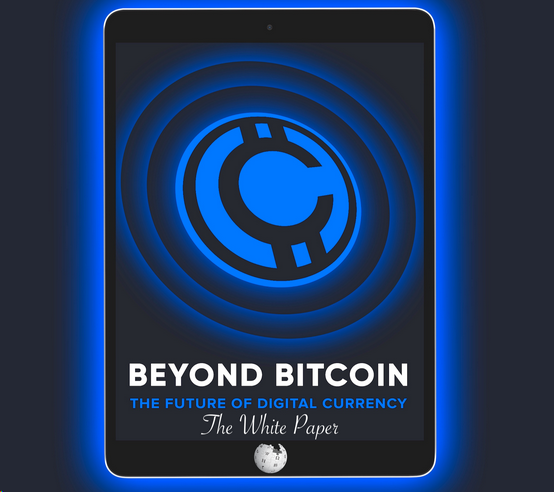 New instructional video available for Wallet software
CloudCoin support guru Lorne Green (Happy Birthday, by the way, to Lorne and to CloudCoin's Serbian rep, Radovan Bajic ) and his team have produced a new video about installing and using CloudCoin Wallet software and its SkyWallet transfer protocol. Watch the video here .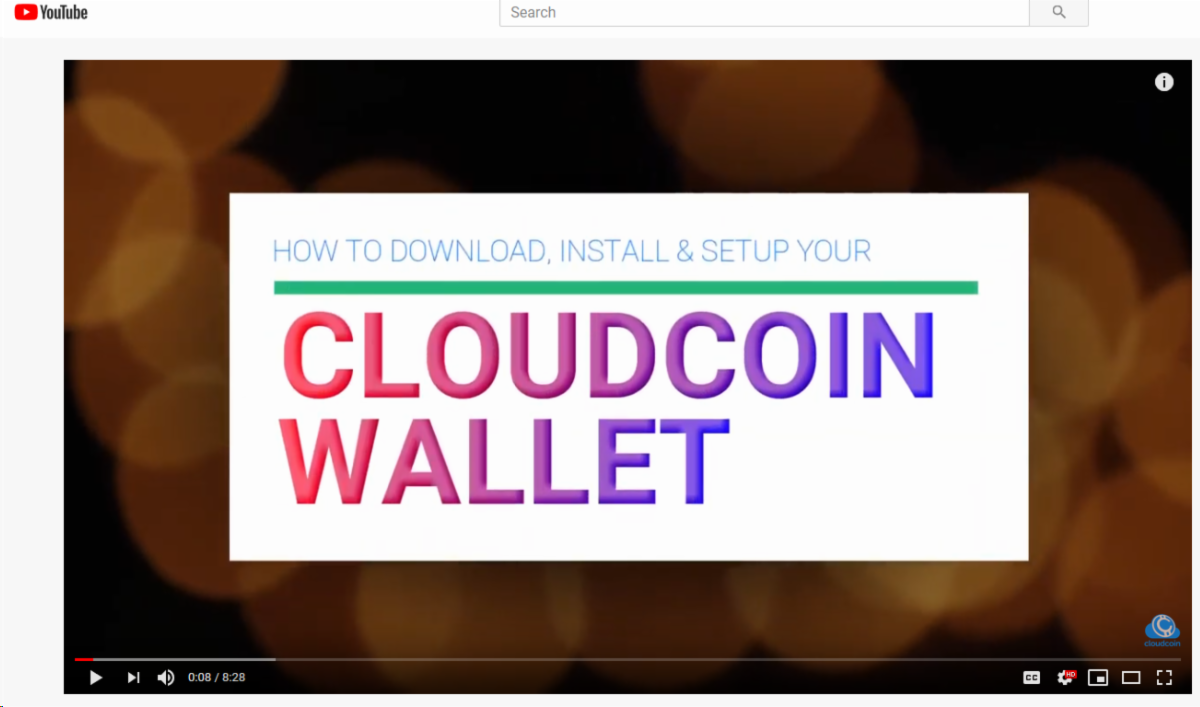 Earn CloudCoins & $$$ as a RAIDA Detection Agent
There are still slots remaining for people interested in becoming founding RAIDA Detection Agents.
Operators of these units help make the RAIDA network stronger, faster, and more secure. Operators earn a portion of network traffic revenues, as well as
a bonus paid in Cloudcoins. Be advised, however, there are a limited number of special "Founders" opportunities available.
There is also a referral program where you can become a Detection Agent, with zero licensing fees, simply by referring potential operators.
Email solutions@raidatech.com for more information about becoming a Detection Agent operator or joining the referral program.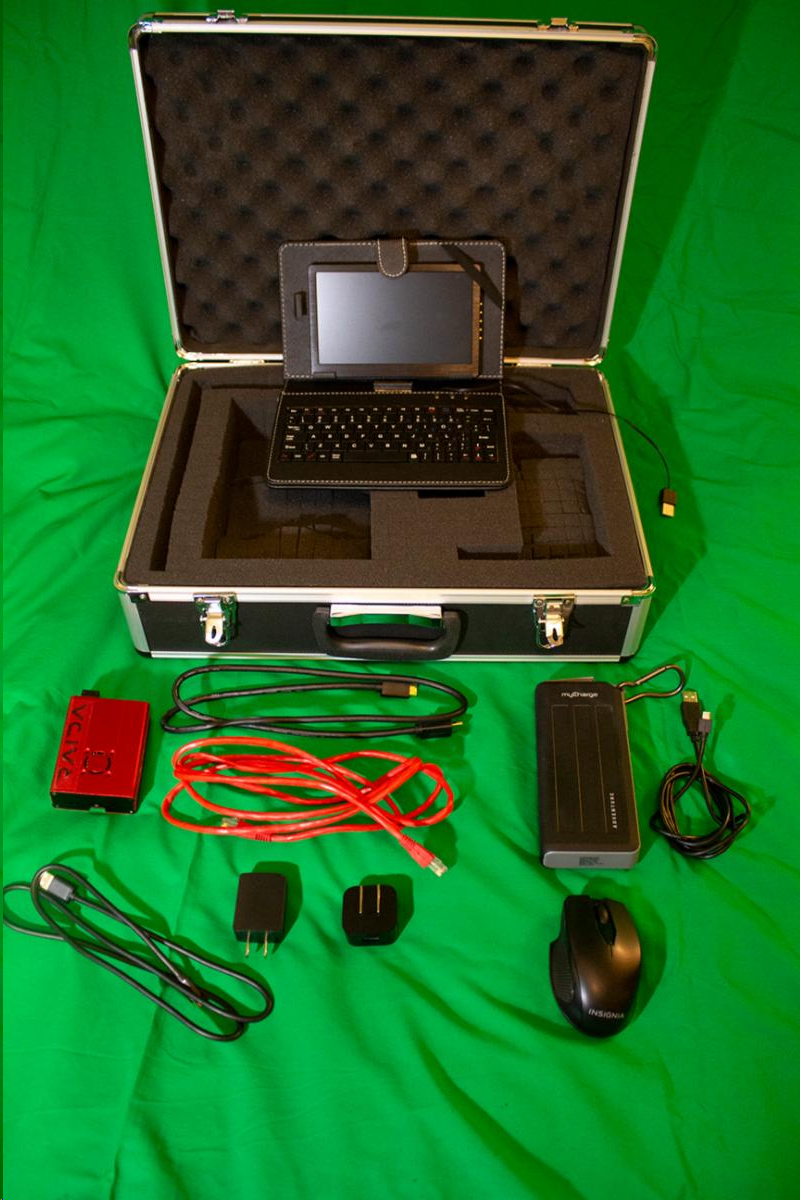 Can customers 'Pay with CloudCoin' at your business?
Does your retail business, website or other merchant service wish to accept CloudCoin in exchange for services or products?
If you are interested, email here for North America or here for other places in the world.
One of the first retailers to accept CloudCoin is Avalon Bay Clothing Store at the Fantasy Springs Casino Resort in Indio, California.
"I'm looking forward to accepting the payment system of the future," Vincent Puccio , the store's owner said, "and excited to introduce CloudCoin to my customers."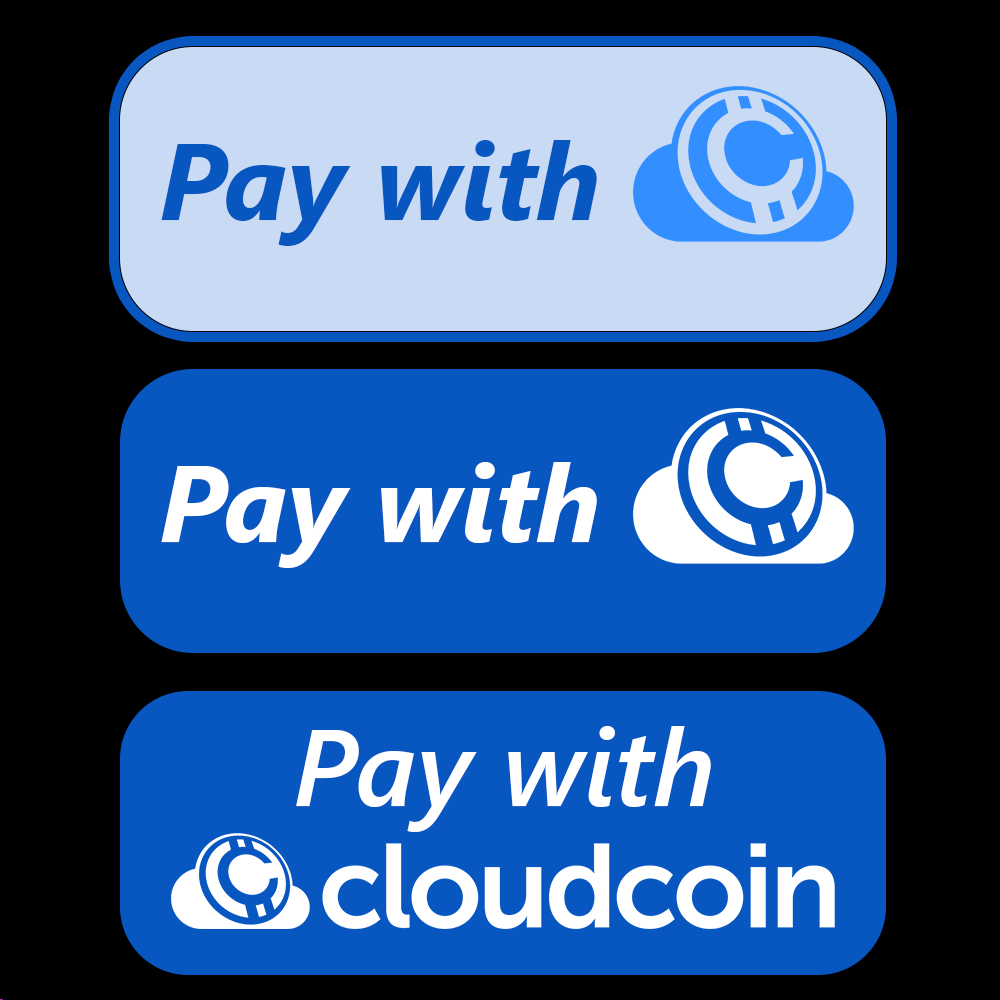 Fast Facts
ATM fees hit record high levels in the US according to reports this week , averaging $4.72 per withdrawal, an increase of 30% over the past decade.
Banks and other financial institutions have faced decreasing profits due to low interest rates, forcing them to fleece their customers for other services. The same studies found that overdraft fees have increased 13% in the past year.
CloudCoin has no fees and never charges people for the right to freely use their own assets!
CloudCoin Telegram is the place to be
Telegram continues to be the largest and fastest growing social media, communications and networking platform of choice for CloudCoin users, with total users surpassing 18,000 across several groups.
If you aren't following CloudCoin on Telegram, you're missing out on hundreds of posts, messages and images every day.
CloudCoin related Telegram groups include:
CloudCoin Global
CloudCoin Global Community
CloudCoin News
CloudCoin Vietnam
CloudCoin Suggestion Box
RAIDA News
RAIDA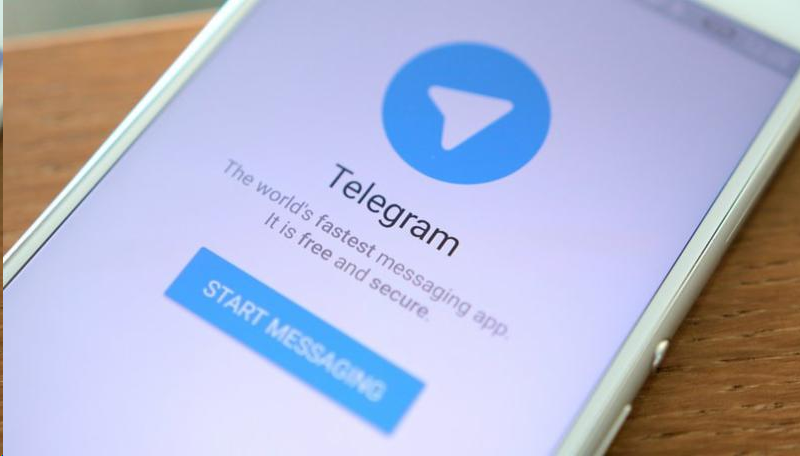 Interested in using your talents to make a difference?
Are you interested in using your talents and experience to make a difference? Do you have a passion for learning about the revolutionary new world of digital currency? Would you like to connect with like-minded, liberty-loving people from around the globe?
Consider joining the CloudCoin Consortium. There are opportunities available in numerous capacities. Whether you can spare a few hours a week or devote several hours a day working from the privacy and comfort of your own home, or are available to join us in our California HQ, we encourage you to apply. If you have experience in any of the following fields, visit our Opportunities page with a resume or CV.
Social Media pros and community managers
Marketers and PR experts
Content creators
Web developers
Filmmakers and video specialists
Graphic designers
Writers and bloggers
Attorneys/Paralegals
Grant Writers
Software developers/programmers
Software testers for all operating systems
Software solutions salespeople
Minecraft developers/modders
Electron programmers
HR/personnel professionals
Accounting/bookkeeping professionals