Software complete for peer-to-peer exchange
The client and server software for a new peer-to-peer (P2P) exchange was completed Sept 17 and a graphical user interface (GUI) added the following day, which will now enter a testing phase before payment systems are connected.
"One of the exciting features of the exchange is the addition of a user profile," CloudCoin Lead Scientist Sean Worthington said, "This profile is kept on the user's computer and is completely controlled by the user. It will allow any number of exchanges to exist to which the user can connect with the same ID, profile and address."
Worthington said the exchange apps will be decentralized so that hackers cannot stop transactions by bringing down exchange servers.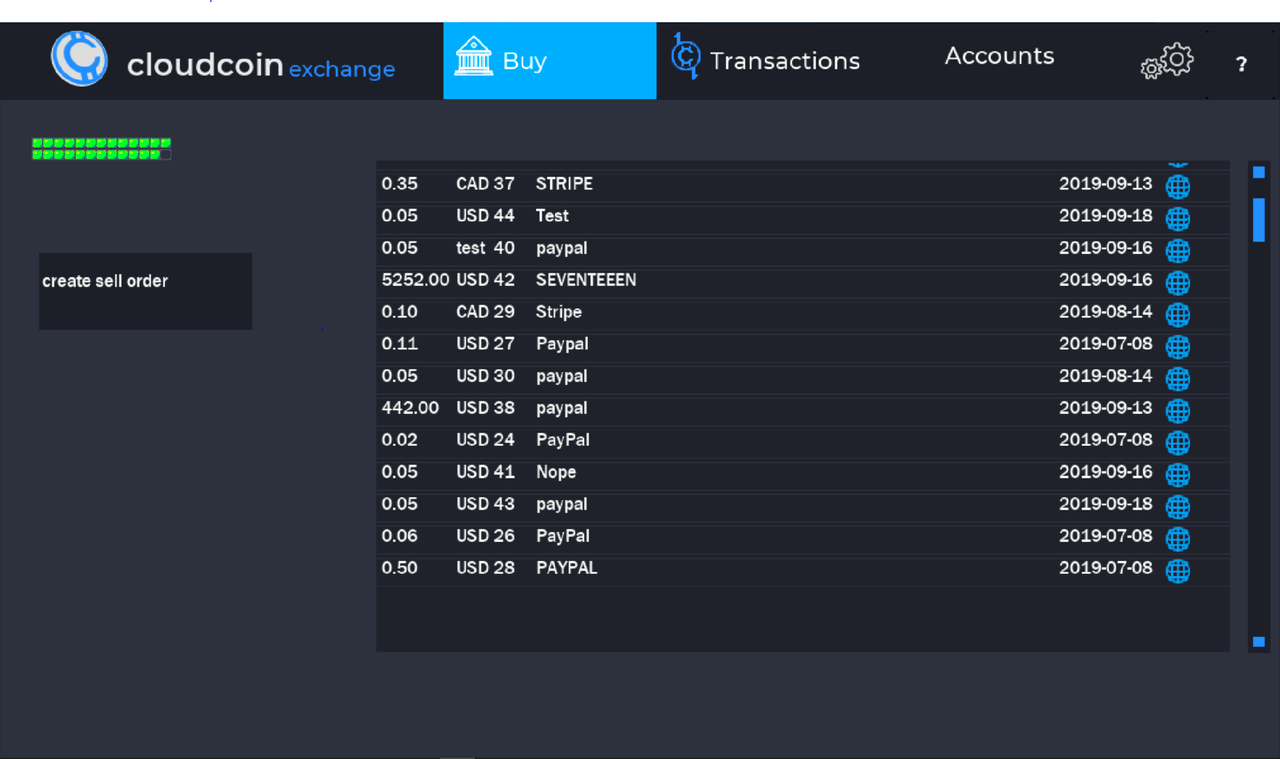 Prototype P2P GUI
Historic CloudCoin change system deployed
In a historic first, CloudCoin developers have successfully implemented a digital currency change system.
The change service is the first to allow a discrete digital currency that uses different denominations efficiently. Most digital currencies rely on single units ('coins' or 'tokens') for all transactions. CloudCoin can be faster and more efficient because, like fiat currencies, it uses denominations. A transfer of 1 million CloudCoins can be done as 4,000 units (250-CloudCoin notes), while for any other digital currency, that transfer must be 1 million units.
Being able to make change correctly is a vitally important element to using a denominated currency. Suppose a seller is charging 245 CloudCoins for a purchase, but the buyer only has a 250 CloudCoin note (not exact change). The buyer can tell their CloudCoin Wallet software to send the seller 245 CloudCoins, and the wallet will automatically go to a public change service (of the users choice) and have the 250 note broken down into smaller denominations, in this case: two 100's, one 25 and five 5's. Then the wallet will keep the 5-CloudCoin note and send the rest (245) to the seller.
"The whole process will take less than four seconds, CloudCoin Lead Scientist Sean Worthington said, "No logins or accounts are required. I love it when the theoretical becomes real!"
Android, iPhone apps under development
CloudCoin Consortium programmers are working to convert new CloudCoin Wallet software to Android and iPhone apps. The apps will allows users to get a free CloudCoin to use as a CloudBank address or Skywallet.cc address, which will then enable them easily send or receive other CloudCoins very easily.
It will also allow CloudCoins to be embedded in QR codes, which will have commercial applications in packaging, rewards programs and customer engagement. Users will simply scan the code and CloudCoins will be banked on their phones.
Prototype CloudCoin QR code
10 days left for RAIDAtech funding round
There are only 10 days remaining to participate in the second funding round for RAIDAtech , the private company that develops new applications for RAIDA technology.
The crowdfunding offering page has information about the company, applications and its potential, including the $1 trillion-plus market for RAIDAtech applications.
The offering page also features a video invitation from Shark Tank's Kevin Harrington extolling the value of investing in RAIDAtech.
RAIDAtech is now valued at $11 million and any investor anywhere can take part in this funding round with a minimum investment of $200. The earlier round was limited to only a small number of investors. This second funding round is managed by crowdfunding platform truCrowd.
RAIDAtech was founded last year by Sean Worthington and is a separate entity from the CloudCoin Consortium, although RAIDAtech's success will also benefit CloudCoin by expanding utility and value of the RAIDA network's native currency.
Big week of news for quantum computing
Quantum computing technology continues to advance at a rapid pace, and RAIDA is the only quantum-safe technology for digital assets. Bitcoin and every other blockchain-based asset will be obsolete with the coming advent of quantum computers.
Quantum computers rely on quantum mechanical phenomena like superposition and quantum entanglement to boost computational power millions of times versus conventional computers.
Phys.org: One step closer future to quantum computers
Tech Crunch: IBM will soon launch a 53-qubit quantum computer
Sci Tech Daily: New Advance in Noise Canceling for Quantum Computers
Phys.org: Team closes in on 'holy grail' of room temperature chips
Earn CloudCoins & $$$ as a RAIDA Detection Agent
There are still slots remaining for people interested in becoming founding RAIDA Detection Agents.
Operators of these units help make the RAIDA network stronger, faster, and more secure. Operators earn a portion of network traffic revenues, as well as
a bonus paid in Cloudcoins. Be advised, however, there are a limited number of special "Founders" opportunities available.
There is also a referral program where you can become a Detection Agent, with zero licensing fees, simply by referring potential operators.
Email solutions@raidatech.com for more information about becoming a Detection Agent operator or joining the referral program.
Happy Birthday to Sean Worthington!
Last week was the birthday of CloudCoin founder Sean Worthington . Sean's vision, determination and tireless efforts have made CloudCoin the world's top post-blockchain digital currency. Cheers and hopes for many more!
Fast Facts
Every CloudCoin must be powned (password-owned) at least once every 24 months to ensure that coins are never permanently lost.
New owners should pown when they acquire coins in order to take ownership, the re-pown existing coins every two years if they have not been used, transferred or spent.
A large number of CloudCoins were exchanged in the final months of 2017, when many people learned about CloudCoin for the first time. Holders of those coins are reminded to re-pown their coins before two years have passed.
Powning can be done using any of the CloudCoin app s by exporting and re-importing the coins or can be done online here .
Interested in using your talents to make a difference?
Are you interested in using your talents and experience to make a difference? Do you have a passion for learning about the revolutionary new world of digital currency? Would you like to connect with like-minded, liberty-loving people from around the globe?
Consider joining the CloudCoin Consortium. There are opportunities available in numerous capacities. Whether you can spare a few hours a week or devote several hours a day working from the privacy and comfort of your own home, or are available to join us in our California HQ, we encourage you to apply. If you have experience in any of the following fields, visit our Opportunities page with a resume or CV.
Social Media pros and community managers
Marketers and PR experts
Content creators
Web developers
Filmmakers and video specialists
Graphic designers
Writers and bloggers
Attorneys/Paralegals
Grant Writers
Software developers/programmers
Software testers for all operating systems
Software solutions salespeople
Minecraft developers/modders
Electron programmers
HR/personnel professionals
Accounting/bookkeeping professionals