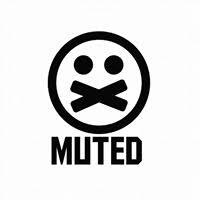 If someone in our middle misbehaves we put him into prison.
In some areas society even has the right to kill an individual.
I dont want to discuss the non sense or sense of this here I would rather discuss how this applies to steemit.
We have 2 weapons to fight spam and plagiarism
downvoting
muting
I am using both a bit to less but I started to utilize muting way more.
While a downvote is more a slap on the fingers as the person can come back and try another time, muting is like a personal death sentence.
It is a bit like putting someone in prison or throwing someone out of my house, unless he creates a new account I will not hear from that person again.
I dont see any posts or comments anymore. Out of my house, out of my life.
I want to focus on the positive things in life as well as on steemit and so I dont want to waste precious voting power on this spammers, I rather upvote a post which is worth upvoting.
As @theaustrianguy pointed out in a comment yesterday
"It may sound weird - but I think more "spammers" are a positive sign as well - This means the platform gets more and more attention and more users. Of course this also involves users from poorer countries.
And if those users now they can't produce anything at least a little bit meaningful, they just try spamming. And hey, it might even work for them. One 1% from a whale per day is easily more than the current averge monthly earnings in many, many countries around the world."
I see it similar spamming is a annoying but positive sign as it shows there is interest and something valuable enough to try to get through spamming.
Andreas Antonopoulos said in one of his speeches to have scaling issues we first need enough interest that there is something to scale.
But what if we ignore the spammers will they just spam each other and upvote each other and rape the reward pool like this?
Imagine yourself as a circle on steemit and the more relationships you build here the more you overlap with other circles (steemians). You grow your network. You meet friends of friends and grow, maybe slowly but surely and this will also show on the engagement of your posts.
The usual spammer doesnt have this effect. When I am taking a look into their account they usually pretty lonely in the steemitworld.
I am very interested in your 2 cents about this topic.