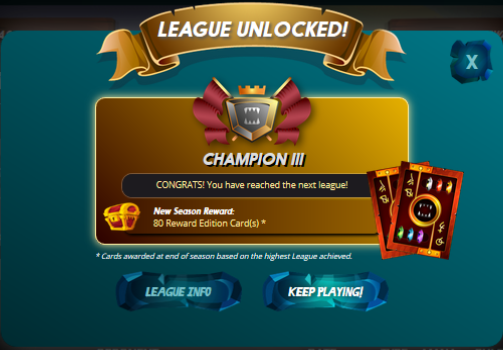 I have played more games in the first days of the season then the whole season before and I never achieved Champion III this early in the season.
My DEC capture rate is low as never before and I hope the extra daily reward cards will make up for it a bit.
My winrate is terrible and I am just clicking buttons most of the time and hope to get lucky and I hope I can get lucky enough this season to reach Champion I for the first time.
---
I was thinking why I am doing all this as most of the time I am cursing about another dodged attack and the game does not feel like I am actually having fun but somehow I always come back to click my buttons.
Even if anyone who is willing to throw enough money at the game could have the same or even a better collection of cards there is some pride in owning those digital cards and knowing they have value.
Even after a loosing streak, which usually includes a lot of cursing, there is some fun to see your DEC pilling up and buy the one card you need or another pack.
---
The value of the cards and wins is what makes the game fun for me and it reminds me a lot of poker where you can have some tough times in which you would never think that poker is any fun.
I think for now that is one of the strongest selling points. Get paid to play. Even when it can be just a couple of cents but also you enter a free lottery at the end of every season and with a bit of luck you can pull one of those gold foil legendaries.
Even if the liquidity for those is low you can still burn it and work with the DEC.
---
As there is some pretty impressive promotion in the pipelinie I only see the game getting bigger and with that the cards getting more valuable and I am curious to see when we see the first professional Splinterland players within our middle if they not already exist with the possibilty of renting cards and even full decks.
For now it is a sometimes fun way to make Beermoney!