I have realized that from the time I joined the cryptocurrency space in mid 2017,the most talked about topic is adoption.
We all in the cryptocurrency space would love to increase adoption because the more it is the better for the space.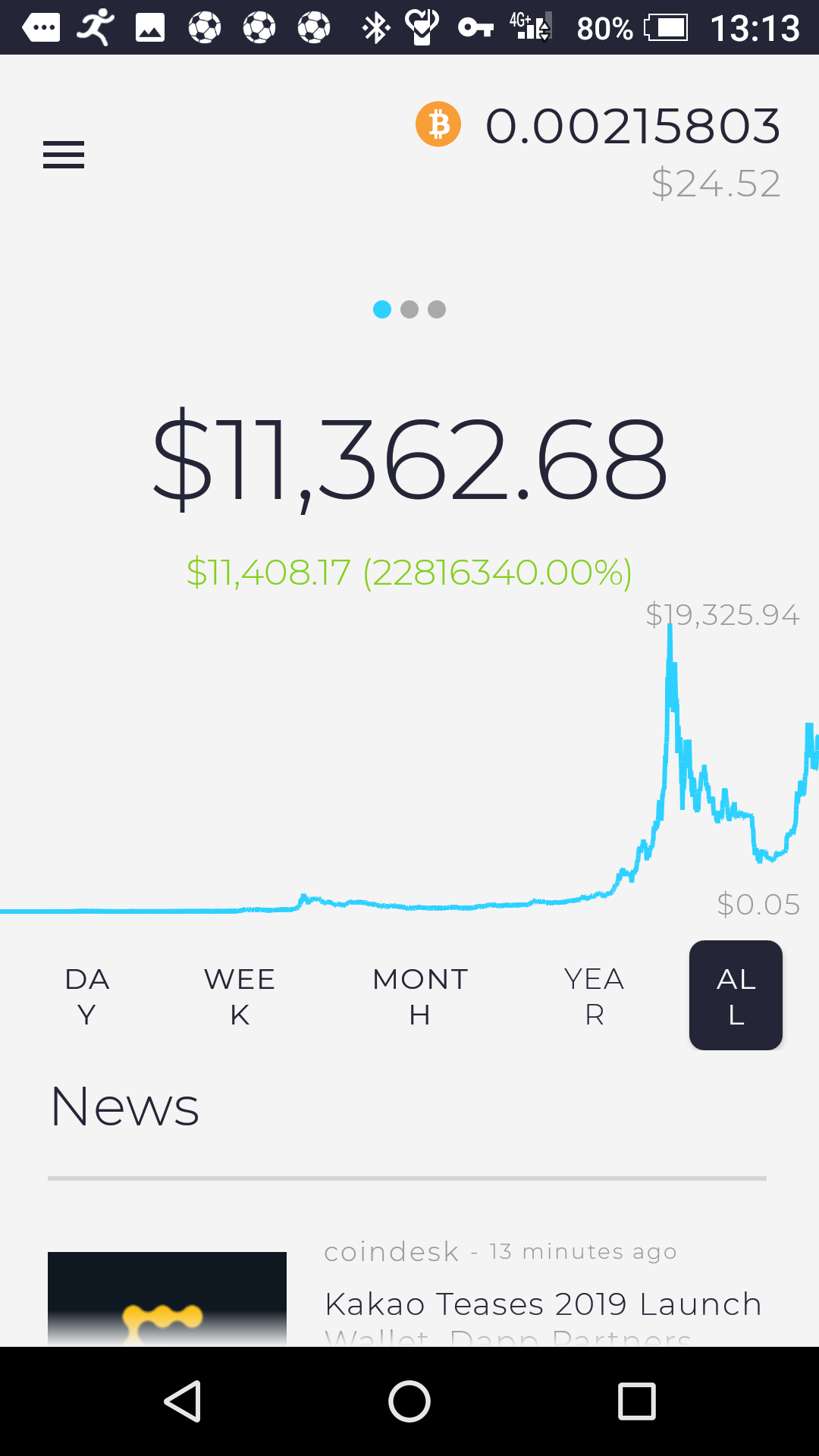 In today's post I will talk about an App that is easing the transfer and receiving of Bitcoin.
I have used this App for close to 2-3 months now and it's awesome.
What is DropBit ???
I have already hinted on what it is, but will quote from the website below.
DropBit is a mobile Bitcoin wallet and is the simplest way to send Bitcoin. You can download the wallet in the iOS and Google Play stores, or by clicking here https://DropBit.app/download
It just basically helps us to send Bitcoin to nocoiners easily either to their contact phone number or Twitter username.
We all know how hectic it is to send Bitcoin to a new person who has never heard of Bitcoin before.
The truth is there are many Bitcoin wallets out there, to send Bitcoin to a new user, you have to tell them to download a wallet and also teach them how to copy the receive address!!
This procedure of copying and pasting a new addresses ( which keep changing) is really annoying and tiresome!!
So with DropBit you just send the Bitcoin to either his Twitter account (username) or phone contact, how simple!!!!
So How Does DropBit Work
Let us assume I want to send Bitcoin to maybe Timo.
Let us take Timo as someone who doesn't know anything about Bitcoin but knows how to download Apps hahaha.
Let us also assume that Timo is my brother or friend, so I have his contact saved on my phone and I also have his Twitter account.
I will go to my DropBit App which I already loaded some small amount of Bitcoin since I know how!!
As you can see from the screenshot above, I currently have only 0.002 Bitcoin.
I go to the App and press send where I have 3 options to choose from ie Contact, Twitter or pasting address.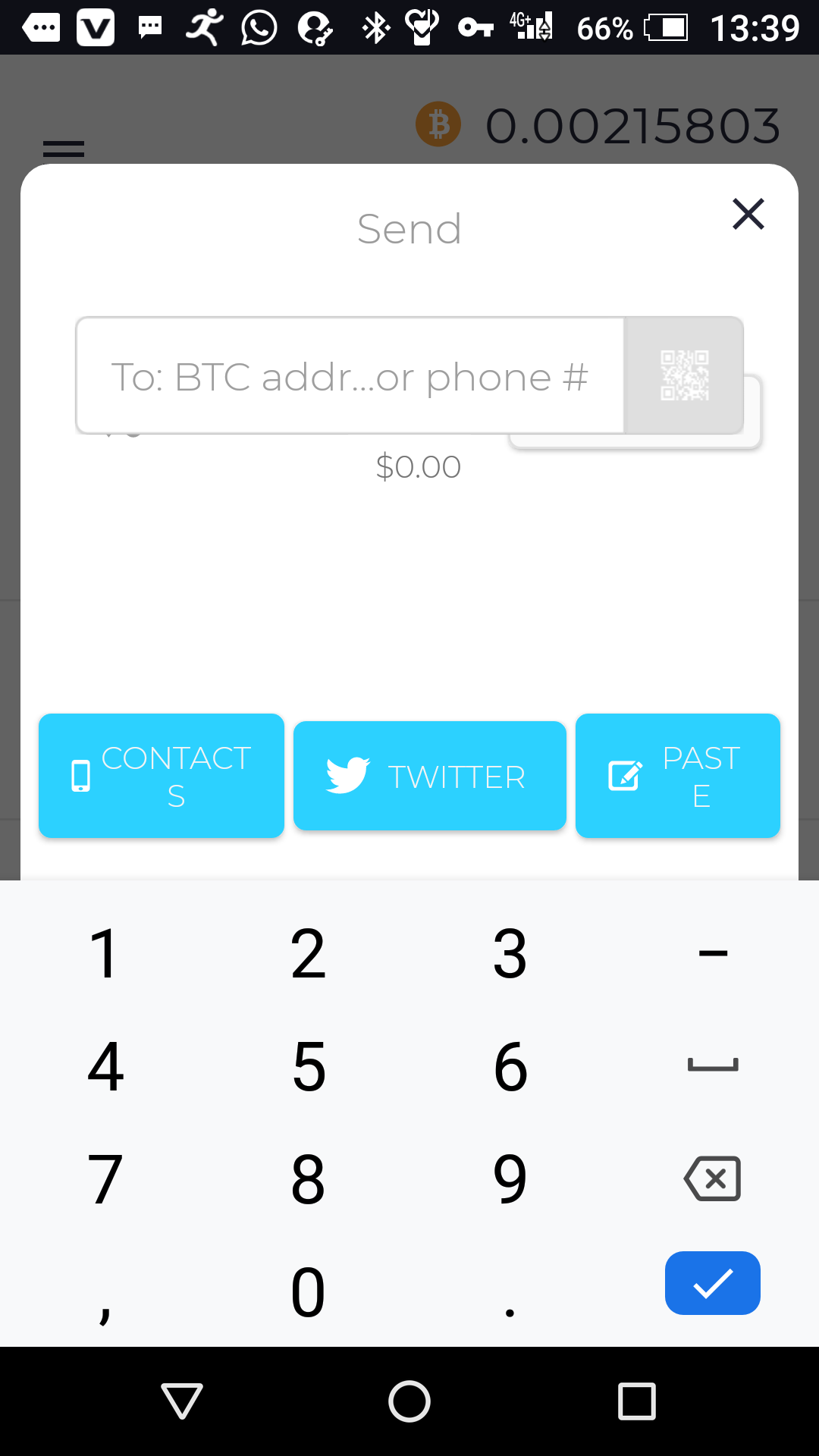 You then choose the amount to send and boom you have increased adoption.
The recipient (Timo) will receive a text message, if I sent the Bitcoin to his contact or a notification if I sent to his Twitter to download the DropBit App.
He will be redirected to playstore where he will be able to download the App and save the 12 recover phrase.
So Timo now has a small amount of Bitcoin!!
I know I shouldn't have explained this whole process, but I was tempted to.
In case anyone is testing out the App, you can send some Bitcoin to my Twitter account JarauMoses
I will be expecting some Bitcoin from you guys hehehe.
My Personal Experience
I have used this App for 2-3 months and it is really nice, I have received some Bitcoin from the Twitter cryptocurrency community.
I have also sent some Bitcoin to a few friends to test out the App.
This App is extensively used on Twitter on Bitcoin giveaway competitions.
It has to be noted that to be able to use the Twitter send and Receive feature, you must first bind and verify your account!!
As you can see below, I verified both my Twitter and phone number.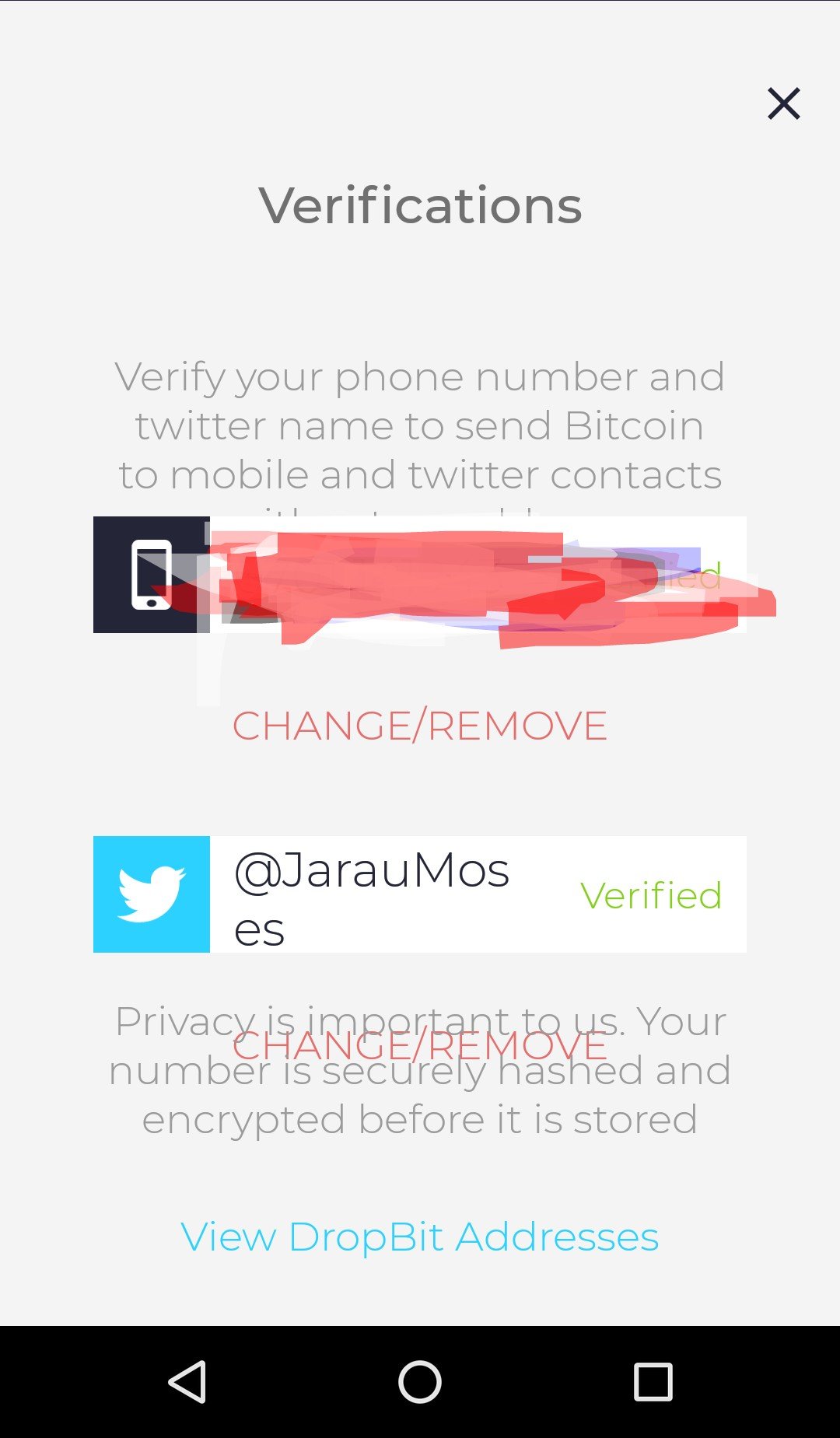 As I conclude I rate this App 10/10, yes the App is so good.
Go send some Bitcoin to some of your friends today.
This is an App each Crypto enthusiast should have on their phone.
Imagine the joy both you and your friend would experience if you sent them just $2 worth of Bitcoin.
Your friend will be happy because he now owns Bitcoin and you will also be happy because you have proven how simple sending Bitcoin is !!
It is a win win situation for both parties.
So again go get the App and send 2$ of Bitcoin to that skeptical family member or friend hehehe.
If the recipient doesn't redeem the Bitcoin in 48 hours, it is returned to your wallet, this is another feature of the App I love.
You can download the App on your respective devices below.
Android and IPhone
I am also waiting for my Bitcoin on my Twitter account
https://mobile.twitter.com/jaraumoses or my address here 37qjarSqAYQ5WcXszh4Tg57ddW8Ssx8nPY
Love
Jarau Moses