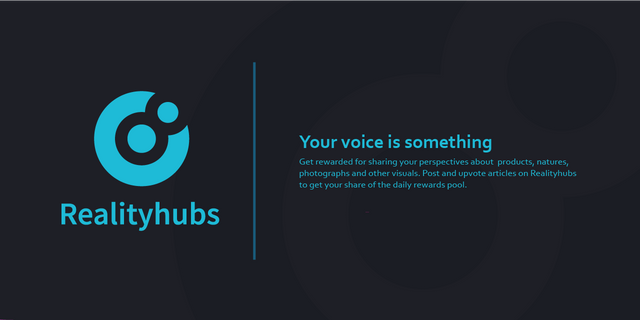 Hello Realhubbers!
It's been an exciting journey so far on Realityhubs. Through our platform, we've been able to spur and convert consumers of products into awesome reviewers. Aside from that, we've been able to spur people into taking a second look at everything. It is possible to get quick information about something at first glance. But when you decide to write a decent review about it, a second, deeper look is required. And this is important for us as human beings, not just reviewers. By taking a second, deeper look at something, we become more observant and conscious of our reality. And that's the pivotal essence of this platform(Realityhubs). We are proud of this feat, and we are grateful for all your efforts in keeping this community alive.
Before Realityhubs, several other Steem-based dApps existed. There's Steemhunt, eSteem, oracle-d, etc. Aside from those dApps, several other SCOT tribes have existed before Realityhubs, and more are still springing up. Without any doubt, we know that you may have been(or still are) an active contributor to any of these steem-based apps/tribes. And that's a great thing. We would love to know about your favourite Steem-based dApp/tribe. To this end, we are announcing a "Review your favourite Steem dApp/Tribe" contest.
Contest details.
Going through a catalogue, we discovered that there are lots of steem dApps, and over 20 tribes. The probability of being an active member of any of these platforms/communities is high. However, we'll like to know your favourite one. Perhaps, it could even be Realityhubs. We'd love to read a review of your favourite steem dApp/tribe.
Contest Rules
Just some ground rules to guide us, nothing severe
Resteem this post
Your post must be published through www.realityhubs.com
Your contest post must be from 700 words and above.
Pictures are worth thousands of words. Include a relatable image(s) in your post.
You can publish more than one entry
Be sure to reference this contest on the first or last paragraph of your entry
Be sure to use #reality-contest as one of your tags
Reply to this post with the link to your entry(ies)
Do not plagiarise
Contest Prizes
There are winners/losers in every contest or competition. However, in this case, there are no losers. We really want to read reviews of your favourite dApp/tribe, and so, we'll be moderating every contest entry, and rewarding accordingly. However, there are some mouthwatering prizes to be won for exceptional reviews.
1st Prize – 12,000 RHB
2nd Prize – 8,000 RHB
3rd Prize – 5,000 RHB
Only the top 3 reviews will get the prize.
Contest Duration.
This contest will last for seven (7) days.
Some few tips.
To make your review interesting and possibly eligible to receive higher votes or even a prize, read our review guidelines.

You can also do comparisons of your favourite dApp/tribe with other dApp(s)/tribe(s).

Include pros and cons where applicable.
News on the previous contest
The previous contest is over and below are the winners in a tabular format:
Congratulations to all the winners. Their reward will be sent out shortly.
NOTE: Some contestants were caught plagiarising which is against our policy. Such an act is a serious offence. Any such entry will be downvoted and the user will be muted without hesitation.
Without further ado, let the contest begin. Good luck!
UPDATE: This contest has come to an end and the winners are shown below;
Congratulations to all the winners!
---
Posted on RealityHubs - Rewarding Reviewers