Remember the Titans movie is based on a true story that happened back then in 1971 Alexandria, Virginia where a high school football team of TC Williams High school had to break the odds of the long term segregation in the city that had prevailed even among the various football teams in that district. TC Williams high school football team forcefully accepted the integration of the black football players into their team following the Brown V. Board Education decision.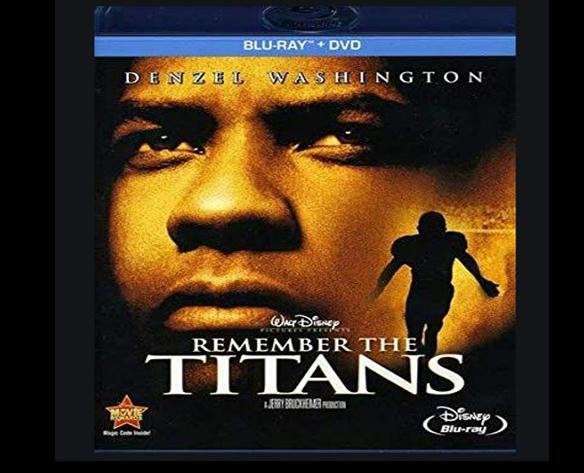 image source
MOVIE DETAILS
• In theaters: September 29, 2000
• On DVD or streaming: March 14, 2006
• Cast: Denzel Washington, Donald Faison, Will Patton
• Director: Boaz Yakin
• Studio: Walt Disney Pictures
• Genre: Drama
• Topics: Sports and Martial Arts, History
• Character Strengths: Empathy, Integrity, Teamwork
• Run time: 113 minutes
• MPAA rating: PG
source
What's the Storyline of the movie?
The school board recruits Bonne (Denzel Washington), a black coach, together with a new set of black players in the TC Williams high school football team. The Movie showcases this happening in the midst of a very violent and segregated community of blacks Vs Whites characterized with throwing bottles to each other, exchanging harsh words, breaking windows in the presence of the police trying to calm the situation down. Though recruited as a new coach of the team, the school board pressurizes Coach Bonne seeking for an opportunity to replace back Coach Yoast (Will Parton) as the main Coach of the team.
Following the pressure from the School board, Bonne has limited time (just a few weeks) to make this newly integrated team co-operate together as a team and win the various incoming football games. Bone courageously takes on the responsibility using his unique and rare abilities to inspire and act exemplary before the team in order to unite them and get rid of the very challenging long term anger and prejudice between the blacks and whites who are now trying to work together in his team.
He trains his football team passionately together with his assistant Coach Yoast. These devote their time and energy to the team not only teaching the teens what they must do to become the winning team that will live to be remembered but also learning greatly as well from them.
Though remember the titans movie starts out on sad and chaotic scene it turns out to be good movie as Bonne (Denzel Washington), a movie star and coach of the TC Williams football team acts out courageously and manages to spearhead the team into a remarkable victory that revolutionized the state of the city in those times as these dropped off their anger and prejudice towards each other and resorted to living and co-operate as brothers with a common goal of winning the football games.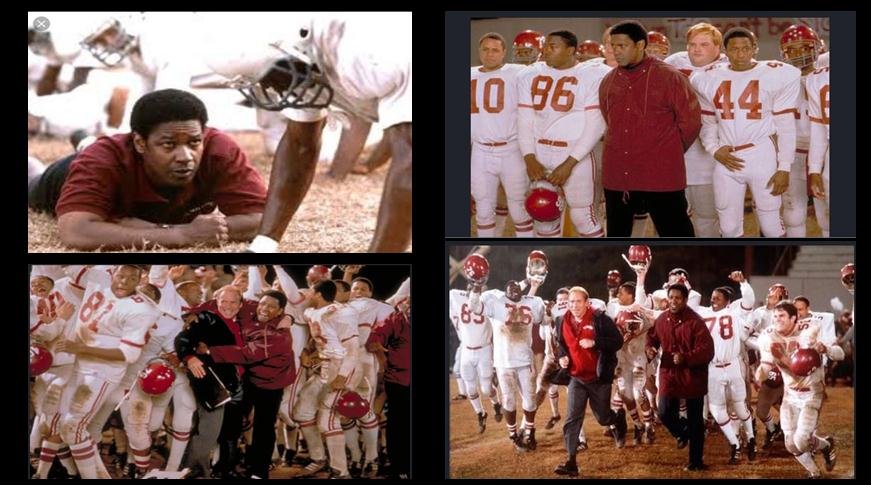 images source
My thoughts
This movie demonstrates to us the power in sports as it is capable of uniting people and resolving the conflicts among them. Regardless of the racial difference that these teen boys had, their football game goal of becoming a winning team diverted their attention from fighting each other to working harder as a team in a bid to win the various ball games.
Acting Exemplary like Coach Bonne in this movie can really impact and influence the lives of the people that we lead in our various fields of life. Indeed actions speak louder than words, Coach Bonne showed these teen boys how to behave ethically and towards one another by demonstrating it to them through his lifestyle and this surely became a great physical lesson for them to copy and reflect in their lives.
The Courageous ability of Coach Bonne was exceptional in the movie whereby in the midst of the exerted pressure from the School board that closely sought an occasion of firing him, Coach Bonne stood his ground and decided to work hard and deliver the football game results that the school board needed. Indeed Cowards never win but when we are courageous, we overcome and achieve even those things that seemed impossible before us.
The empathetic character of Coach Bonne and his Assistant Coach Yoast played out well in the plot of this movie as these understood and even sought to learn from the life struggles and situation that the teen boys were faced with. Interactions and engagement with various people in this course of our lives become an easy task when we seek to understand and respect other's point of view. When we do so people feel loved and eventually become open to understanding you as well and what you have for them.
Brotherly love is a key aspect that dissolved away the racial segregation tendency in the football team. TC Williams high school football team wisely resorted to living as brothers which resolved racism in the team and birthed good fruits of strength and victory for their team over the other segregated ones. We pick up a great lesson here whereby when we resort to living like brothers with the knowledge that we are all human beings, we can surely realize good results at the end of every challenge of life.
Could there be any negative aspects of this movie?
Personally, I did not like the same-sex kiss reaction of one of the characters who did so following the insults that they had hurled at him as this is unethical and I don't believe it was the best way for that character to showcase his anger to his haters.
In conclusion, I provide this movie with a 4.7 –star rating. To a greater extent "Remember the titans" is a great movie that I recommend to all sports lovers and to families that wish to educate their children about empathy, integrity, and Teamwork as these are well demonstrated by the main characters in the movie and can be a great mine of healthy relationships and other benefits in someone's life.