Role model is one of the songs by Eminem, an American rapper. Indeed in life, we need role models. Who is a role model? A role model is someone you look up to and admire to be like because of his success in a certain aspect of life. I believe Eminem came up with this song for his fans in order to deliver a certain message to them. Music is such a powerful communication channel that influences people's decisions and lifestyles.
There is a high degree of moral degradation in this world that is highly attributed to by messages in certain music. Kindly journey with me as I reveal to you certain realities in this song, I am going to try not to be so negative about this song.
Briefly about the Music video
The video is a darker comedic offering than "My Name Is", directed by Dr. Dre and Phillip G. Atwell. The opening of the song, where Eminem announces he's going to attempt to drown himself and that the audience can follow him, is left out but is acted out in a silent movie style. After Eminem is introduced, he proceeds to attempt a Houdini-like escape trick from being held underwater. After that there are scenes of Eminem performing live at a concert, acting as a priest (who sits awkwardly in a bedroom with a young churchgoer that later dresses up in drag), a police officer arresting someone for cannabis possession (though the cigarettes are blurred out), a Norman Bates-like man and a cartoon superhero-type character beating up chicken (A similar chicken character that resembling Foghorn Leghorn from Looney Tunes).
source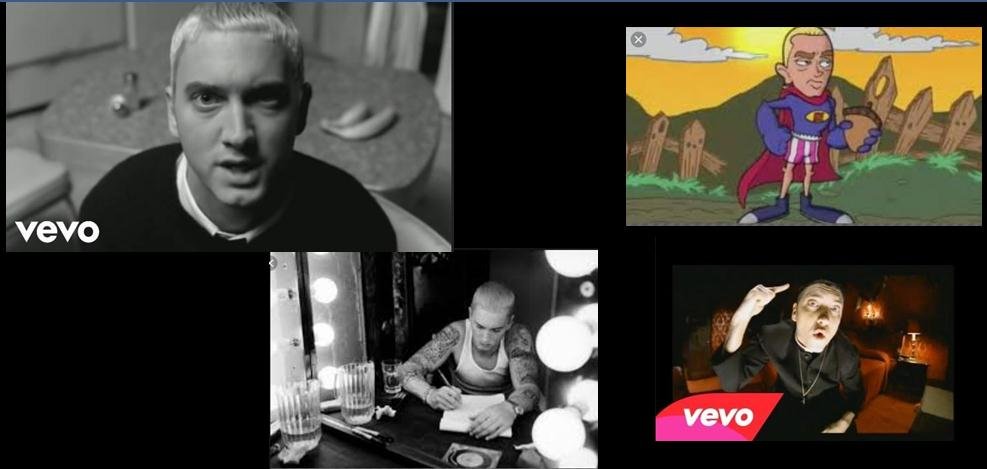 images source
What are the Positive aspects?
The rap rhythm in this song is outstanding as it flows well with the beat. Eminem is indeed a very talented folk via the rap style of music.
The visual creativity in the video is upfront. In making music videos visual creativity is one of the vital aspects that ought to be put into consideration as they act as a bait to keep the viewer interested in watching the video of the song.
What are the Negative aspects?
Violence
This song message is promoting violence in a way that Eminem advises his fans to kill people. This is not an ethical conduct/behavior that people should embrace. Killing people is illegal in the various countries of the world. It's something that is In-human. How can you advise your listeners to follow you and do such a kind of act? Killing people promotes lawlessness and massive killings that are happening in the various countries of the world.
Drug abuse
Eminem advises his listeners and followers to smoke weed. Smoking weed is very addictive and something that is very harmful to someone's health as it slows down the body system and can lead to excessive behavior that results out of lack of self-control. Some people smoke weed and end up committing grave crimes such as raping women, stealing.
Sexual immorality
Eminem says in his song that he slept with 10 women who had HIV. Sexuality management is very important in life. Following what this song says as the artist instructs, can get you into risking your life through playing sex with HIV infected women like the role model "Eminem". You maybe like I can use condoms and I escape that danger but Condoms are not 100% secure. I am not in agreement with this advice from the artist.
The song has lots of abusive languages. This is unethical conduct that I believe no parent would wish to see their children abusing them and other people. Abusive language damages relationships as it stirs up hatred amongst people and also leads to fights.
In conclusion, I provide this song with 2/5 –star rating. Listen and watch this song at your own risk as it has a lot of spoilers. I, therefore, don't recommend this song to people who seek to uplift, improve and maintain the moral standards in their lives, families and in the whole world.