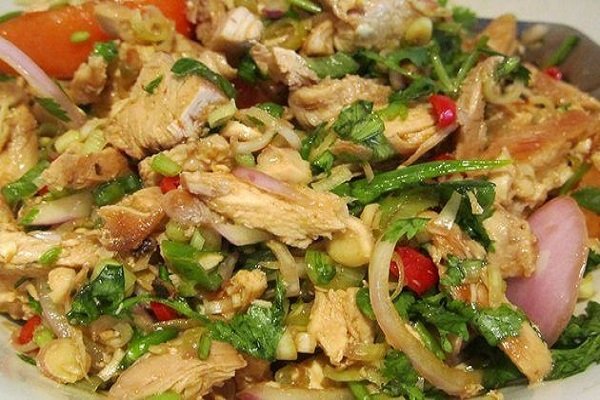 Finding people who do not like salad, the burden of finding them. And this salad also helps in increasing our eating habits. So today the Thai style delicious Chicken Salad Recipe Let us not know how to prepare recipes.
Ingredient:
Chicken Breast = 300 g
Cucumber = 2 (medium size thorns)
Like cherry fruit and tomato = choice
Onion = 1 (long spines)
Chili thorns = 4/5
Lemon = 1
Mint leaves are rough = like amounts
Fish sauce = 1 table spoon
Coriander leaf= 2 table spoons
Brown sugar = 2 table spoons
pepper powder = 1/2 teaspoon
Salt = taste and like
Olive Oils = Like Amount
Made method
Cut the cherries and tomatoes into two slices and take out lemon juice. Now, in the chicken breast, salt and peppercorns and olive oils, keep them aside for 10/12 minutes.
Wait a minute after hot with olive oil in a pan in 12 minutes. Oil is hot, then the medium is on the chicken breast. Take two sides of the 4/5 minutes to get rid of a plate.
Then cut the small pitch when light is cold. After serving a bowl, add the onion, chili, cucumber, tomato, chicken pitch, lemon juice, mint leaves, coriander leaves, salt and oil and mix well. Delicious chicken salad.