Official website - http://rentcoin.club/
Discord - https://discord.gg/kT4wDEF
Btalk - https://bitcointalk.org/index.php?topic=4228064
Github - https://github.com/rent-coin/RECO
Explorer - http://explorer.rentcoin.club/
WIN64: https://github.com/rent-coin/RECO/releases/tag/1.0.4-win64
LINUX64: https://github.com/rent-coin/RECO/releases/tag/1.0.4-linux64
RECO - Rentcoin
The global market for renting real estate, renting cars and other transport is a very large amount of investment. It is also a market of big risks and speculation. We are developing a project that will transparently conduct such transactions. Decentralized system based on the blockchain, distributes resources and guarantees the security and transparency of transactions.
Decentralization
This is an important component of systems based on blockchain technology. The scheme of the network includes the introduction of the latest developments in this direction.
Masternodes
Masternodes guarantee network stability, its security and reliability. Owners of masternodes receive a reward for maintaining the network of crypto-currencies.
POS
POS (Proof of stake) Get a reward. The more coins you have, the higher your reward. This is a good defense against manipulation of the network and currency.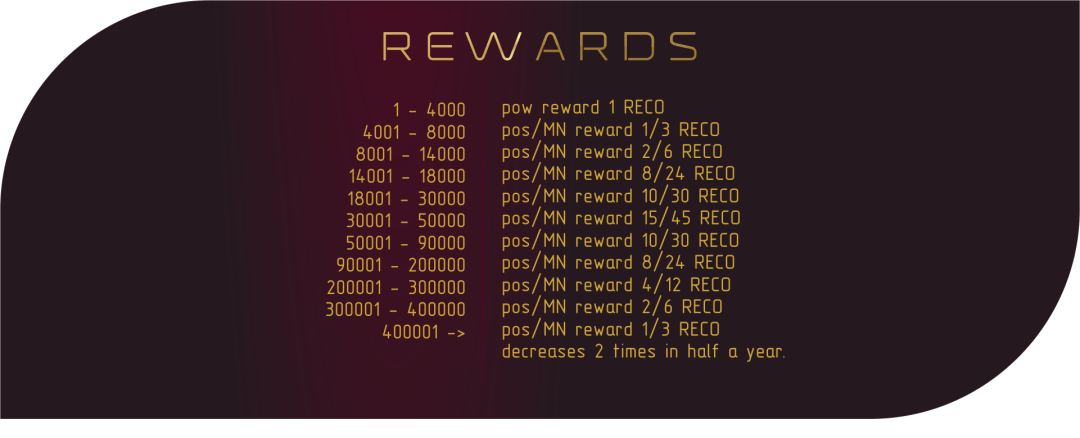 Discord - https://discord.gg/kT4wDEF