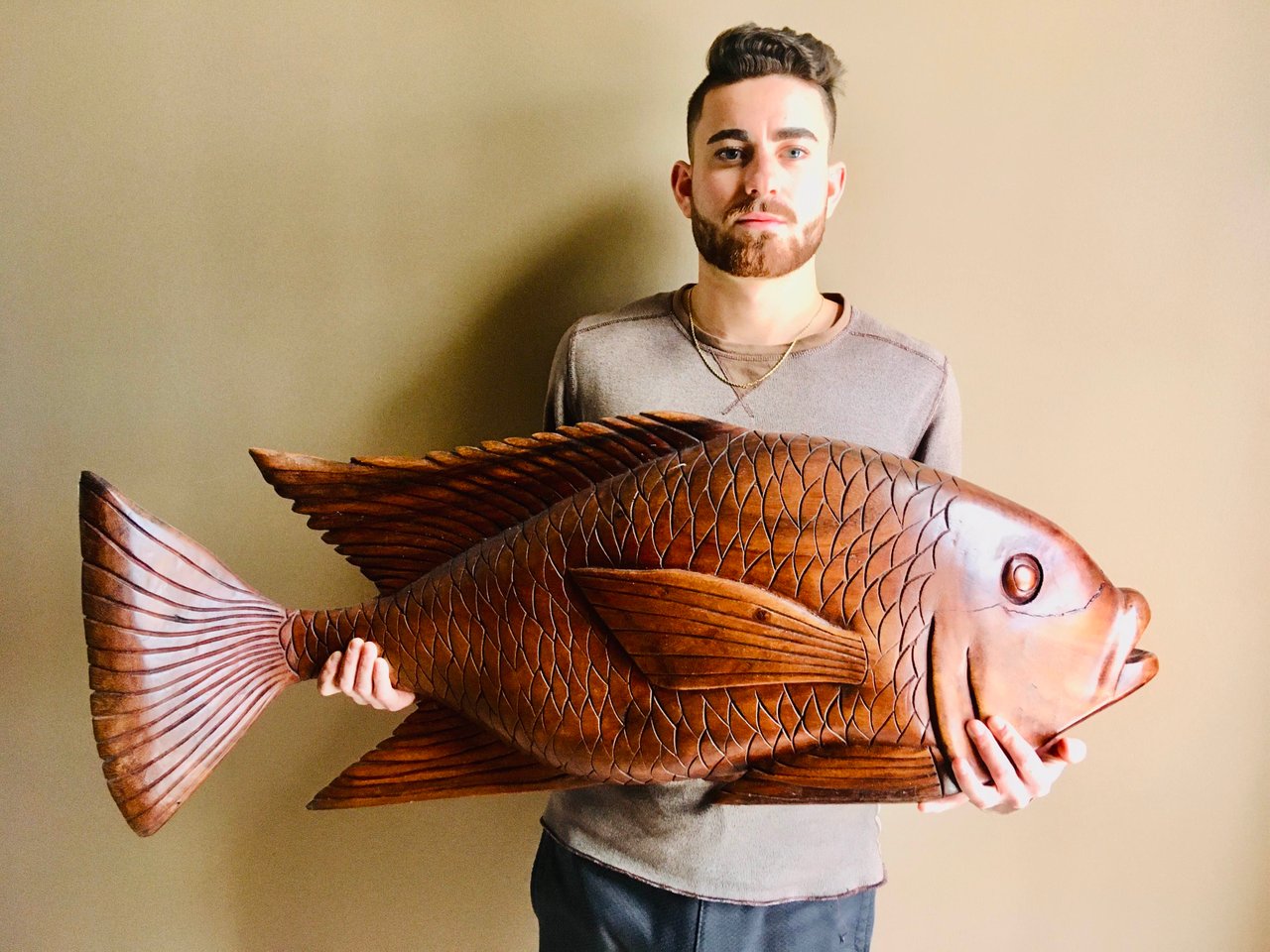 Probably the coolest piece we've brought home from Negril. This fish measures 3 feet and seven inches long and 28 and one half pounds. It's a massive sculpture, and we still had to get it back to the United States somehow after we had purchased it.
You probably already know who we bought it from. Obviously, it was our go-to carver, Robert Woolery, who has been making himself a name here on reggaesteem as of late. We paid an unbelievably low price for such a masterpiece (I keep saying we because this is actually @super-irie's sculpture). We made a deal for something like $85 USD, which for a piece of this caliber, is absolutely absurd. The curvature and natural bend to this fish is unbelievable. The photo simply does not do it justice.
Robert packed it up for us then and there. Bubble wrap, cardboard wrapped securely around the entire frame, and then lots and lots of packing tape. Now we just had to get it through customs. Well, that didn't roll over too well. The airport security thought we were tying to bring home some 'contraband' from the holy land, so they made us unwrap the entire package just so they could see it was, in fact, exactly what we had told them- an enormous wooden fish.
When they saw that we weren't lying, they felt kinda bad, well - at least, that's how they made it seem. They probably could have cared less and were talking under their breath when they sent us to another location so we could have the fish specially shipped back to the U.S.
Carry-on was a no go and regular shipping, too, I guess. They sent us somewhere else in the airport before we made it through security to have it specially marked and okayed for shipment. It cost like an extra $20 bucks to have this mammoth of a beast sent back to DAY (Dayton International Airport). Not too bad I guess given the fact that super-irie only paid 85 bucks for this thing.
Whatchu guys think of this iriee story?
Respect,
CS
Posted using Partiko iOS