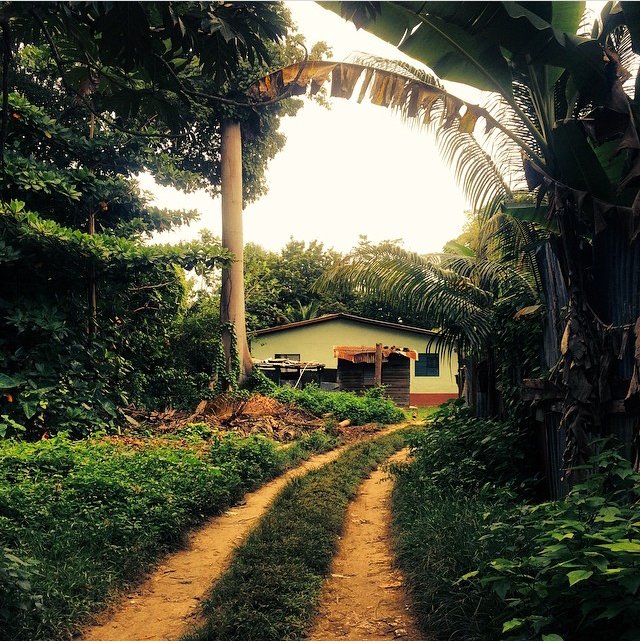 Generally when irie and I travel, we tend to stray as far away as possible from setting an agenda. Since we've been to Negril so many times, we pretty much already know what's there and what things to do.
We like to just chill, hangout, walk the beach, catch up with our friends, talk to new people, go to reggae concerts, take yamon catamaran expeditions. The list goes on and on. There are endless encounters to partake in, and many simply arise by chance. Like this mid-morning walk which ended up taking us off the beaten path a ways. We found this cool dirt road leading back to the main drag - Norman Manley Blvd. - through a winding path, passing by a couple of small traditional Jamaican style homes.
If we didn't just randomly say we were gonna go for a walk and hit a random left near our buddies restaurant joint, we'd never have found this cool backroad. The funk and character of this place cannot be described by pictures, words, or a combination of both. In order to experience the real beauty, funk and character which Jamaica has to offer, then you must venture here yourself.
Like @crypticat for example. He's making his way to Negril in the next few months. Can't wait to see what kind of encounters he comes across as you never know what may arise by chance. Also, looking forward to seeing his encounters at shops and restaurants accepting JAHM. He's going to be the first real example of JAHM being used in action.
So, if you're actively engaged here on reggaesteem, then make a note to follow crypti's blog so you can see for yourself.
We Be Jahm'in
Jah Bless
CS
Posted using Partiko iOS