Sharing the Love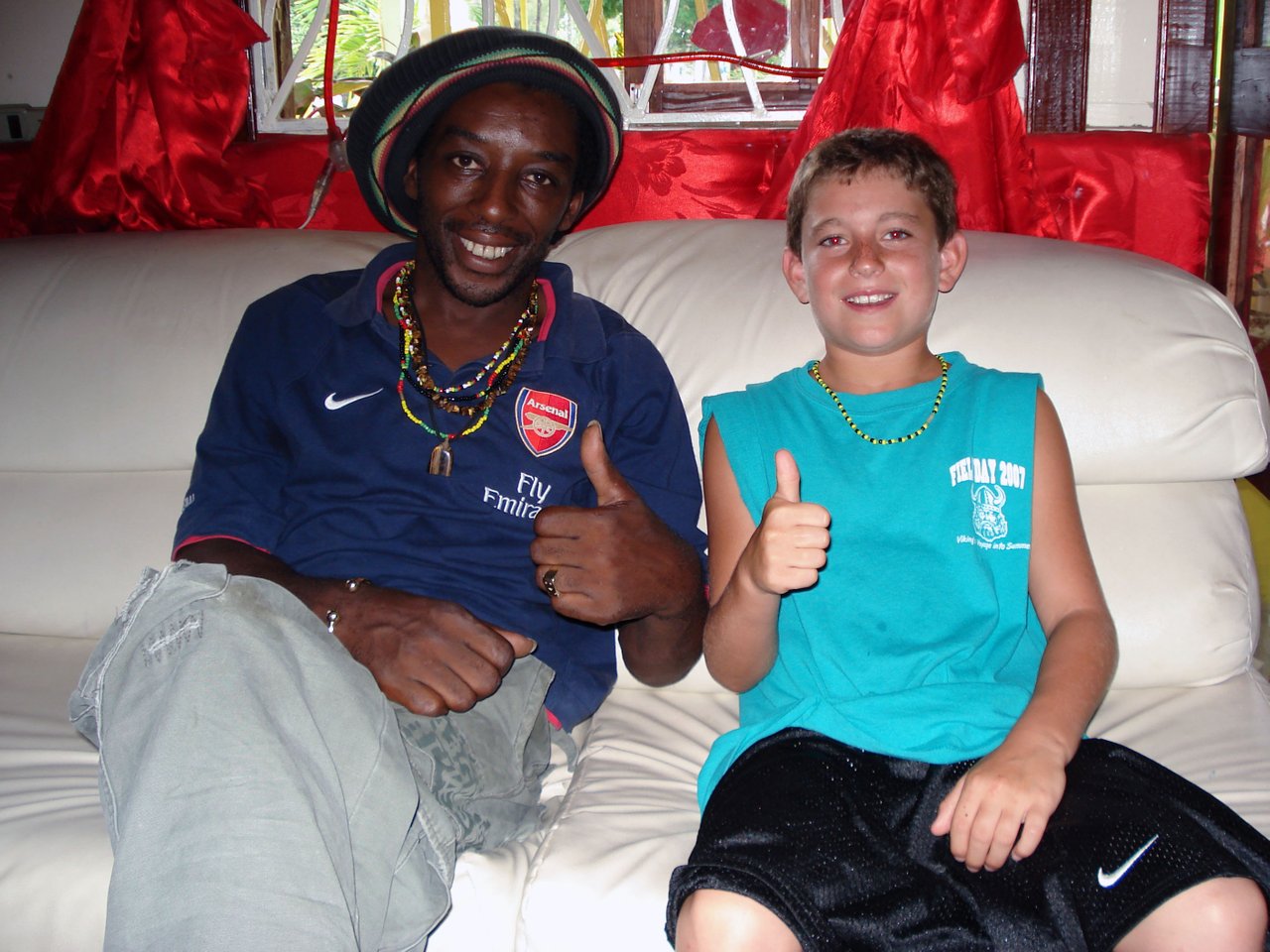 Bredda Keith and mi boy
On the cliffs, it was a 10-day stay this time around at Hotel Samsara. Fantastic weather, Caribbean coruscation with the bountiful sun radiating its heat - it's paradise at the palm of your hand, and it doesn't get much better than Negril, Jamaica.
On this stay, we would normally eat out at Choices Restaurant, located directly across the way from Samsara. Directly next to Choices was an internet cafe and 'wine' bar. Surely we had to check it out, these cafes were new to the island. At least, I had never seen one before, especially one that had a 'wine' bar inside. Seemed pretty cool. When we walked in, it was indeed, as I said, "pretty cool." The internet cafe and 'wine' bar had another special feature- one with those 'greenhouse-like' products that makes Jamaica, Jamaica.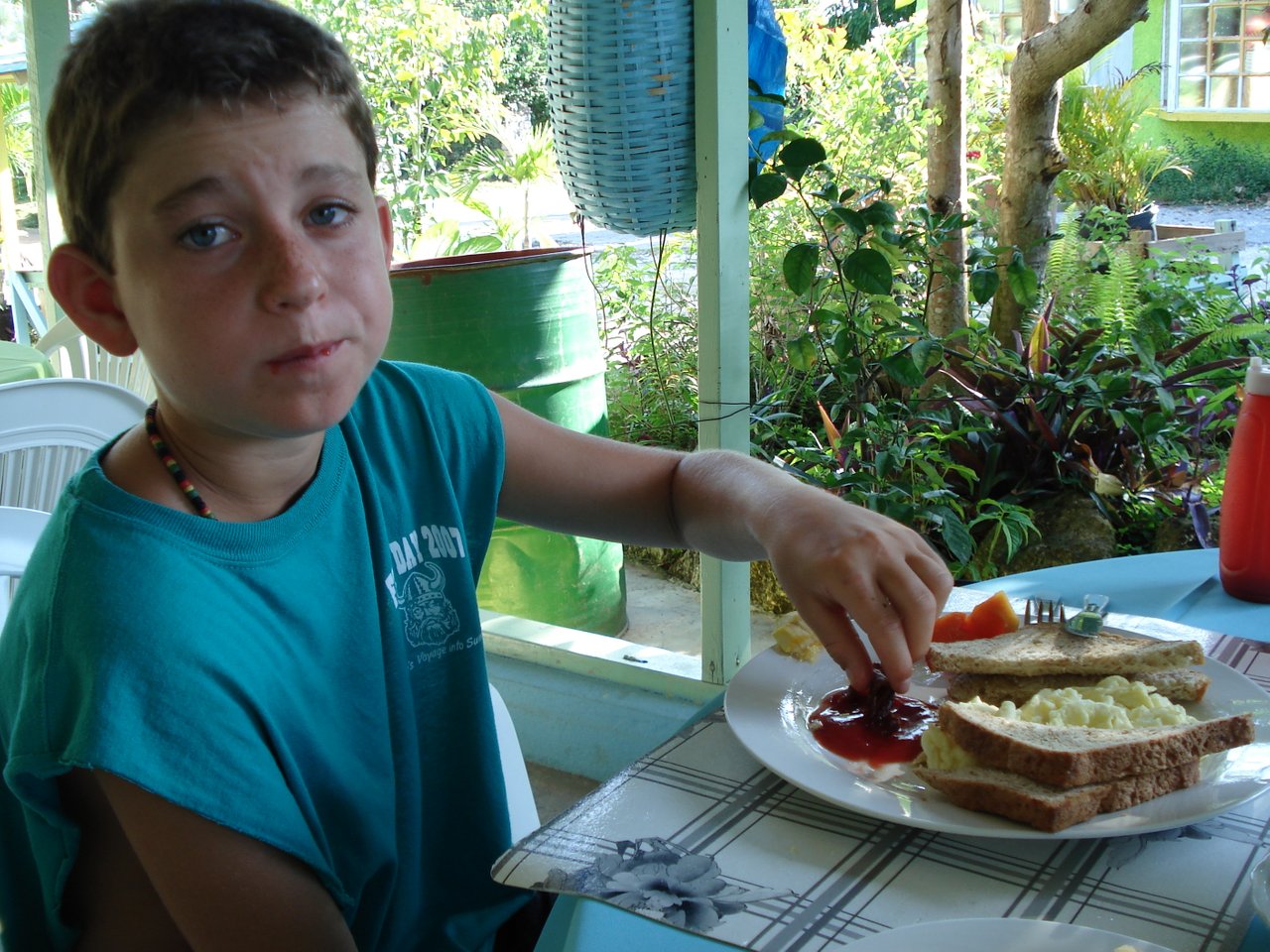 Hardy har har - that's a hardy breakfast at Choices Restaurant
The owner was a man by the name of Keith. A Jamaican born who had resided for a while in London, England. He had a pretty cool Jamaican-English accent, one that I had never heard before. He was extremely laid back, as most Jamaicans are. The factor that distinguished Keith the most was his selflessness and generosity.
Back in '07, cellphones were merely non-existent, only landlines, and to find one of those telephone call boxes in Negril, was, yeah, you guessed it - not gonna happen. The boy was missing his mother on this day. We decided to travel solo, keeping her at home for this particular Negril excursion.
Keith picked up on the fact that my boy was feeling sulky. He asked what was wrong.
"Oh, he's just missing his mother," I said.
Without hesitation, Keith quickly turned his head around to the bar area and said, "Here, use my phone. Call your mother, say hello."
The boys eyes illuminated like it was Christmas day and Santa Claus had come to town. He called his mother. She was just as relieved as he.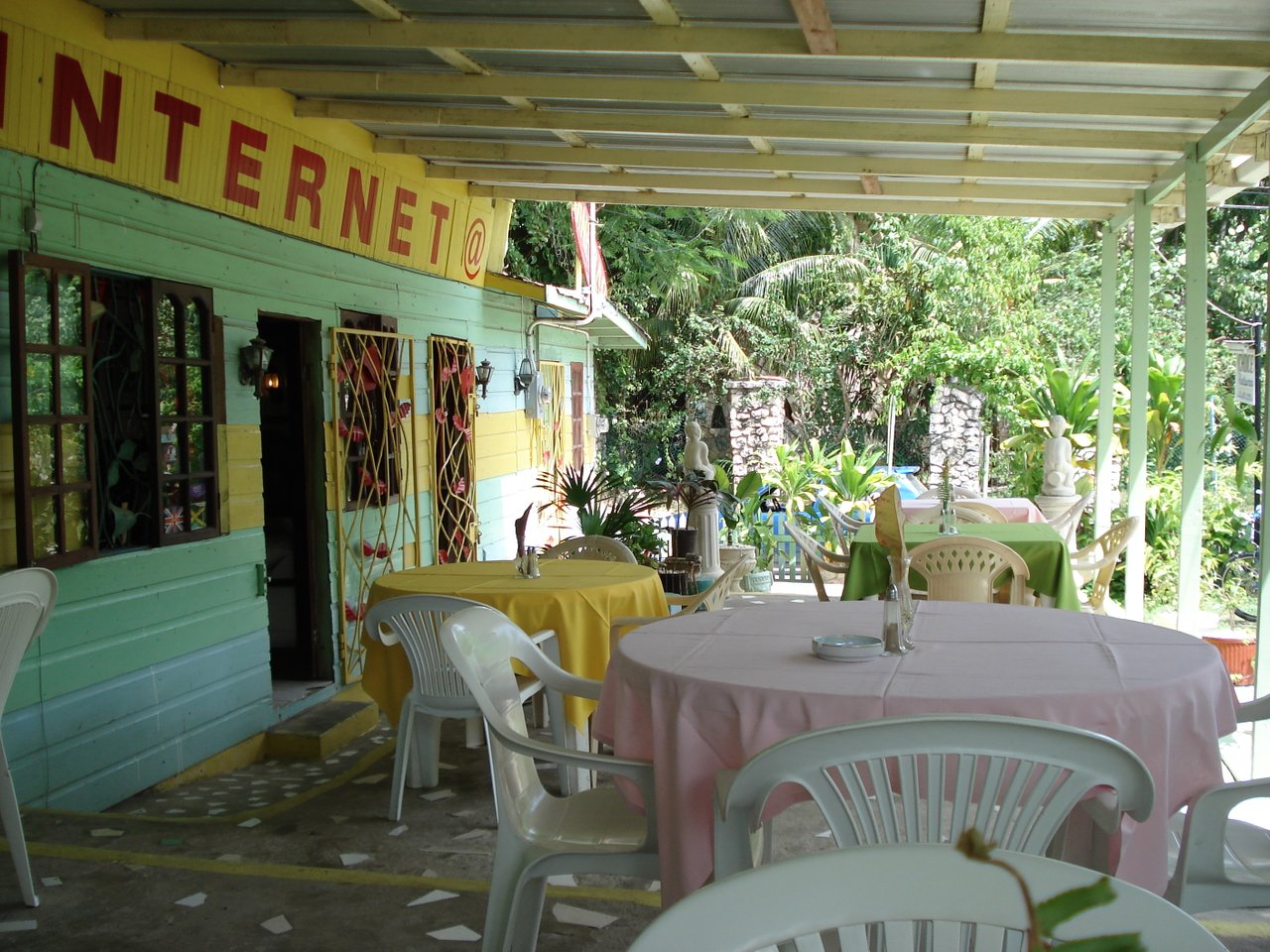 Keith's Internet Cafe and Wine Bar and the extras
We chilled with Keith for a bit, talking and sending nothing but positive vibrations throughout the internet cafe. Besides the cafe, Keith also sold his custom made, top-quality beaded necklaces, which he kept under the cushions of the couch featured in the photo above.
He said to my boy, "Little man, pick you one, it is my gift to you."
The eyes lit up again, as he searched through a handful of necklaces to find the one he wanted. Pretty suave boa. I don't think anyone had ever offered anything up for free the way Keith did on this day in all my times to Negril. Respect.
Keith also distinguished himself by riding around on his kingly Harley Davidson motorcycle. Up and down the West End Rd. You knew it was Keith coming around the corner when you heard his loud Harley exhaust revving up as if to say, "Yea mon, you know it's me."
But Keith was humble. Everyone already knew who he was. No need to boast. His humility was one with which I took notes on myself.
I hope you all enjoyed Bonus Feature #1 of my Faces of Jamaica Series. This concludes [Part 1 of 2]. Please stay tuned for the next iriee Faces of Jamaica post, you will not want to miss it!
Respect,
S-irie