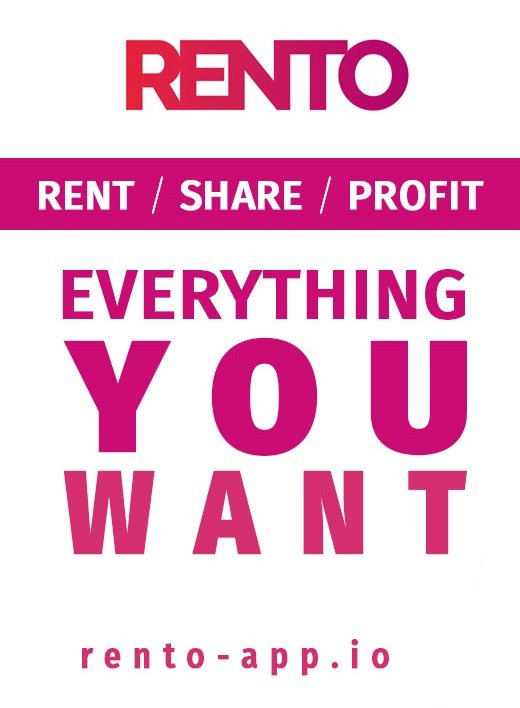 Introducing.
Rento is proposing a global sharing platform for businesses and individuals that allows the renting of underutilized assets. Unlike competitors in the market, Rento will rent any item to any individual rather than focusing simply on one market (cars, apartment share). Furthermore, Rento leverages blockchain technology to implement a trusted economy through smart contracts that ensure rental conditions are met and that the parties can count on one another to deliver and return the product or service.
Rento aims to introduce the sharing economy in the daily lives of people everywhere, reducing waste in the economy and allowing more people to enjoy a variety of services and products without having to shoulder the cost of owning every type of item they use.
Mission.
Enabling people to become a part of the global sharing economy and share their unutilized assets easily.
The concept of sharing economy has been in practice for centuries, both at a person-to-person level and at a higher operative scale. Time-shares, farming collectives, and informal arrangements allow a group of people to share one expensive resource among them. With the spread of the internet, the sharing economy model has seen immense growth because of the ability to share with people you have never met through centralized organizations that ensure trust. Over the past decade, the world has witnessed small startups turn into multibillion-dollar businesses (Uber, Airbnb). Despite the success of sharing-based businesses around the globe, the sharing economy model hasn't reached its potential and has multiple risks associated with its mass adoption.
Uber is one of the best examples of the sharing economy. Ironically, the Company does not own its own vehicles and is still one of the largest taxi services in the world. The Company defines itself as a technology enterprise that offers a platform for taxi drivers and commuters to operate together. According to a recent report, Uber is said to have a market valuation of roughly $70 billion, larger than the market cap of Delta Air Lines and other traditional transportation companies. Similarly, Airbnb, valued at over $31 billion, is the largest hospitality company in the world but owns no hotels. Ola, an Indian taxi-riding platform, is also succeeding in the sharing ecosystem.

Uber and Airbnb illustrate the profitability of a global sharing economy.

The industry is likely to grow from $14 billion to $335 billion between 2014 and 2025.

The growing market of the smartphone is a key growth driver for app-based sharing platforms.

Demographics: Millennials are at the center of the sharing economy, but they are not the only generation using these services. The adoption rates are growing for all ages and economic backgrounds.

Popular examples: ShareGrid, BoatBound, Uber, Airbnb, Trringo, Ravgo, Rent the Runway.

Economic impact: Survey research revealed that 80% of people participating in the sharing economy are ready to pay more for durable and high-quality products.
BLOCKCHAIN : however IT will REVOLUTIONIZE OUR trade.
Blockchain technology provides opportunities within the sharing economy thanks to its immutable records, transparency, and good contracts. Blockchain technology can:

Introduce transparency,

Lower group action charges,

Limit fraud,

Offer risk protection with good contracts.
RENTO: TAKING THE SHARING ECONOMY TO P2P
Rento intends to create up a sharing biological community that drastically expands the vary of the sharing economy past the present ventures, for instance, transportation or neighbourliness. Rento intends to create up a stage that creates the sharing of standard things and administrations less demanding , and actualizing sharing crosswise over numerous ventures. moreover, Rento uses blockchain innovation to anchor worldwide exchanges and shrewd contracts to encourage security stores. The key components of Rento's setting are:

Rento App,

Rento Blockchain,

Rento Model Store.
Target Market.
Rento is positioning itself as a prime sharing platform for smartphone users. Considering the ubiquitous smartphone penetration in Europe, especially Western Europe, this holds the right demographic mix for Rento's launch.
Smartphone Users
The smartphone revolution has opened multiple business opportunities for enterprises around the world. The average smartphone user has 35 apps installed on his phone and uses approximately 9 apps every single day. The ideal clients for the Rento Platform are:

Smartphone users looking for things to rent,

Smartphone users looking for services,

People who have items they do not use and can profit by sharing them,

People who want to buy an item but know that they will rarely use it.
Business and Service Providers.
Business and service providers that are ready to market their services to a growing number of smartphone users represent another critical client base for Rento's Platform. During its initial phase, Rento is planning to target businesses that are already involved in the sharing economy. It includes hospitality businesses, car rental services, office space providers, and similar services. Additionally, Rento aims to market its Platform to construction and hardware businesses that can profit from renting their unused resources or manpower.
Benefits for Rento token holders :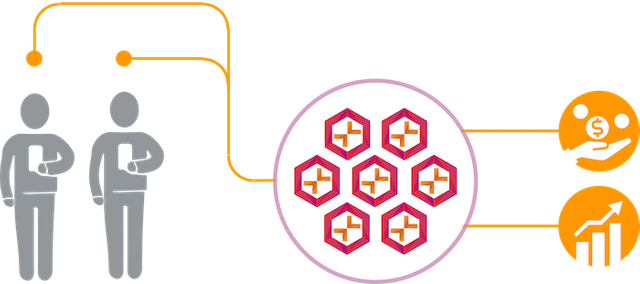 Lowest cost for Rento token, which will be utilized as an expense on RentoBlockchain.

Easier for ICO members to end up a Rento Model Store establishment proprietor.

Cheapest store to take an interest in the Rento Model Store Franchise.

Helping the development of sharing economy.

Possibility of being a RentoShare holder, after we get a permit.

After issuing of the Security Token, investors will get profits from
organization benefits.
Basic information about tokens.
Token Name : Rento
Ticker Symbol :RTO
Start of public sale : 10/16/2018
End of public sale : 1/31/2018 (2/28/2018 optional)
Total supply : 600,000,000 RTO
Decimal places : 8
Token standard : ERC20
Network base : Ethereum Network
Tokens for sale : 264,000,000
Owners tokens : 305,000,000
Bounty tokens : 6,000,000
Tokens for team and advisors : 25,000,000
Price range for token sale : $0.01 - $0.12
Source code: rento-rto-erc20-token
Check more information at official link :
🌐 Website : https://rento-app.io/
⬜️ Whitepaper ; https://rento-app.io/assets/whitepaper.pdf
💬 Twitter : https://twitter.com/Rento_app
👥 Facebook : https://www.facebook.com/rentoapp/
🗣 Telegram : https://www.facebook.com/rentoapp/
👀 ANN : https://bitcointalk.org/index.php?topic=5074644.0
📘 Reddit : https://www.reddit.com/r/Rento/
Bitcointalk Username : Rifai245
Bitcointalk Profile Link : https://bitcointalk.org/index.php?action=profile;u=2507650