The Kodak Handle first appeared in 1977. In some countries it was called the Kodak EK2.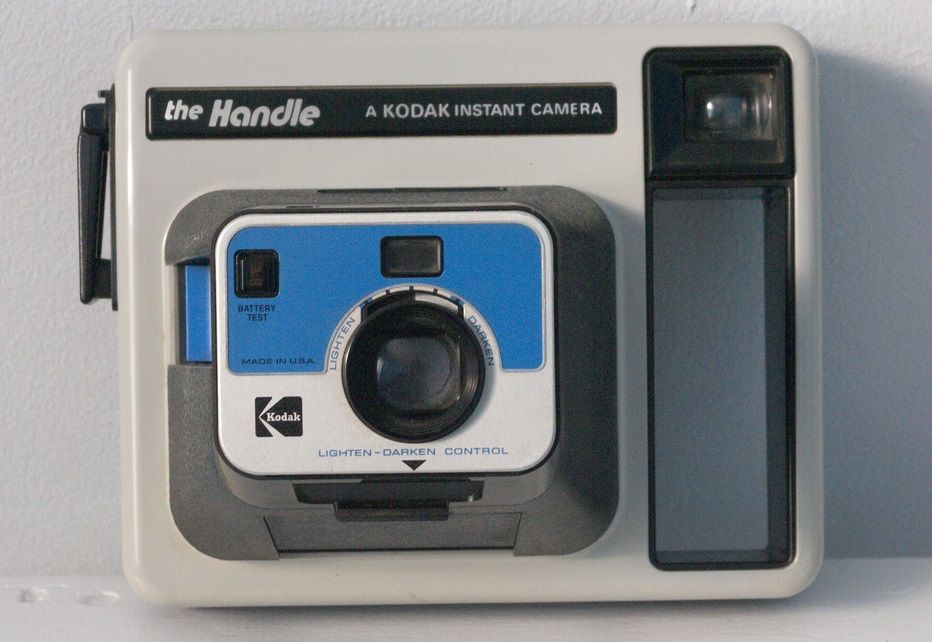 Photo by Terri Monahan (CC BY-SA 2.0) via Flickr found here
Kodak had entered the instant film market in 1976 in direct competition with Polaroid. Kodak had produced all of Polaroid's instant film during the 1960s, but Polaroid began manufacturing their own film in the early 1970s. This probably contributed to Kodak's decision to enter the instant camera market. Kodak had lots of experience in this field, so why not compete directly with Polaroid? Kodak's instant camera technology had several advantages over Polaroid. Polaroid used a mirror to reverse the image onto their film, which added some complexity to the design. Kodak simply flipped their film around and exposed the image backwards -- no mirror required to accomplish the same thing. Another advantage was batteries. Polaroid packed batteries into their film to power the camera. This was convenient for the photographer because they never needed to replace batteries in the camera. However, it was a waste of materials and it also meant Polaroid's film was more expensive than Kodak's. Furthermore, if you had a very old Polaroid film, the batteries might be dead when you went to use it.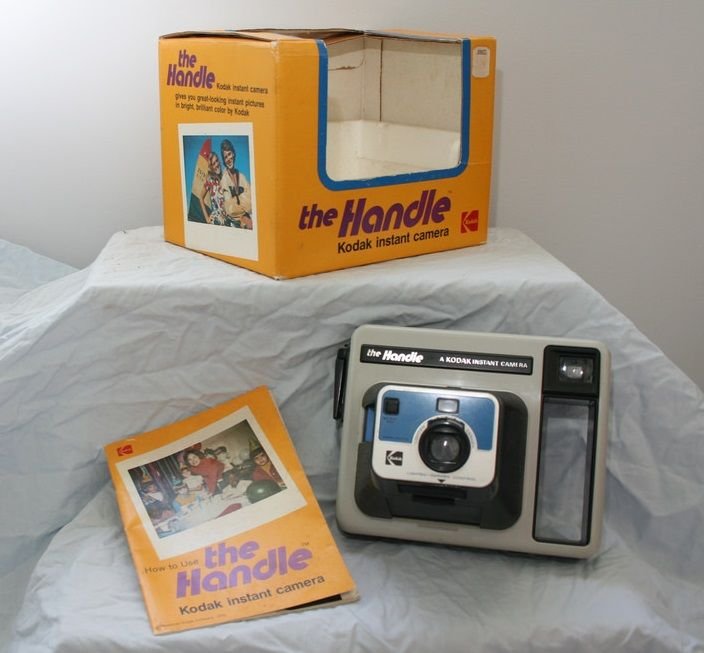 Photo by Terri Monahan (CC BY-SA 2.0) via Flickr found here
The Handle was a fairly large and clunky camera. As the name implies, it had a big handle on one side. The viewfinder sat above this handle. The shutter was triggered with a blue slider on the right-hand side of the camera that you pulled. Unlike Polaroid photos which were pushed out of the camera with a motor, the Handle had a hand crank on the upper right-hand side that you manually turned to retrieve each photo. The film was called Kodak Instant Print Film and each pack contained ten shots. Shots measured approximately 7cm x 9cm. Picture quality -- not fantastic.
I received my Kodak Handle for Christmas in 1977. It was the same year I received Blip. I seem to recall the 10-pack films costing $7, which was outrageously expensive at the time, but my mother happily bought me film after film. I took hundreds of photos with this camera over the next four years.
---
This is a shot of my cat Brainy taken with my Handle in the spring of 1980. The quality is not bad: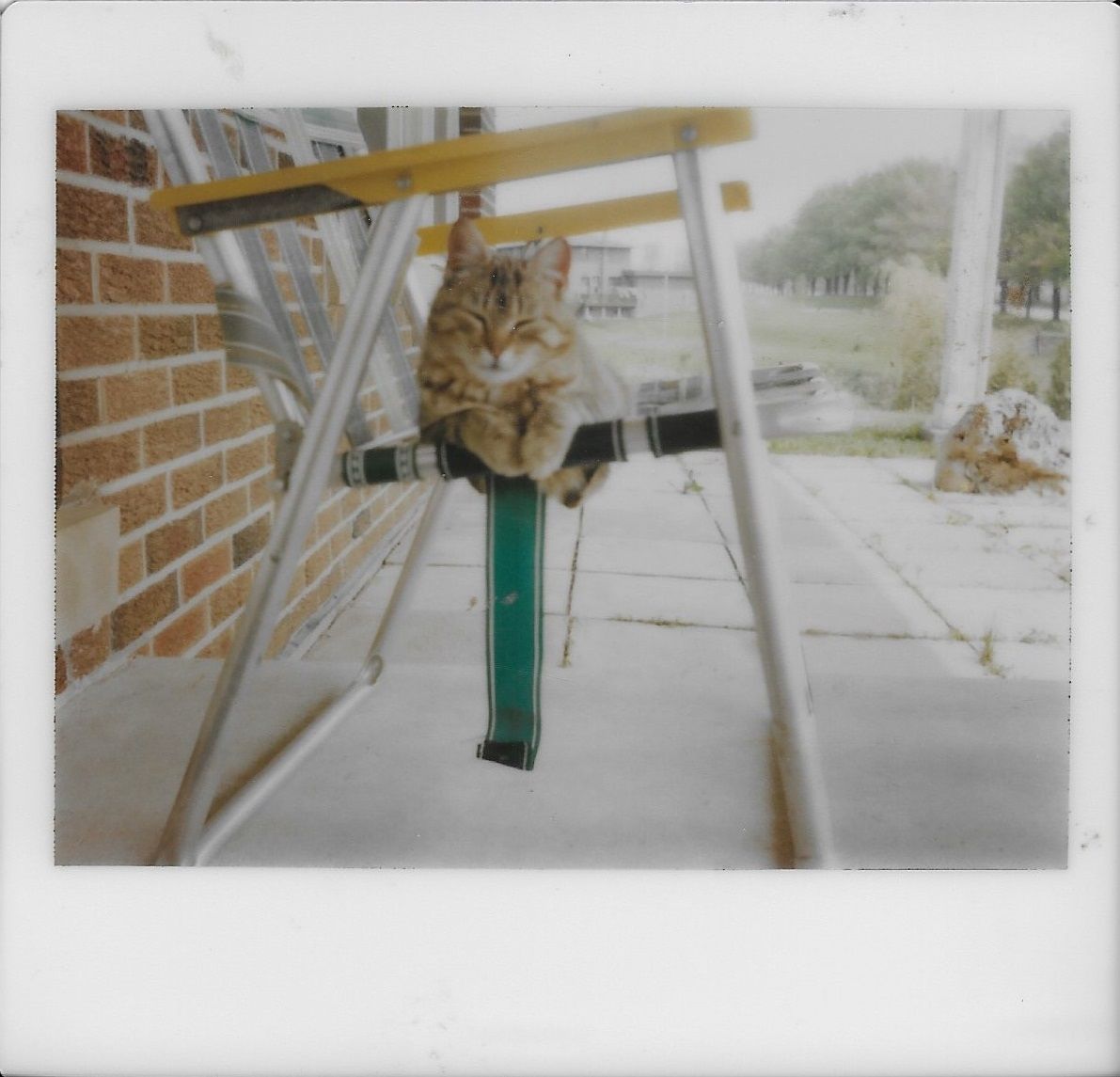 ---
Below is a typical over-exposed indoor shot taken with a flash. This is my brother giving me a DIY haircut in 1979 (... don't ask):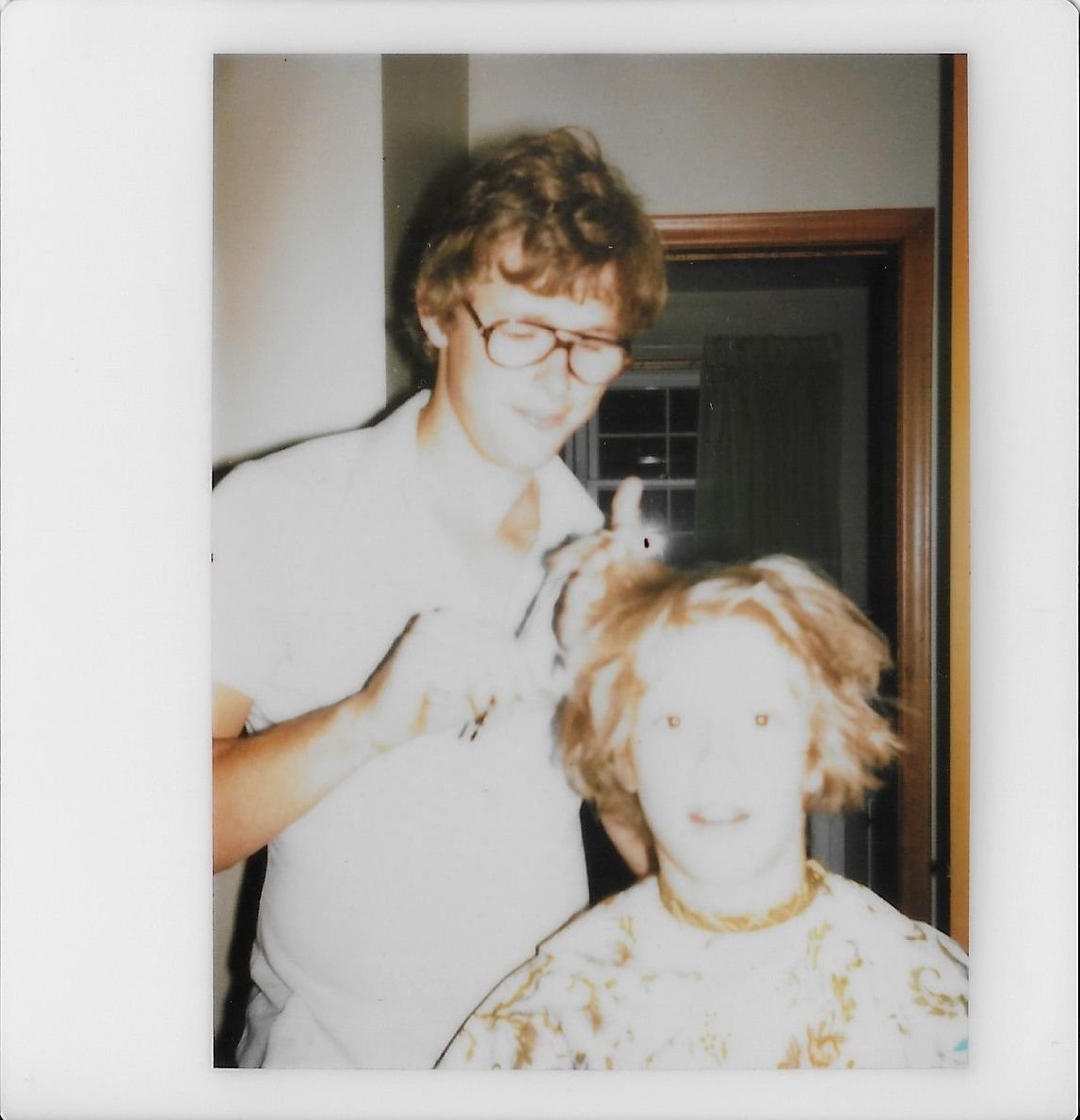 ---
Generally, the quality of indoor shots was poor. Closeup shots were over-exposed and other shots were often under-exposed -- you rarely hit the sweet spot, but here is one shot where I did. This is my cat Brainy plotting how to eat our budgie: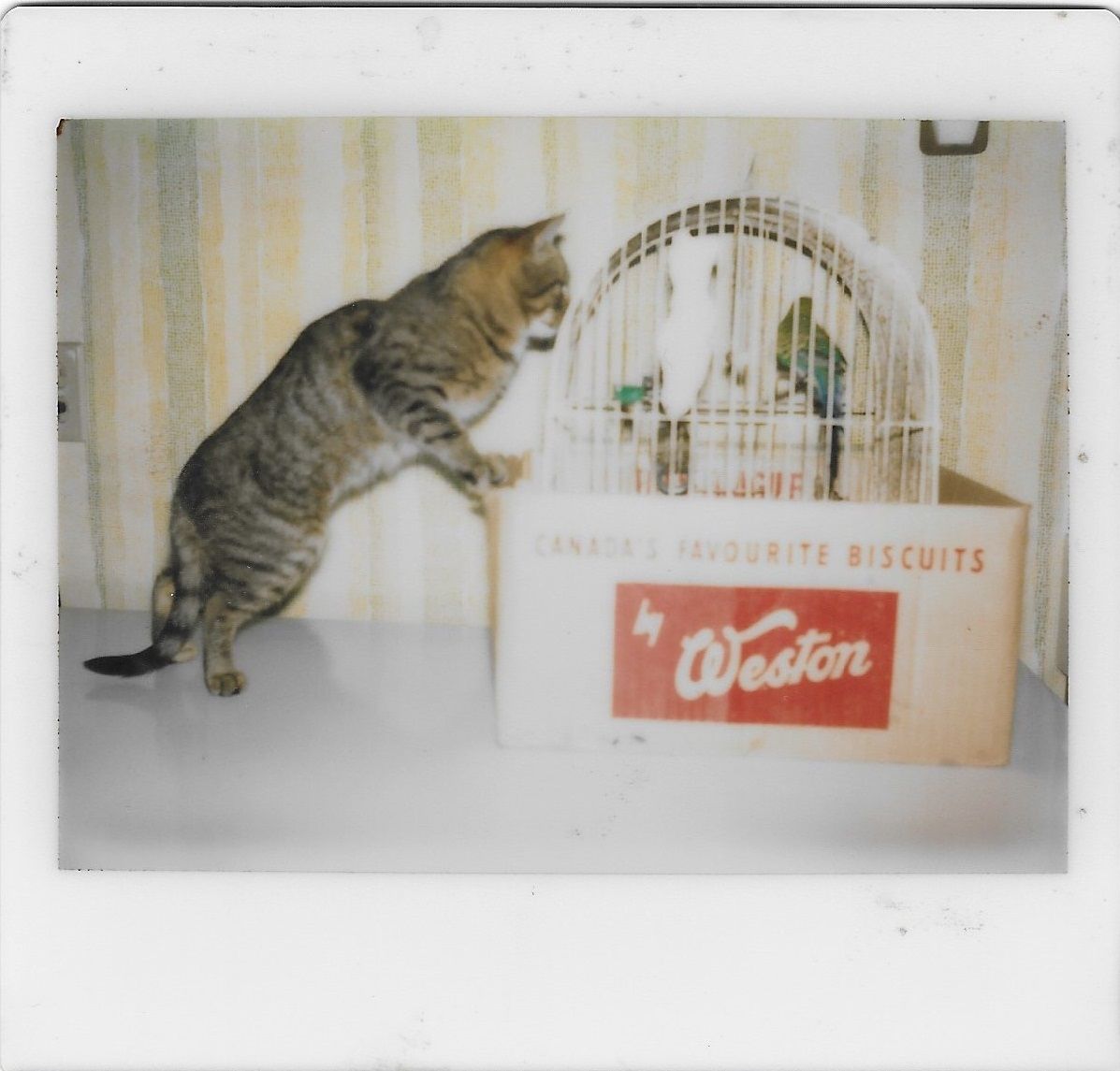 ---
Finally, here is an early selfie from 1981. This is me in a mirror holding my Handle. Nice disguise, eh? Two shots of me in this post alone, but I still remain anonymous on Steemit!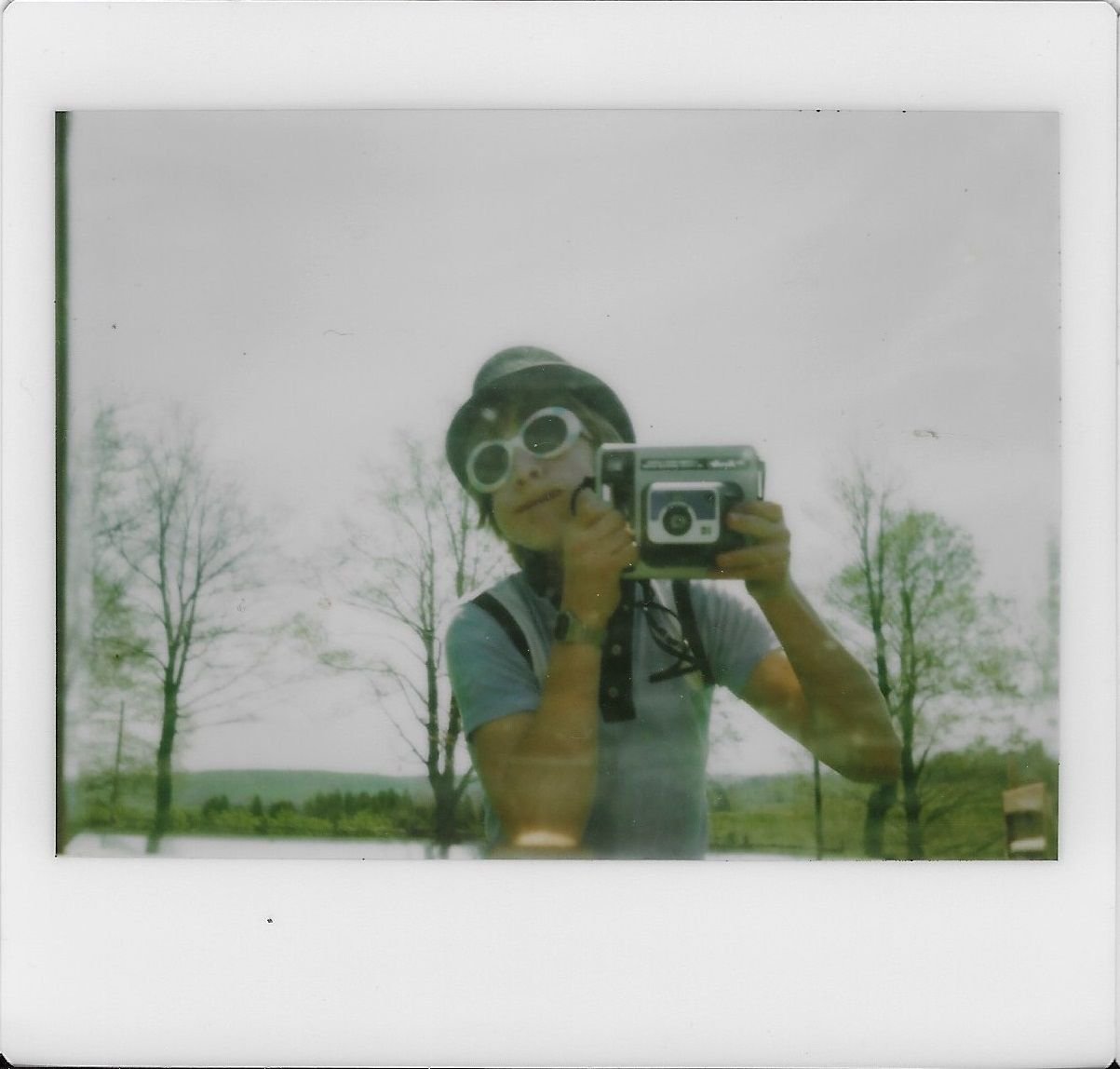 Considering how crazy this camera seems now, I had lots of fun with it and captured 4 years of photos chronicling my childhood. Unfortunately, I no longer have this camera. It got lost somewhere along the way. However, I have all the photos. Yay!
More "Stuff I Got For Christmas" posts to follow. We're getting into the really sweet merch now!