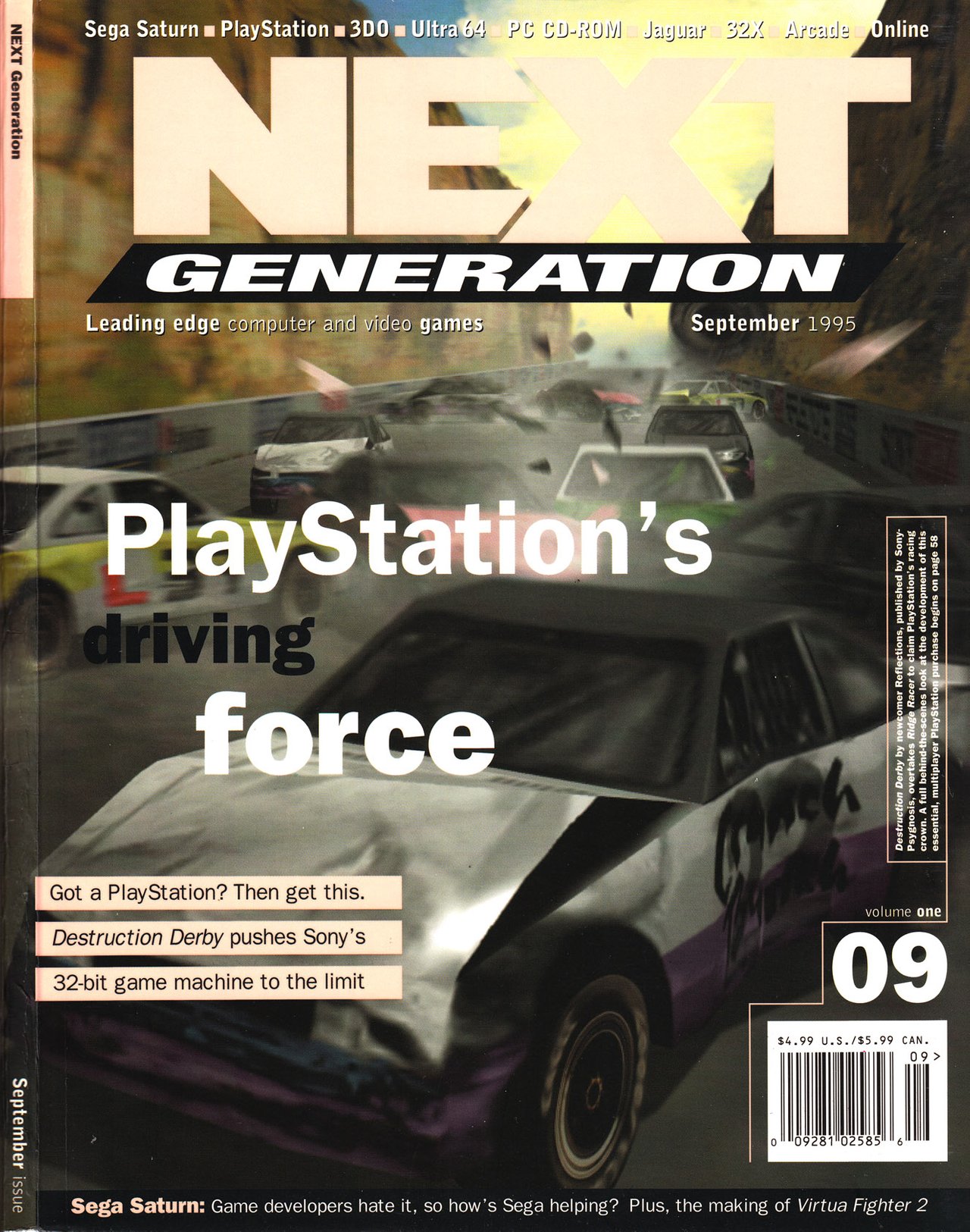 http://www.megalextoria.com/wordpress/index.php/2019/10/02/next-generation-september-1995/
While EGM and VG&CE were my favorite video gaming magazines, I did really like Next Generation when it arrived with the 32/64 bit generation. Sadly, it didn't last very long. The September 1995 issue includes:
talking: So Which 32-bit system is Electronic Arts betting on? - EA's Bing Gordan picks his winners of the 32-bit race.


breaking: News

Joyriding (gaming online)
Arcadia (inside the coin-op industry)



ng special: Reality Check: the future of VR - As the vaporware of the 1980s turns into the hardware of the 1990s, it's time for a reality check.


ng hardware: Saturn: Sega's plan of attack - Sega Saturn i a tough machine to work with. Very tough. So how is Sega ensuring that its full potential is realized and the games continue to improve?


ng software: Alphas: 11 game previews - The future of interactive entertainment is right here: Destruction Derby (PlayStation), WarHawk (PlayStation), Urban Decay (PlayStation), Solar Eclipse (Saturn), Thunderhawk 2 (Saturn), Twisted Metal (PlayStation), The Darkening (PC), Rebel Assault 2 (PC), Yohi's Island (Super NES) and Virtua Cop (Saturn).


rating: Finals: 47 new game reviews - Looking to buy a new game? Trying to decide which system has the best software line-up? Here's your guide, featuring: Greatest Nine Baseball (Saturn), Ballz (3DO), FlipOut! (Jaguar), Mario Smash (Virtual Boy), Street Hoop (Neo-Geo), Virtual Pool (PC), Dark Forces (Macintosh), Chrono Trigger (Super NES), Tekken 2 (Arcade), and Cybersled (PlayStation).


corresponding: Letters - Your means of communicating to a nation. Write us a letter, we print it. Instant respect. No, really.



Read more: http://www.megalextoria.com/wordpress/index.php/2019/10/02/next-generation-september-1995/

---

Sponsored ( Powered by dclick )

This Token has only one thousand max supply and 500 ...