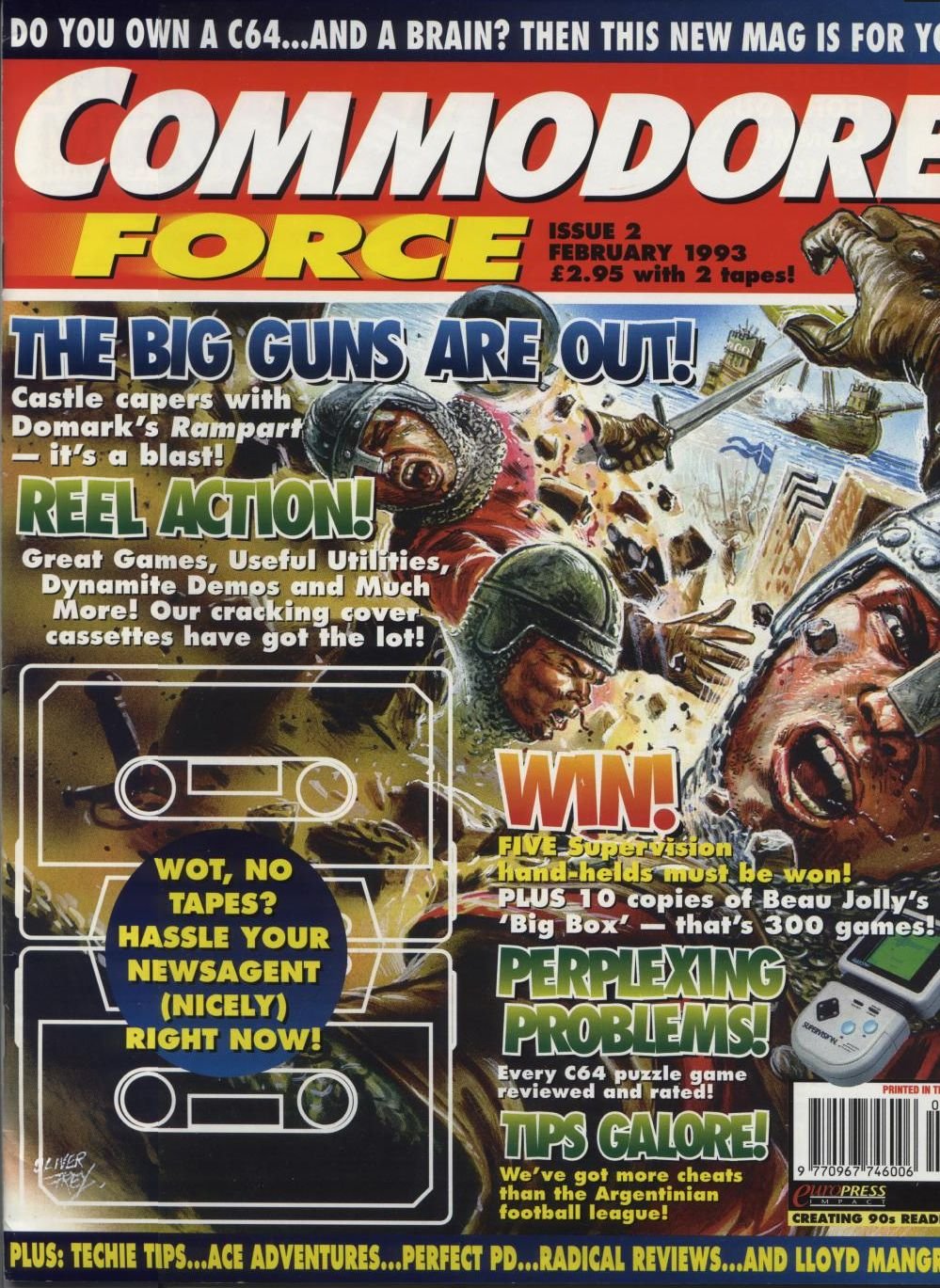 https://megalextoria.blogspot.com/2019/11/zzap64-commodore-force-february-1993.html
Zzap!64 turned into Commodore Force at the beginning of 1993. It would last for another almost year and a half before ceasing publication. I wish that we had a magazine like this here in the U.S. There were some excellent Commodore 64 specific magazines and some excellent gaming magazines but no gaming magazines dedicated exclusively to the Commodore 64. The February 1993 issue of Commodore Force includes:
Regulars
What's Happening - Touch-sensitive joypads? Brand-new joysticks? The Dyna Blaster controversy?
Reel Action - Get the low-down on your great covertape classics here!
Review of the Month - We rave over Rampart, Domark's mega medieval marvel.
Lloyd Mangram's Mail Bag - Back by popular demand, here's the world's favourite fuddy-duddy.
The Tipster - Chris is back, and it ain't a repeat! THE TIPSTER has all the latest games sussed, and a few old favourites too!
The Mighty Brian - Professor Brian Strain solves all your technical troubles - it's the ONLY regular techie feature in any C64 mag!
Public Sector - Once again we bring you the very best in free software.
Whatever Next? - UGH! and Robin Hood previewed - a great way of finding out what's in the next month's mag!
Bash Yer Brains - Large as life and twice as smelly, Bash batters his way through this month's batch of adventures!
Features!
Handhelds From Hell - We'eve got five corking Quickshot Supervision handheld consoles to be won; will you ever forgive yourself if you don't enter?
Cerebral Fix - Head-scratching heaven! We bring you the very best in C64 puzzle games, from the good Puzznic, the not-so-good Tetris, to the downright awful Que-Dex.
Reel Action
First Strike - Ace airborne shoot-'em-up that wee-wees over Afterburner and G-Loc.
Relax! - Perplexing match-'em-up two-player puzzler that could easily start domestic wars!
Monsters - You can't beat the old classics, can you? From the dawn of time comes Monsters, an ageing arcade hit brilliantly captured by Richard Smith.
Snowball Sunday - Is this the world's first animated Christmas card? Merry Christmas to you too, Ash & Dave!
Review Index
Big Box 2
Cool World
Crazy Cars III
Gazza's Super Soccer
Graeme Souness International Soccer
Grandslam Collection
Hook
Int. Tennis
Jimmy's Super League
Kids Pack 2
Locomotion
Read more: http://www.megalextoria.com/wordpress/index.php/2019/11/08/zzap64-commodore-force-february-1993/