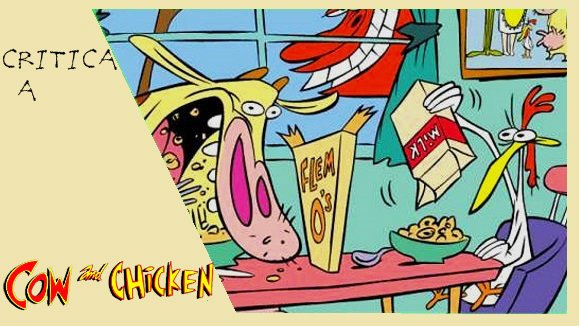 Synopsis: TV series (1997-1999). 4 seasons. 52 episodes Cartoon Network production that revolves around a unique story of two strange brothers who do not stop messing up: she is a sweet and innocent seven-year-old cow weighing 200 kilos who likes to dance and play with her brother. But Pollo, 11, is at the age of adolescence and is somewhat surly, and he does not want to be seen playing with his little sister.
Review: "Cow and chicken" is one of those few series of American drawings that can be contemplated whether you are 5 or 30 years old. Clinging to a well-chewed script, betting on simple but sufficient gags and working through short chapters of about seven minutes, the story of two brothers who are a cow and a chicken, and their parents, whose only legs are seen, as well as his adventures, are the axis of this hooligan series that has led to several spin-offs as "I am weasel", quite inferior despite being visible.
But frankly, the star of Cow and Chicken were not the characters that give the series its name, but that endearing red secondary, with the ass in the air, that each chapter tried to make things difficult for this pair of brothers. Posing as a security guard, insurance agent or farmer, the thing was, at all costs, to touch the nose and in the process to achieve the best moments of each chapter. With an unforgettable dubbing of Castilian, his bastard personality was reaffirmed, although the poor thing always ended badly.
In short: Fantastic series for children and not so children that, while far from wonders such as The Simpsons or Futurama, it is among the best of the series of American drawings and, indisputably, among the best of the "Golden Stage" "of Cartoon Network, along with" Dexter "," Johnny Bravo "or" The Supernets ".