Crypto Vouchers offers a quick and convenient way to buy a range of crypto currencies directly with fiat by purchasing a 'Crypto Voucher' with your credit card or via bank transfer, and as long as you're happy with I.D. verification it's very easy to use once you've got an account set up.
For the credit card option, which I focus on below, you can choose between a 10, 25 or 50 Euro Crypto Voucher, however if you fund by bank transfer you can specify your own value. It's also possible to buy locally rather than online, and there's even an option to convert other mainstream gift vouchers into Crypto Vouchers.
Once purchased, you can convert your voucher into one of 11 (ATW) different crypto-currencies (if you've got the appropriate wallets set up course).

The good news is that steem's one of your options, and Crypto Vouchers charges a 4% fee + a withdrawal charge related to what it costs them to purchase crypto-currencies on the exchange, capped at 2.5 Euros.
NB this means that if you're buying a small amount like I did (10 Euros), you end up loosing around 30% of the value of your voucher, although if you purchase larger value vouchers this wouldn't be anywhere near as much. So I'd recommend buying larger amounts.
In this post I provide a quick 'how to purchase vouchers ' guide before considering some of the pros and cons of purchasing steem via Crypto Vouchers.
NB there is an edit at the end were I include some correspondence with Crypto Vouchers following a query I made about their fees, published with their permission
This is my entry to @oracle-d's Review Crypto Vouchers competition.

How to purchase Crypto Vouchers
ONE: Set up your account
Go to the Crypto Vouchers web sight and sign up with your email address, verify you phone number with SMS and I.D. with passport/ DL - this all takes about 30 mins.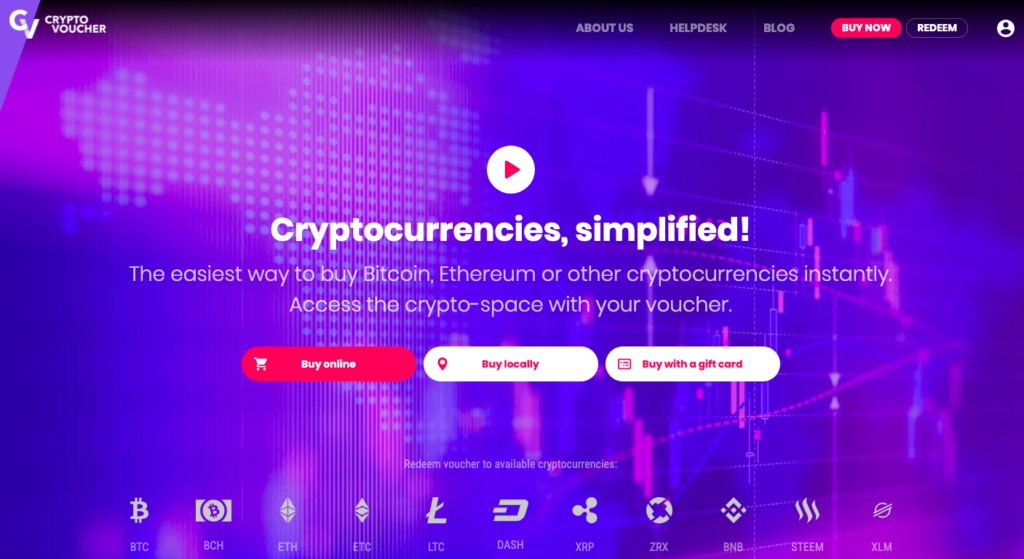 TWO: Login and click the 'buy now' then 'buy online' options
The voucher amount defaulted to 25 EUR, I changed it to 10 for test purposes!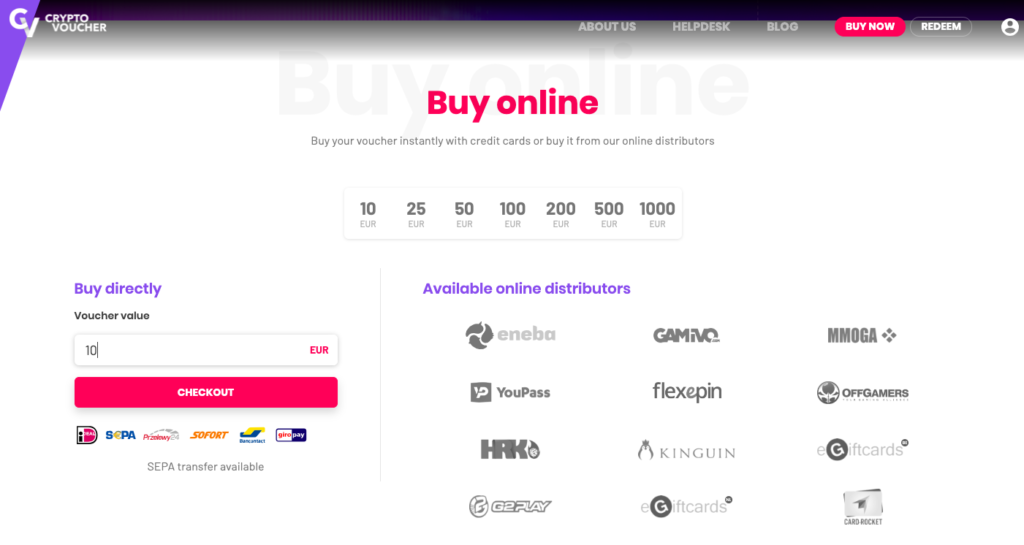 Three: Choose a payment' option
N.B. the card payment option wasn't available straight after I signed up, it only appeared a day later, so you might need to wait. If you choose the SEPA transfer option (I tried both), you must request an email to get the IBAN code which your bank will require.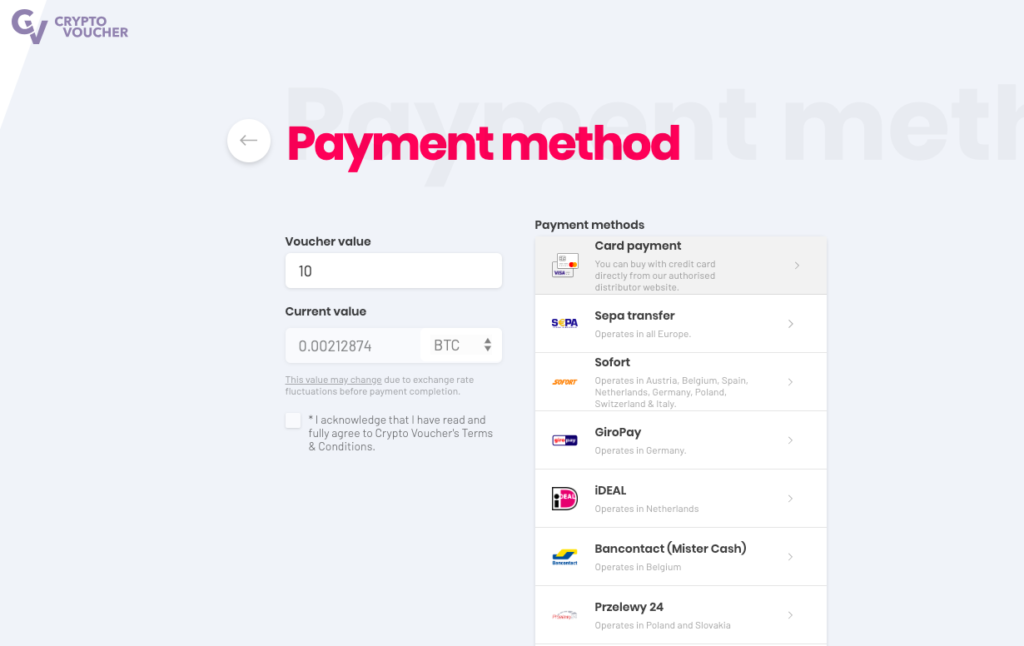 The next steps apply if you choose the 'card payment' option above, which will take you the Eneba Web site where you can purchase your voucher

FOUR: Buy your voucher with your credit card on Eneba
There's a £0.50 'operational fee' at checkout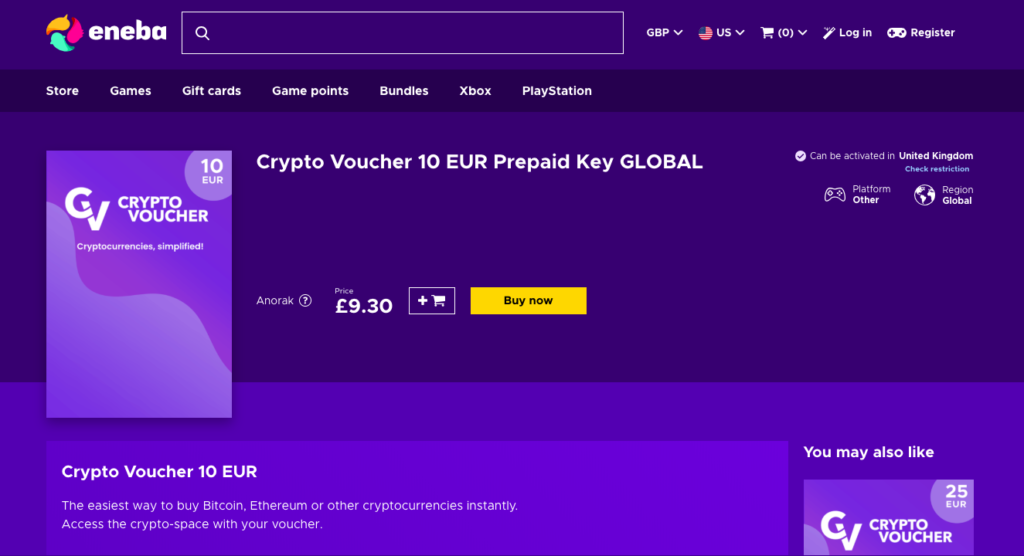 FIVE: Copy the key
Yes clever monkeys, I've already redeemed it!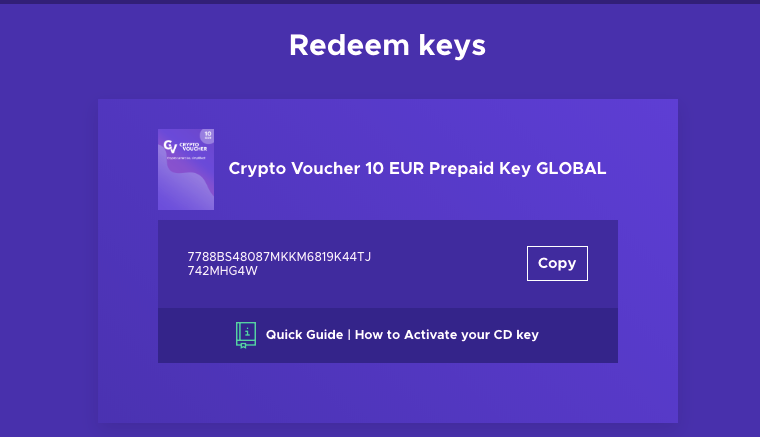 SIX: Go back to the crypto-voucher web site to redeem your voucher
If you click 'redeem' to top right you can redeem your voucher by typing in the 'Key' you got from Eneba into the box below..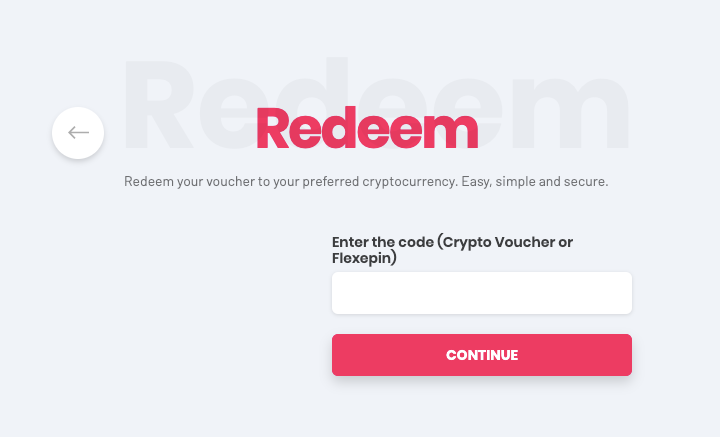 SEVEN: Redeem/ convert/ withdraw your voucher to your chosen crypto currency wallet
You can now convert the value of the voucher into any of the crypto currencies below - I've (obviously) selected steem in the picture.
Note that there is a 4% fee for 'converting' fiat to any of these cryptocurrencies, so I'm getting 9.60 Euros worth of currency, not 10 Euros worth. This is BEFORE the withdrawal fee.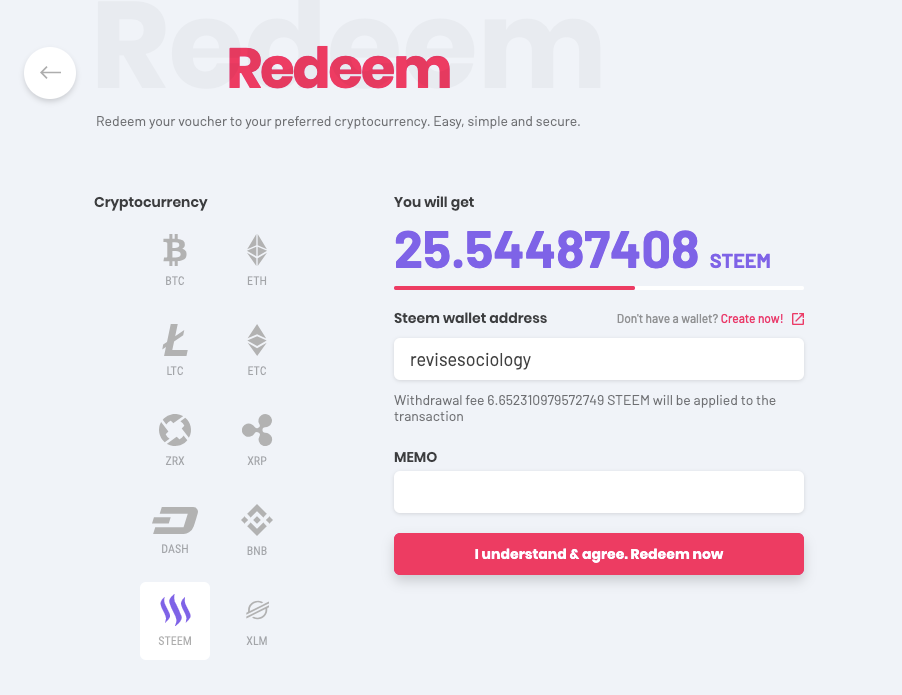 'Redeeming' a voucher really means converting your FIAT to your chosen crypto currency and transferring it to your chosen crypto-wallet - so you need a wallet set up already for this to work.

EIGHT: Click 'Redeem Now' to receive your crypto
In the case of steem I received this within a minute (it may have been quicker, I'm not one to obsessively refresh) from binance-hot.

Note that there is in this case a 26% withdrawal fee, but this apparently only applies to small amounts.

What I like about Crypto Vouchers
As I've hopefully outlined above, it is a very straightforward process to set up an account and purchase your vouchers
The fees are reasonable IF you buy larger value vouchers - 4% + an additional maximum of 2.5 Euros at withdrawal
The customer service is excellent, they're very quick to get back to your queries and answer them well, although my response below did require a second prompt email!
There are precious few ways to convert fiat directly to steem, so this is a welcome addition
You don't need an exchange account such as Bittrex!
This could encourage people to onboard to steem, there is a 'set up a new wallet' option for those who don't have one
You can gift these vouchers to your friends - just send them the key to enable them to redeem the voucher
I assume (hope) the withdrawal fees are lower for other crypto currencies...?
What needs to be improved on Crypto-Vouchers
If you buy the smallest available voucher, you end up losing 30% of the value of your voucher (CV's 4% fee and then + 2.5 Euros of exchange costs passed on)
It was a little disconcerting being taken to a third party site, and confusing that what they call a 'key', Crypto Vouchers calls a code.
If you are going to do a bank transfer, the IBAN number isn't clear on the transfer page, you need to request the email with the details when given the option to do so.
I had a little bit of confusion setting up my account, perfectly expressed by @tanbay in this video... my experience was EXACTLY the same, once set up, it's easy.
CONCLUSION: Ease/ cost comparison with other ways of buying steem
This was a novel way of buying steem, and convenient if you don't want to bother with opening up a Bittrex account, and if you're keen to get started on steem, this offers a useful way of powering up a few steem to kick-start your account.

However, I wouldn't advise using this for smaller purchases, if you want to purchase very small amounts, then it makes more sense to buy via either Netcoins if you must buy steem direct, or better still Coinbase and then Bittrex, better still via Kraken!
If you're going to purchase larger amounts, say 50 Euros or above then the fees are competitive with other providers. NB I haven't tried larger amounts to check this out, I'm taking this on trust following an enquiry I made to Crypto Vouchers.
Tagging a few people who might be interested...... @redrica, @slobberchops, @steevc, @shanibeer, @newageinv ?
Tags: Cryptovouchers Review, Steem on Cryptovouchers, Buy crypto through vouchers, Crypto Gift Cards.
Shared on twitter here... https://twitter.com/realsociology/status/1118584636483960833
Appendix: Correspondence with Crypto Vouchers to clarify the large relative withdrawal 'fee' on a 10 Euro voucher...
i basically emailed them asking to clarify whether they charged a 26% withdrawal fee on all amounts, and the answer was basically no... as below....
Hello Karl,
Thanks for reaching out.
We do not take 26% of fees our service fees are only 4% + crypto withdrawal fees and let me elaborate on crypto withdrawal fees for a voucher of 10 Euro that will be redeemed to Steem.
In order to redeem a 10 euro voucher to steem , our system will do complexed transfers in the background to ping the best price. So let's say that the best price is on Binance.
1-We have first to buy crypto and send it to Binance
2-We have to put the crypto in a tradable pair for Steem , in this instance BNB.
3- We have to buy Steem with BNB , BTW there is a minimum of buying Steem tokens which is 21 euro, so in order to redeem 10 euro we will have to buy 21 euro,
4- Of course, the last stage will be withdrawing this to your wallet. All of this happens in a few seconds with our technology.
in all of the steps above, we pay the maker, taker, withdrawal fees in crypto, and those are the fees we charge also for our customers depending on the cryptocurrency they choose to redeem.I believe you're aware of those fees you pay to withdraw or make transactions on platforms where Steem is.
The good news is that this crypto fee is capped at 2.5 euro so it cant go higher even if we will pay more on a specific transaction.
To sum up, our fee is 4% plus the crypto withdrawal fees which is capped at 2.5 euro ( it can be less than 2.5 euro )depending on the transaction.
Our company vision is to try to make it very easy and very cheap to buy crypto. However, some things are not up to us, as we're only a part of a big and complexed industry. We're trying our best, especially for the Steem community by allowing the 10 euro vouchers to go through as an example even we know that it will create this confusion on our fee structure like your case.
Hopefully, I was able to clarify your question.