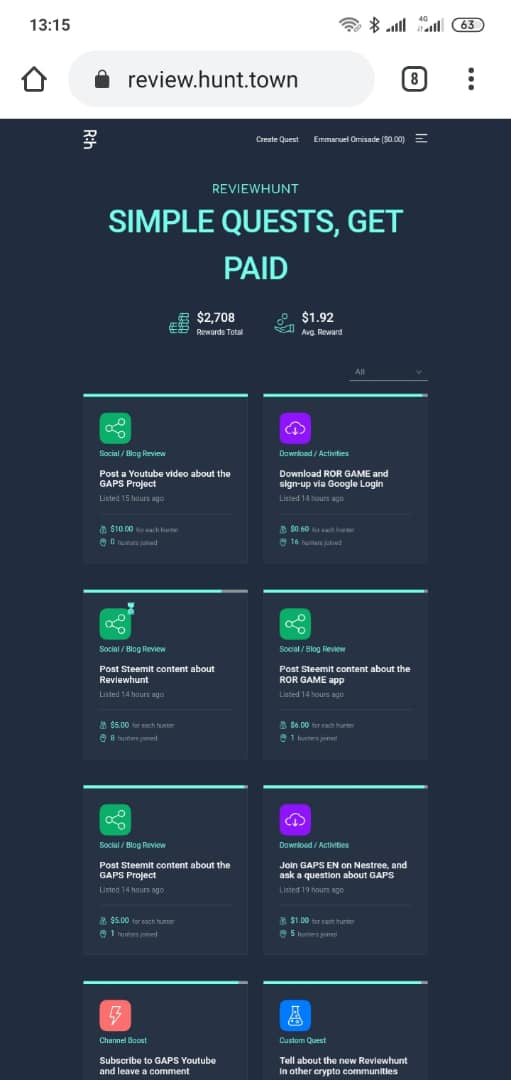 Yippe!!! See the all new rebranded reviewhunt platform. This is indeed beautiful and simple in both User Experience (UX) and User Interface(UI).
---
So, After 5 months of active development and onboarding hunters in the beta phase, review hunt is now set to engage people around products in a way that it creates some sort of hype on them courtesy of this new and revamped interface.
---
While all these were going on, the main mission of reviewhunt never changed, it continued to bring to the awareness of tech enthusiasts and lovers cool new products. This effectively has also created launching buzz of cool products for these makers.
---
And you know what's unique about all these? There is little or no overbearing cost to achieve this sort of publicity and awareness for these makers. And really, it was quite evident throughout the beta phase with a total record of 10,514 quests performed for makers who initiated them.
---
You would agree with me that creating publicity and awareness around a new product is not so easy, more so when the cost of doing so is quite on the high side. Anyone who wants a good visibility of his product, blog, channel can easily jump onboard the reviewhunt platform.
What does this tell us?
In this all new platform, launching products, getting visibility and awareness will be a walk in the park for any start-up and this will get people to want to engage with reviewhunt more as a go-to platform.
---
Plus also the reality is being a part of a platform that engages product makers, tech enthusiasts, geeks and influencers in such a way that creates early buzz around "anything tech" builds quick exposure because everyone with varying skills are coming together to foster growth of different individual brands.
So without further ado...
What are you waiting for?
Sign up again here
https://review.hunt.town/i/34
Tasks are now easy and you get paid in dollar units ($us) after four hours of task completion. Hurry up, sign up. There's an $80 task right now. It's all easy and quite intuitive to use.